This was Miu's first ever time in London and my first time back for almost five years. As we were planning to arrive by Heathrow Express into Paddington station, we wanted to stay somewhere nearby for the first few nights. After considering many hotels, we opted for the 73 Suites Apart Hotel in Bayswater. Bayswater is just one stop from Paddington on London underground and the hotel is only a 2-minute walk from Bayswater station. Click here to book a room at 73 Suites Hotel.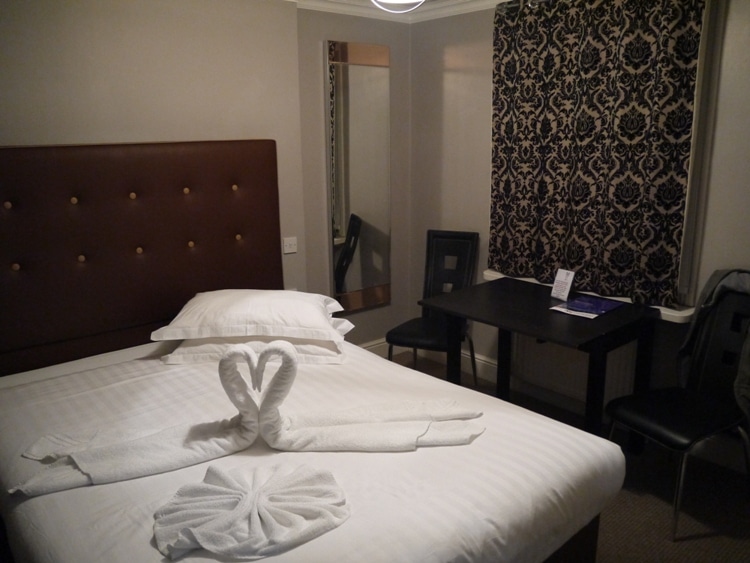 There are a choice of different room types, and we chose the Double Studio Apartment. The room was a decent size, especially for London, and the price was a bargain compared to other hotels in the area. Our room was on the third floor, which was fine for us, but this hotel doesn't have a lift, so you might want to ask for a room on a lower floor if carrying your suitcase up a few flights of stairs might be a problem for you.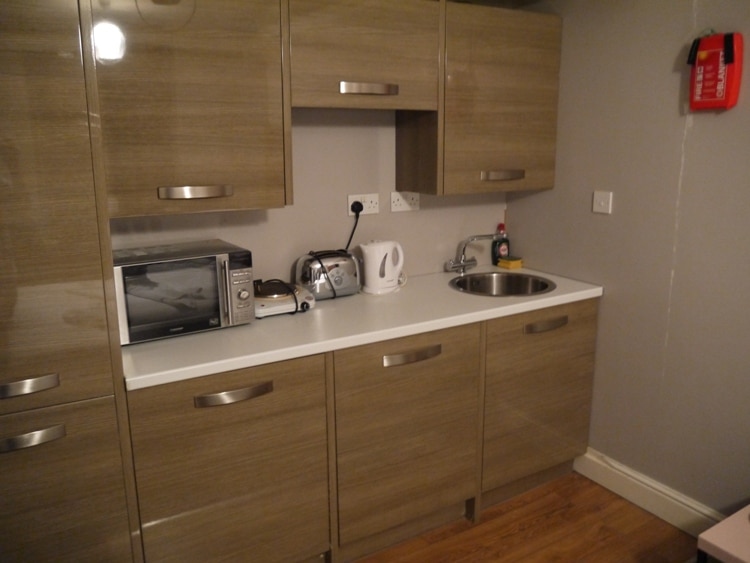 One of the reasons that we chose this hotel is because most of the rooms have a small kitchen area. While we mostly ate out, it was nice to be able to prepare small snacks, tea, coffee, etc.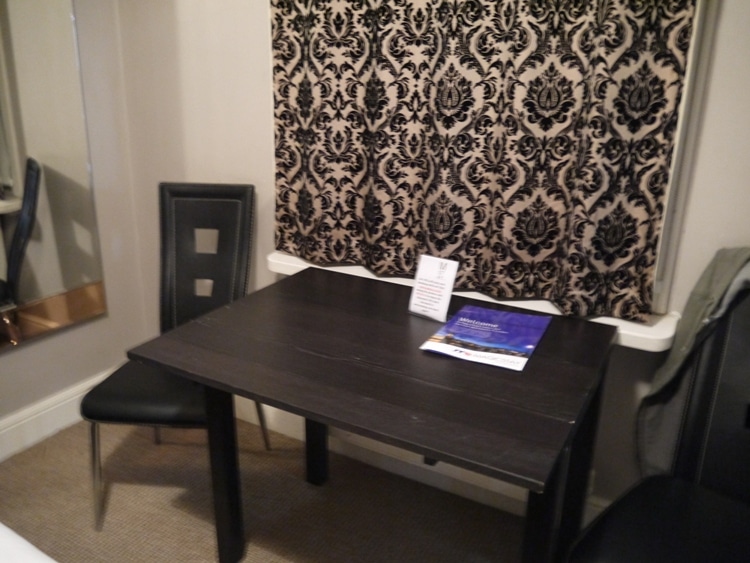 The room also had a very large table that was useful for working at. There were plenty of power points, with a double socket either side of the bed, a single socket at the foot of the bed, and two double sockets in the kitchen area. So that's a total of nine sockets. We've stayed in some hotels that only had one!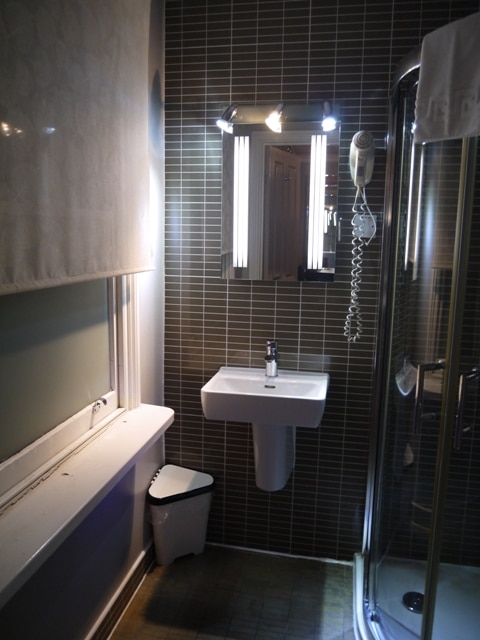 The bathroom was clean and modern and looked like it had recently been renovated. Everything in the bathroom worked well, and soap, shampoo and towels were provided.
The bathroom had quite a good shower, as you can see in the image above.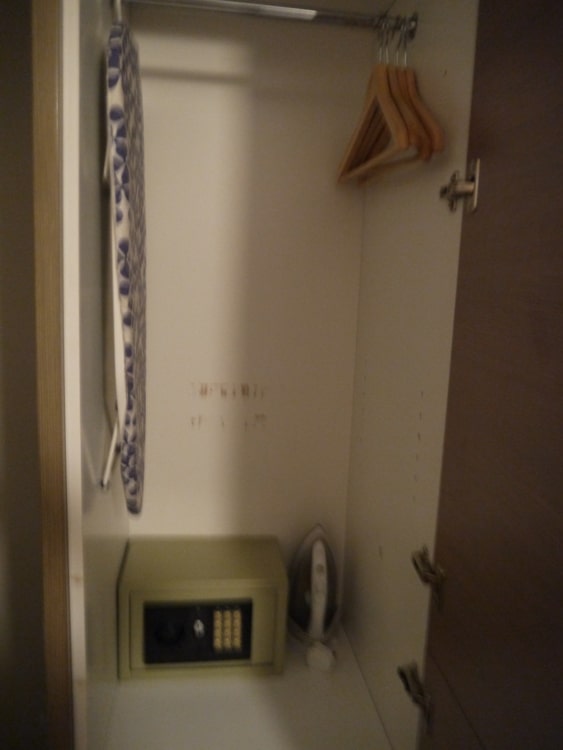 The room had a small cupboard that had about six clothes hangers, an iron, ironing board and safety deposit box.
Wifi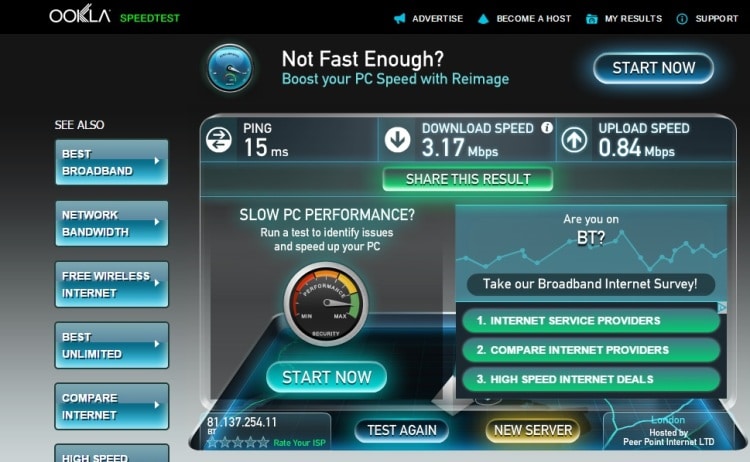 We tested the wifi speed at 3.17 Mbps download and 0.84 Mbps upload. It was fine when it worked but we had to re-start the router near our room almost every hour on some days. This was really annoying and I think the hotel should just buy a new one. That was the only negative of staying here. We'd still stay again though, because the positives far outweigh the negatives.
Location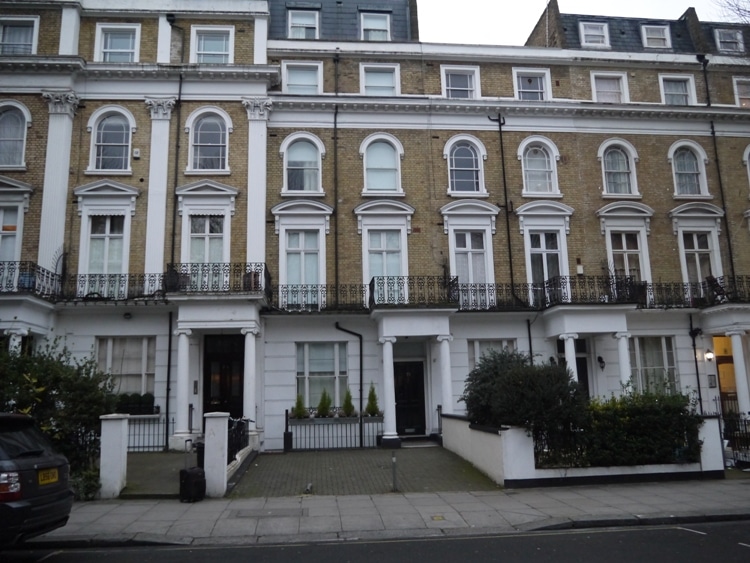 The hotel location is pretty good, as it's only one stop from Paddington train station, which is where you'll arrive if you get the Heathrow Express from Heathrow Airport. The hotel is just a few minutes' walk from Hyde Park and around 10 minutes' walk from Portobello Market. I lived on Portobello Road for 20 years before moving to Bangkok, so know this area quite well and can highly recommend it.
To get to the hotel from Bayswater underground station, exit the station and walk into Inverness Place, which is diagonally across the road from the station. Walk down that road and then turn left when you come to Inverness Terrace. No. 73 is about 50 meters ahead on the left. It looks like a private house, as the hotel name isn't shown outside. You should also know that the reception is only manned from around 08:00-23:00. You will be given a keycard to get in and also a number to call in case of emergencies. The hotel does have CCTV though and it felt very safe.
Hotels In London
Click here to book a room at 73 Suites Hotel. For other great hotels in London, check out Agoda London.