During our stay in the beautiful town of Sibenik we decided to take a day trip to Krka National Park, which is around 15 km away. It's possible to go on an organized tour that covers large areas of the park, but we decided to just visit Skradinski buk, the longest and most commonly visited waterfall on the Krka river.
Krka National Park covers an area of 109 km², so it's just not possible to turn up and see everything without some planning ahead of time. Some visitors spend a few days at the park in order to cover almost everything there is to see, while others might spend a day covering the top highlights. But most visitors just visit the main attraction, Skradinski buk, which is what we did.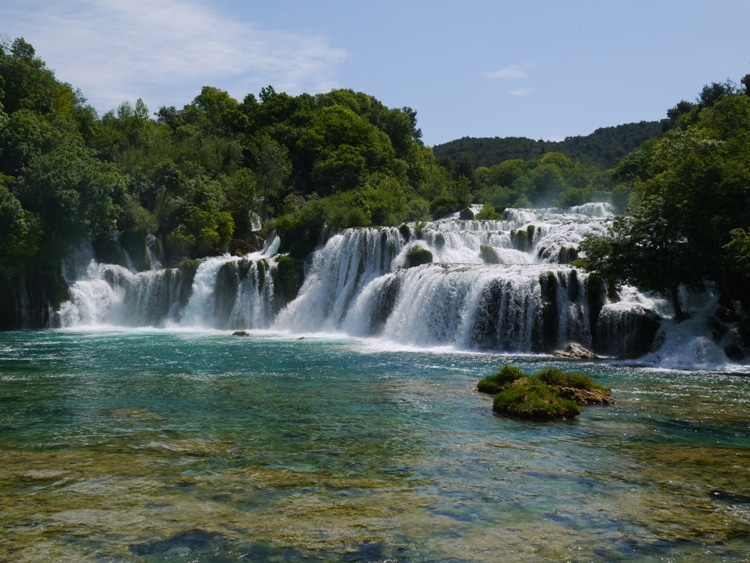 A confusing aspect of the park is that there are five entrances, with two of them being suitable for visiting Skradinski buk. These are the Skradin and Lozovac entrances. If coming by bus from Sibenik, you'll pass the Lozovac entrance first, and this is where most visitors to the park get off.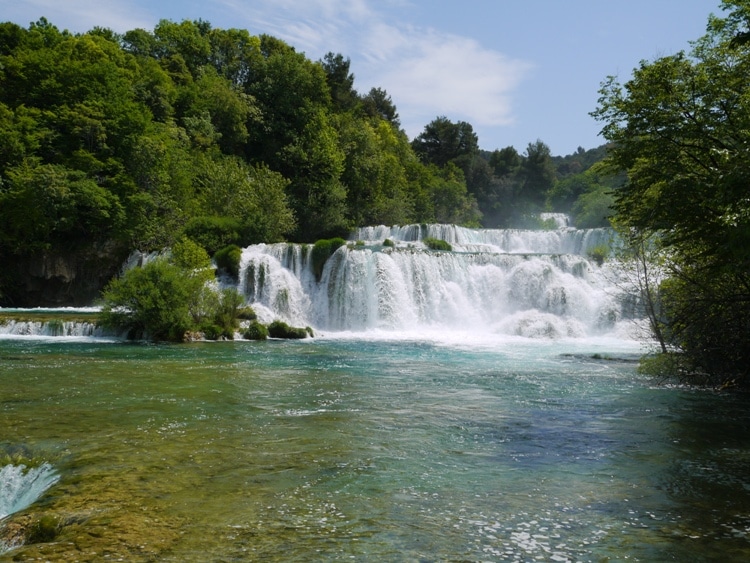 From April to November there's a free Krka National Park bus that will take you from the entrance to Skradinski buk. It's a round 800 meters, so you can also walk if you prefer. If you stay on the bus from Sibenik a little longer you'll come to Skradin. The bus stop is a few hundred meters passed the park entrance, so get off the bus and walk back. From the park entrance there is a free boat that goes to Skradinski buk. The boat takes around 25 minutes and leaves every hour from 08:00-17:00. It's possible to walk or cycle there but it's around 4-5 km away.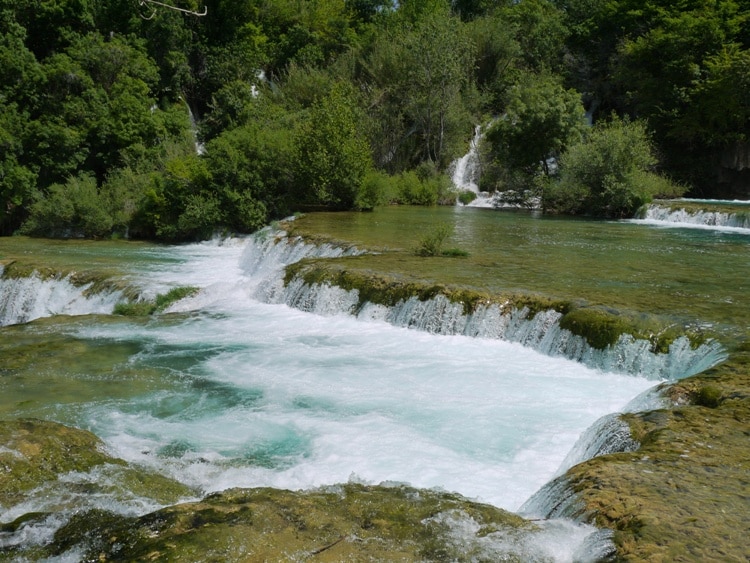 The boats are supposed to return every hour from 09:30 until 18:30, but when we were there there seemed to be extra boats. I'm not sure if that's a regular occurrence or if it was just because the boat we were waiting for was full.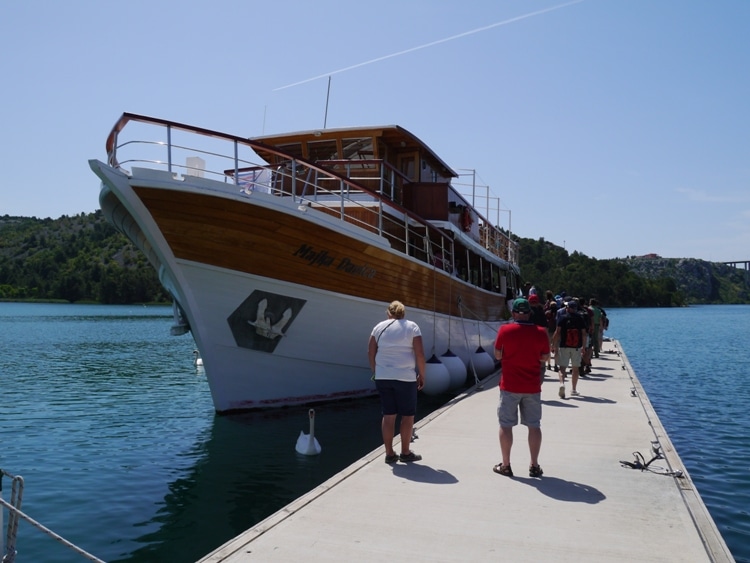 Which entrance you use is up to you, but it might be a good idea to arrive via Lozovac entrance and leave via Skradin. The boat trip is quite pleasant though, so you could also arrive and leave via Skradin like we did.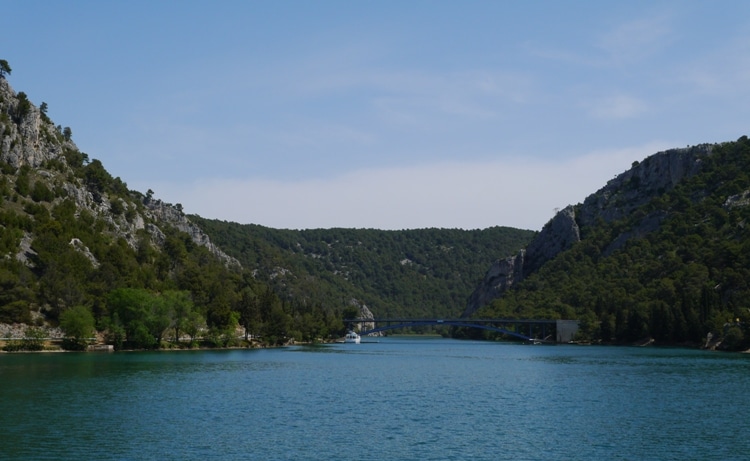 When you arrive at Skradin you can buy the tickets to the park at the ticket office, but it's also ok to just get on the boat without tickets and buy them when you arrive at Skradinski buk instead. This is what we did, as the bus from Sibenik arrived pretty close to the time the next boat was leaving.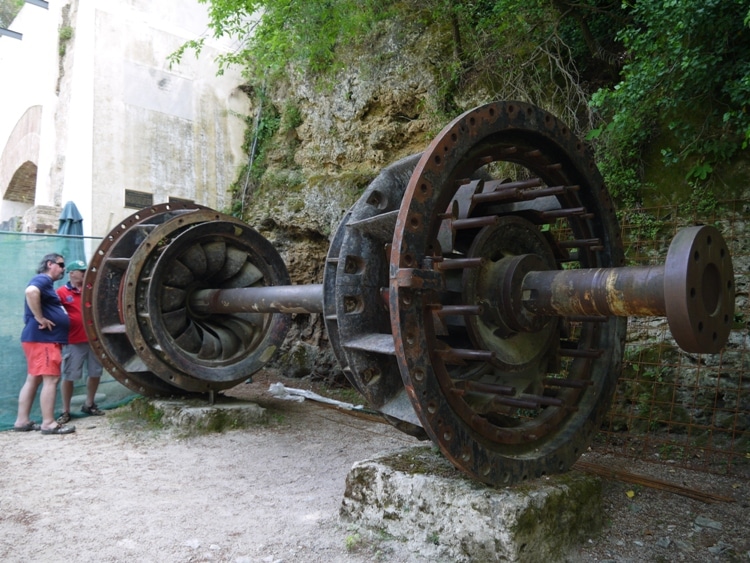 As well as the waterfalls, there are a number of other attractions along the 1,900 meter Skradinski buk trail. One of these is the remains of the Krka hydro-power plant. This was first put into operation on 28 August 1895, two days later than the world's first hydro-power plant on the Niagara River. But the people of Sibenik were the first in the world to get power from a hydro-power plant, as their network was turned on a few months earlier than the one in Buffalo.
The trail basically takes you up one side of the waterfalls, across the river and down the other side. It took us just under two hours, but it could be done in an hour if needed. It really depends on what you want to see along the way.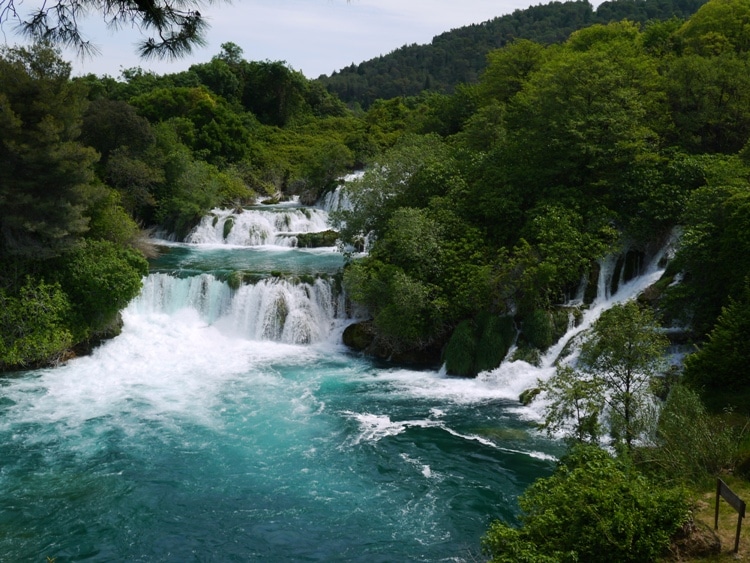 As you walk up the path you'll see a restaurant and a few tourist shops, but we didn't stop at these.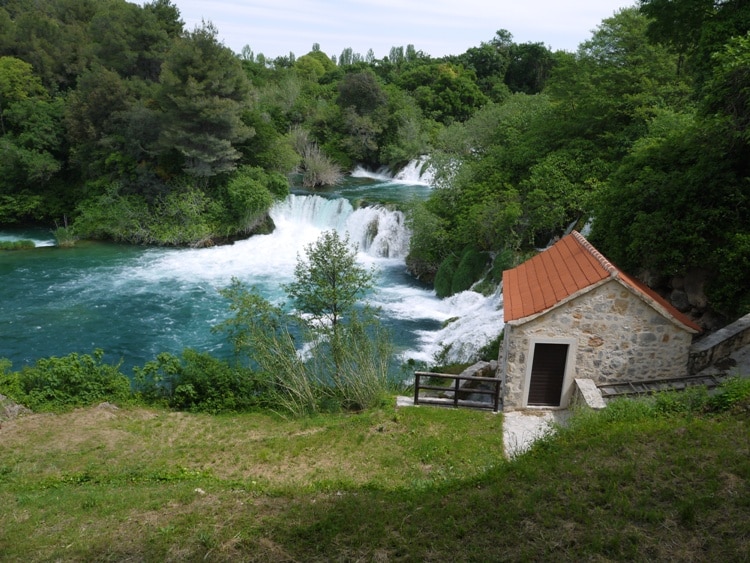 You'll also come across quite a few look-out points where you can get a better view of the waterfalls. This is where people usually gather to take photos. We visited on a weekday slightly out of season, so it wasn't too busy. I'd try to avoid high season weekends though, as there are likely to be far too many tourists there.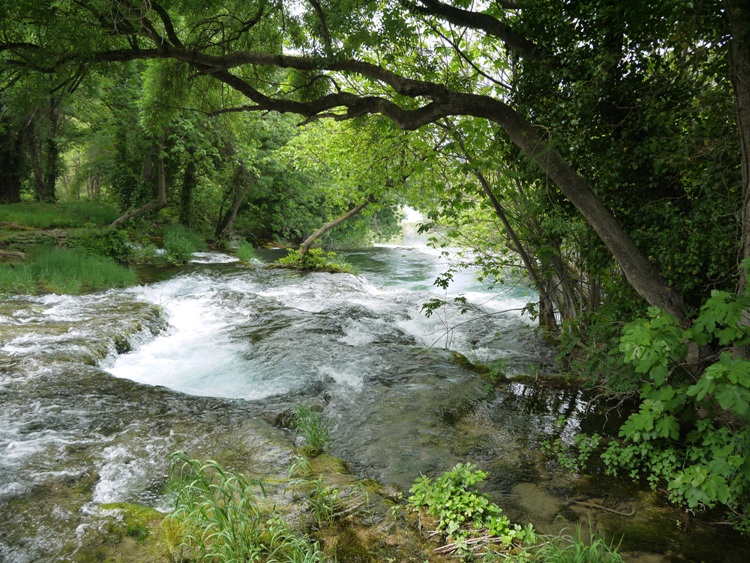 Once you've walked up one side of the falls, you'll be able to cross the river on a raised wooded footbridge. If you're lucky you might see some snakes, lizards, frogs or turtles. We saw a few lizards and frogs, but didn't see any snakes or turtles.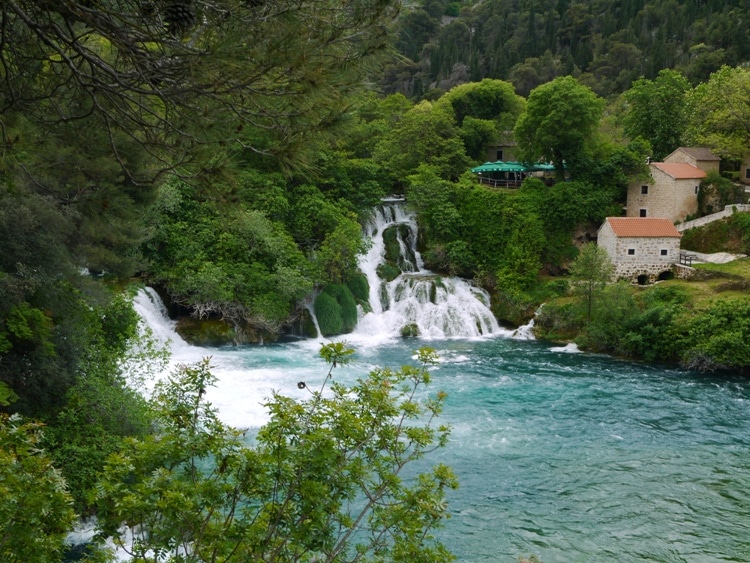 From Skadinski buk it's also possible to take a boat to Roski slap, which is another popular waterfall further upstream. The boat takes a total of 3.5 hours to get there and back. It also stops at Visovac Island, the location of a Franciscan monastery.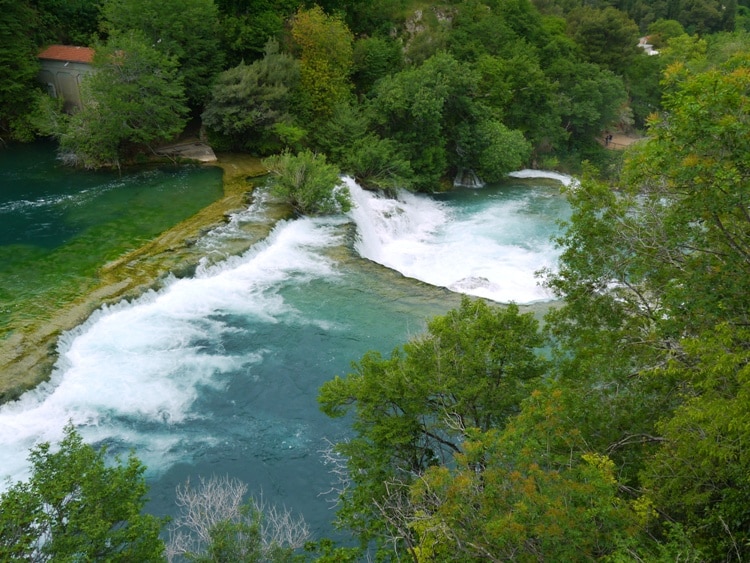 If you only want to visit Visovac, you can get a 2-hour boat trip, that includes a 30-minute stop at the island.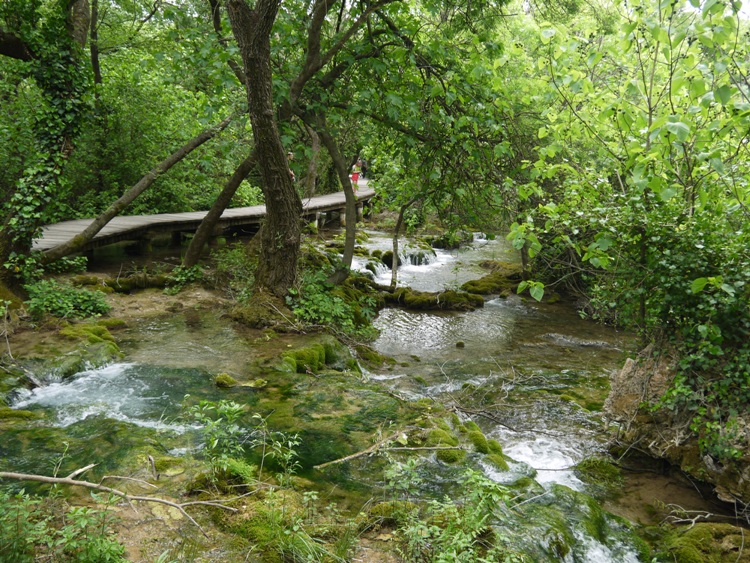 You can also get to Roski slap by road and use the Roski slap/Laskovica entrance. From Roski slap you can take a boat excursion to Krka monastery and the Trosenj fortress.
Video Of Skradinski Buk Waterfalls
Essential Information
Entrance Fee Adults (Children): Nov-Feb 30 kn (20 kn); Mar-May & Oct 90 kn (70 kn); Jun-Sep 110 kn (80 kn); Children under 7 years – free entry
Park Entrances: Skradin, Lozovac (both for Skradinski buk), Roski slap/Laskovica, Burnum/Puljani, Kistanje/Krka Monastery (free boat from Skradin and free bus from Lozovac to Skradinski buk – Apr-Nov)
Boat Excursions: From Skradinski buk to Visovac (2 hours – 100 kn), From Skradinski buk to Roski slap via Visovac (3.5 hours – 130 kn), From Roski slap to Krka Monastery (2.5 hours)
Amenities: There are toilets, cafes, restaurants and souvenir shops in the park.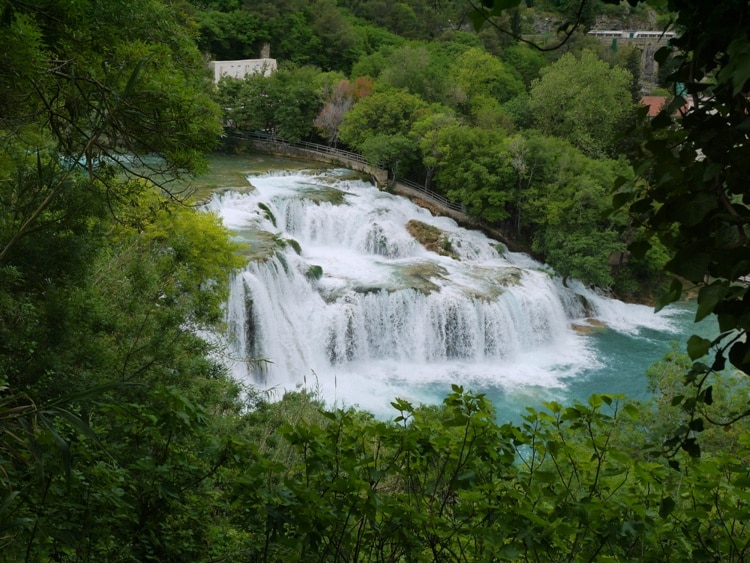 How To Get To Krka National Park From Sibenik By Bus
There are buses that leave Sibenik main bus station at 09:00 and 11:15. They stop at both Lozovac and Skradin. It's about 20 minutes to Lozovac and 35 minutes to Skradin. The return bus is at 17:00 from Skradin and around 10-15 minutes later from Lozovac. Tickets cost 24 kn single and 48 kn return.
Where To Stay In Skradin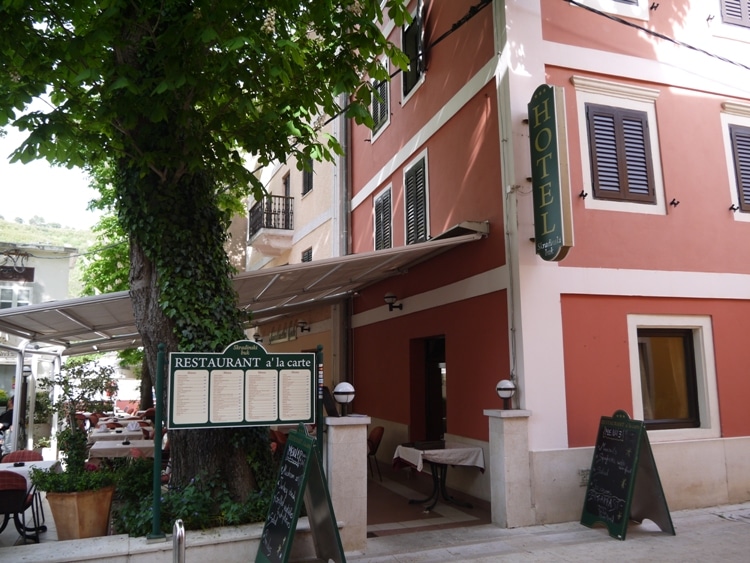 We didn't stay in Skradin, but we ate at the restaurant of Skradinski Buk Hotel, and it seemed like a pretty good place. So check that out if you'd like to stay overnight. If you prefer to stay in Sibenik, as we did, we can recommend the following apartment.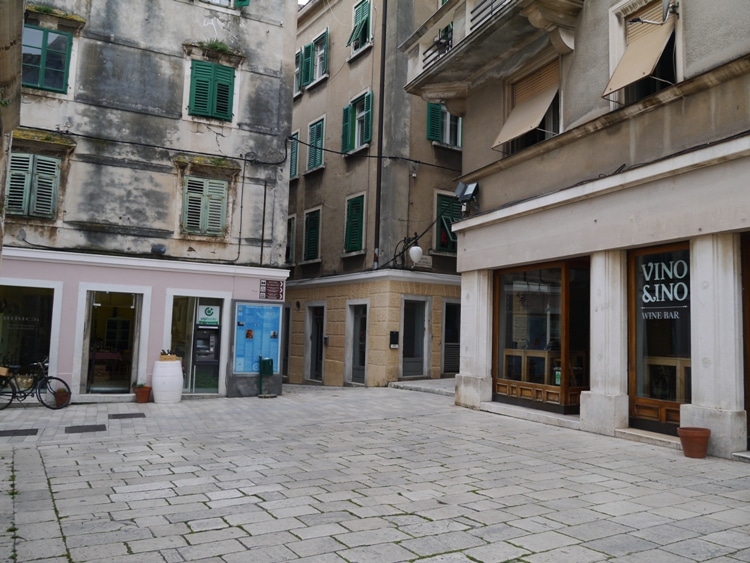 For our time in Sibenik we chose a 1-bed apartment, Apartment Luka. This was located in the old town area and just a short walk from the bus station. The apartment was newly renovated, and the owner also showed us around the town when we arrived. Excellent. It's on the second floor of the building in the center of the above image. For other hotels and apartments in Sibenik, we recommend Agoda Sibenik.