For our first few days in Bali, we stayed at Arjuna House in Ubud. This guest house has a main building with about ten rooms, and also a number of separate cottages, which is where we stayed. It gets top marks for location, as it's only two minutes' walk from Jalan Monkey Forest in the town center. Click here to book a room at Arjuna House in Ubud.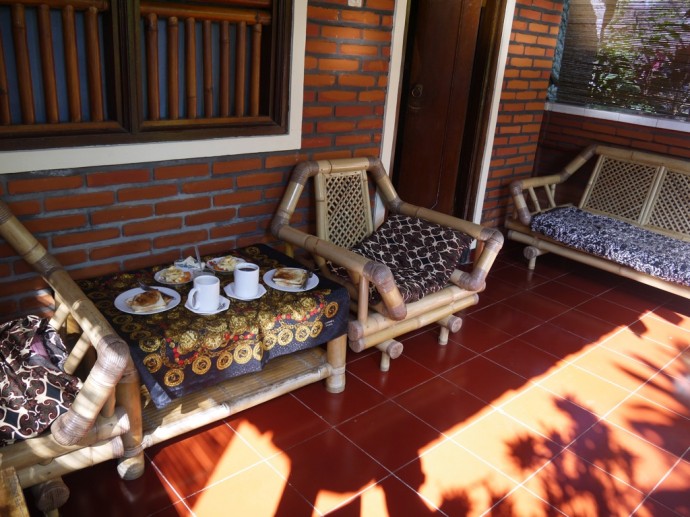 Our room was quite basic, as is the case with with many rooms in Bali, but it was a pretty a large room with a very large terrace. It had both a double and single bed, with the single bed being useful as an extra storage area. Breakfast was served on the terrace each morning, so was very relaxing. The staff here are very friendly and helpful, and that helped make our stay very enjoyable indeed.
There is only one electrical socket in the room, but the staff gave us a 3-plug extension, so we were able to keep all our electronics charged. We were also supplied with flasks of hot water whenever we needed it, so that we could make our own tea and coffee.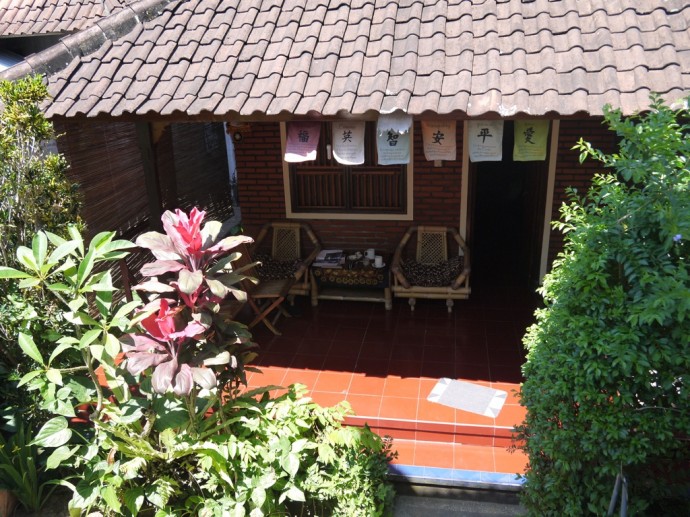 The room was equipped with both fan and aircon. But the terrace area was quite shaded, so we spent most of our time sitting there rather than in the room.
Wi-fi was a little slow, but ok for most things. Uploading was a bit of a pain at times, but I did have some large video files to upload, so that didn't help. We checked out the wifi at some other guest houses, and they were all pretty comparable. The only place we found faster wifi was at Coffee &, which is a small cafe 2-3 minutes walk away on Jalan Monkey Forest.
Video Of Arjuna House, Ubud, Bali
Hotels in Ubud, Bali
Click here to book a room at Arjuna House in Ubud.
Click here to book a different hotel in Ubud.