Yesterday we decided to check out one of Bangkok's newest shopping areas, Asiatique The Riverfront, and also take a ride on the Sky Wheel that's located there. It started raining on the way there, so it probably wasn't the best time to visit. But most of the area is covered, so it wasn't too bad. If you want to take a ride on the Sky Wheel I'd advise doing so on a dry day.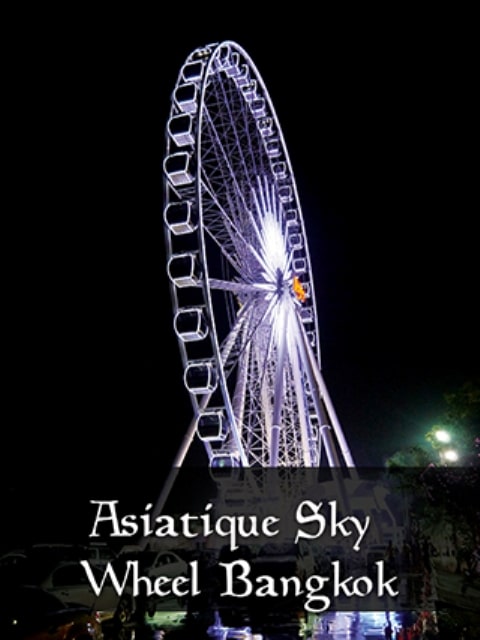 The Sky Wheel is lit up beautifully at night and can best be seen from a boat on the river.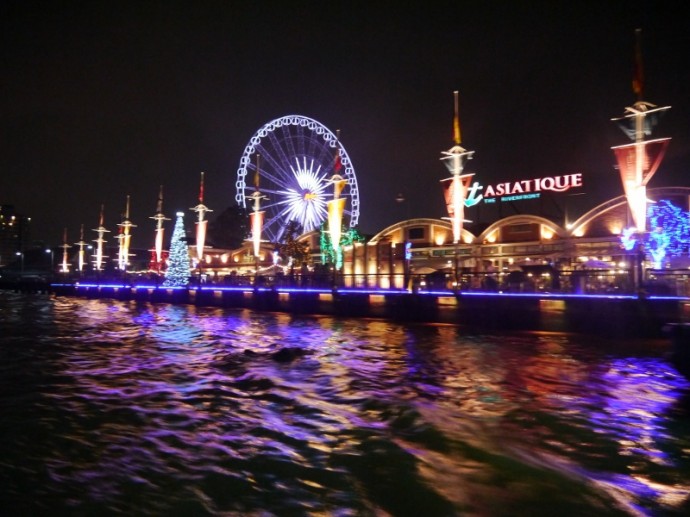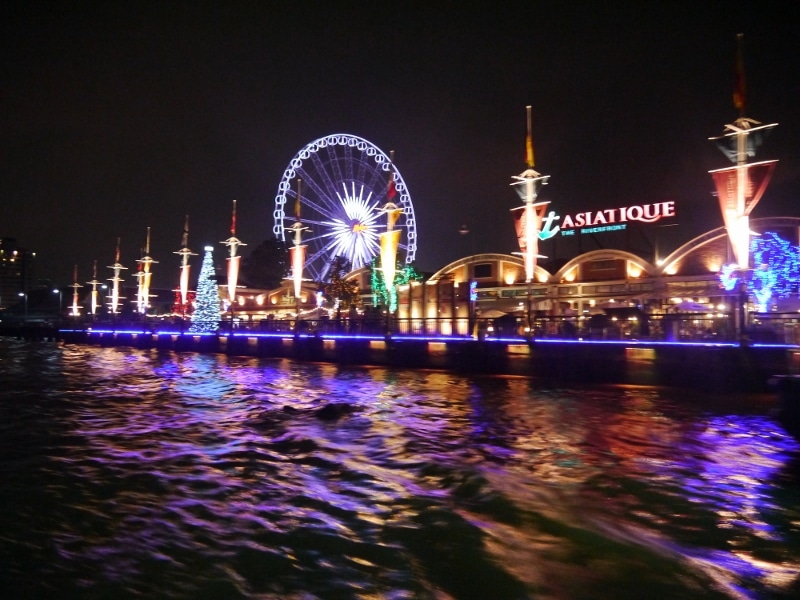 Most tourists arrive at Asiatique by boat, and they'll be greeted by the view above. I'll cover how to get there by boat later. Once off the boat you'll be on the boardwalk that runs along the Chao Phraya river, and this is usually quite busy with people taking in the river views and taking photos.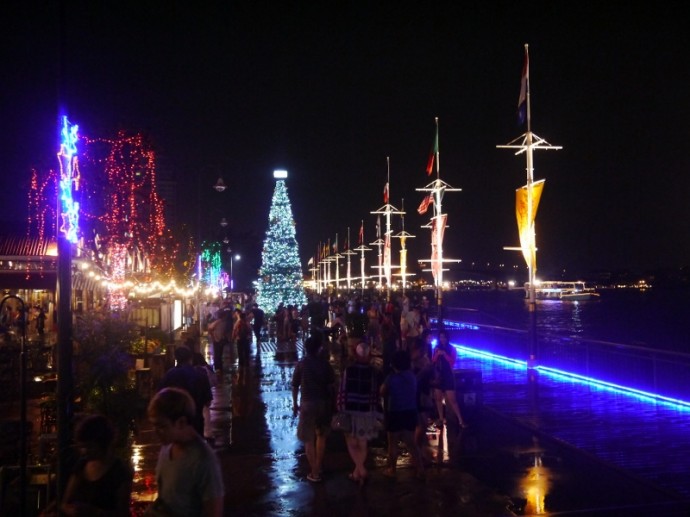 Along the front is where you'll find many of the restaurants that sell a range of international foods.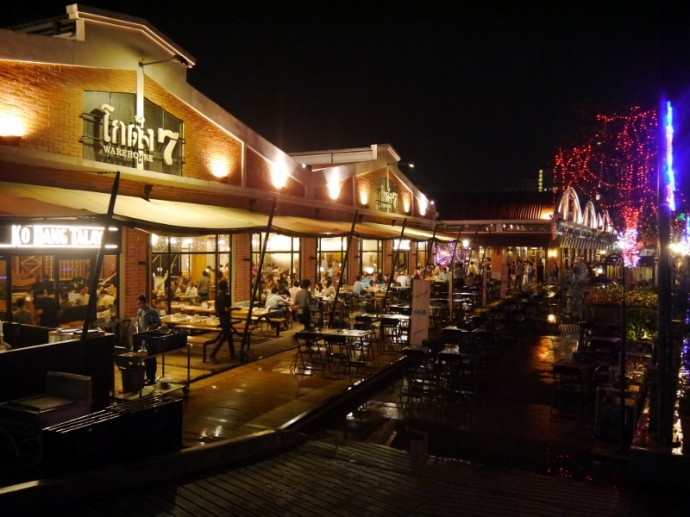 Just beyond the restaurants is what's know as the Hip Zone, which is where you'll find all the hip and trendy shops.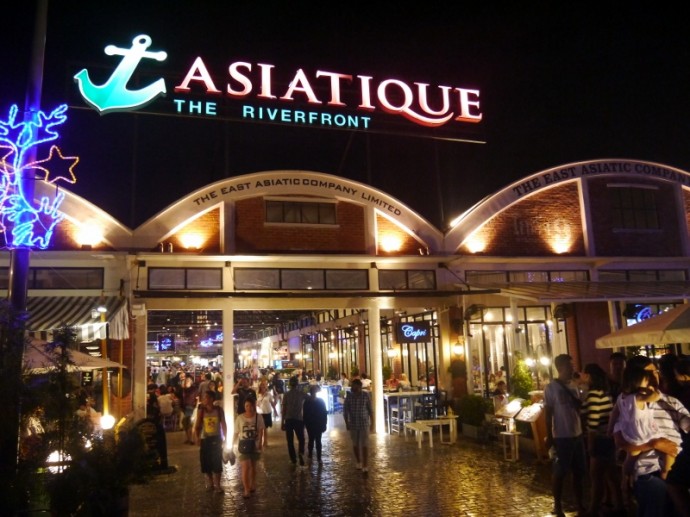 Luckily, much of the area is covered, so it's ok to visit even if it's raining. There are quite a few outdoor areas though, so visiting on a day when it doesn't rain would probably be more fun.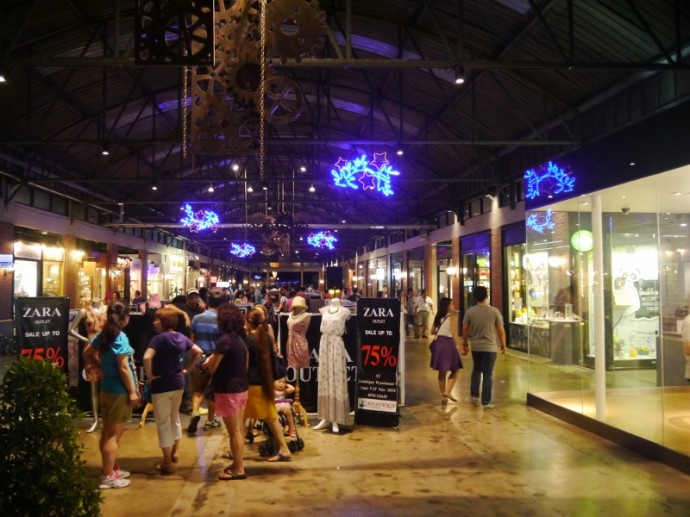 Shops At Asiatique
There are a range of shops at Asiatique that selling a range of goods that include souvenirs, antiques, home decorative items, fashion items. There are also massage shops, banks and restaurants. It really does have just about everything you need for an evening out.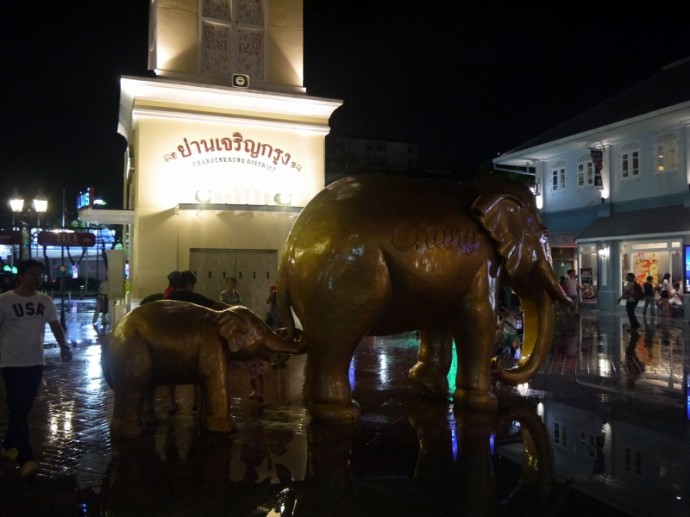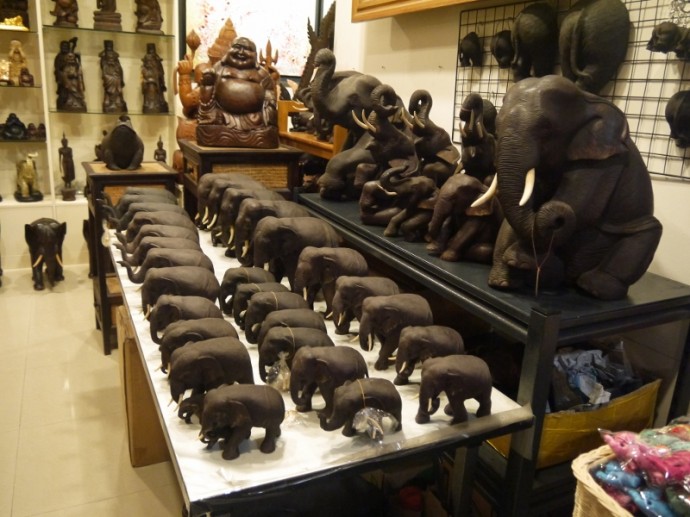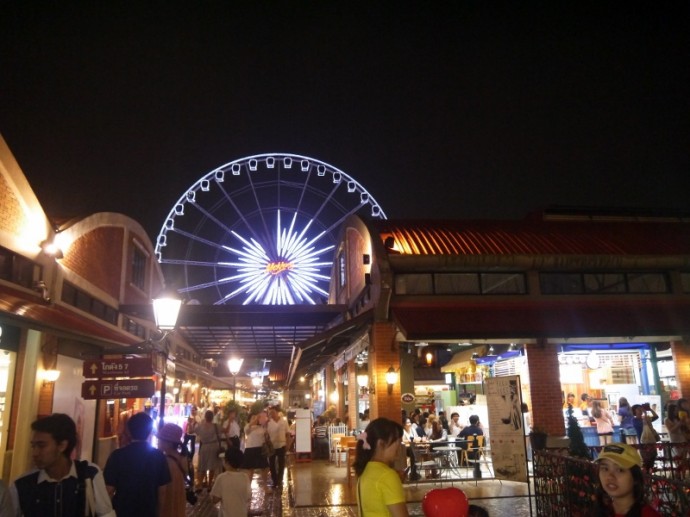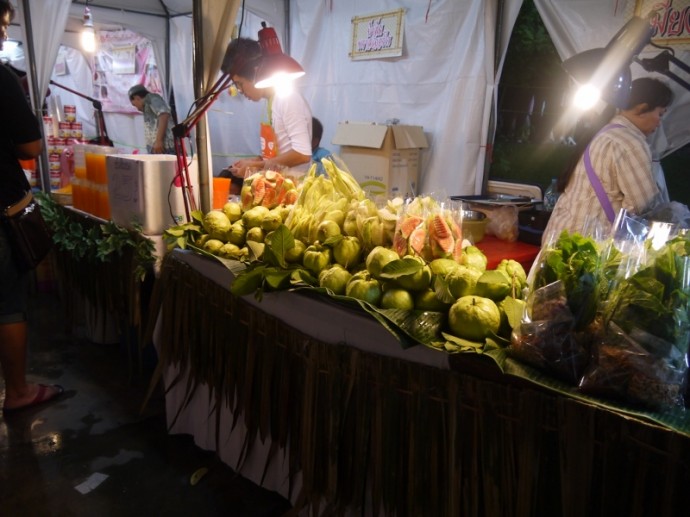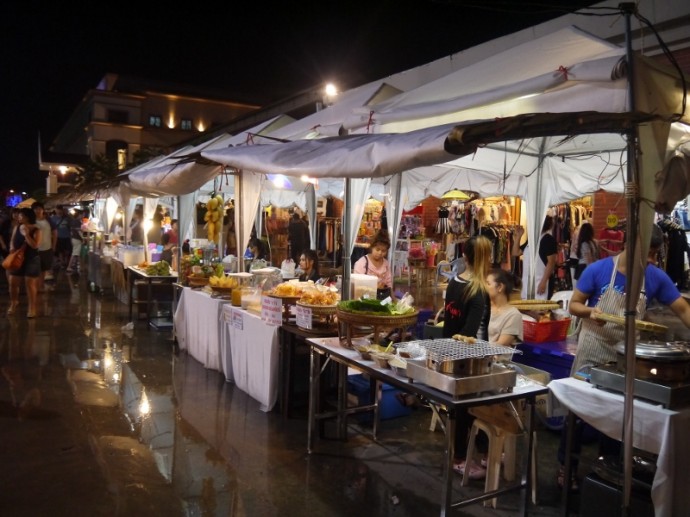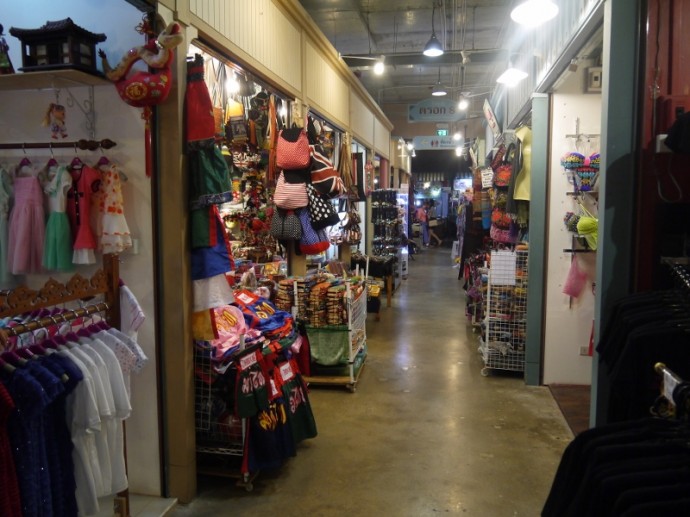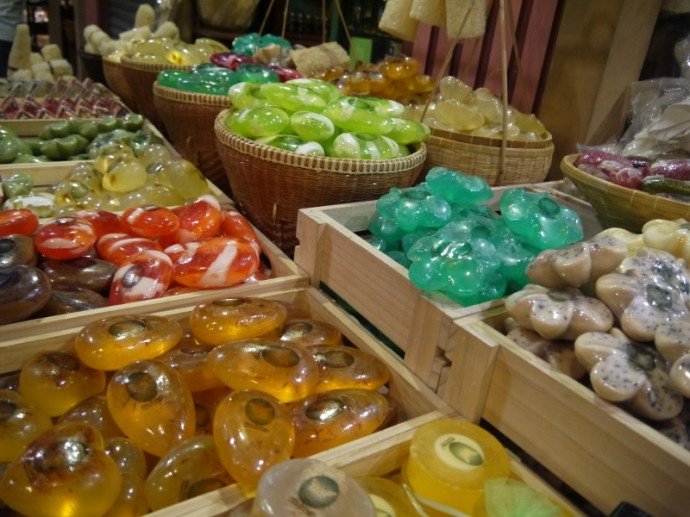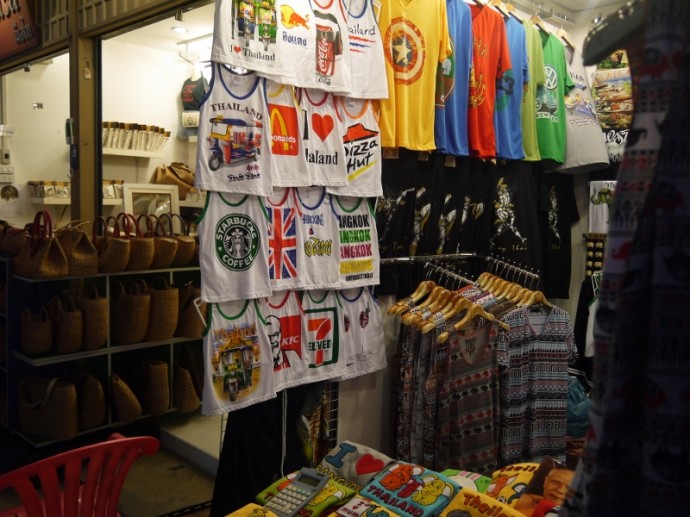 Asiatique Sky Wheel
The Sky Wheel is one of the main attractions at Asiatique, and you get a good view of Bangkok from the top.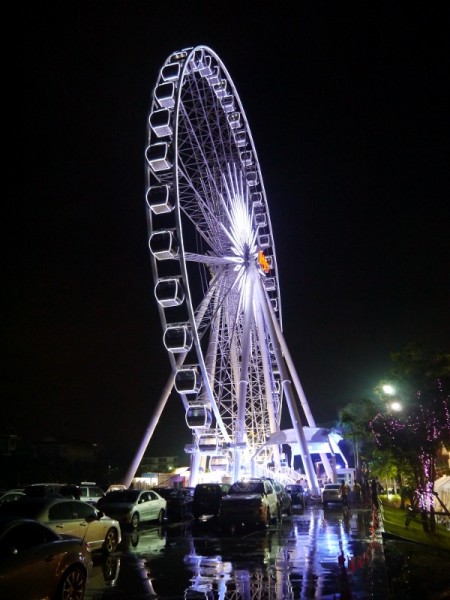 There are often large queues here, but they seemed to be much less than usual because of the rain. It costs 250 baht ($8.50) for foreigners and 200 baht ($6.50) for Thais. I think it's 150 baht ($5) for children. The good thing is that you get a pod just for the group of people you're with. So if you're a couple it will just be the two of you.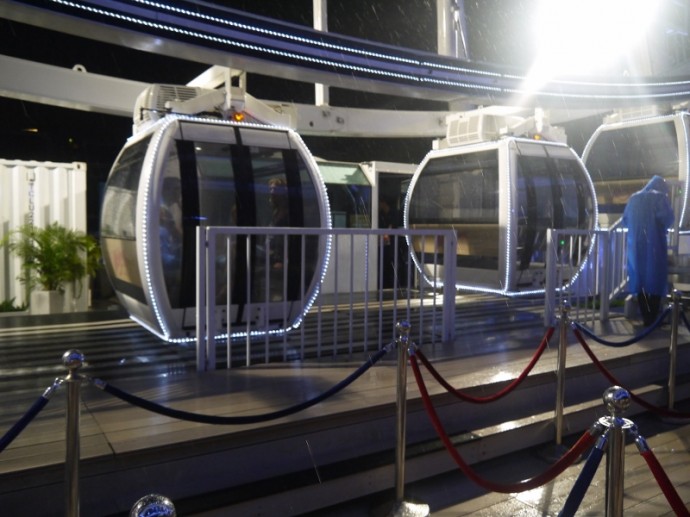 When the wheel stops, four pods can be loaded at the same time. The wheel then moves around a little and stops again for the next four. Once you're on, it will be a bit stop-start for the first time around, but then you'll get another two rounds without stopping. We were on there for just over ten minutes. The pods at much smaller than the ones on the London Eye, with enough room for about 6-8 people to sit comfortably. Unfortunately, it was raining when we took our ride. While we could still see the Bangkok skyline, good photos were impossible because of all the rain on the windows. For this reason alone I'd suggest going on a dry day.
How To Get To Asiatique
It's possible to get there by taxi, but the traffic can be pretty horrendous at times, so it might be better to take a boat, as many thousands of people choose to do. The boats leave from Sathorn Central Pier, next to Saphan Taksin BTS, so it's easy to access from all main areas of the city.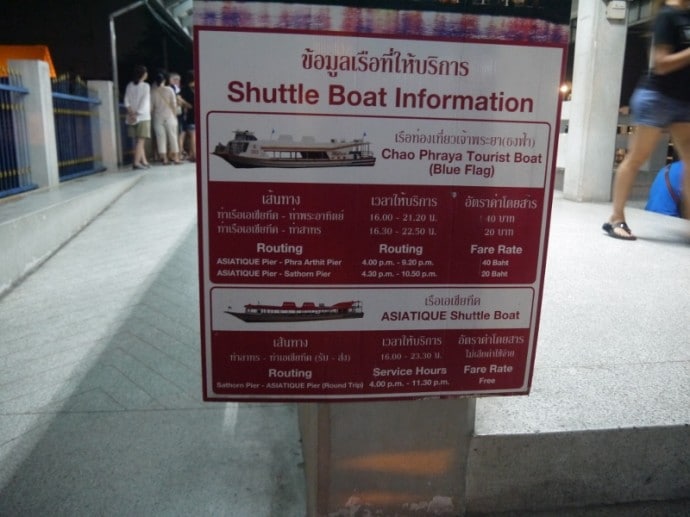 There is a free shuttle boat that operates from 16:00 to 23:30 every day. You can also take a blue flag tourist boat for 20 baht from 16:30 to 22:50.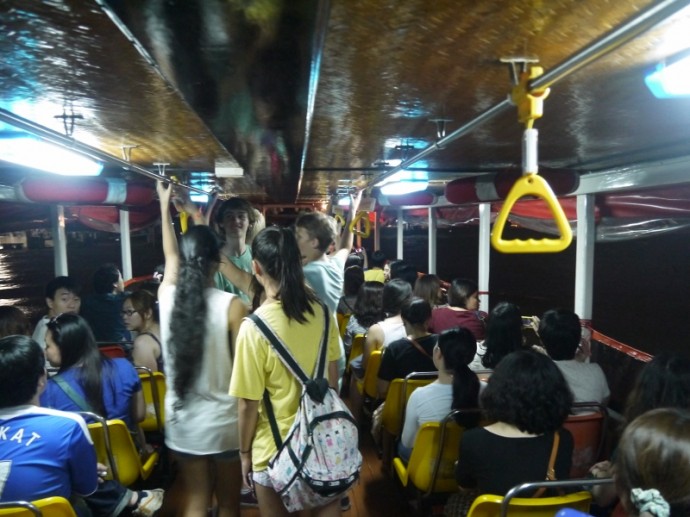 Asiatique Opening Hours
Asiatique is open from 17:00 to midnight every day.
Asiatique Map
There are maps throughout Asiatique, so it's very easy to find your way around.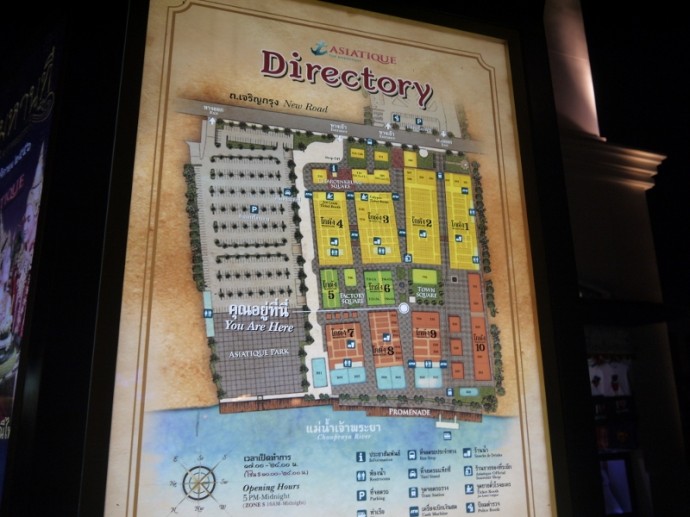 Hotels Near Asiatique
There are a number of hotels in this area, with one of the best being the excellent Chatrium Hotel.