Silom Bangkok is where I've been based since I first moved to Thailand almost five years ago. It's a great place to live, with everything I need on a daily basis being within walking distance.  Officially, the Silom district is bounded by Rama IV Road, Sathorn Road, Charoenkrung Road and Surawong Road, so it is a long and narrow rectangular district. Silom Road, which is where most business are located runs down the middle of the district. Silom is Thai for windmill, which is why you can see a windmill at the junction of Silom Road and Narathiwas Road.
What's Silom Bangkok Like?
Silom has everything, including numerous condos, entertainment, shopping malls, supermarkets, international schools, restaurants, cafes and lots more. It's also considered to be one of the main commercial centers of Bangkok and tens of thousands of office workers are based here. The eastern end of Silom Road from Rama IV to Narathiwas Road is the busiest part and is where you'll find most of the tourists. This is also where you'll find the infamous Patpong area that is known for its go-go bars and other adult entertainment. There is also a Central Department store right next to Sala Daeng BTS station.
The western end of the road from Narathiwas to Charoenkrung Road is quieter, and this is where I have lived on and off for the last three years. It's has plenty of restaurants and cafes, a Tops Market (supermarket) and a good fresh market. It's also only a short walk to the Chao Phraya River, from where you can get boats to many of Bangkok's major attractions. This area is served well by the BTS, with stations at Chong Nonsi, Surasak and Saphan Taksin.
Restaurants, Cafes & Street Food
Like most areas of Bangkok, this area has plenty on offer. The eastern end of Silom Road is packed with countless numbers of restaurants and cafes, and there is an interesting street food area centered around the Convent Road area.
The western end of the road is quieter but has some great restaurants, with popular area to eat being the restaurants inside the small Central Complex and at Baan Silom, which is just across the road. There is an evening street food area on Silom Soi 20, which is also where you'll find the fresh market. Also see Great Cafes In Silom.
Supermarkets & Other Stores
The western end has a Tops Market, Foodland, Villa Market and two MaxValu supermarkets. The eastern end has a Tops Market, as well has a Robinsons Department store (which also has a very large Tops Market).
There is also a popular street market on Silom Soi 5 called Lalai Sap. It's open Monday to Friday and is always packed with local office workers around lunchtime.
Silom Condos
There are so many condos in this area that you'll be spoilt for choice. There are also quite a few new condo buildings being built, so you'll have even more choice in future. The condos tend to be a little more expensive at the western end, with a 1-bed condo costing around 30,000 baht ($1,000) per month, while at the eastern end they tend to be around 25,000 baht ($830) per month. There is a lot of variation though.
When I first moved to Bangkok I stayed at a very large 1-bed condo that was part of Trinity Complex, which is located on Silom Soi 5. The condo building I lived in has now been converted into hotel rooms and is part of the Glow Trinity Hotel. This is a great area to be based, as it's pretty much in the center of the Silom. There are 3-bed condos available at Trinity Complex in the main building, so that might be worth checking out if you are moving here as a family.
I also lived at Silom City Resort on Soi Pipat and also loved this location. Chong Nonsi BTS station is only a 3-5 minute walk away, with Sala Daeng BTS being around a 10-minute walk. 1-bed condos here cost around 25,000 baht ($830), with studio condos being around 20,000 baht ($670).
There is a new condo, Collezio, just around the corner, but prices there are a little higher. It's a very nice building though, with excellent rooftop pool and chill-out area. There are also a few older condos on the same road that were cheaper last time I saw them.
If you want a more expensive and more up market condo, then check along Sala Daeng Road. There are lots of newer condos in this area.
There are less condos at the western end, but this is where we like living. We rented at Baan SiriSilom on Soi Sri-Vieng Road before traveling to Europe and this is a great condo. A 1-bed condo is usually around 25,000 baht ($830). Bangkok Christian College is located nearby, so this area is always busy during term time. There are plenty of good restaurants nearby and plenty of cafes. Surasak BTS station is only 2-3 minutes' walk ways.
We also rented at Treasure Condo on Pan Road last year. Rental prices there can be a little more expensive, but it's closer to Silom Road and more in the heart of that area. Pan Road is where the popular Hindu Temple is located, and the other side of Silom Road is where you'll find Silom Soi 20, where there's an evening street food market and daytime fresh market.
Silom Parks
While not actually in the Silom district, Lumphini Park is just across the road, so is very accessible, especially from the eastern end of Silom.
Walking Tour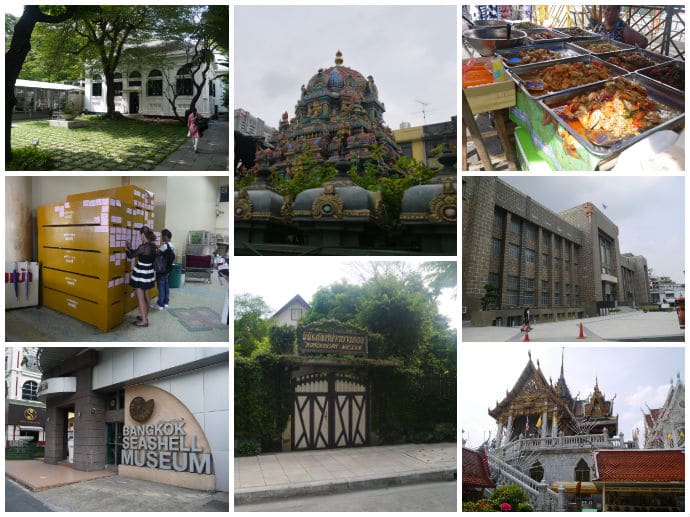 If you want to explore Silom to see what it's like you can follow a walking tour I put together – see Things To See & Do In Silom.
Silom Hotels
There are a number of good hotels in this area, with two very good ones being the Dusit Thani Hotel and the Crowne Plaza Hotel. For other great hotels near Lumphini Park, see Lumphini Park Hotels.
At the western end, good hotels include Holiday Inn, Novotel, Eastin Grand, Mode Sathorn and Pullman Hotel G. If you're on a budget, check out 7 Great Hostels In Silom.
Public Transport
The BTS system runs through Silom, with stops at Sala Daeng, Chong Nonsi, Surasak and Saphan Taksin. There is also an MRT stop at Silom that connects to Sala Daeng BTS station via elevated walkway. Buses run along Silom Road and are a cheap way to get around.
For further information on Bangkok, I recommend you take a look at the Nomadic Notes Bangkok travel guide.