We have just finished fixing up Miu's house after the floods of last year, and this prompted us to look back at the photos we took at the time.  Click here to book a great hotel in Bangkok.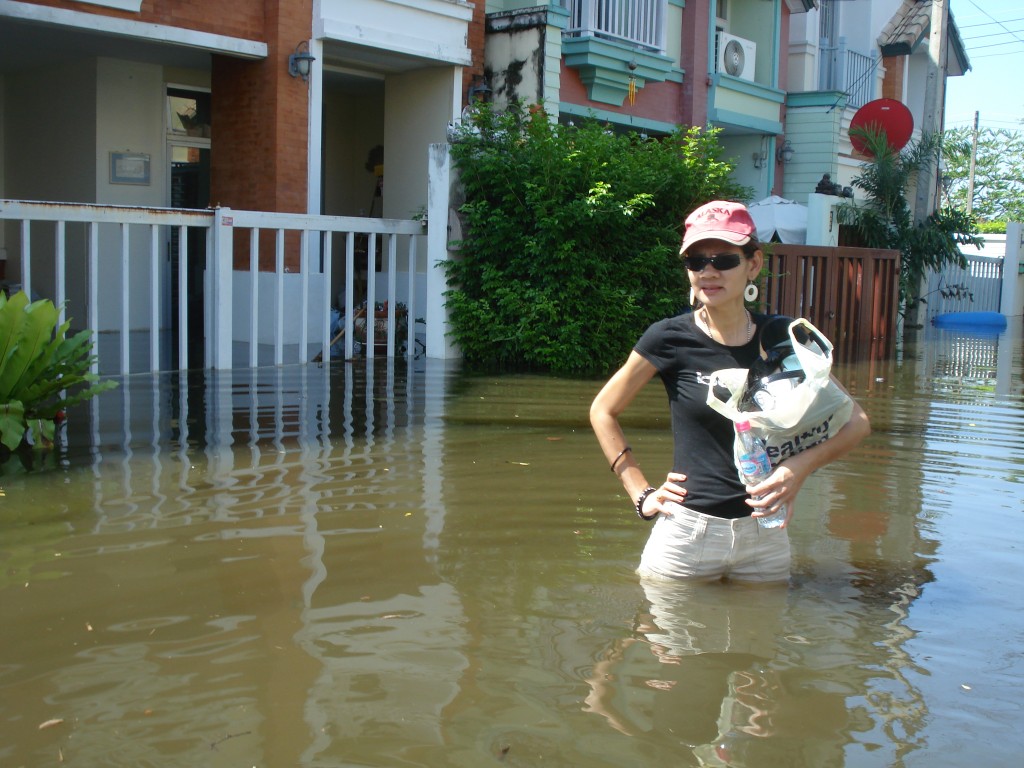 It's strange looking back at these photos a year later, now that everything has returned to normal. But at the time it was an incredibly stressful time, especially for Miu, who lost many of her possessions, including all the downstairs furniture.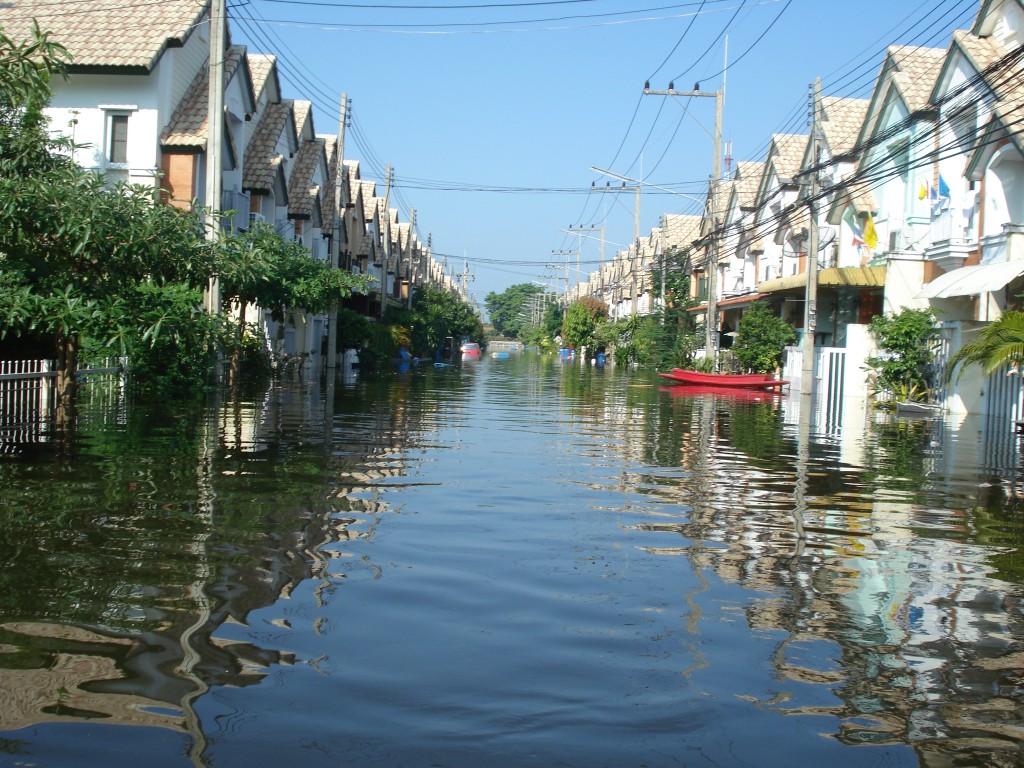 The photos on this page were taken during the first week of the floods. During the following weeks the water rose another two feet and we weren't able to visit until the floods had receded, which was about 6 weeks later. It usually takes around an hour to get from central Bangkok to Miu's house, but on this particular day it took us 3 hours to get there and 5-6 house to get back home again.
First of all we decided to get a taxi there, because we didn't know how bad the flooding was. But the taxi driver didn't want to go any further once he got as far as the start of the floods. We then got a lift from a passing truck that took us along the main road until the turn-off to Miu's house. Up to this point the flooding on the road varied from around 6-12″, but once on the smaller road the flooding just got worse and worse the further we went.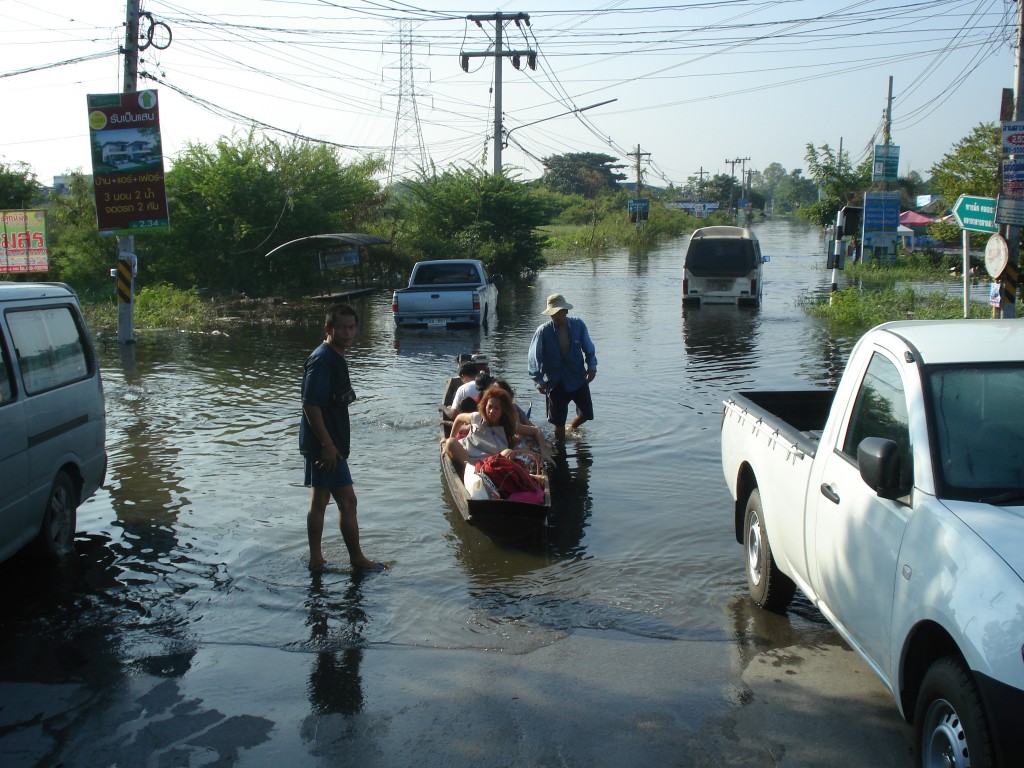 We had to get a boat the rest of the way. You can see the boat above. It was leaking, and we all had bowls so that we could keep the boat from flooding too much. It's amazing how people in Thailand adapt so quickly, and just improvise with whatever is available, even if it is a leaky boat.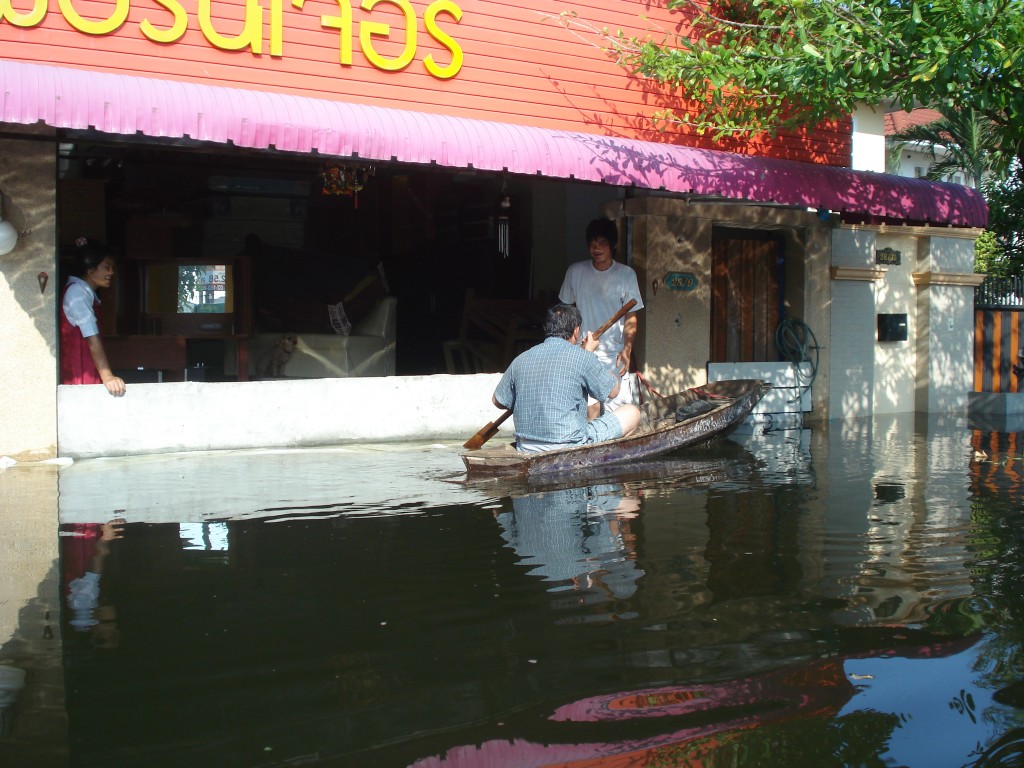 We passed many other people with boats and makeshift rafts along the way. Some people either didn't want to leave their homes, or didn't have anywhere to go to, so they still needed to go shopping for food and water. During the height of the floods, it was a round drip of around 6 hours to get to the main market. These trips were done by a combination of boats and large trucks, mostly provided by the army.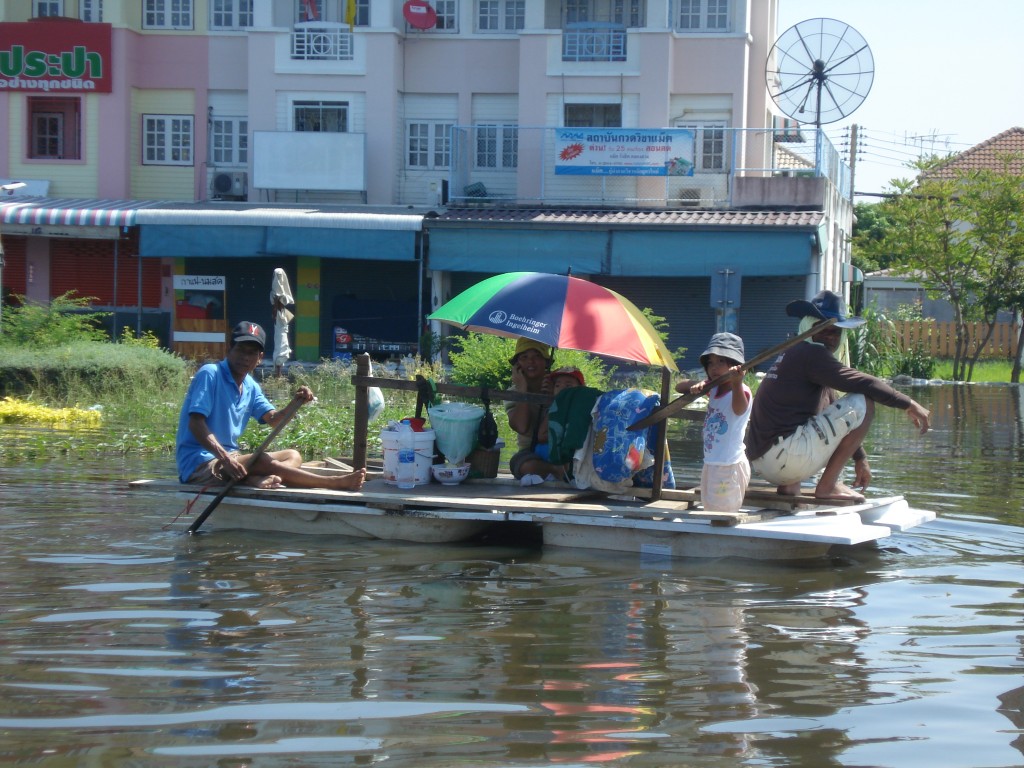 If you don't have a boat, then you have to make your own. The raft above is made from two baths and some wood.
As well as people having to mostly fend for themselves, there were also pets to consider. Many dogs seem to have been abandoned, but some were floated along the water by their owners, as the picture below shows.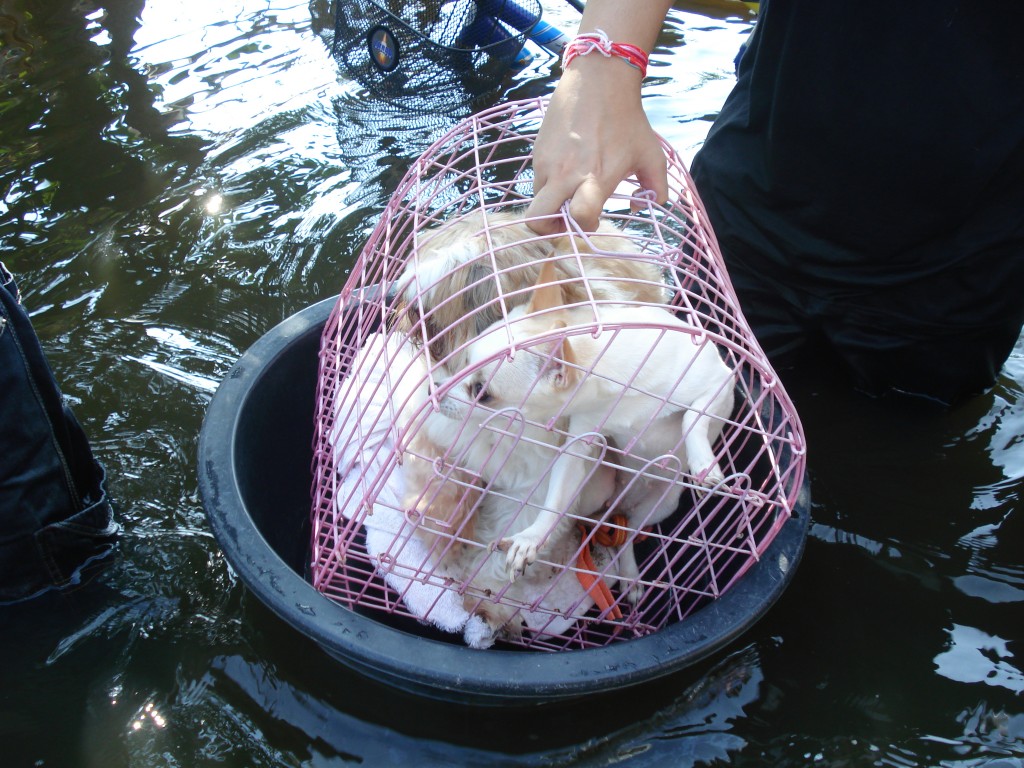 Most people had moved their cars out of the area, but a few were left behind, and must have been considerably damaged after being left in the water for 6 weeks.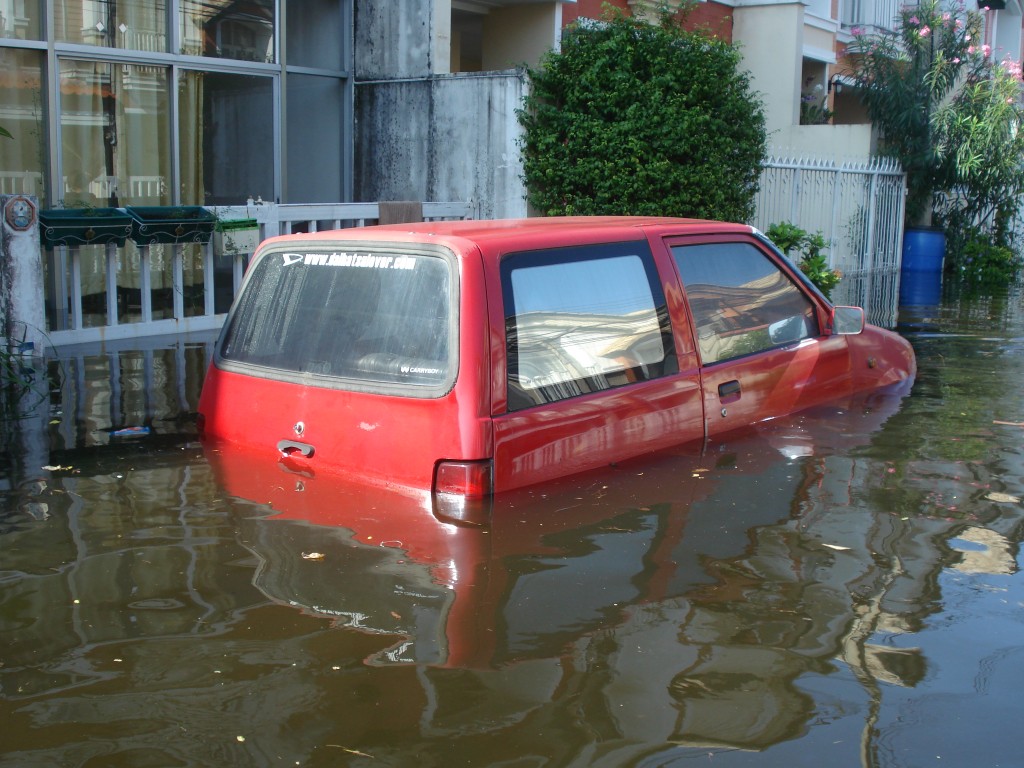 People still have to earn a living during the floods, and a few enterprising people charged to take people places in their boats. Here's the guy who's boat we used to get back from Miu's house to the main road.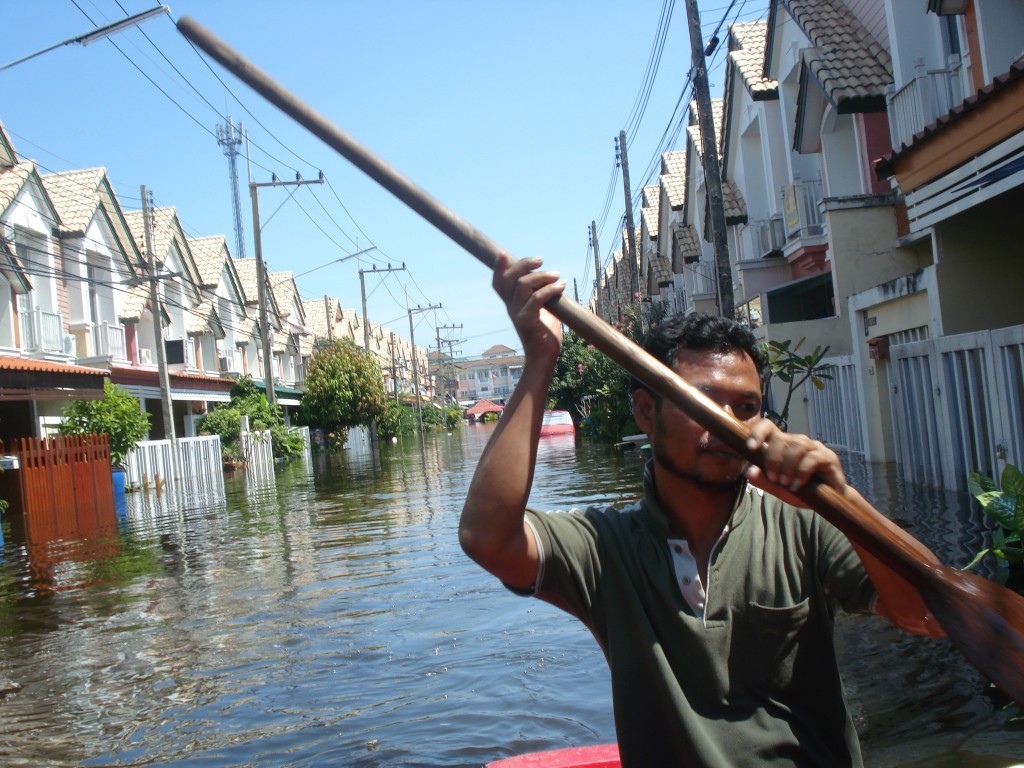 Our journey back to central Bangkok was a real nightmare. We started off by taking a boat with the guy above. Then we waited an hour or so for an army truck that was due to pick people up and take them to the end of the road. After that it was on to another huge truck that was packed with people. This truck stopped almost everywhere picking people up who were other trying to escape the floods or trying to get to a local market to buy food. The market was open even though there was about two feet of water. People just seemed to carry on as if the water wasn't there. You really have to admire their spirit.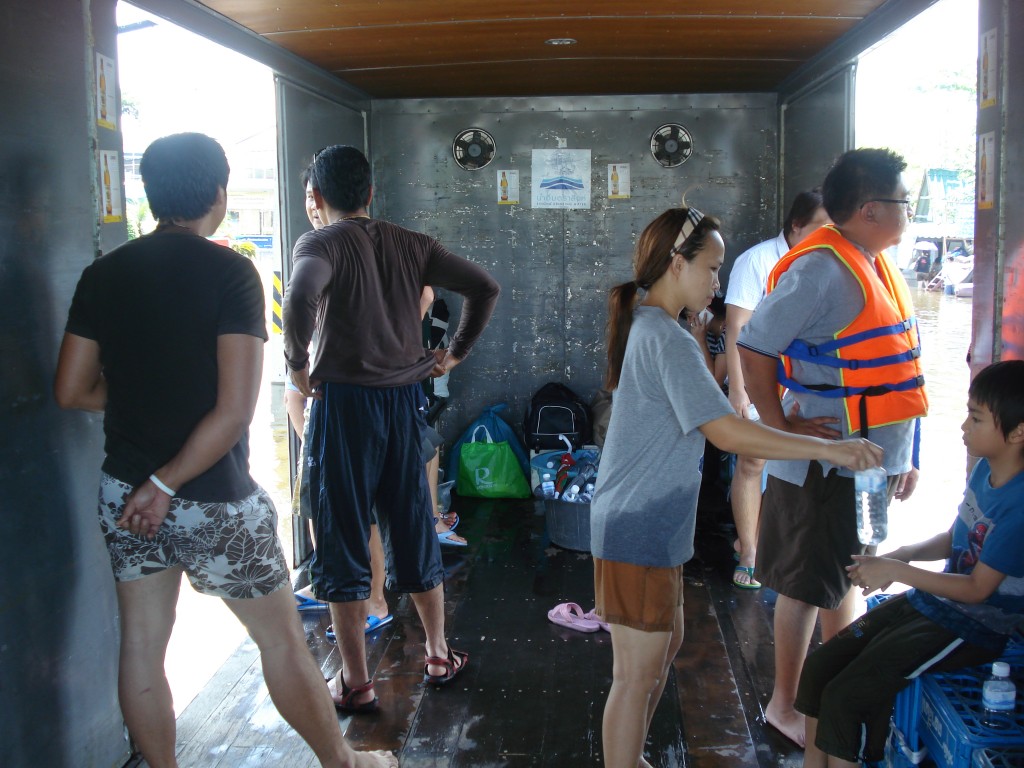 Just past the market the flooding was a lot less and we ended up walking for a while until a family with a small truck gave us a lift to the highway. We then waited an hour for a taxi, but there was already a family of three who had been waiting much longer. The guy eventually called some relatives who managed to track down a taxi, and then let us share the ride with them. They dropped us off some way into central Bangkok, where we had to get another taxi. By this time we must have been really smelly and thought maybe a taxi wouldn't want to pick us up. But everyone seemed to know someone who had been flooded and everyone was happy to help.
During the floods there was a real community spirit with everyone wanting to help out. This is something that's often missing from other countries, and is one of the reason that I have loved living in Thailand so much.
Hotels In Bangkok