There are numerous high-speed trains that run between Barcelona and Madrid every day, so this journey is an easy one to make. The only problem you may have is reserving your seats; we spent around an hour and a quarter queuing at Barcelona Sants train station. We used our Eurail and Interrail passes for this journey but had to pay EUR 24.30 ($27.50) each to reserve seats, which is compulsory for this journey. The distance between the two cities is around 625 km.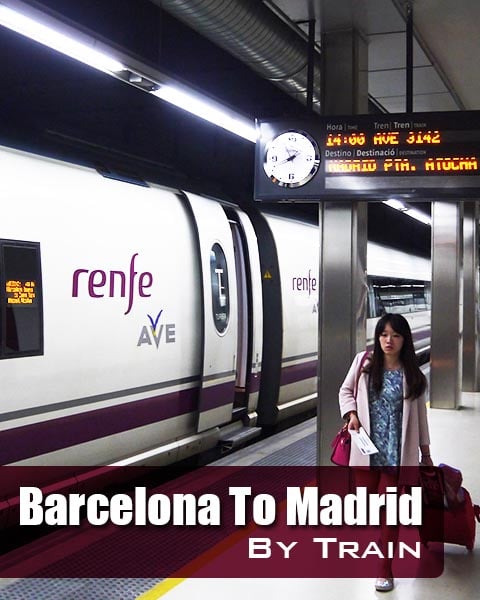 Barcelona Sants Train Station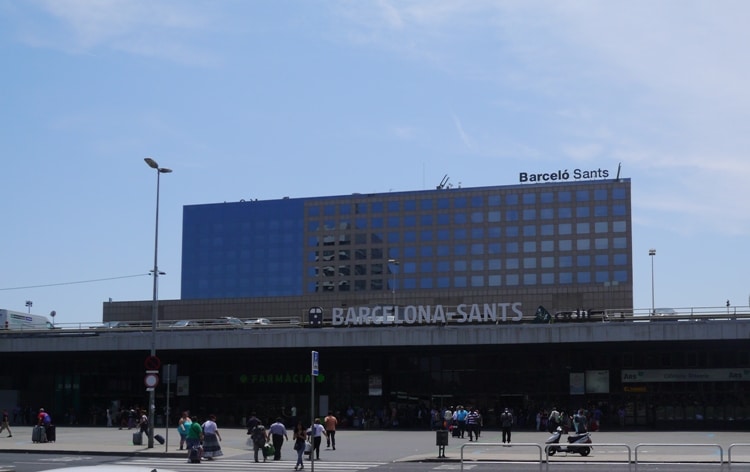 Barcelona Sants is a large and fairly modern station that has a range of shops and food outlets. Queuing for tickets is a very slow process though. The Metro stop for the station is Sants Estacio, which in on the Green Line (L3) and the Blue Line (L5).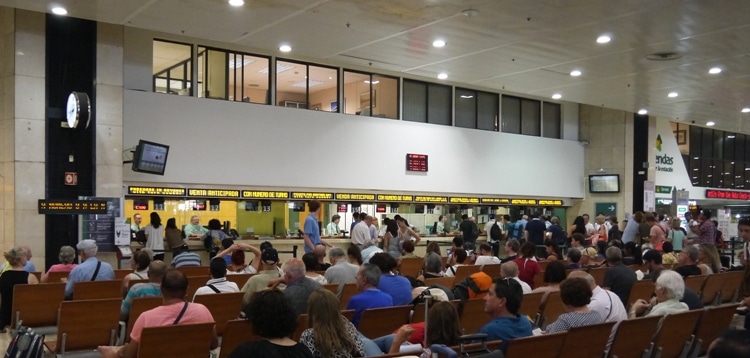 Above you can see the queue for the advance ticket sales. There are numerous ticket machines in the station, but you can't reserve seats using these. So we ended up having to queue for around 1.25 hours.
The Train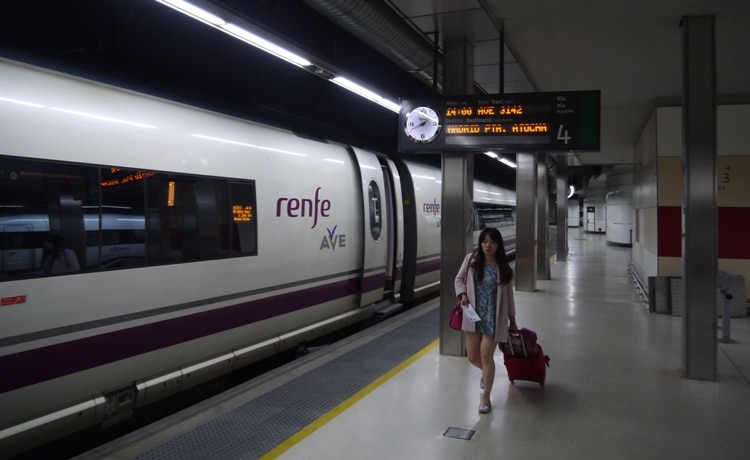 The high-speed train from Barcelona is very modern, and the 1st Class carriages were very spacious with plenty of legroom. Everything looked pretty new and worked perfectly.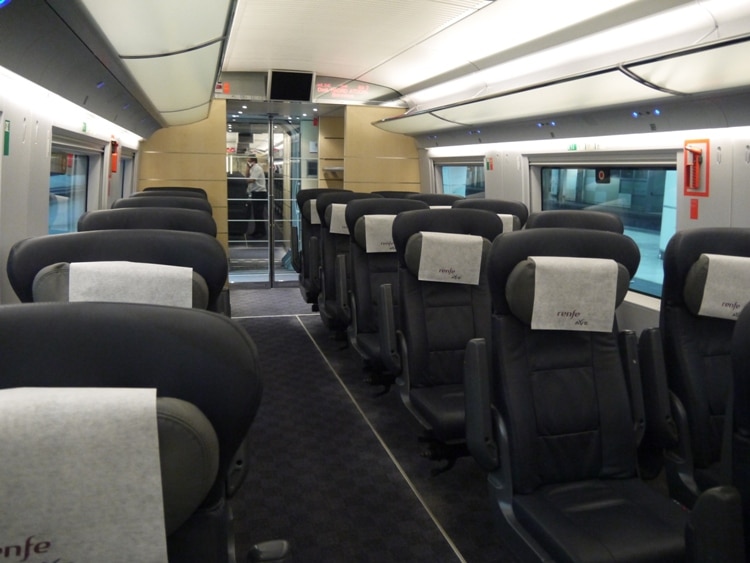 The seats had individual armrests, so no need to share the armrest with the person sitting next to you, as is usually the case. The seats reclined, had footrests, power sockets and small trash containers.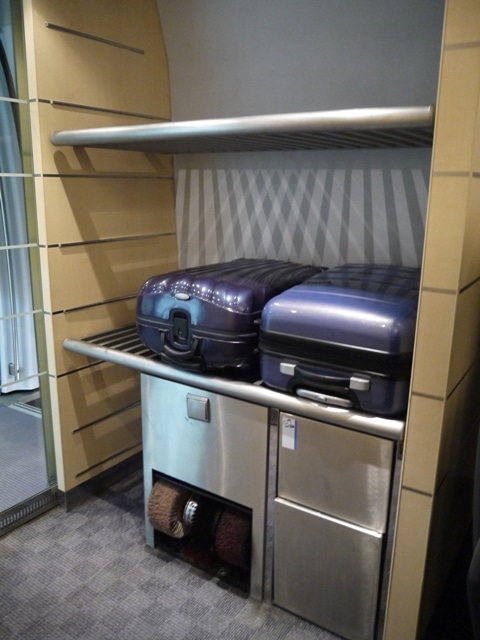 There was a luggage rack near our seats that also had a shoe cleaner. There were also lots of other very large luggage racks available throughout the train.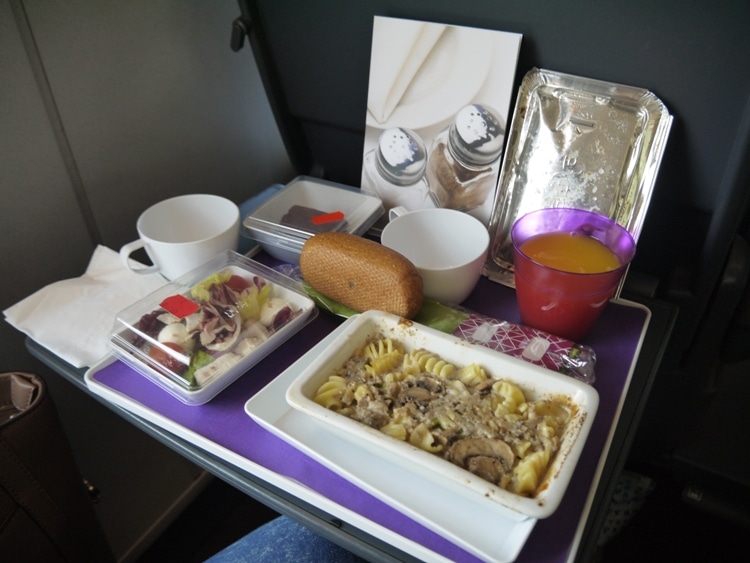 In 1st Class, lunch is included in the ticket price, even if using a Eurail or Interrail pass. I guess that's why it's a little more expensive to reserve a seat for these trains. Lunch consisted of a starter, main meal, bread and dessert. The starter was caramelized chicken breast salad with balsamic vinegar, mozzarella, cherry tomatoes and sesame. The main dish was radiatori pasta with a mushroom sauce. Dessert was a chocolate cake. There was a choice of white or brown bread. Drinks included a choice of water, juice or wine. Tea of coffee was also served. I don't think there was a vegetarian option, but I didn't ask, as I'd already eaten.
Train Planner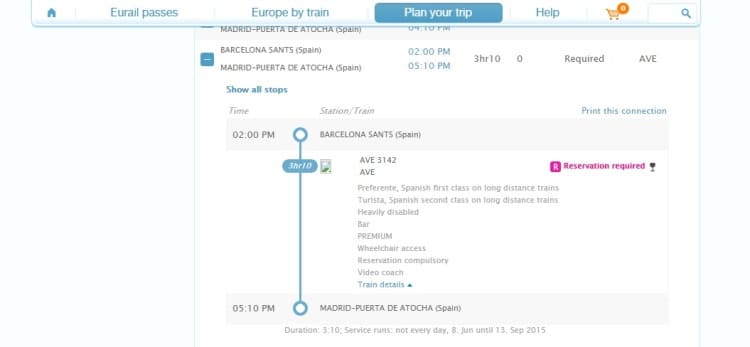 This is from the Interrail 'Plan Your Trip' section of the site.
Map Of Journey
The map above shows the journey as around 2.5 hours, but our train took 3 hours and 10 minutes. The time varies depending on what time train you take.
Cost Of Journey
When I checked the cost of this journey it showed as $129 for Economy Class, $155 for Comfort Class and $218 for Premier Class. I've no idea what these all mean, as all the trains we've traveled on in Europe only seemed to have 1st and 2nd class carriages. Even when we reserved our seats we were only quoted for 1st or 2nd class. As mentioned above, we paid EUR 24.30 ($27.50) each to reserve seats for the journey.
Note that ticket prices can vary depending on the time of the train.
Where To Buy Your Global Pass
You can buy a Eurail global pass at the Eurail website, and an InterRail global pass at the InterRail website. If you're heading to Europe I highly recommend getting one.
Where To Stay In Madrid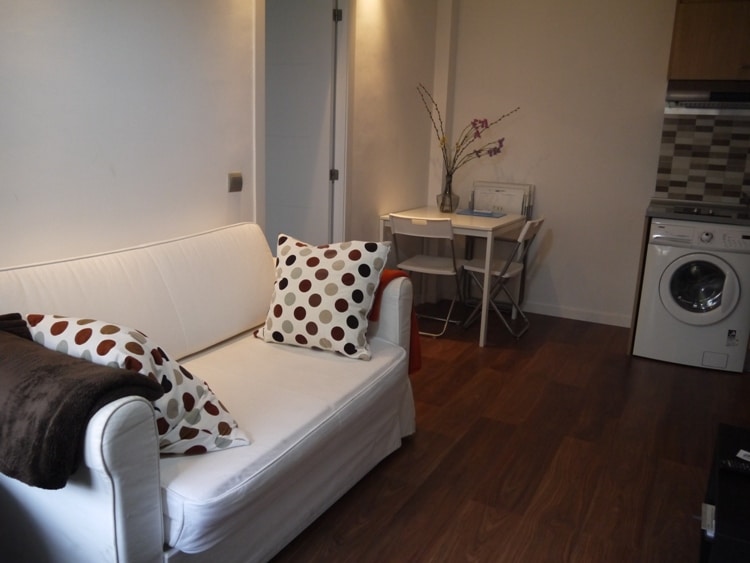 For our few days in Madrid we stayed at Apartment Las Corralas de Servet, a small 1-bed studio apartment in the city center. For other great apartments and hotels in Madrid, check out Agoda Madrid.