If you love the underwater world and are a keen scuba diver (or keen to learn), Asia holds a vast array of marine treasures just waiting for you to discover. Where better to explore life under the sea than in the sun-warmed, crystal clear waters that surround the coasts and islands of the Asian continent?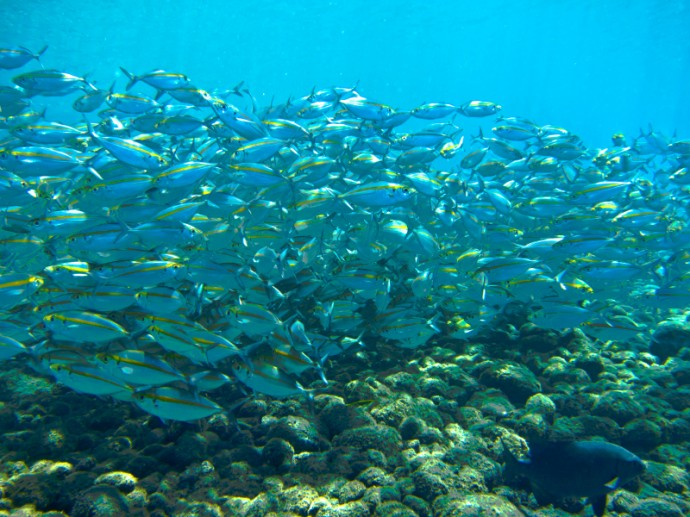 Whether your sole purpose of travelling to Asia is to experience the amazing dive sites in this area, or you are visiting as a tourist and would like to include some diving in your trip, you'll be spoilt for choice when it comes to picking a dive site. Here are some of the most popular and most breath-taking dives on the continent to help you see the best of these tropical waters and the life they contain. You can also check out Diving in Komodo National Park for an in depth review of the diving experience.
1. Tulamben, Bali
If you are visiting the island of Bali, then head to the small fishing village of Tulamben where you can experience diving with a difference. In the waters just off the coast, a Japanese torpedo sank the US army transport ship Liberty during World War II. Its wreck still sits on the seabed, spans 120m in length and is now home to fish, crustaceans and eels. It makes for an incredible dive in itself, but with the added novelty of a huge variety of marine fauna too. Click here for hotels in Tulamben, Bali.
2. The Kerama Islands, Japan
The Kerama Islands have become a well-protected marine reserve thanks to the efforts of the local community to keep pollution and habitat destruction at bay. Here you'll find everything from cuttlefish to octopi, numerous fish species and all kinds of weird and wonderful nudibranchs nestling in the rocks that line the clear blue waters. Click here for hotels near Kerama Islands.
3. The Maldives, Indonesia
Thousands of divers each year choose to visit the Maldives in order to experience the world-class diving that's found there. A nation of over a thousand islands, the ocean is an integral part of life in the Maldives, and the warm, tropical waters here coupled with the numerous atolls and coral reefs make it a haven for marine life of all shapes and sizes. There is a leisurely drift that moves nutrients along the reefs, making it ideal for divers who just want to relax and enjoy the scenery as they swim along. Click here for hotels in Maldives.
4. Pulau Sipadan, Malaysia
The island of Pulau Sipadan is the only oceanic one in all of Malaysia. More than that, it is rated among the world's top five dive spots by numerous magazines and experts. The coral reefs here are abundant with wildlife, and there is a huge colony of green sea turtles that are known to follow divers around, curious and free from fear. Click here for hotels on Sipadan Island.
5. Derawan Islands, Indonesia
The Derawan Islands are a group of four uninhabited islands just off the coast of Borneo. Frequented little by tourists, you're pretty much guaranteed a free-from-disruption dive and will see few other dive boats and certainly no glass-bottomed-boat tours. Another highlight of this location is the prevalence of stingless jellyfish around the islands. Having no natural predators in the area, these jellyfish have evolved and discarded their defence systems. Click here for hotels on Derawan Island.
Wherever you choose to go in order to satisfy your underwater cravings, you're guaranteed a combination of breath-taking, fascinating and colorful flora and fauna in each and every location mentioned above.