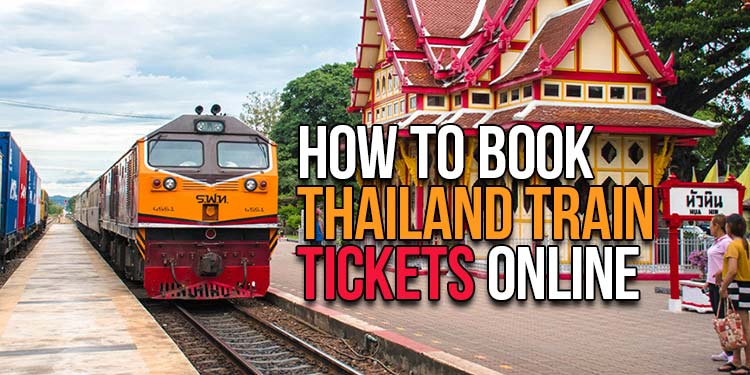 Traveling around Thailand by train is one of the greatest ways to see the country safely and efficiently. The trains in Thailand typically operate on time, are quite inexpensive, and depending on the class you book, can be extremely comfortable!
Most of the time, booking a train ticket online will save you the hassle of having to go to the train station to purchase a ticket, and will save you the stress of not knowing if you'll get a seat on the train. Booking tickets online is especially recommended for very popular routes in Thailand, including Bangkok to Chiang Mai and Bangkok to Hua Hin.
This guide will show you exactly how to book Thailand trains online. First, we'll quickly walk through the pros and cons of booking online, followed by a step-by-step guide to making your Thailand train ticket purchase.
Pros/Cons Booking Thailand Train Tickets Online
There are many advantages to booking Thailand train tickets online. For example:
Guaranteed Seat: Make sure you have a guaranteed seat for your trip! If you have a specific date you know you're going to be traveling, then booking online is a great idea, especially for busier routes. These routes include Bangkok to Chiang Mai, and Bangkok to Surat Thani.
Save Time: If you have the tickets mailed to your hotel, you only have to go to the train station once when you depart, as opposed to twice (once to buy your ticket and once for your departure).
Save Stress: Booking Thailand train tickets online also saves you the stress of showing up to the train station and hoping there are train tickets available for your destination. When you book online, you're guaranteed a seat and don't have to worry about anything until your departure date.
Likewise, there are a couple cons to booking train tickets online. These include:
You're Locked In: If you book a ticket for a desired date, there's always a chance that your itinerary will change. In that case, it's a huge hassle to change or cancel your ticket for a refund.
More Expensive: Another con to booking tickets online is that they cost a little bit more than they would if you book them in person at the train station. Thankfully, the fee is negligible, so I wouldn't let this stop you unless you're on a super-tight budget!
Guide to Booking Thailand Train Tickets Online
Now that you've had a chance to understand the pros and cons of booking Thailand trains online, below is a step-by-step guide to purchasing tickets online. Don't worry, it's a very smooth and efficient process. You should have your train tickets in no time!
Step 1 | Choose Where to Buy Tickets
While there seem to be many websites that offer train bookings for Thailand, the reality is that most of them rely on the robust 12go.asia booking system. Travelers using this site directly will find that booking a Thailand train ticket online is quite straightforward and simple. Simply enter the destination, purchase your ticket, and decide if you want it mailed to you or if you want to pick it up at the station. You can book tickets up to 30 days ahead of your desired departure date.
In addition to booking train tickets in Thailand, 12go.asia can also help you with bus and taxi tickets too. Their service is a bit more expensive, but they offer refunds and various other perks you won't find elsewhere. They also do not offer the option to mail tickets to your home address for trains departing from Hua Lamphong station, since their office is too close. You will have to physically go to their office to pick up the ticket if you're departing from here. They have also stopped shipping tickets to hotel addresses on the islands, so keep this in mind when purchasing tickets.
If you know your travel date and destination, begin by entering those details in the two fields. For example, if you're traveling to Chiang Mai in a week's time, enter the date, your desired origin station, and Chiang Mai as your final destination.
Online booking is readily available between major stations such as Bangkok to Chiang Mai, Bangkok to Hua Hin, and Bangkok to Surat Thani. These tickets tend to sell out days in advanced, so make sure you're planning ahead and purchasing your ticket early. You can also book tickets online between Bangkok to many different stations, and Chiang Mai to many different stations.
Step 2 – Choose Your Ticket Class
Once you've chosen your origin, destination, and departure date, it's time to book a seat! You can choose between 2nd class AC, 2nd class sleeper AC, 1st class sleeper (which has AC), and class II ladies only. The prices of each class will vary, with 1st class being the most expensive, 2nd class sleeper AC and class II ladies only the next cheapest, and 2nd class AC the cheapest.
On the 1st class sleeper trains, they offer breakfast and more privacy than any other option. The 2nd class sleeper trains have seats that fold into bunk beds, and you have the choice between top or bottom berth. The bottom berth tends to be a bit more expensive but has more room and a window.
The trains have toilets as well as food and water for sale; so don't worry if you forget to bring snacks!
Step 3 – Pay for Your Thailand Train Tickets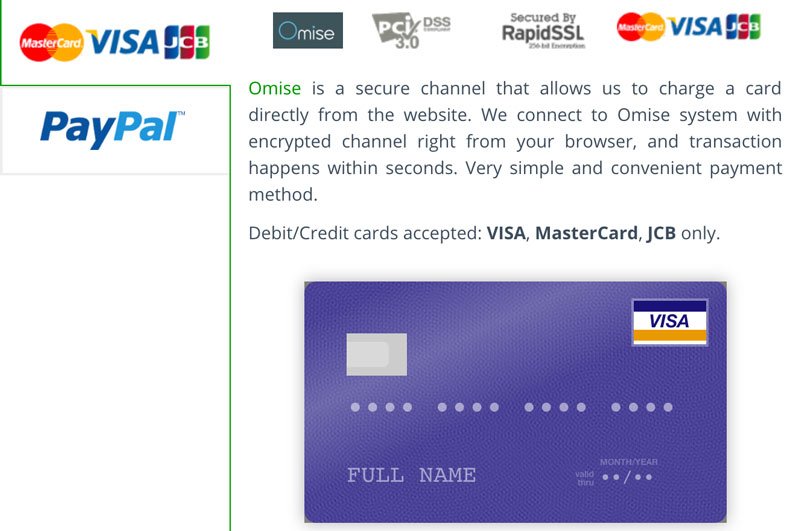 Using online secure payment on 12go.asia, you are now able to complete the booking of your Thailand train ticket ticket. Payment is secured through Omise, a secure channel that allows payment via all major credit cards (Visa, MasterCard, JCB) and Paypal.
The ticket price will be in Thai baht, so make sure you're familiar with the conversation rate to your home currency if you're unfamiliar with Thai baht.
If you need help on the conversion rates, you can use XE.com to get the most up-to-date rates for Thai baht to US dollars.
Step 4 – Receiving Your Thai Train Ticket
Once payment has been made, you can choose to have the Thailand train ticket mailed to your home address for an additional fee, or choose to go to the station and collect them yourself. If you choose for them to be mailed, it saves the hassle of having to go to the train station twice.
If you choose to go to the station, you can pick them up during your free time. You can also only collect train tickets at major stations, including Hua Hin, Bangkok, Chiang Mai, and Surat Thani.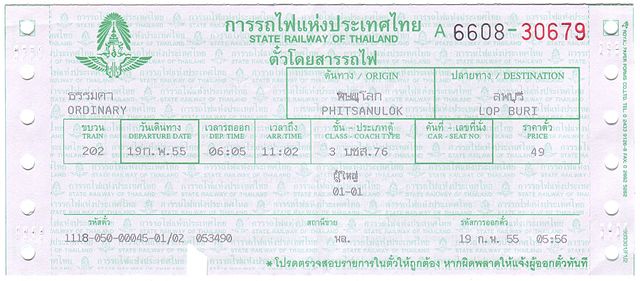 Booking tickets online costs a bit more than in person, as is normally the case all over the world. This fee is to cover the cost of a physical ticket, since you need to have a physical ticket to ride the train in Thailand.
To be clear, you cannot board the train with the ticket voucher given to you online. You must have a physical ticket in hand (see example ticket above). One of the 12go.Asia staff members personally goes to the office to book it for you, which is why there is a service charge. It saves you from having to do it, though!
Refunds or Cancellations: With 12go.asia, if you do choose to cancel your ticket, they offer 80% (before ticket is purchased at the counter), 50% (before a specific date relative to your departure date), and 15% (before a specific date relative to your departure date, later than the previous choice) refunds.
Conclusion | Thailand Train Tickets
Based on the ease and simplicity that comes with booking a Thailand train ticket online, it's highly recommended that you do so, especially if you're traveling during peak season between major stations.
To review, the process for purchasing your tickets through 12go.asia, the recommended booking service that many other websites use, is the following:
Choose where to buy your tickets: We've used and highly recommend 12go.asia for all Thailand transport booking needs.
Choose your booking class: There are a number of options so you choose the one that best fits your budget and comfort level.
Issue payment: Payment is secure and will be done in Thai baht, even if you use a foreign credit card.
Arrange for Delivery/Pickup: You must have the physical ticket in order to board a Thailand train, so you'll need to arrange for either delivery of the tickets or pickup at the station.
Traveling by train in Thailand is going to be an extremely rewarding experience for you, I promise! Once you've had a chance to do it, please leave a comment below to share your personal story. I'd love to hear it!
---