After our 5-month travels around Europe it was time to head back to London to get our flight home to Bangkok. It's been an amazing five months during which we've visited 34 cities in 15 countries. We started and ended in London, with the final stop before London being in Seville. During the whole time we've traveled by train and bus, but due to the long distance, we decided to get a flight back to London from Seville.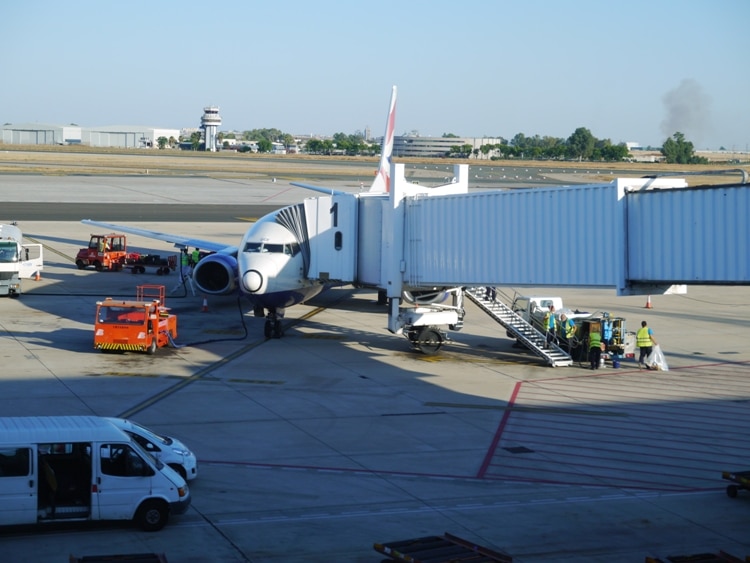 Booking The Tickets
Despite there being some cheaper flights from Seville to London, we opted to pay a little extra to fly with British Airways, for two reasons. Firstly, because their luggage charges were easy to understand, and secondly, because they are one of the world's safest airlines. Some other airlines with cheaper flights had very confusing luggage charges and the information was sometimes difficult or impossible to find. A few also had such bad reviews that we just didn't want to fly with them. Flying shouldn't be about getting the cheapest flight; your comfort and safety should also be taken into account. We booked the tickets directly via the British Airways website at a cost of EUR 183 ($206) each. Baggage allowance was 23 kg each.
Getting To Seville Airport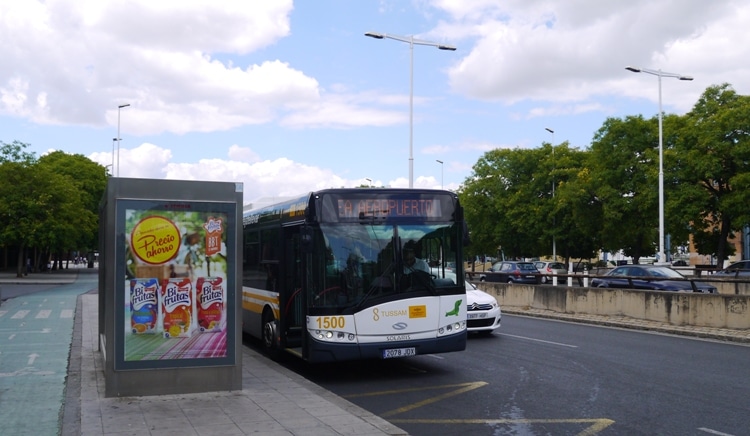 We got the airport bus to Seville San Pablo airport. Tickets cost EUR 4 each. See Getting To And From Seville Airport.
Checking In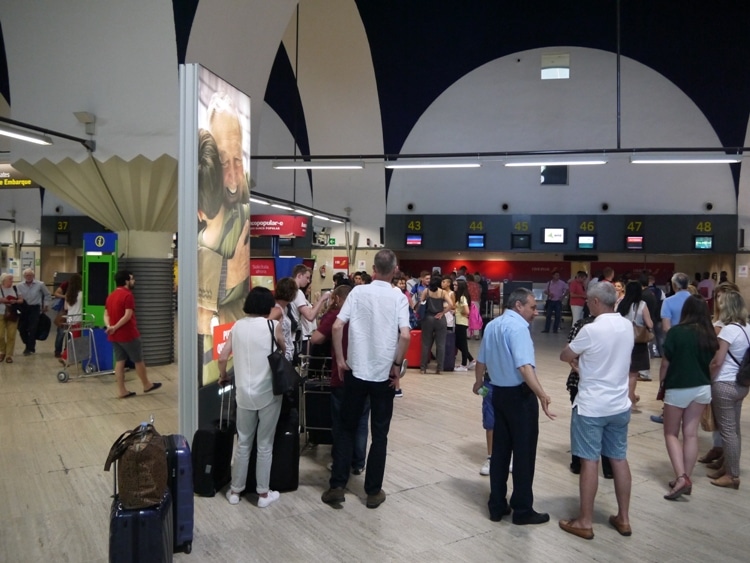 One of the things I didn't like about the British Airways tickets was that they charge EUR 18 ($21) each if you want to choose your seats in advance. The seat booking is free once online check-in is open 24 hours before the flight, so this is when we booked our seats. The bag drop at the airport took longer than expected, as there didn't seem to be enough staff on duty. This seems to be a problem with many airlines though.
The Flight
Our flight left a little earlier than the scheduled 20:55 departure time, and arrived at London's Gatwick Airport at 22:30, which was 10 minutes earlier than planned, giving a flight time of 2 hours and 35 minutes. The time in Spain is one hour ahead of the UK.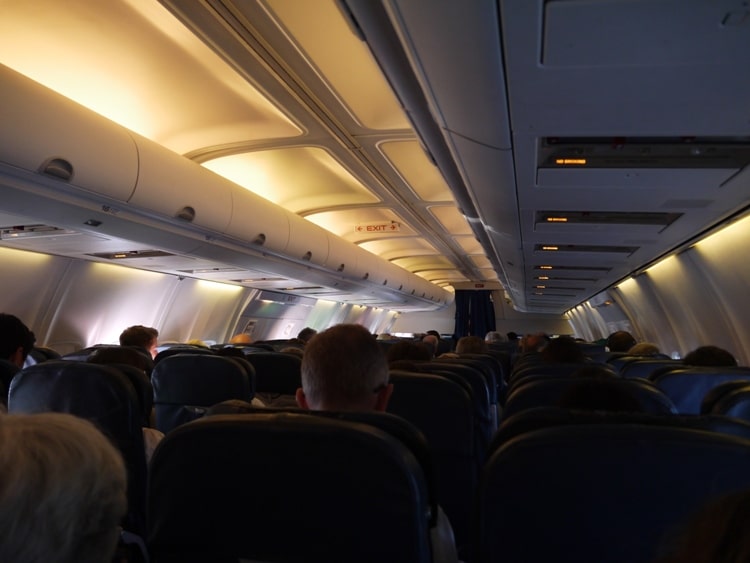 The flight was pretty full, with almost all seats taken.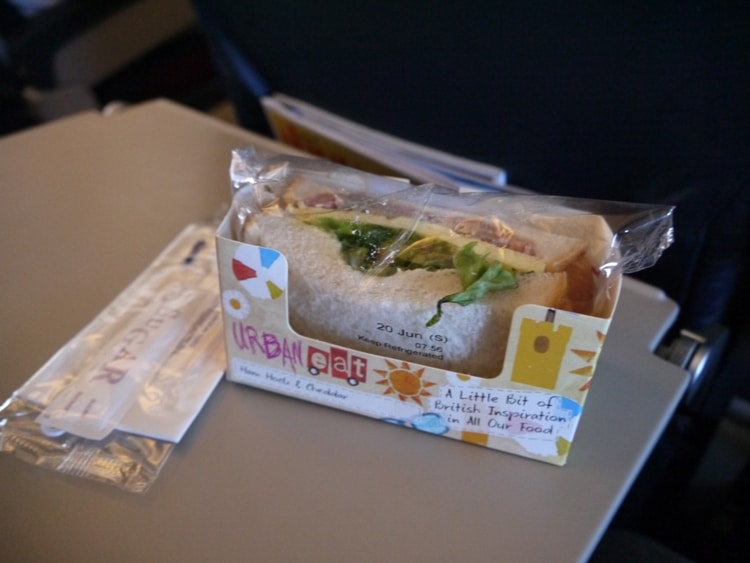 The only word I can find to describe the food served is pitiful. There was a choice of a very small ham and cheese sandwich, or an equally small cheese and pickle sandwich. Drinks were also served.
Arriving At London's Gatwick Airport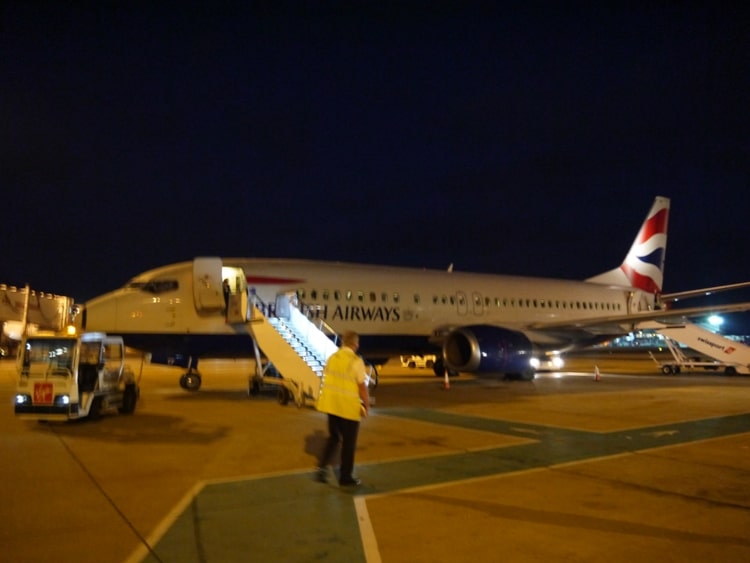 We disembarked from the plane fairly quickly and made our way to Border Control and Baggage Reclaim. There were plenty of staff at Border Control, and it took just a few minutes to pass through. Our bags arrived a few minutes later. All in all,  it was quite a pleasant journey.
Hotels At Gatwick Airport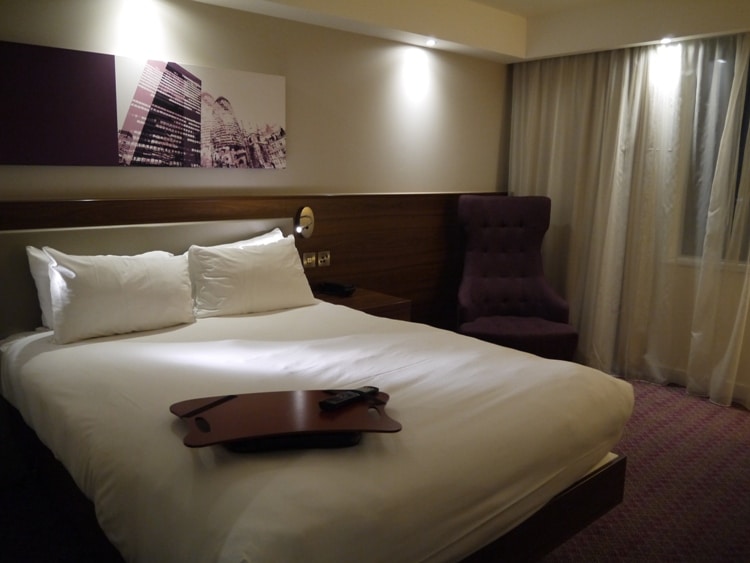 As our flight arrived so late at night we decided to stay at Hampton by Hilton Hotel at the airport, rather than get the train into central London. We got a great price for the hotel, that also included breakfast, and it was also very conveniently located.
Getting From London Heathrow To Central London
For the journey into central London we opted to travel by train to London's Victoria station. See How To Get From Gatwick Airport To Central London for further details.
Hotels In London
We opted to stay at the Premier Inn Hammersmith for our first night in London, as we knew the location would be quite good for us. For other great hotels in London, check out Agoda London, our favorite hotel booking website.