Divota Apartment Hotel is a series of apartments in beautifully renovated old stone houses just a few minutes' walk from the Riva and Diocletian's Palace. We spent our first three nights in Split in one of their studio apartments and we were very impressed. If you like attention to detail, you'll love these apartments. Click here to book one of these beautiful apartments.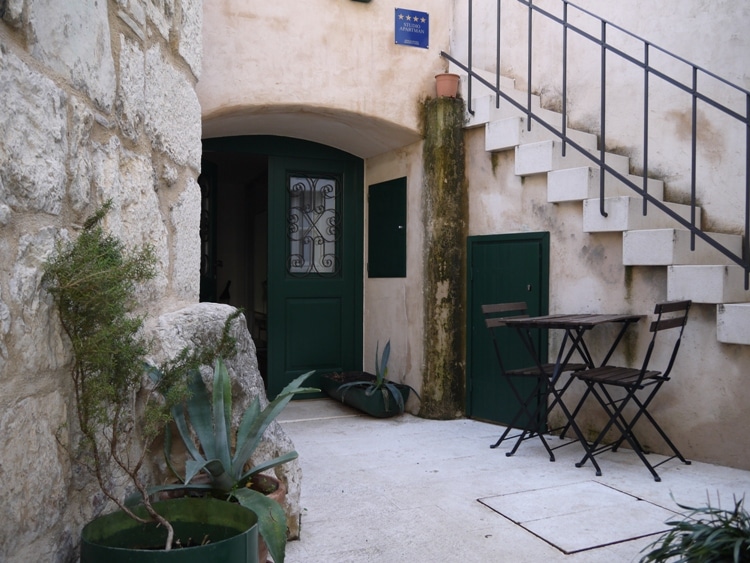 As soon as we arrived at the apartment we knew we'd love it. The old stone house in which the apartment is located has been beautifully renovated and looked an absolutely perfect place for our first few nights in Split.
The Living/Bed Area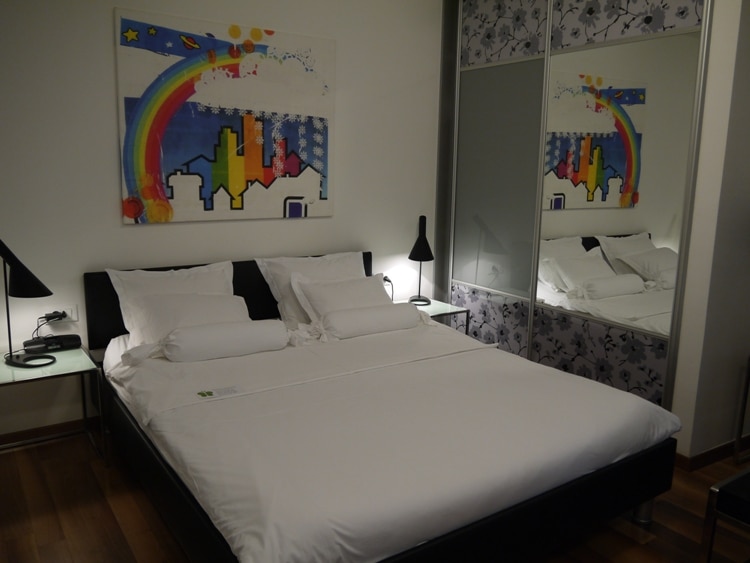 The inside of the apartment has been renovated as beautifully as the outside, and everything in the apartment is very new and of high quality. The apartment is white inside, which helps give it a very clean feel, but it also looks colorful at the same time, as you can see in the image above. The bed was large and very comfortable. We slept very well every night that we were there.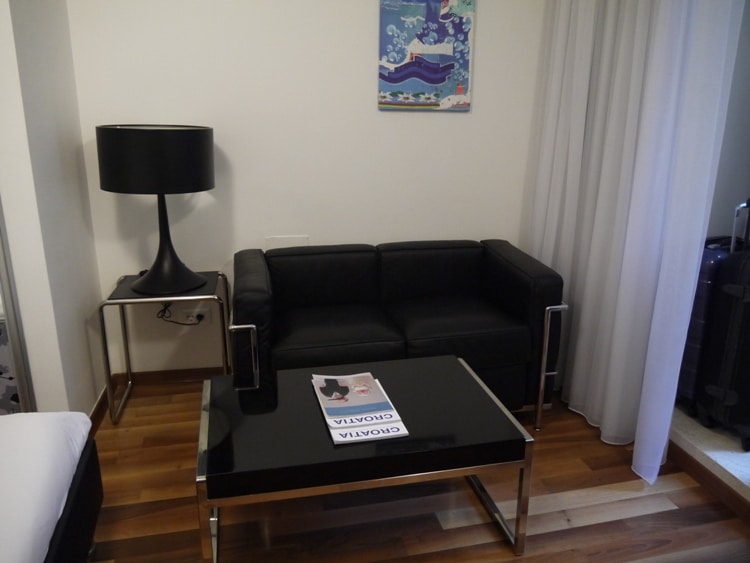 Just at the entrance there is a two-seat sofa and coffee table. It's quite relaxing to sit there, especially with the door open, where you can look out onto the small courtyard.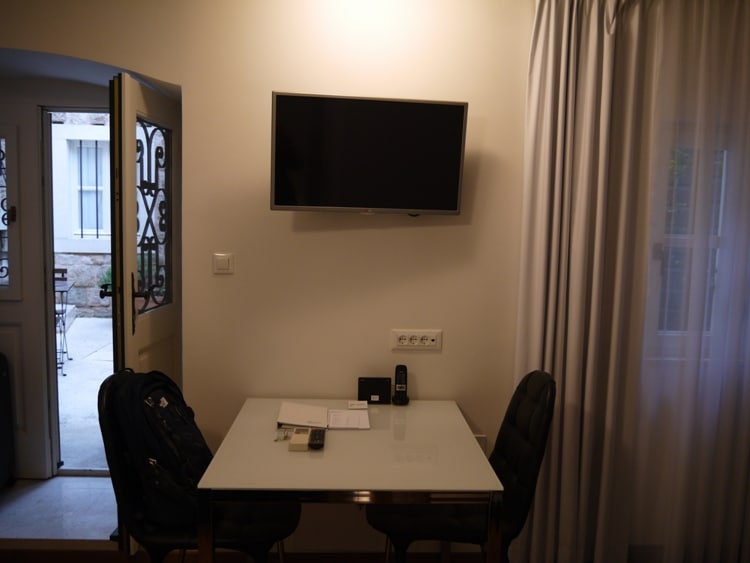 The apartment had a dining table and chairs, but I used this as my desk, as I needed to do some work while I was there.We mostly ate out, as there are such a great range of restaurants and bars in Split, but the table is useful if you want to have the occasional meal at the apartment.
The Kitchen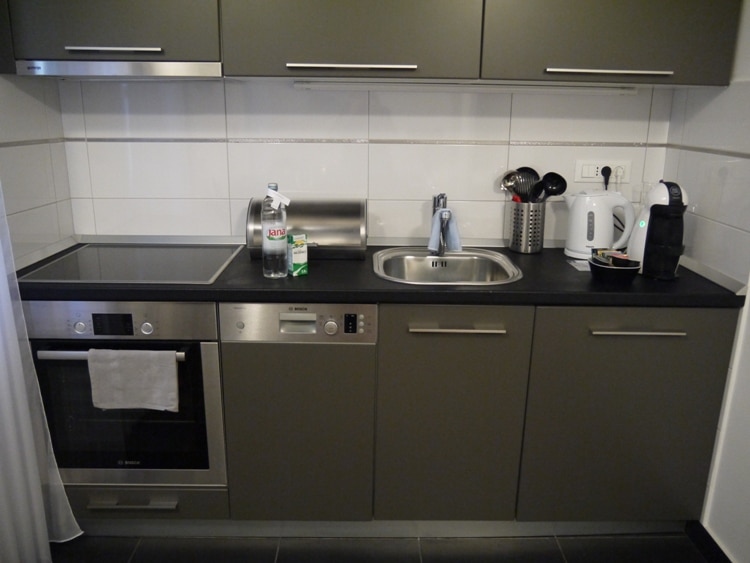 The kitchen in the apartment was fantastic. There was a 4-ring hob and oven, a mini bar, a dishwasher, kettle and coffee maker. All looked brand new, so I guess the apartments have been recently renovated. Dishwasher tablets were provided for the dishwasher.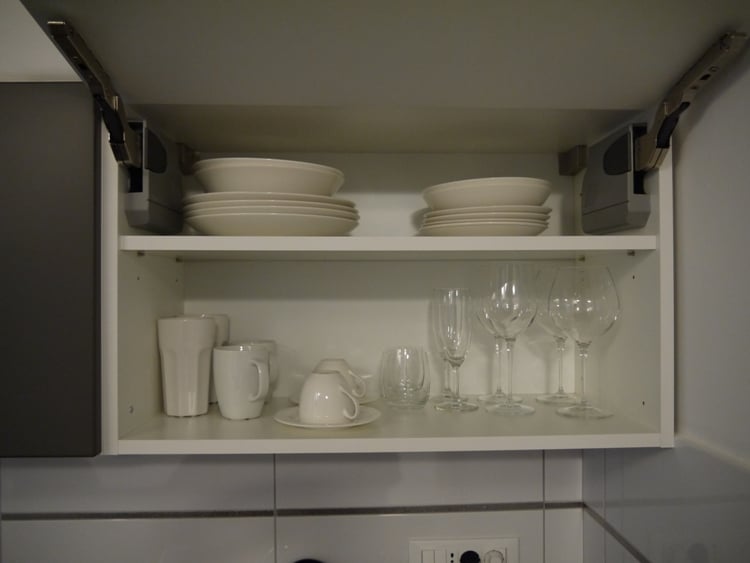 The kitchen cupboards were well stocked with everything we needed for our stay. As you can see in the image above, everything was spotlessly clean and of good quality.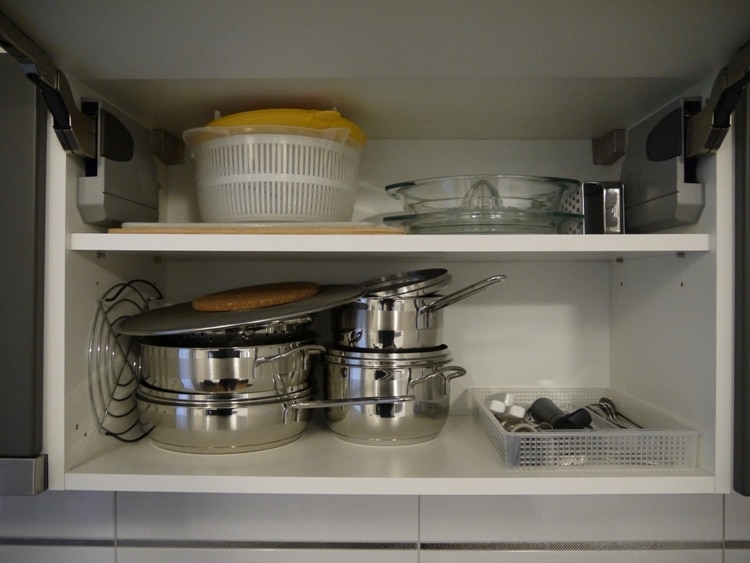 We didn't cook any big meals at the apartment, but there were plenty of pots and pans and other utensils, so you could cook almost anything you wanted while staying there.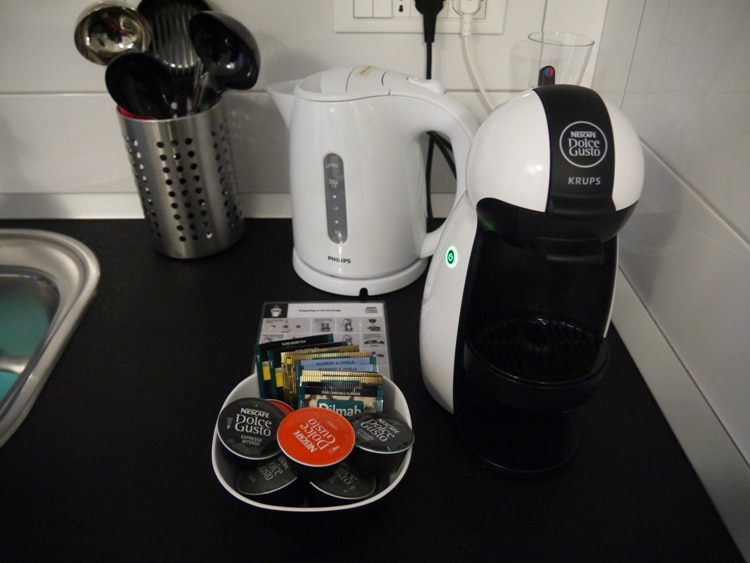 We're always disappointed when we arrive at a hotel or apartment that doesn't have tea and coffee making equipment, so we were both super happy to see that there was both a kettle and coffee maker at this apartment. There was also a good stock of tea and coffee for our use. There was also a complimentary bottle of water and carton a milk. This is always a nice gesture and very much appreciated when you first arrive after a long and tiring journey.
The Bathroom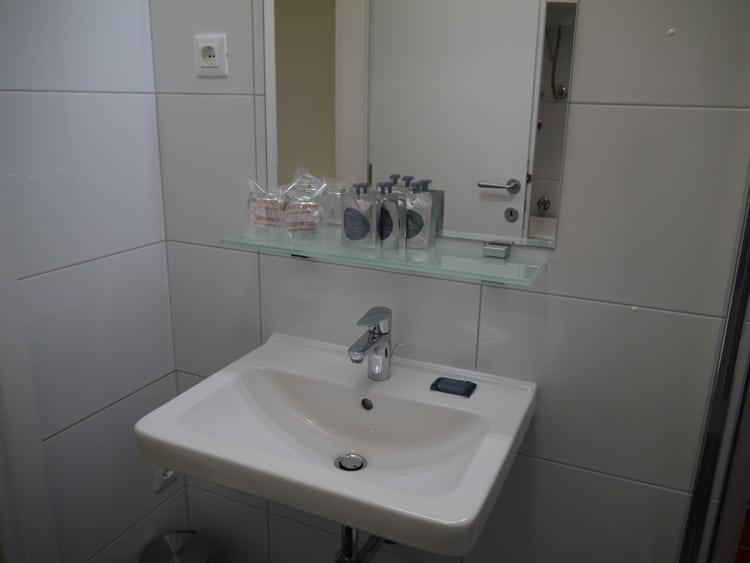 The bathroom was another beautiful area of the apartment and was the first place we've stayed in Europe where the bathroom had underfloor heating. Tiled floors are great in the summer, but can feel quite cold at other times of the year, so it was great to be able to use the bathroom and feel some warmth under our feet. The bathroom had complimentary shower gel, shampoo, body cream, cotton buds and shower cap. There was also a hair dryer available.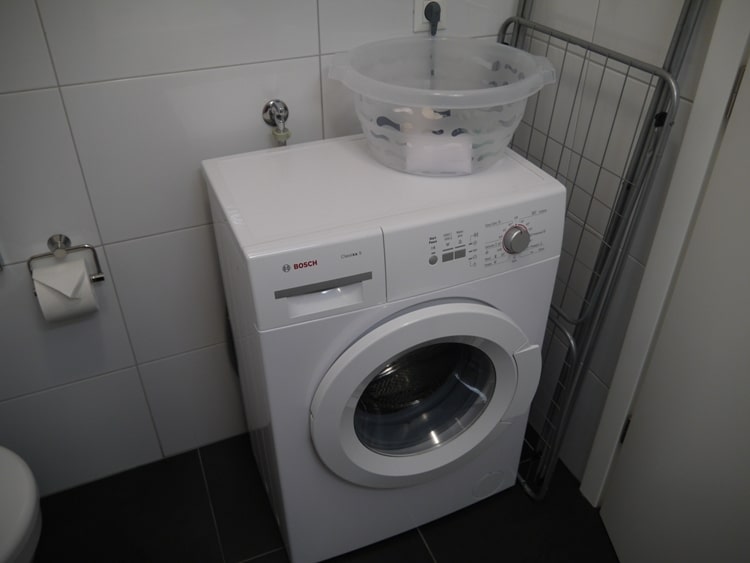 There was a washing machine in the bathroom and two capsules of detergent had also been provided. As we're traveling long-term, we especially appreciated having the use of a washing machine.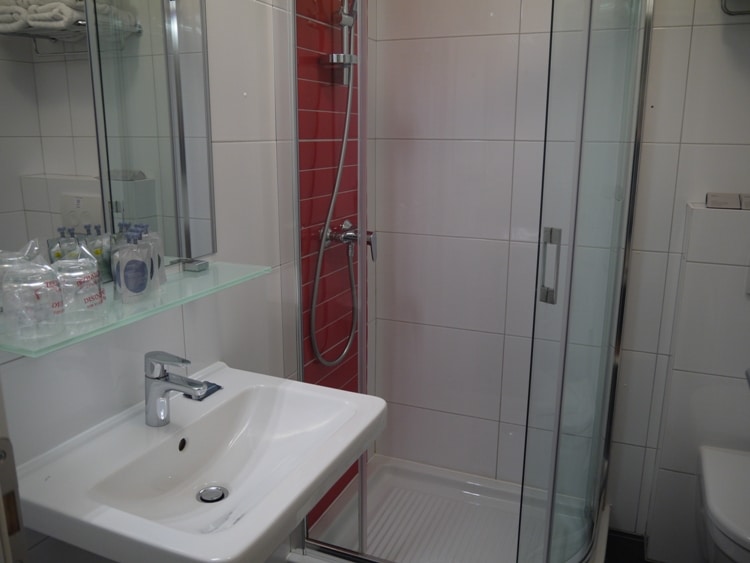 The shower cubicle was a good size and the water pressure was very good. Everything in the bathroom worked perfectly.
Wifi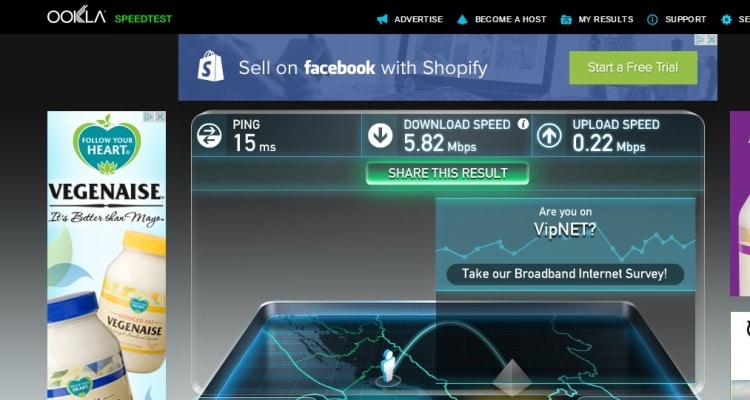 The apartment had complimentary wifi and worked well the whole time we were there. The download speed was a decent 6 Mbps and the upload speed tested at 0.22 Mbps. This seems slow, but in practice my uploads seemed to be much faster.
The Staff
The staff at Divota are friendly and helpful, and nothing seems to much trouble for them. This is another aspect that makes Divota such a great place to stay. When we first arrived, Tanja showed us to our apartment and explained how everything worked. She's very knowledgeable about Split and knows all the best restaurants, so be sure to ask her for advice on what to see and where to eat.
The Location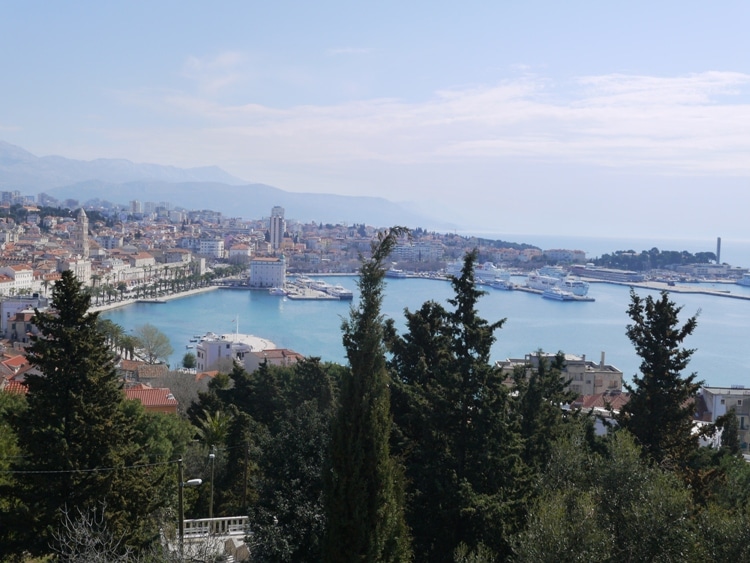 I think this is about my 6th or 7th visit to Split, so I know the town quite well, and this is one of my favorite areas to stay. It's just a 2-minute walk to the center of town, but a little hidden away, meaning it's quiet at night and you're able to get a good night's sleep. It's also about a 5-minute walk from a fantastic viewing platform where you can get some awesome views of the town and sea.
How To Book Divota Apartment Hotel
You can book an apartment directly via their website at divota.hr, or if you prefer you can use a booking site such as Agoda. See Agoda Divota for further info. If you want to stay in this particular apartment, ask for apartment 601.