As we were planning to spend a month in the UK we wanted reliable SIM cards that we could use to call friends and family and also to use the internet when we were in places that didn't have wifi. After much research we opted to get Virgin Media SIM cards. They have numerous stores around the country, but we picked ours up at the Oxford Street store in central London.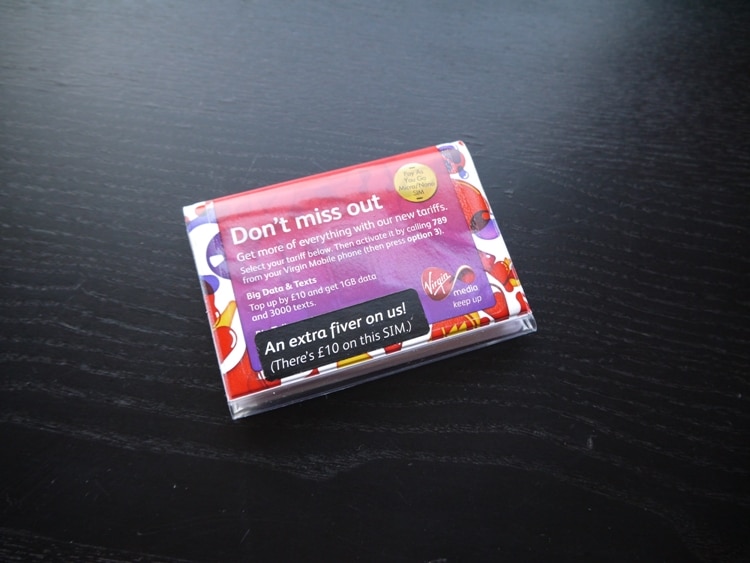 As we weren't going to be in the UK long-term we opted for the Pay As You Go SIM. Our Samsung phones were already unlocked, so the SIM cards worked right away. It's possible that your phone may be locked to a certain network, so check that before traveling to the UK. We bought ours in Thailand and cell phones there are almost always unlocked.
Big Data & Texts Or Big Talk
When you top up with a minimum of £10 you get to choose between a Big Data & Texts tariff or a Big Talk tariff. Until you chose one of those you'll be on the Starter tariff, which is more expensive.
When you top up with £10 you get to choose either:
Big Data & Text: 3,000 free texts and 1 GB of data
Big Talk: Unlimited calls to landlines and 120 minutes to UK mobiles
Top up with £15 and you get to choose either:
Big Data & Text: 3,000 texts and 3 GB of data.
Big Talk: 3,000 texts, unlimited calls to landlines and 120 minutes to UK mobiles
Outside those tariffs you pay 35p/minute for calls, 12p per text and £1 for every 100 Mb of data.
During our month in the UK I ended up spending £40 and Miu spent £30, so that's a total of £70 between us for a month. But we did use the internet on our phones quite a lot and made numerous calls to family and friends.
Wifi Buddy
Virgin Media customers can also download an exclusive app called Wifi Buddy that automatically connects you to wifi hotspots when you're out and about. Just download the app to your phone. It also works outside the UK.
Virgin Media Coverage
Virgin Media's phone network covers 99.4% of the country and it worked well everywhere we traveled to – London, Swansea, Carmarthen, Bath, Oxford, Cambridge and Brighton. It also worked well whenever we traveled by train, which was quite often.
We'll be back in the UK again in June, so we'll be using these SIM cards then as well. We think we made a great choice.