This is one of the most fascinating museums I've ever visited, but I must warn you that there are some pretty gruesome things on display. It's definitely not a museum for the squeamish. Don't look any further down this page if you don't want to see the mummified body of rapist and murderer, conjoined twins, abnormal fetuses, skeletons, and other medical exhibits.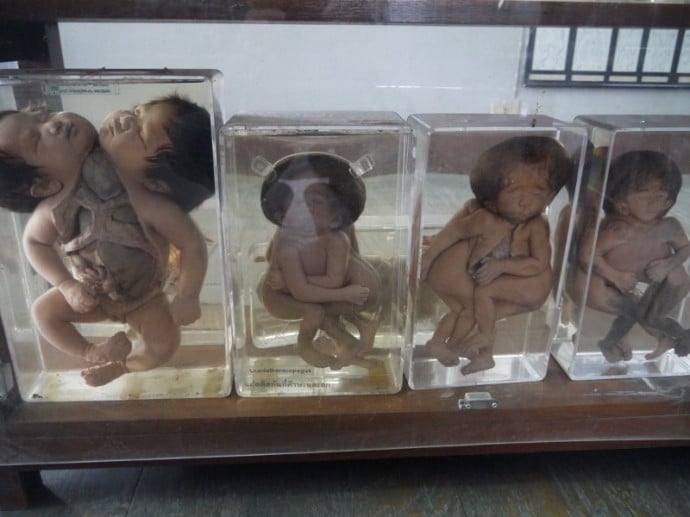 The museum is known as Siriraj Medical Museum and is split into five separate museums. In the main building there is the Ellis Pathological Museum, Songkran Niyomsane Forensic Medicine Museum, and the Parasitology Museum.
Then in another building there's the Congdon Anatomical Museum and the Sood Sangvichien Prehistoric Museum & Laboratory. For most visitors it's the Forensic Medicine Museum and the Anatomical Museum that are of most interest.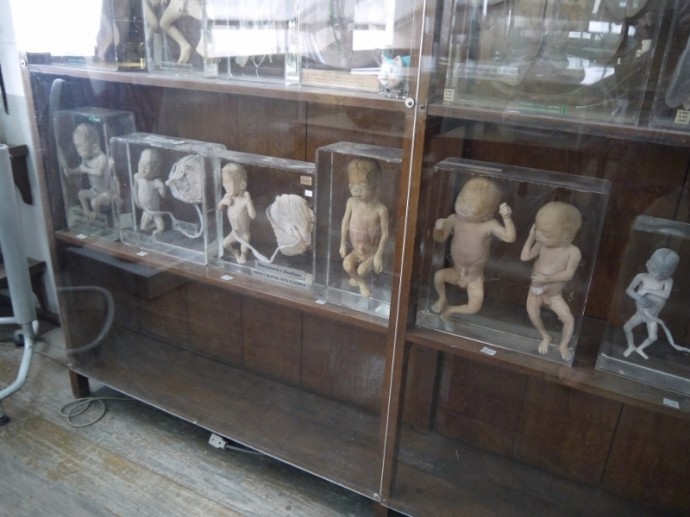 I thought that the Anatomical Museum was the most interesting, with the Forensic Medicine Museum being the most gruesome.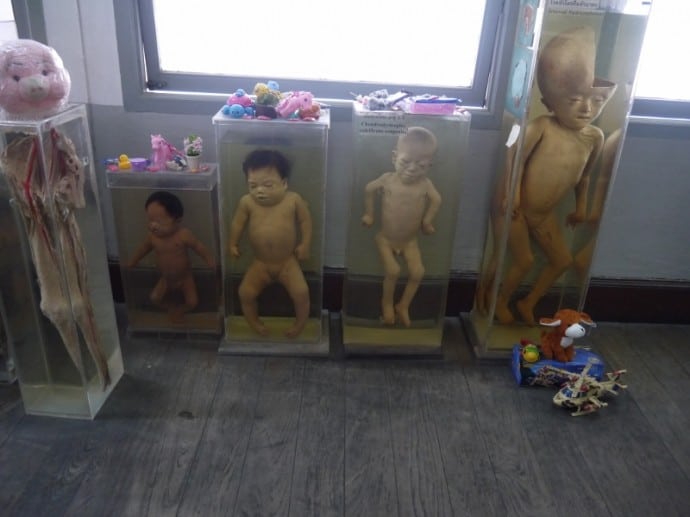 While there were many very graphic exhibits, there were plenty of schoolchildren that were enjoying this museum. I think it's a great place to take kids, as it offers a good educational experience.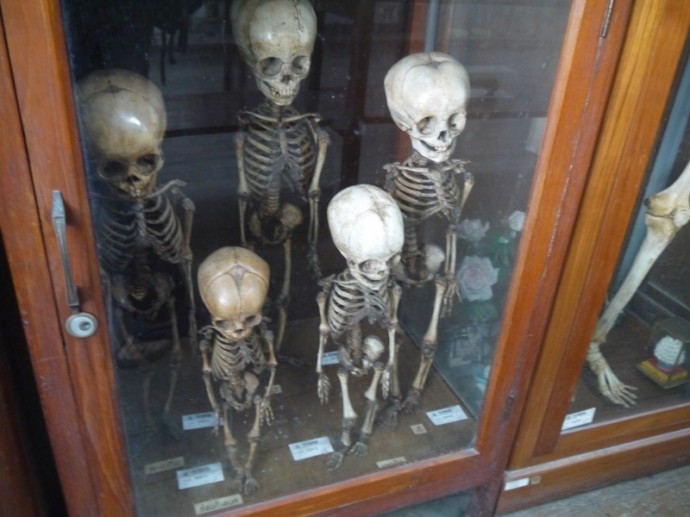 There were also lots of skeletons on display at the Anatomical Museum, including ones of children.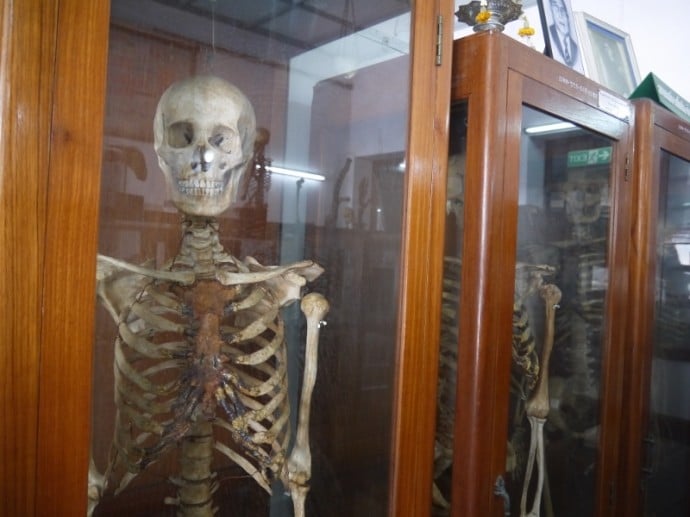 These skeletons actually had the names and photos of the people, which made them a bit more interesting.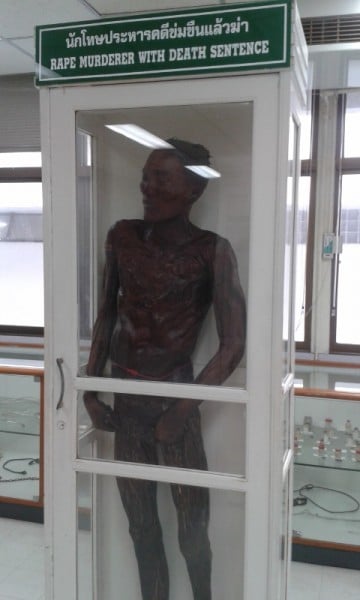 In the Forensic Medicine Museum there were a few mummified bodies on display, including some that had been given the death sentence after being convicted of rape and murder. There were also lost of displays showing hearts that had a bullet shot through them or that had been stabbed. There were also photos of accident victims, including a man that had been decapitated in a train accident. The skull was on display below the image.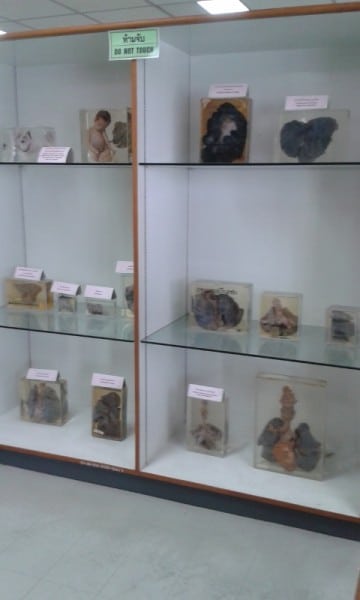 Some images were so graphic that I can't show them here. There were people that had been shot, stabbed and burned. This really isn't for the squeamish.
The one thing about these museums that let them down was that around 90% of the exhibits were in Thai. If they had English translations it would have been much better.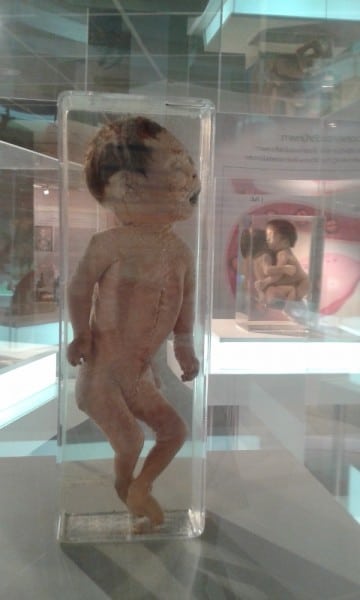 This is a real hidden treasure in Bangkok, and not many tourists seem to know about it.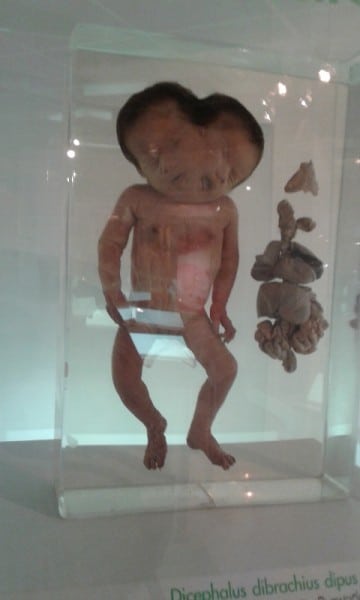 As well as these five museums, there is also a separate museum that is newly opened that is about Thai history. It's called Siriraj Bimuksthan Museum and is near the other five. One ticket gets you into all the museums.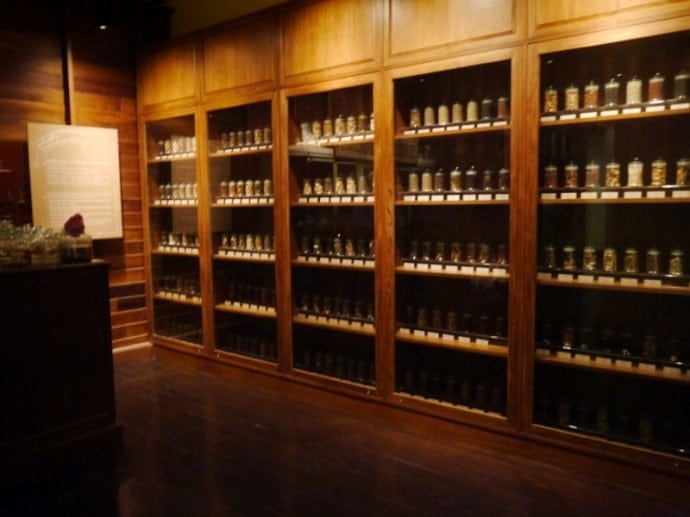 This museum is all Thai, so it's difficult to understand if you don't speak Thai.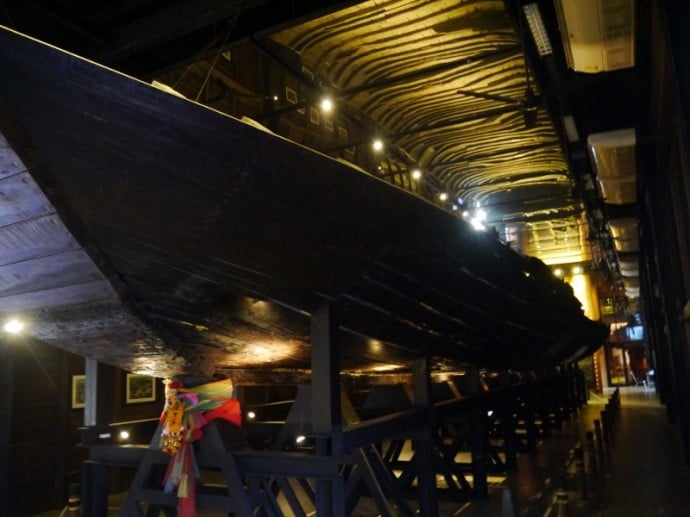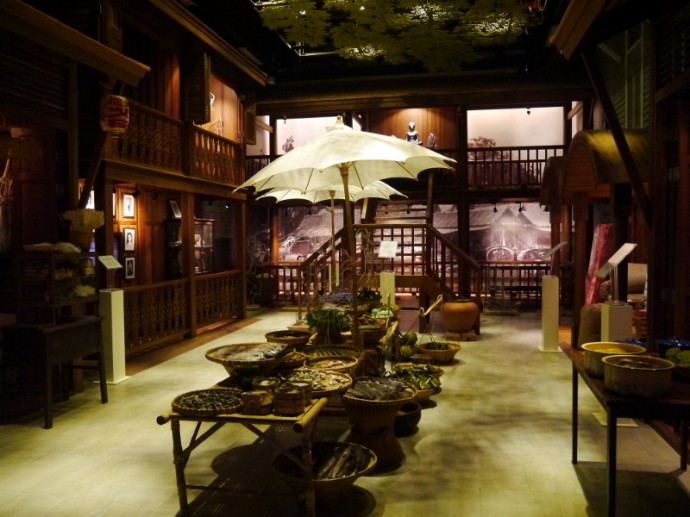 This museum is where the old Thonburi train station used to be, and they have a train on display outside the museum.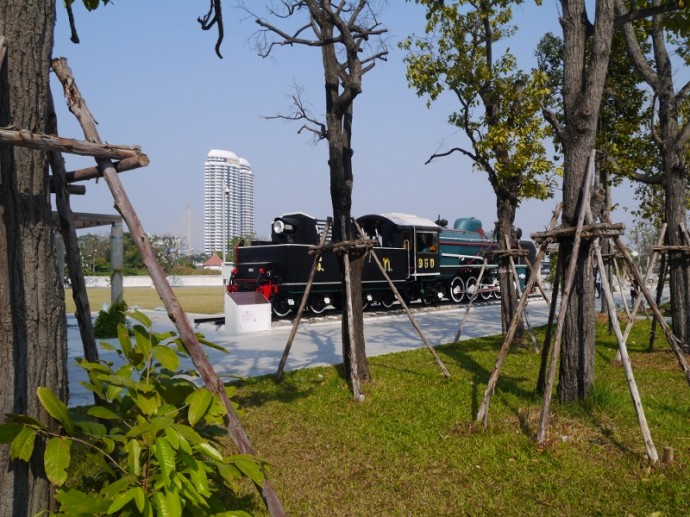 How To Get To The Forensic Medicine Museum
The museums are situated in Siriraj Hospital, which is next to the Chao Phraya River. It's very easy to get to by BTS and boat. First get a BTS skytrain to Spahan Taksin station, then get off and get the orange flag boat to Pier 10 – Wang Lang. Leave the pier and walk ahead for about 20 meters, then turn right into the hospital. The museums are about 300-400 meters further along. See Chao Phraya River Boats for more information about traveling along the river. The boat journey only costs 15 baht ($0.50) one way.
Forensic Medicine Museum Information
Opening Hours: 10:00-17:00 every day except Tuesdays and official holidays. Note that the Anatomical Museum and Prehistoric Museum are both also closed on Saturdays and Sundays.
Entry Fee: 300 baht ($10) for adults and 50 baht ($1.70) for children. Children under 120 cm tall get free entry. For Thai people the cost is 100 baht ($3.35)
Hotels Near The Chao Phraya River
The river area is a great place to stay, as many popular attractions can be got to by boat. Some of the popular hotels along the river include the Shangri-La Hotel, the Peninsula Hotel, and the Mandarin Oriental Hotel.