One of the easiest ways to get from Hanoi to Hue (and all the way to Ho Chi Minh City) is to by train. The journey takes around 13 hours, and you can get a day or night train, both with sleeper compartments. Click here to book a hotel in Hue.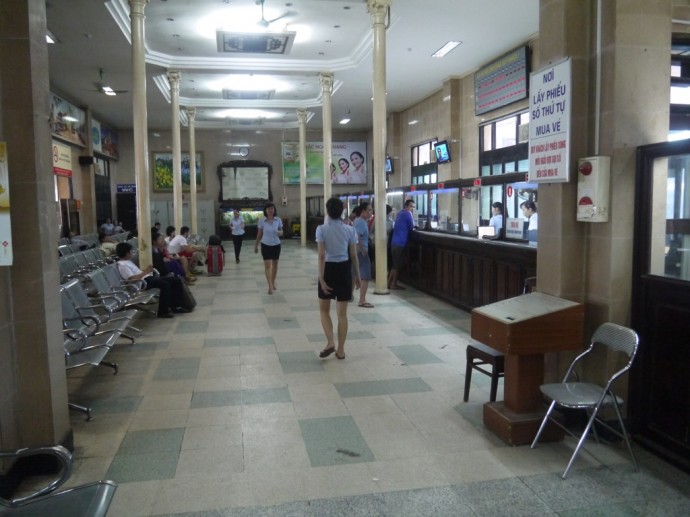 Hanoi train station has two entrances. The one on the left is for the ticket office, and the one on the right is for the trains. Enter through the left entrance and then turn left, and you'll see the ticket office. You'll need to take a ticket from the machine on your right hand side – next to the chair in the above image. You are then supposed to wait for your number to be called. However, when we were there, people were just crowding around the counters, and there didn't seem to be any order to the queues at all. So we did the same. But people are likely to come and push in front of you, so you'll need to keep very close to the people in front of you, and just ask for a ticket, even if it's not your turn. The first to ask is the one that seems to get served.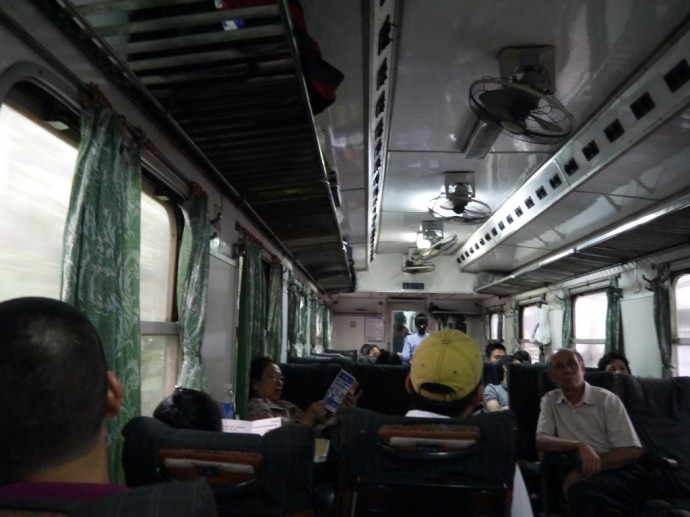 We decided to get the daytime train that left Hanoi at 06:15, and was due to arrive in Hue at 19:10. It arrived about an hour late though. There was plenty of food for sale on the train, although we had no idea what most of it was. But there was one guy taking lunch orders that had a menu that was also in English.
At the start of the journey they played some very loud traditional Vietnamese songs. These were followed by long announcements in both Vietnamese and English. The first one was about what wasn't allowed on the train, and this was a very long list indeed. Among things not allowed on trains in Vietnam are corpses and body parts. They actually said that during the announcement.
The people on the train were very friendly and the children very playful. It was a completely different atmosphere to train journeys in the UK, and a pleasant change.
Cost of a soft seat ticket from Hanoi to Hue was 493,000 VND ($24, £16).
Hotels In Vietnam
If you're looking for a hotel in Vietnam, then check out the Agoda link below. Click here to book a hotel in Hue.