Hanoi isn't the best place to be a vegetarian, especially for street food, but we did find some excellent vegetarian food while we were there. Our favorite food was at Com Chay Nang Tam, which we visited most days. Click here to book a hotel in Hanoi.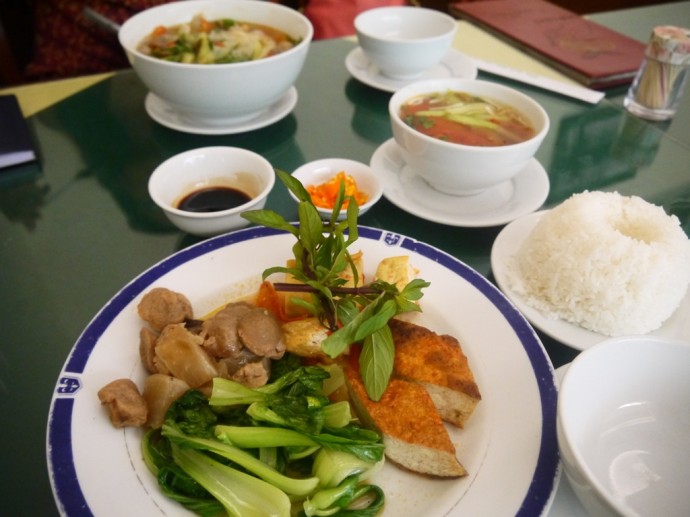 Com Chay Nag Tam Vegetarian Restaurant
This is an excellent vegetarian restaurant on Tran Hung Dao. It is set back from the main road down an alleyway, but we didn't have any difficulty finding it. Just look for the big yellow sign at the entrance. The food here is prepared in the Buddhist tradition of making dishes that resemble those favored by non-Buddhists, thus enabling the Buddhist to show hospitality without appearing to deprive their guests of their favorite food. At the same time, the Buddhists get to eat without violating their own principles.
One of the great things about this restaurant is that it has a number of set menus, so you're able to try a variety of foods without ordering separate dishes. The above is a set menu consisting of sauteed mustard greens, fried tofu in tomato sauce, cinnamon pate, sauteed chicken, soup, and steamed rice. There is also one extra dish – noodle soup with pork. Note that all dishes are prepared without meat, so don't let the meat names confuse you. The above set menu was 60,000 VND ($2.90, £1.90), and the noodle soup with pork was 35,000 VND ($1.70, £1.10). So the prices are very reasonable. There are about 6 set menus, and we tried nearly all of them. They range in price from 60,000 VND to 120,000 VND.
The restaurant has two dining rooms, and both are usually full with office workers at lunchtime (12-1 pm), so we usually ate there a little later.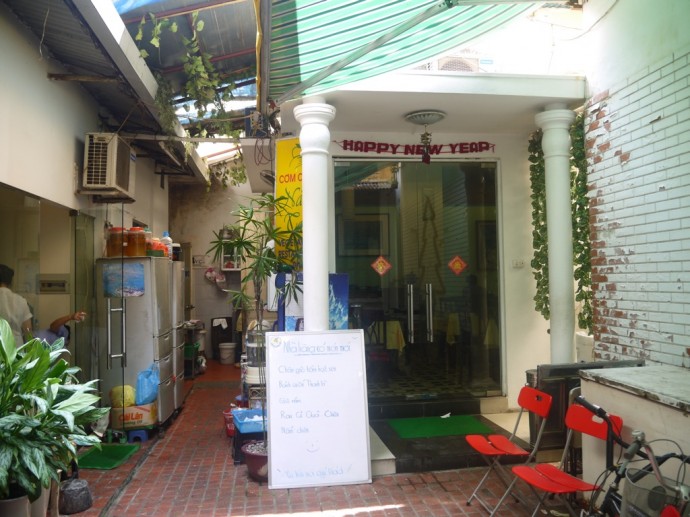 Address: 79A Tran Hung Dao, Hoan Kiem, Hanoi, Vietnam (look for yellow sign, then walk down the alleyway)
Tel: 04-3942-4140
Opening Hours: 09:00-21:30 every day
Website: Com Chay Nang Tam
Hanoi Social Club
This is a really cool, Australian owned, place that serves both vegetarian and non-vegetarian meals. It's pretty expensive by Hanoi standards, although the food is very good.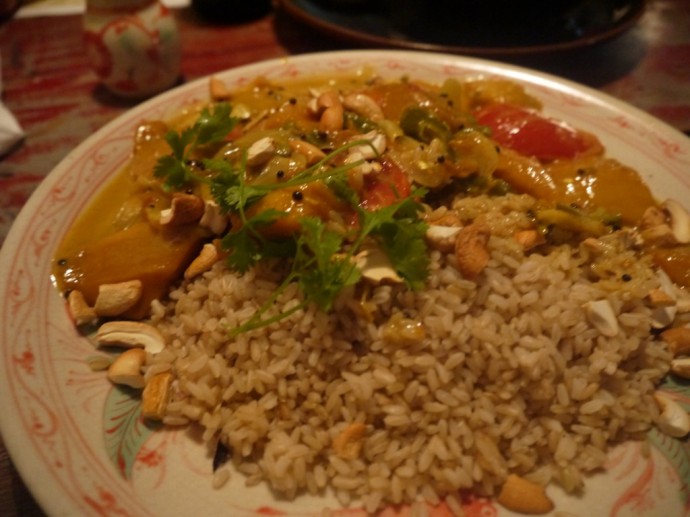 The mango curry above cost 120,000 VND ($5.80, £3.80). The curry was served with brown rice, and this was a real treat, as most places in Hanoi only serve white rice.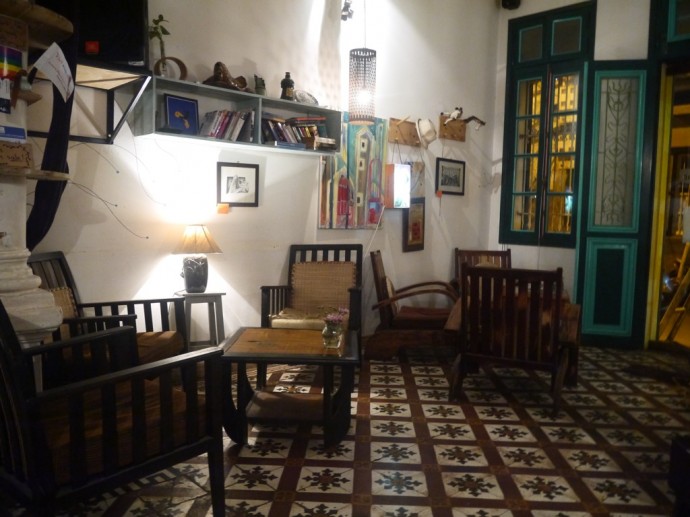 Hanoi Social Club is a mixture of cafe and restaurant, so you can also pop in during the day for a coffee and muffin. Some nights they also have live music, and they've always had Western music playing when we've been there. It reminds me of the type of restaurant you'd find in New York's East Village. Staff speak good English and are very friendly.
Address: 6 Hoi Vu, Hoan Kiem, Hanoi, Vietnam
Tel: 04-3938-2117
Opening Hours: 08:00-23:00 every day
Facebook: Hanoi Social Club
Kangaroo Cafe
This is another Aussie run restaurant, as you probably guessed by the name, and it too sells a mixture of vegetarian and non-vegetarian meals.  They also arrange tours to Halong Bay and other places. It's a nice place to hang out, and staff are friendly and efficient.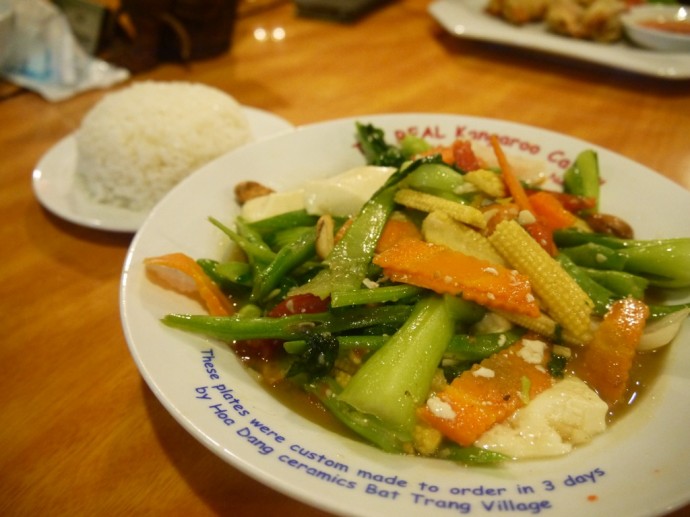 There is a decent selection of vegetarian food, and the portions are very big. Prices are moderate. A very large mixture vegetable stir fry with tofu and cashews nuts costs around 60,000 VND ($3, £2).
Address: 22 Bao Khanh Street, Hoan Kiem, Hanoi, Vietnam
Tel: 04-3828-9931
Opening Hours: 07:00-21:00 every day
Facebook: Kangaroo Cafe
Joma Bakery Cafe
Joma Bakery Cafe is a Western-style cafe that has a few veggie items on the menu and has decent coffee. They have two branches in Hanoi.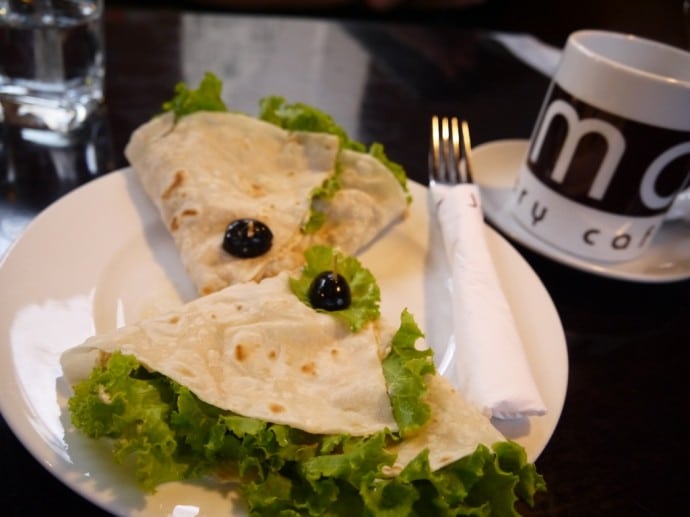 From the street, the Hoan Kiem branch looks quite small, but it's very big inside, with seating both inside and outside. They also have free wifi. Order a large Americano, and you get one free refill. Pretty expensive by Hanoi standards though, and not too far of London prices. But it's worth it for the aircon, which is fairly rare in Hanoi cafes.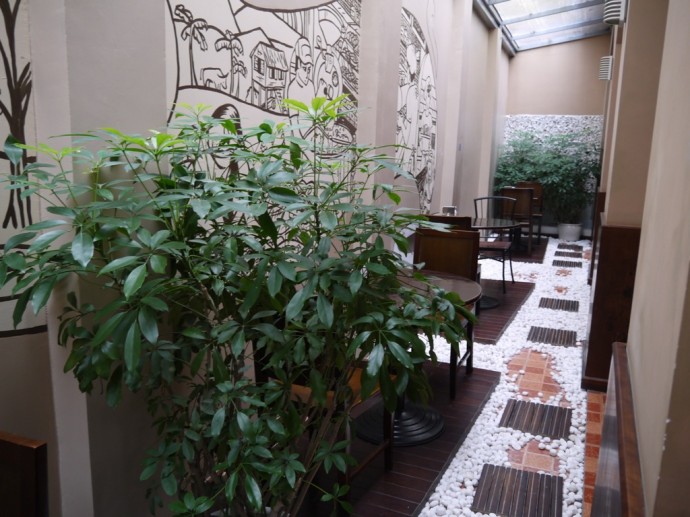 Address: 22 Ly Quoc Su, Hoan Kiem (near the cathedral) & 54 To Ngoc Van, Tay Ho
Website: Joma Bakery Cafe
Other Places To Get Veggie Food
There were other places we ate at, but we wouldn't really recommend them.
For more veggie places in Hanoi, check out the Happy Cow Hanoi page.
Hotels In Hanoi
If you're planning to visit Hanoi, click the Agoda link below to check out some great hotels.