Phnom Penh doesn't have a public transport system in the city center, so to get around you'll need to use a tuk tuk, moto or taxi. To travel by taxi you'll usually need to book in advance, as you won't see many driving around the city.
Tuk Tuk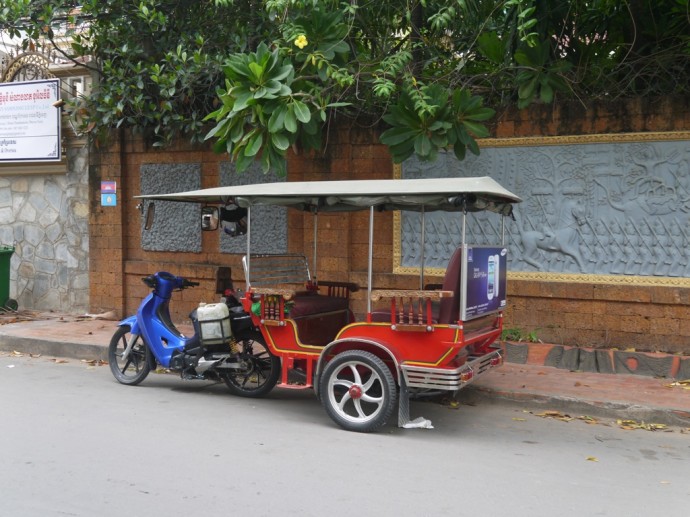 For the majority of people, getting around means hiring a tuk tuk. You'll find these all over the city, with hundreds in the tourists areas, often lined up along the street. Walk a couple of hundred yards, and you'll probably be asked if you want a tuk tuk multiple times. Even if you walk passed ten of them and say you don't want one, the eleventh one will still ask you. It can get a bit annoying a times.
But these are a great way to get around the city, and are pretty cheap. Going a short distance should only cost around $1, and a journey from Independence Monument to Wat Phnom or Russian Market should cost around $5 there and back. Bear in mind that most tuk tuk drivers are very poor, so don't bargain down the prices too much. I'd rather pay $5 and know I'm helping them and their family, than try to bargain down to $3. That extra $2 is worth a lot more to them than it is to you, even if you're on a tight budget.
Moto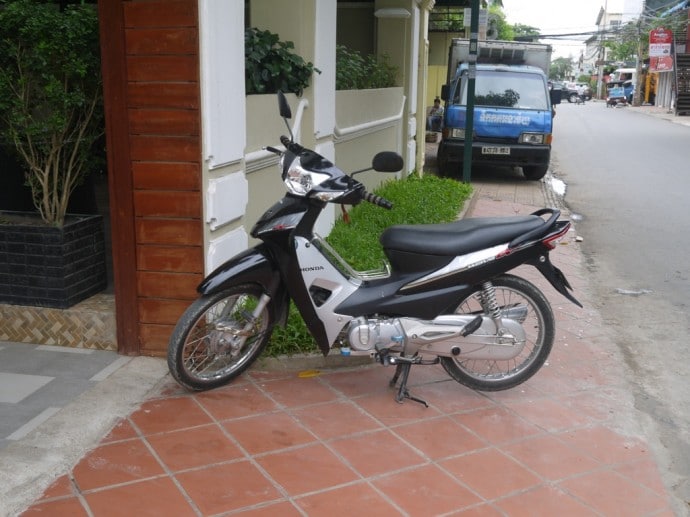 Another way to get around is by moto. These are roughly half the price of getting a tuk tuk, and are ideal for short distances. Prices start at around 1,000 Riel ($0.25) for a short 100-yard journey. Just like tuk tuk drivers, these guys are very poor, so don't try to get away with very low prices. You will find motos almost everywhere. Usually you don't need to fine them, because they'll find you.
Safety
While both these forms are transport are usually quite safe, you should be aware that there are lots of accidents in Cambodia, so you should use some common sense when hiring either. Ride on a moto without a helmet, and it should be obvious that you're putting yourself at risk of serious injury.
You should be extra careful very late at night, and only use a tuk tuk or moto if you know the driver. So if you're planning a late night, book your favorite driver in advance, and always carry their phone number.
If carrying a bag, you should always secure it in front of you, as bag snatches are quite common. But this is nothing to stress about, as long as you're careful with your belongings.
Video Of Tuk Tuk Ride Around Phnom Penh
This video was shot on the way to the Choeung Ek Killing Fields.

Hotels In Phnom Penh
If you're planning to visit Phnom Penh, check out the following Agoda link for some great hotels at great prices.