What is the best way to get from Chiang Mai to Chiang Rai? For travelers touring around northern Thailand, this is a question that I hear a lot. Fortunately, there are a number of different ways to make this journey that I'd like to walk through below.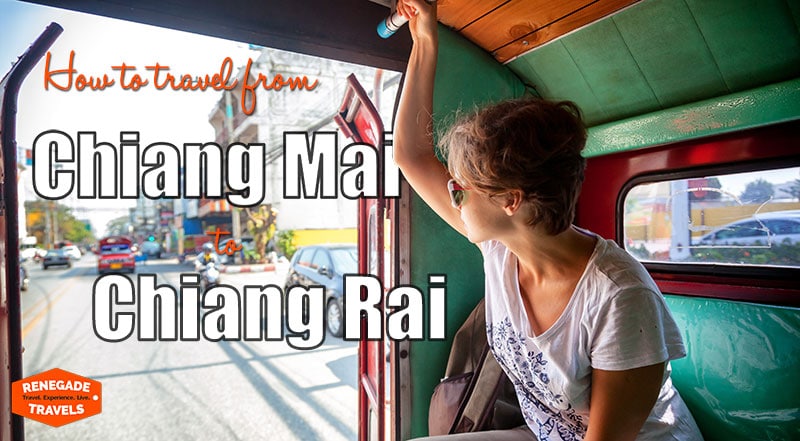 By far the easiest way to get from Chiang Mai to Chiang Rai is either by bus or by hired car. It's possible to fly indirectly, but it's a waste of time and money since there aren't any non-stop flights between the two cities.
There also isn't a train that connects the two cities. Even the Thai-Chinese High Speed train that began construction in December of 2017 won't connect the two cities – it will run straight down toward Bangkok.
So with that short answer out of the way, let's dive into the weeds with our three available options: the bus (recommended), a car or a plane.
Option #1: Bus from Chiang Mai to Chiang Rai
The most common way for travelers to get from Chiang Mai to Chiang Rai is by bus. And the most convenient bus is the Green Bus, which runs from Arcade Bus Station in northwest Chiang Mai.
This is located at the far end of Kaeo Narawat Road not far from the Central Festival, near where the road joins the superhighway. To get to the Arcade Bus Station, just jump on a songthaew, which should cost around 50 baht per person from the Chiang Mai city center.
When you enter the Arcade Bus Station, turn left and you'll see the Green Bus ticket office. You need to get a ticket from the machine to the right of the counters and then wait for your number to be called. Of course, if you'd like to plan in advance, you can always buy Chiang Mai to Chiang Rai bus tickets online (which I highly recommend).
Choosing the Right Bus
Road travel in Thailand can be dangerous, and I've seen numerous reports of bus crashes in the last few years, with many deaths and serious injuries. For this reason I tend to prefer what is known as the "VIP bus". The VIP bus from Chiang Mai to Chiang Rai costs 288 baht ($9.60, £6.40) for a single journey. There aren't any trains running between Chiang Mai and Chiang Rai.
The journey to Chiang Rai takes three hours, with most of the journey through beautiful mountain areas. There is plenty of legroom and the seats are very comfortable. There is also a clean toilet at the back of the bus. At the beginning of the journey we were given a bottle of water and a small snack.
There are two bus station in Chiang Rai – a new station on the outskirts of town, and the old station in the town center near the night bazaar. If you're going to the city, then stay on until the second stop.
All in all, a very simple and straightforward journey.
From Chiang Rai bus station, you'll need to get to your hotel, so you can either take a songthaew or tuk-tuk, and you should find a few of each around the station. We tried to get a songthaew, but the driver didn't know where the hotel was, even though we gave him the address. So we got a tuk-tuk instead, which cost 50 baht.
Option #2: Private Car – Chiang Mai to Chiang Rai
The next best option aside from a bus is to get a private car from Chiang Mai to Chiang Rai. Although this is certainly the fastest mode of transportation available (approximately 3.5 hours) it's more than 10x's more expensive than taking a bus.
There are two types of private car for you to consider in Thailand:
Car & Driver: It's intimidating to think of driving on the other side of the road or figure out the directions of where you're going in another country. That's why it's sometimes easiest to rent a car and driver to get from Chiang Mai to Chiang Rai. It usually costs around US$120 to hire a vehicle that can accommodate 3 travelers and you can specifically request a male or female driver.
Rent a Car and Drive Yourself: I've rented a car in Thailand before and thoroughly enjoyed the experience! It's an adventure but I realize it's not something that everybody would want to do. To get rates and availability, I recommend you check out either Budget or Avis, both of which operate out of Thailand.
While the private car could be a simple charter vehicle, you can get an even more comfortable vehicle if you book through a tour agency.
Either method you choose, you'll have the ability to be picked up almost anywhere in Chiang Mai and dropped off pretty much anywhere you need in Chiang Rai. Again, very convenient.
Option #3: Flights from Chiang Mai to Chiang Rai
Finally, I'll mention flights from Chiang Mai to Chiang Rai just because it is technically possible. I don't recommend it, but it is possible.
The reason I don't recommend flying is because in order to fly from Chiang Mai to Chiang Rai, you'll have to go out of your way to fly down to Bangkok and then back up to Chiang Rai. Total time flying is about 5 hours, not including the time it takes to get through security in the airport and back into the city.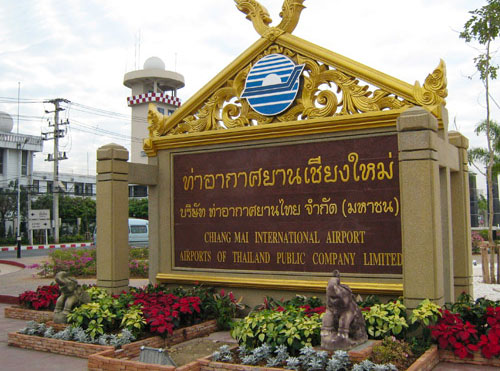 The crazy thing is that thanks to budget airlines, you can probably get flight tickets cheaper than a private car. You won't get to check in any baggage, but at least you'll get to your destination.
Oh, and it is possible to charter a direct flight from Chiang Mai to Chiang Rai, but unless you have tons of extra cash or you're traveling with a larger group to split the costs, this won't be the most economical option for most travelers.
Conclusion | Chiang Mai to Chiang Rai
As you can see, there are three primary ways to get from Chiang Mai to Chiang Mai in Thailand: the bus, a private car or flying.
Out of the three, the bus is by far the best combination of cheap and fast. You can check out schedules and book tickets online for the Green Bus, but make sure to get the "VIP Bus" for the most comfortable experience.
Getting a private car is the next best option that will shave a couple hours off the trip. While I love driving myself – and renting a car in Thailand is surprisingly easy – I realize that's not for everybody. For this reason you can look into the costs of chartering a vehicle and driver from Chiang Mai to Chiang Rai.
Finally, while it is possible to fly between Chiang Mai and Chiang Rai, the layover in Bangkok makes this an unimpressive option.
Whatever you choose, stay safe and make sure that you book a good Chiang Rai hotel so you don't have to worry about where you'll be sleeping when you arrive! We stayed at B2 Hotel, which is about five minutes' walk from the center of town.
---