Getting from Penang to Singapore by train is fairly straightforward and pretty cheap. We started our journey from George Town, as is probably the case with most travelers who make this journey. There is only one train per day on this route – it leaves Butterworth station at 08:00 and arrives at Singapore Woodlands at 22:00. We were told that this train is often late, so decided to take it as far as Johor Bahru, stay there the night, and then get another train into Singapore the next day day. We're happy to share our experience with you to help you plan your own journey to Singapore!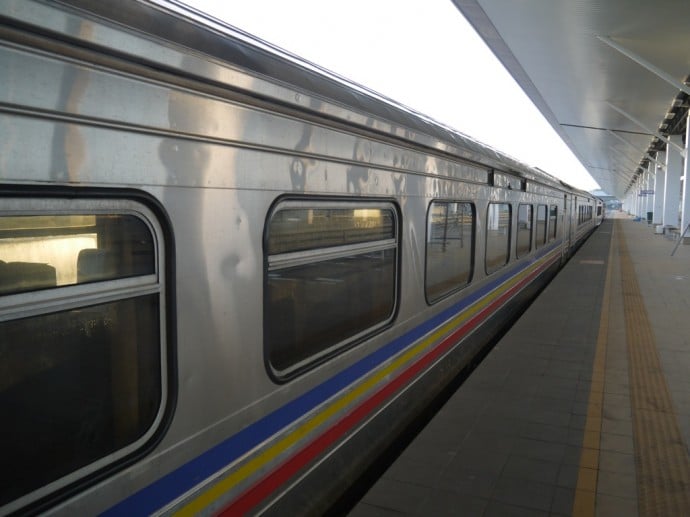 Buying Tickets
We bought our tickets from the ticket office at the ferry terminal in George Town. First class tickets to Johor Bahru cost 122 RM ($38) for adults and 65 RM ($20) for children. Second class tickets cost 58 RM ($18) and 33 RM ($10). It's only a few RM extra if you go directly to Singapore.
George Town To Butterworth Station By Ferry
First of all you'll need to get from George Town to Butterworth station, which is on the mainland, so you'll need to take the ferry, which operates from around 5:30 to 00:30 every day. The ferry crossing is free in this direction. Once off the ferry it's just a few minutes' walk to the train station, and it's clearly signposted.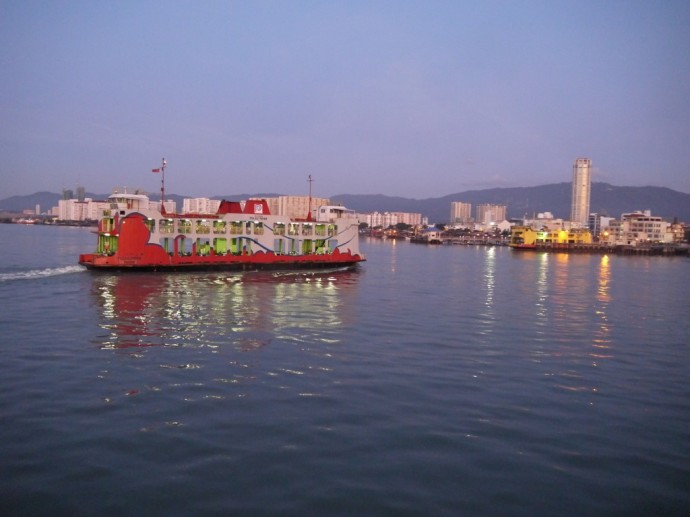 Butterworth To Johor Bahru
The train journey between Butterworth and Johor Bahru takes just over 13 hours, and passes through some beautiful countryside with lots of palm trees.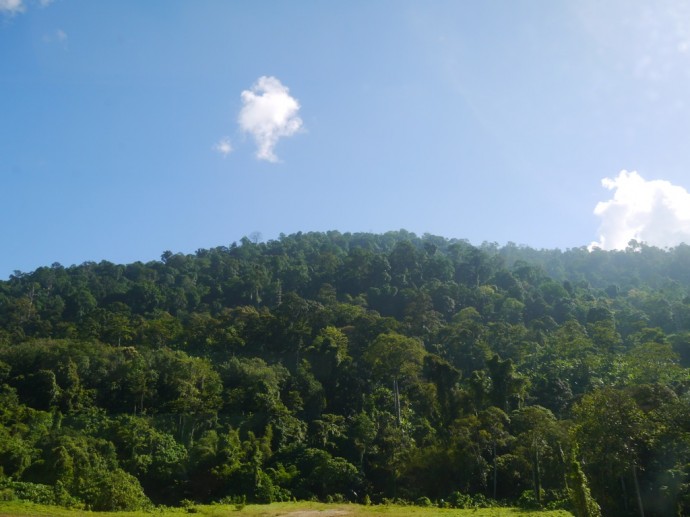 You'll probably need to take a jacket though, as the aircon in the carriages makes them pretty cold at times. We bought second class tickets and were glad that we did, because the first class carriages were unbelievably cold. I'm not sure if the aircon was faulty or not, but people in that carriage were mostly dressed for winter. I'd guess that it was under 10 C, which isn't great for a long train journey.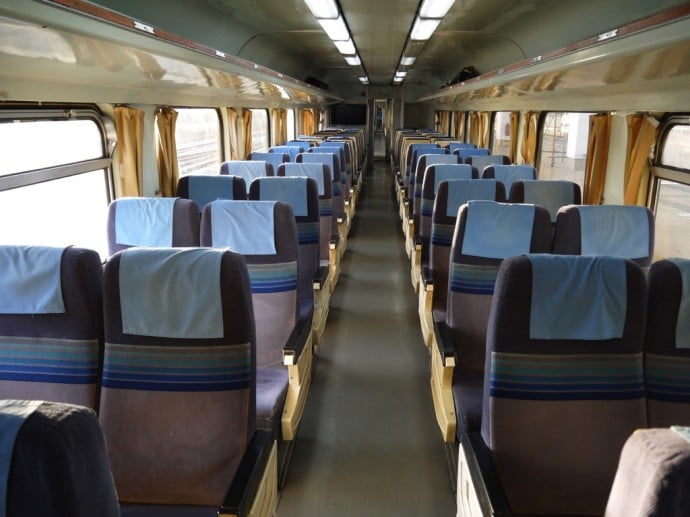 The train has a buffet car that sells a range of food and drinks, and you can also get hot water there for 1 RM ($0.30). The buffet carriage was very hot, so it seem like the aircon didn't work in there.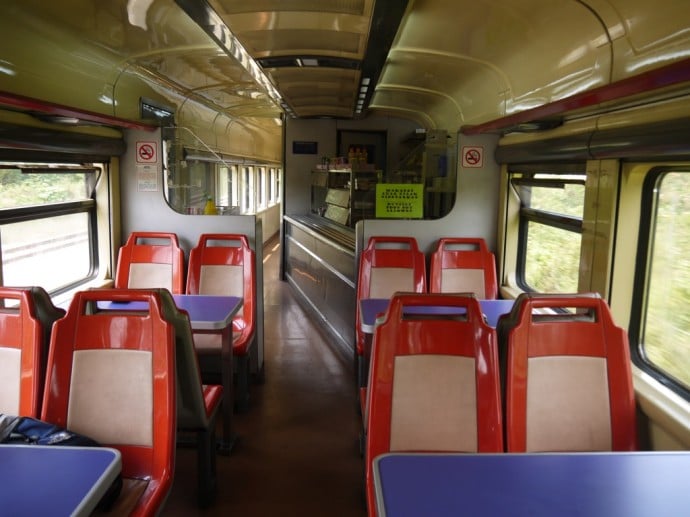 The train stopped at 20 stations after leaving Butterworth, and arrived in Johor Bahru about 5 minutes early.
Johor Bahru To Singapore Woodlands
Even though the actual train journey is only around 2-3 minutes, getting a train is a bit confusing. We got to the ticket office at the station, and there was a notice saying there were four trains a day to Woodlands, with the next one at 11:40. It also said that tickets for these are only available for sale 30 minutes before the trains depart.
While waiting we noticed that the departure board showed the next train at 12:25, so we asked about the time of the next train at the ticket office. The woman said she didn't know, so had to phone someone to check. She then said that the next train was now. So we bought two tickets for 3 RM each ($1). The tickets showed the train as 11:45.
We headed downstairs to immigration but were taken back up by an immigration officer who told us that we should wait upstairs. After waiting for a minute, another officer came to take us downstairs. We were the only people passing through immigration, and the officer told us that not many people took the train from Johor Bahru  to Singapore. We then got to the train, and it left it 11:25. So the notice claimed the train was at 11:40, the departure board claimed it was at 12:25, the ticket claimed it was at 11:45, but we left at 11:25. I'll let you work out the times of the trains, as I'm baffled. In particular I don't understand why the ticket seller didn't even know what time the trains run. To get stamped out of Malaysia too less than 30 seconds.
We then arrived in Singapore, and passed through their immigration. The immigration officer spend a lot of time flicking back and forth through my passport, reading every stamp, although she didn't comment on it. A different immigration office did the same with Miu's passport, but she got asked why she had been to so many countries. We both got stamped in though, and it only took a few minutes.
Singapore Woodlands To Central Singapore
There are many ways to get from Woodlands station to central Singapore, including bus, MRT and taxi. We chose to get a bus to Woodlands MRT station, an MRT to near our hotel, and then a taxi for the final part of the journey. The distance from Woodlands train station to Woodlands MRT is around 2 miles (3 km), and you can get a number of different buses, including the 903, 911 and 913 from outside the station for S$1.10 ($0.80). Be warned though that the buses here only accept the correct change in coins. We'd just got money out of an ATM in the small shopping area opposite the station, so had to go back again to get some change. When you leave Woodlands station, turn right, and the bus stop is about 20-30 meters away down the road. It will be obvious when to get off, because the bus stops at a very large bus station that connects to Woodlands MRT.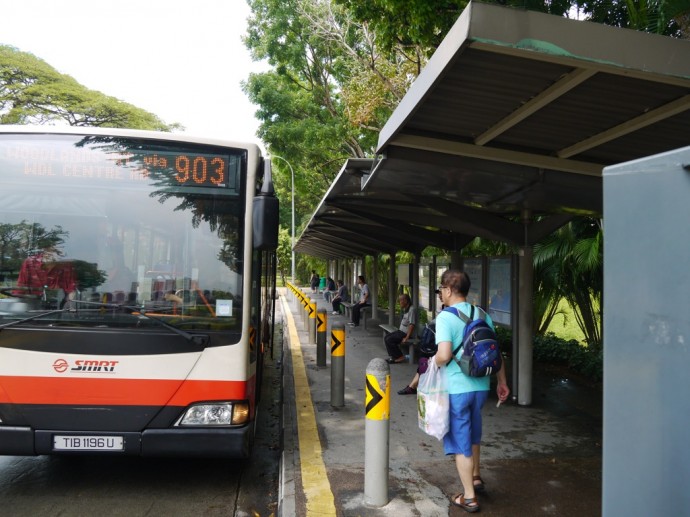 From there you can get the MRT to your hotel in the city. It cost us S$2.30 ($1.80) each to get to MRT Bugis, and took around an hour. We got a taxi from there to our hotel in Little India. This cost an addition $5. So that's a total of S$11.80 ($9.20) to get from Woodlands Station to our hotel, Hotel 81 Dickson.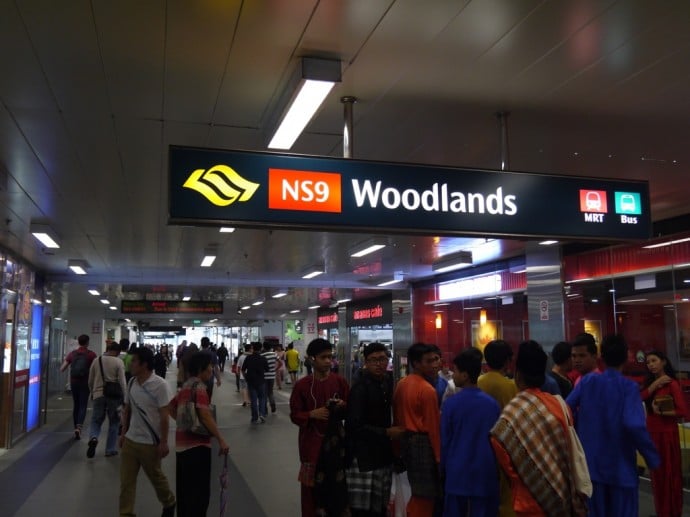 Hotels In George Town, Penang
For our time in George Town we stayed at the New Asia Heritage Hotel. Click here to book the New Asia Heritage Hotel via Agoda.