Taking the train is one of the easiest and safest ways to travel from Kuala Lumpur to Penang. There are two trains a day on this route. The first one leaves at 16:15 and arrives at 22:00, while the second is an overnight train that leaves at 21:35 and arrives at 05:30 the next day. The station at Penang is called Butterworth. If you're traveling to George Town, you'll need to get the ferry once you get off the train. You can learn more about schedules and even buy tickets on 12go.asia.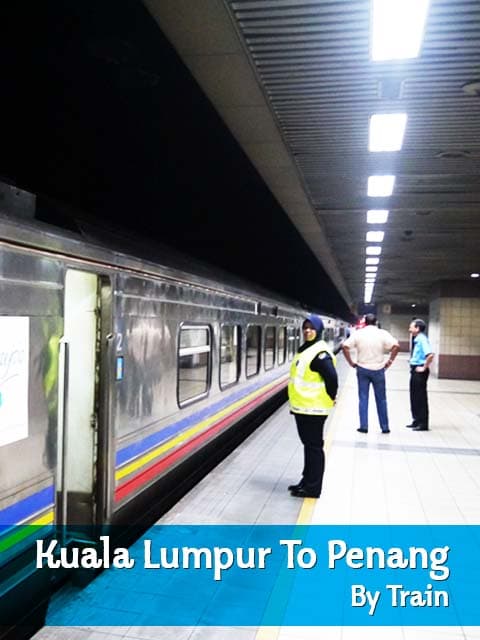 Where To Buy Tickets
You can buy tickets from KL Sentral station in Kuala Lumpur or you can even book Kuala Lumpur to Penang train tickets online, where you can also check current train times and fares. The ticket office in KL Sentral station is on level 2 on the right hand side (if walking up the main staircase).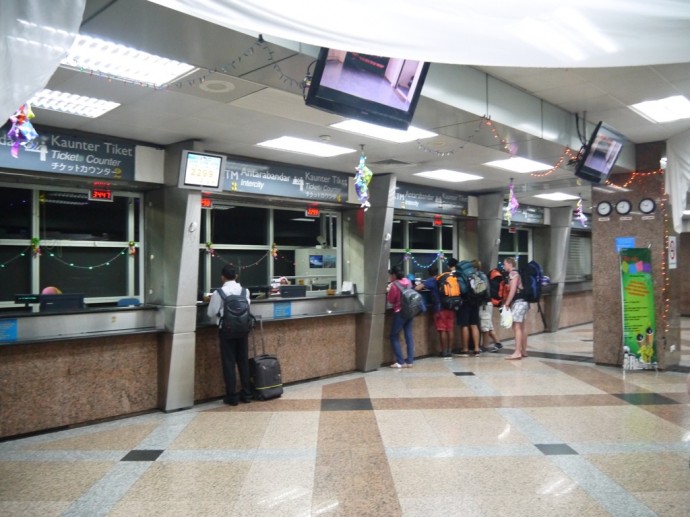 Fares For Train From Kuala Lumpur To Penang
16:15 Train
This train has 1st and 2nd class seats.
1st class costs 67 RM ($21) for adults and 38 RM ($12) for children.
2nd class costs 34 RM ($11) for adults and 21 RM ($7) for children.
21:35 Train
This train has 1st and 2nd class sleepers, and 2nd and 3rd class seats.
1st class sleeper costs 80 RM ($25) for upper berth and 89 RM ($28) for lower berth (children 51 RM ($16) and 60 RM ($19)).
2nd class sleeper costs 40 RM ($13) for upper berth and 46 RM ($15) for lower berth (children 27 RM ($9) and 33 RM ($11)).
2nd class seats cost 34 RM ($11) for adults and 21 RM ($7) for children.
3nd class seats cost 19 RM ($6) for adults and 12 RM ($4) for children.
The sleeper tickets were sold out when we booked our tickets, so we opted for the 2nd class seats. There are no 1st class seats on the overnight train.
Two seats on this train cost us around $22, compared to an Air Asia fare of around $112 – a saving of around $90. When you take account of the time to travel to/from both airports, and the waiting time at the airport, the daytime train is probably quicker than flying. Using the nighttime train also saves you the cost of a hotel room for a night, so that makes the total saved around $120.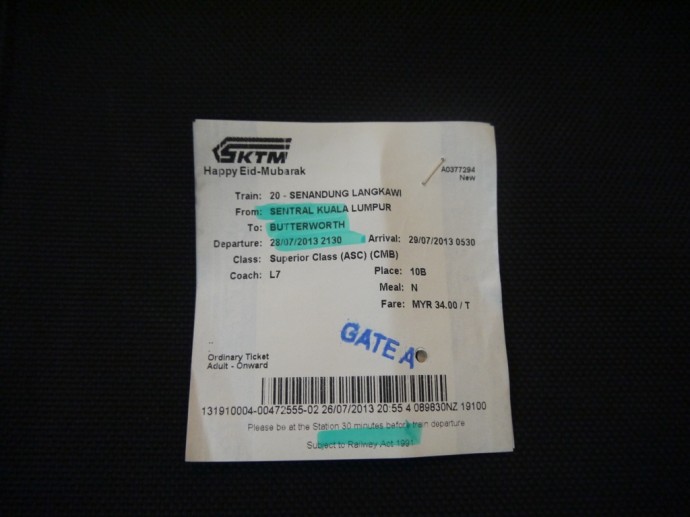 The Train Journey
The train goes from Gate A, on level 2 of KL Sentral Station. The barriers are opened to let people on the train about 10 minutes before departure. The coach and seat numbers are shown on the ticket. All tickets you buy either in person or if you purchase online have seat reservations.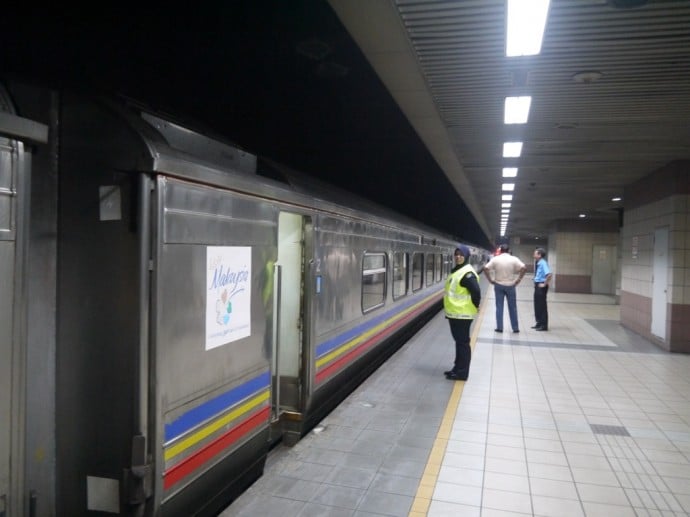 The train is fairly good quality, and better than we've experienced in Thailand and Vietnam. The 2nd class seats are quite comfortable, although the carriages are pretty cold, so I'd advise taking something warm to wear. Many local people had brought blankets with them.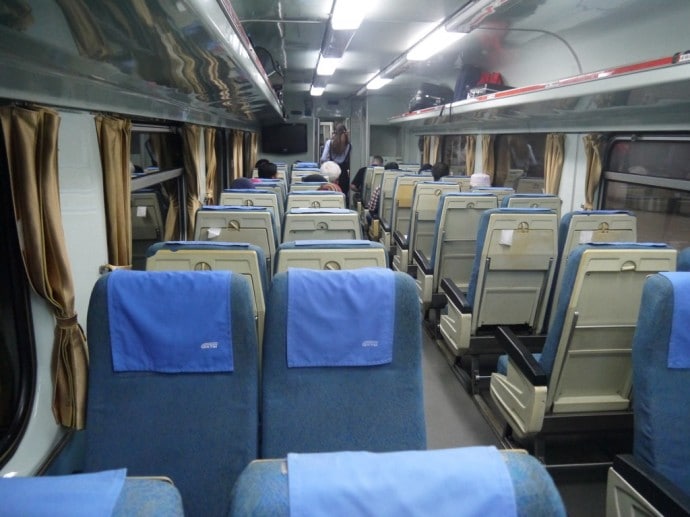 One thing we didn't like about the journey was that the lights were left on for the whole overnight journey. We expected them to be a dimmed a little, but they weren't. That, along with the cold, made it difficult to get any sleep. If we took the same train again, we'd definitely get a sleeper compartment.
Again, you can check up-to-date train schedules and fares for Kuala Lumpur to Penang using that link.
Ferry From Butterworth To George Town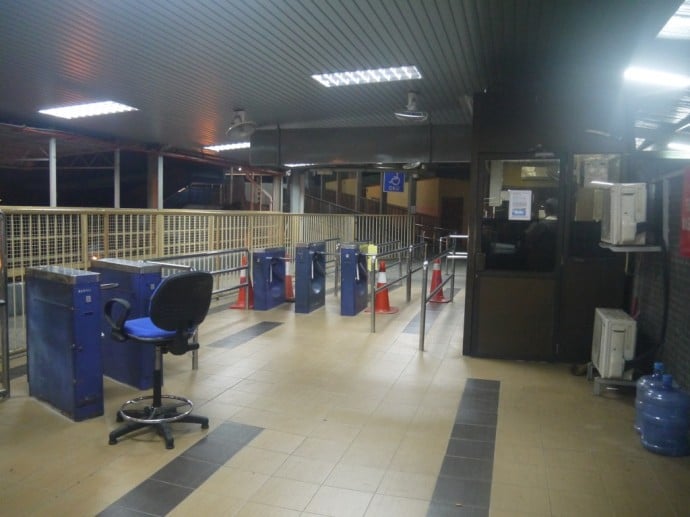 Most travelers on this train are headed for George Town, and to get there you'll need to get the ferry. It's only a 2-3 minutes' walk from the train station, and is well signposted. The ferry from Butterworth to George Town costs 1.20 RM ($0.40) for adults and 0.60 RM ($0.20) for children. The ferry in the opposite direction is free.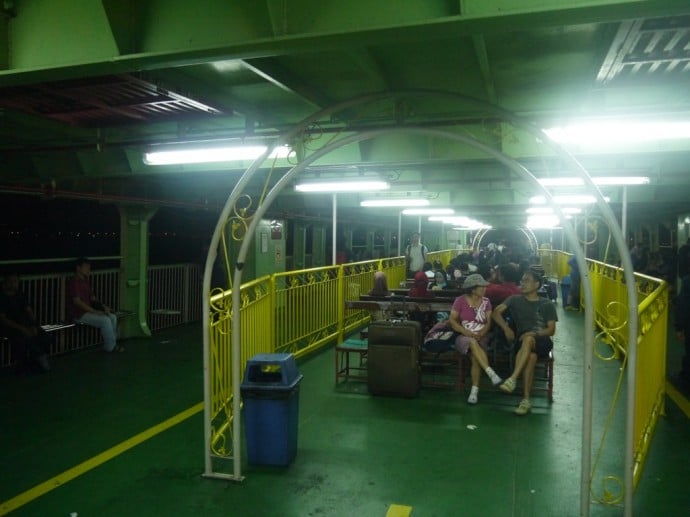 The crossing takes around 10-15 minutes. The ferries operate from around 5:30 to 00:30 every day.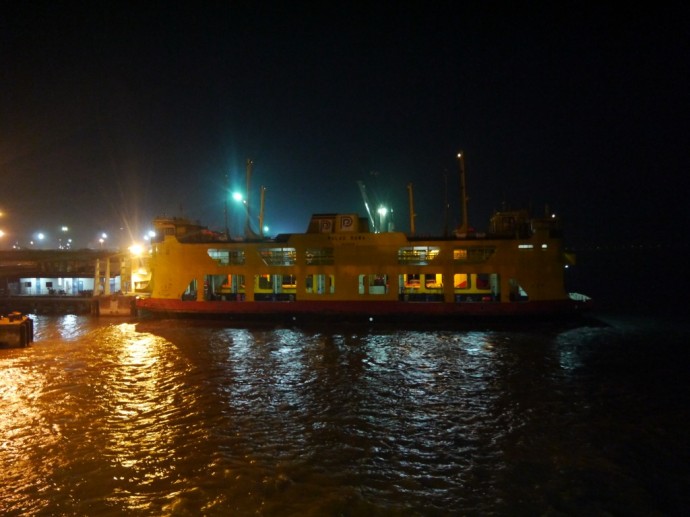 Once the ferry arrives in George Town, you have the option of walking, getting a bus, or getting a taxi to your hotel.
Kuala Lumpur To Penang By Train & Ferry Video
Hotels In George Town, Penang
For our time in George Town we stayed at the New Asia Heritage Hotel.
Click here to book the New Asia Heritage Hotel via Agoda.