After our recent travels around northeast Thailand, Vientiane, Seoul and Hong Kong we headed back to Bangkok where we plan to spend the next few months. For our first few days we chose Littlest Guesthouse, which is just a 1-minute walk from Surasak BTS station. But don't be put off by the name, because our room was huge, at around 45 sqm. That's more than double the average size hotel room. Click here to book a room at Littlest Guesthouse.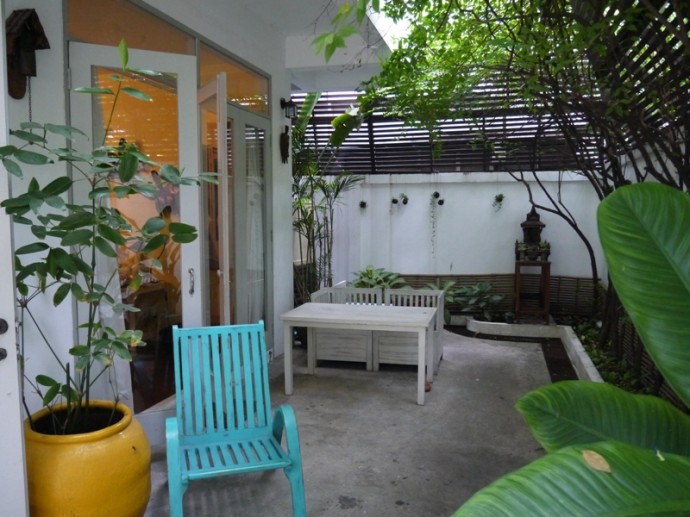 We spent a year living around 3 minutes' walk from this guesthouse but only recently discovered it. It's only around 100 meters from the BTS (skytrain), but tucked away behind another building, so is very quiet and peaceful.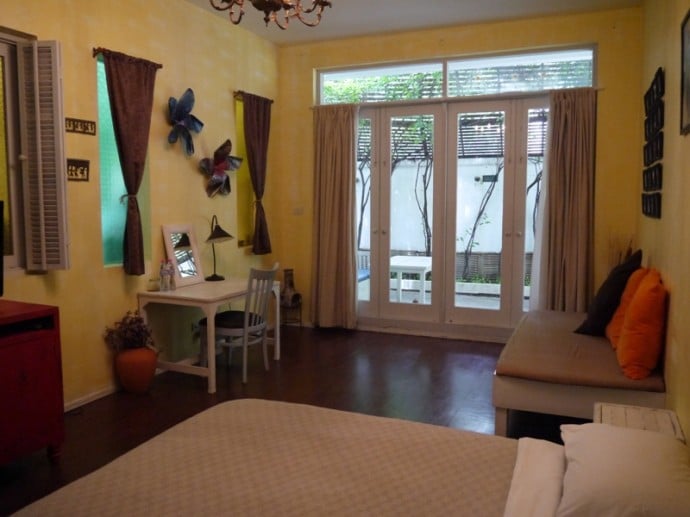 We spend a lot of time in hotel rooms so are quite used to living in smaller spaces, so it was a very pleasant surprise to see the size of our room. It's certainly bigger than the vast majority of hotel rooms and also bigger than many Bangkok condos.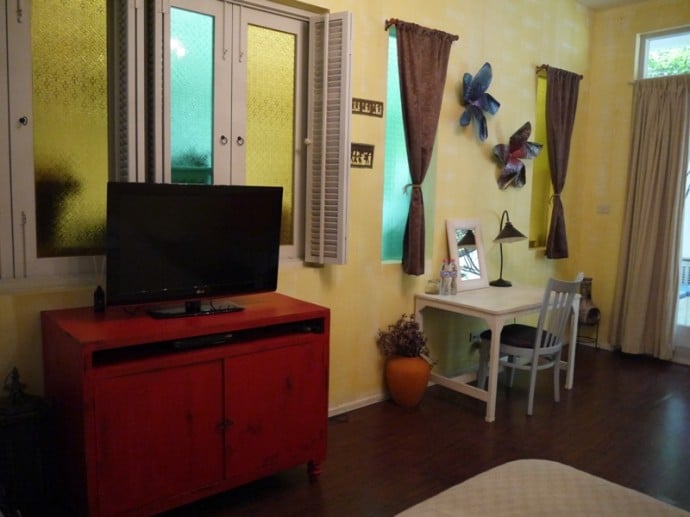 The room is very well equipped and had everything we needed. There is a small fridge in the cabinet on the left of the image above, and a table and chair that's great for using your laptop.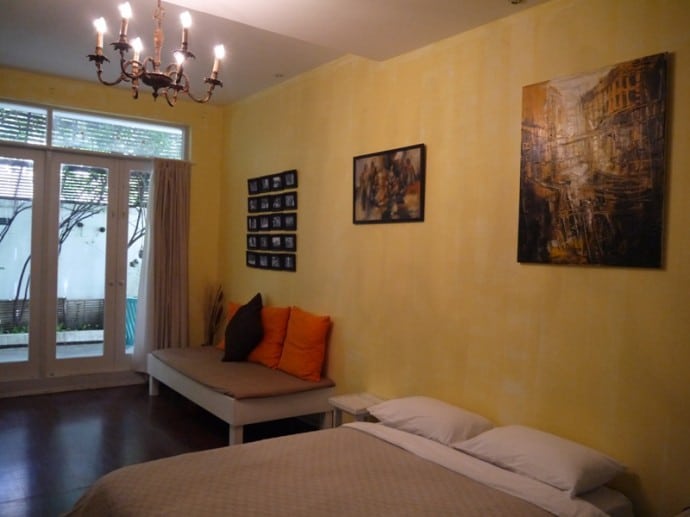 As well as a large double bed, there's also a seating area that can also be used as a bed. So this room could sleep three people and would be good for a couple with one child. There is also additional seating on the large terrace right outside the room, as shown in the top image.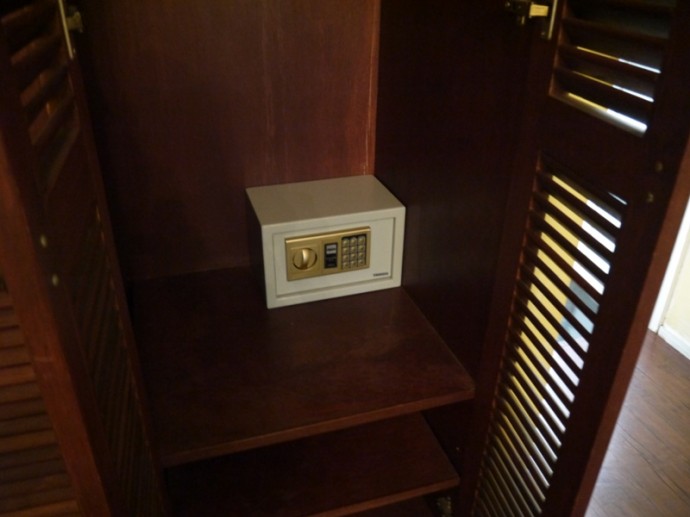 Even though the room is large, the aircon worked very well and kept the room cool, which is very important in a city like Bangkok. There is a small safe in the large wardrobe where you can keep an valuables you may have.
Bathroom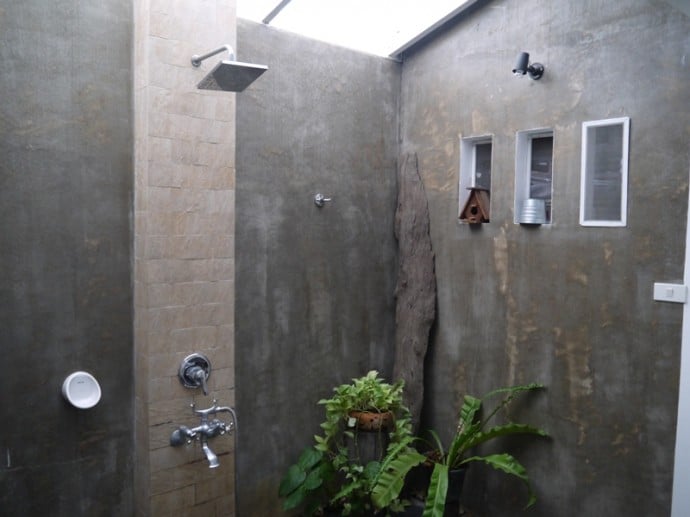 If you think the main bedroom area is huge, wait until you see the bathroom. It's bigger than some hotel rooms we've stayed in. You could easily fit a large double bed in there. The shower section is particularly big, and measures around 8′ x 5′. It has an opaque roof that lets on lots of light and feels a little like you're showering outside.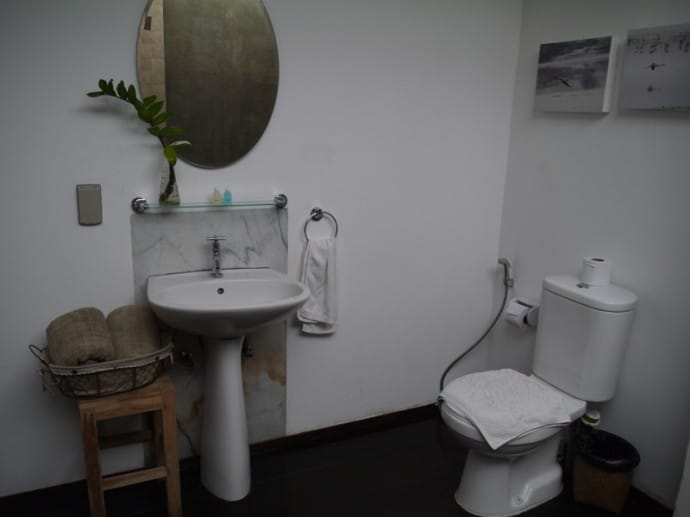 Kitchen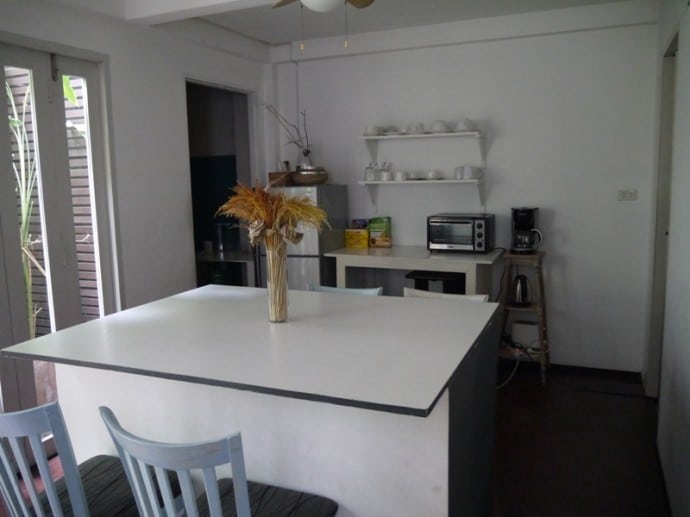 The main entrance to the guesthouse is into the kitchen, and you're free to use the kettle, microwave and dishes there. We booked a room without breakfast, but if you do choose to have breakfast it's delivered to your room at your selected time. You can choose to have it any time between 7 and 10 am.
Wifi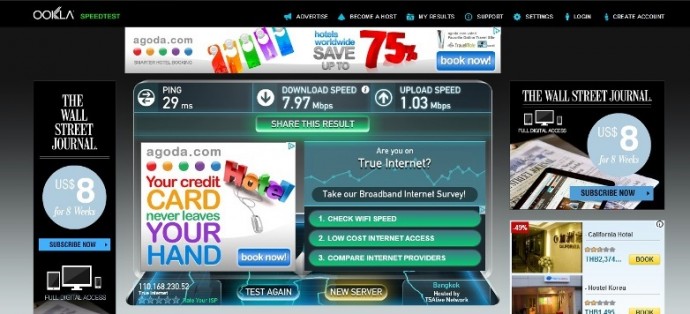 The wifi worked well the whole time we were there and the speed was pretty good. I tested it at 7.97 Mpbs download and 1.03 Mbps upload.
Location
As already mentioned, the guesthouse is only around 100 meters from Surasak BTS (skytrain) station. Leave the station using exit 2 and you'll see King's Hotel and Family Mart convenience store. Walk down the lane directly next to Family Mart and you'll see the guesthouse at the end of the lane. The hotel also has an entrance off this lane and has 24/7 security, so the area is very safe.
It's only a few minutes' walk to the river, or just one stop using the skytrain. It's also only a few minutes's walk to Silom Road, where there are a range of shops and supermarkets.
There are a few street food stalls near Family Mart, so that is quite handy as well.
Other Hotels In Bangkok
Click here to book a room at Littlest Guesthouse.
For other hotels in Bangkok, check out the great deals at Agoda Bangkok.