While in Vienna we ate at both the Loving Hut restaurants. This is a worldwide restaurant chain that's run by individual owners, and every one that we've eaten at has been excellent. Each one is slightly different, but they tend to sell a mixture of Asian and local food. If you eat vegetarian or vegan food you'll probably love Loving Hut.
Loving Hut, Neubaugurtel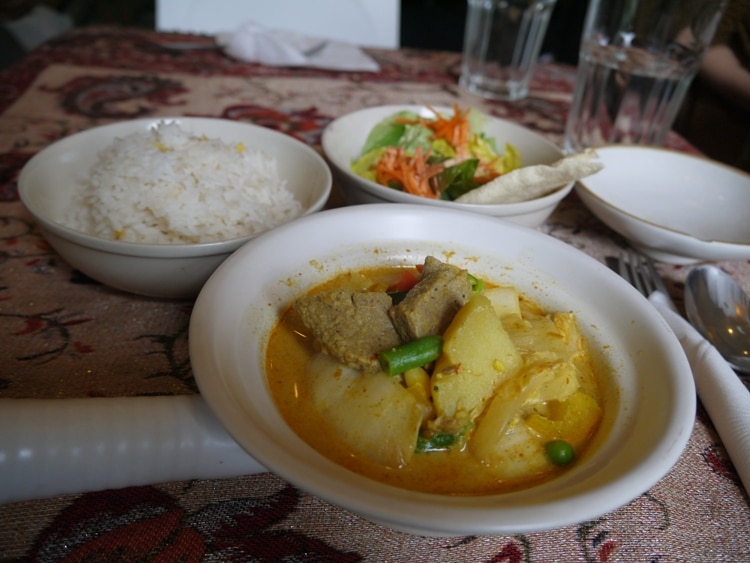 The menu here was in German, but we managed to understand enough of it without having to ask the waiter for help. The waiter did speak English though, so he could help with translation if needed. I had the curry, which was really yummy.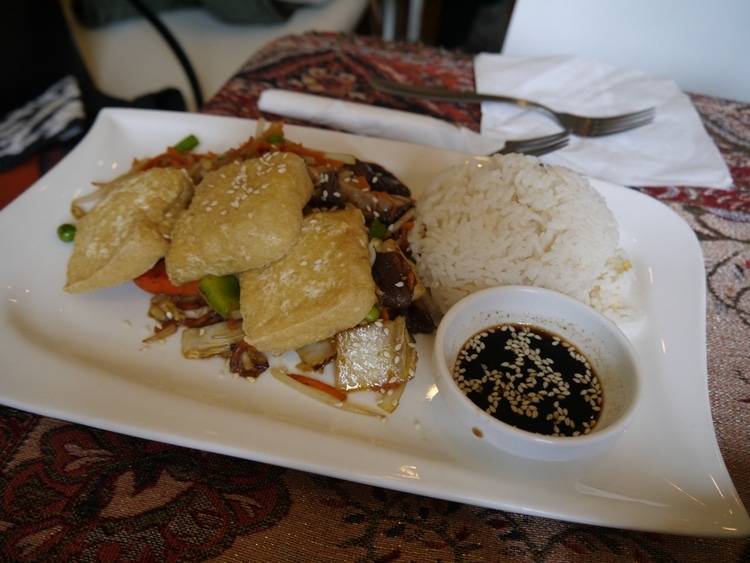 Miu opted for the tofu steak, and that was also delicious. We had fresh spring rolls to share as a starter. Total cost was EUR 19 ($21).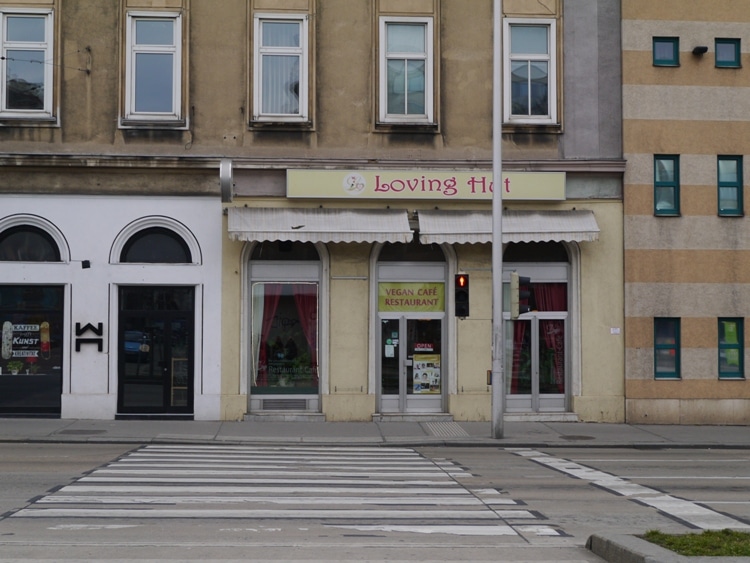 This Loving Hut was quite easy to find, as it's between Westbahnhof and Burggasse-Stadthalle metro stations on the U6 line. We walked from the Westbahnhof station, but the restaurant is almost outside Burggasse-Stadthalle station.
Loving Hut, Neubaugurtel Details
Address: Neubaugurtel 38/5
Opening Hours: Sun-Mon, Wed-Thu 16:30-21:00; Fri-Sat 12:00-21:00; Tue Closed
Nearest U-Bahn: Burggasse-Stadthalle (U6)
Website: lovinghut.at
Loving Hut, Favoritenstrasse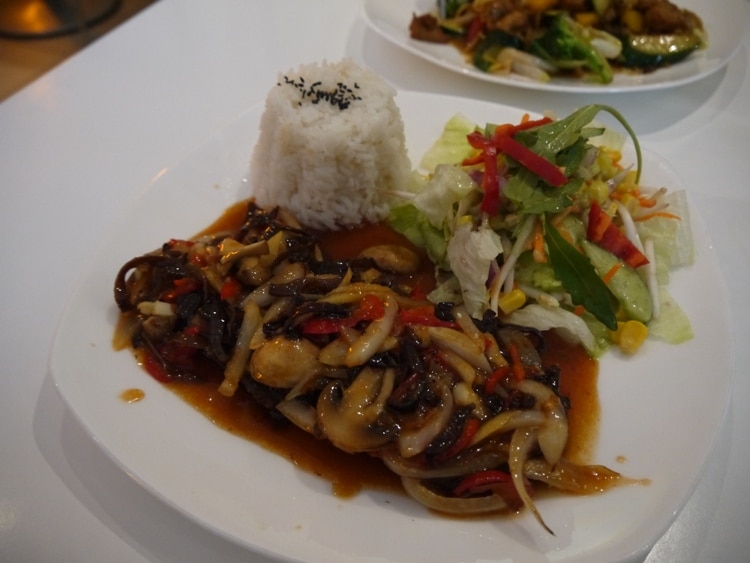 We went for lunch to the Favoritenstrasse branch on the Sunday and had another great meal. I ordered the Spicy Island, which was three soy protein slices in a spicy sauce, served with rice and salad. The sauce was a little too sweet for me, but other than that the food was great.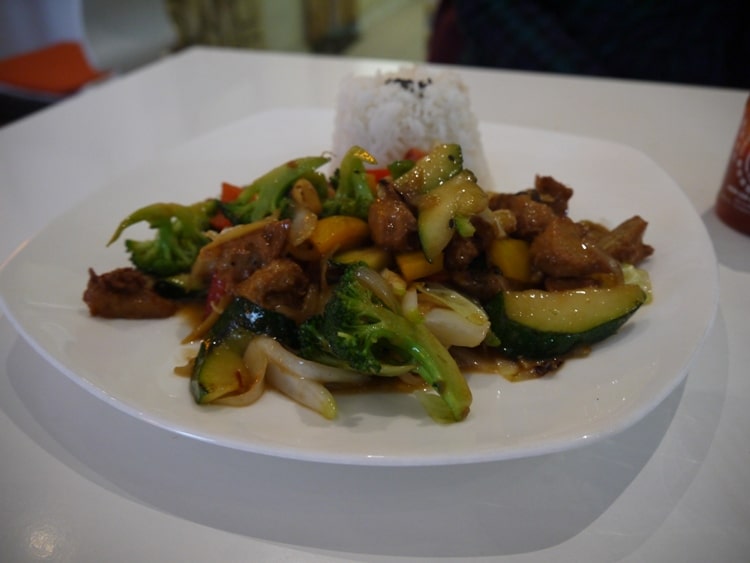 Miu had the Teriyaki Kungpao, which is described on the menu as cheerful chunks with Kung-pao sauce and rice. She loved it. The main dishes that we ordered cost EUR 9.50 ($10.50). We also shared some Fresh Spring Rolls as a starter. I think there were EUR 3.50 ($4)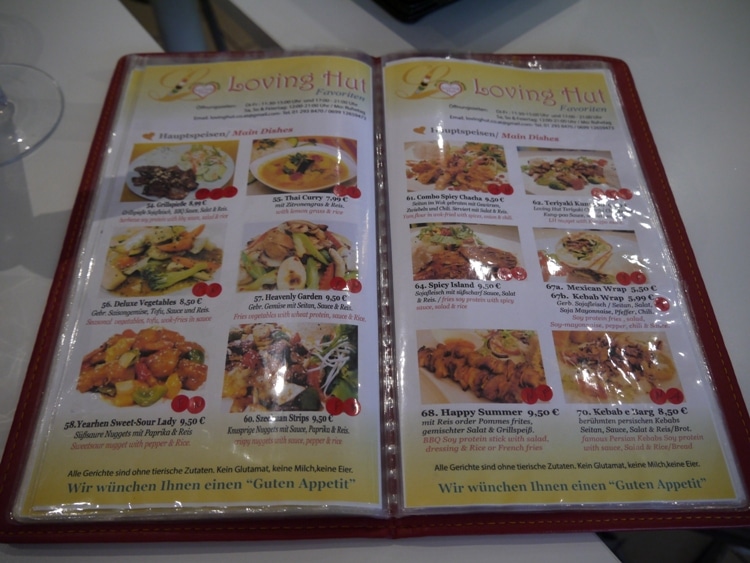 The menu here at photos of most of the dishes, so it was easy to choose what we wanted. Most of the menu was also translated into English. There is no waiter service here, so you just need to sit down, choose what you want from the menu and then go and order it at the counter. You then pay at the counter on the way out.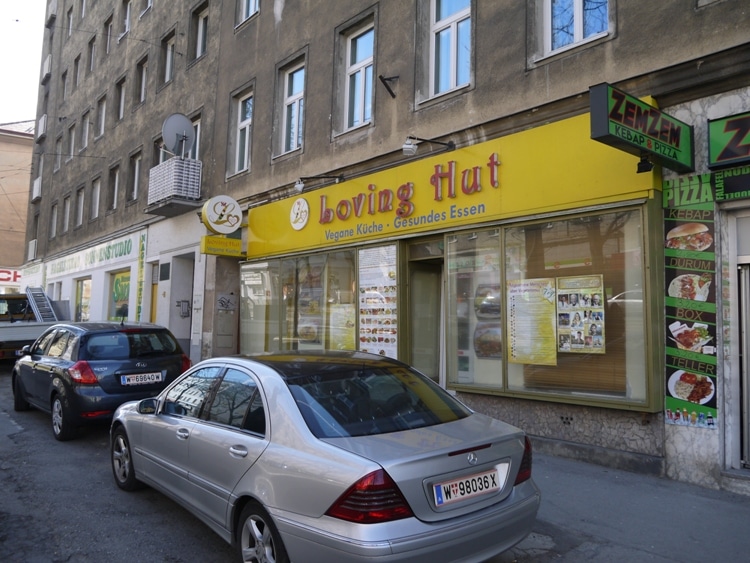 This Loving Hut is very easy to find. Get off the U-Bahn at Reumannplatz and walk up the hill. Loving Hut will be on your right after a few minutes' walk.
Address: Favoritenstrasse 156
Opening Hours: Tue-Fri, 11:30-15:00 & 17:00-21:00; Sat-Sun 12:00-21:00; Mon Closed
Nearest U-Bahn: Reumannplatz (U1)
Website: lovinghut.co.at
Other Places
While in Vienna we noticed that quite a few restaurants had vegan options clearly marked on the menu. One of these was Oben, which is a cafe at the top of the steps above Burggasse-Stadthalle station. It's high up so the view is pretty good. We stopped by for coffee and would have eaten there, but we'd only just left Loving Hut which is just across the road.
Hotels In Vienna
For some great hotels in Vienna, be sure to check our favorite hotel booking website, Agoda Vienna.