Today we went to the Loy Krathong Festival at the Chao Phraya River, near Saphan Taksin BTS. It's one of Thailand's most popular festivals and attracts millions of people every year. Here are a few images from this year's festival. We started off by watching the lanterns being released next to Saphan Taksin BTS station.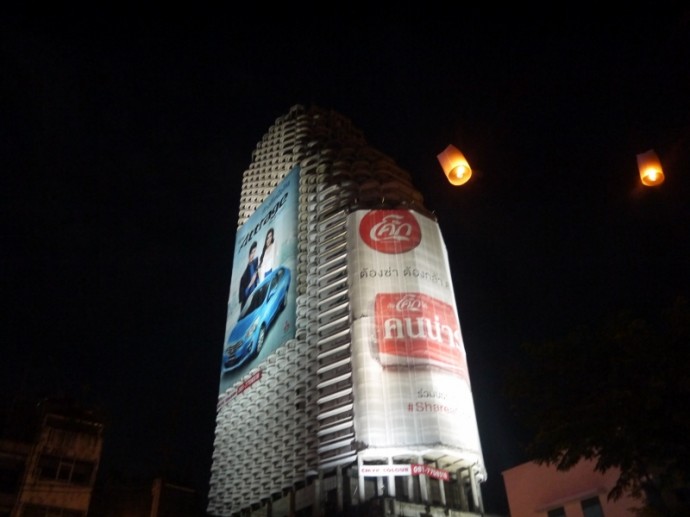 Sathorn Unique (Ghost Tower) is a luxury condo building that was abandoned before completion during the Asian Financial Crisis of the late 1990s. It makes quite a stunning backdrop for the lanterns. Most floated off in the opposite direction though.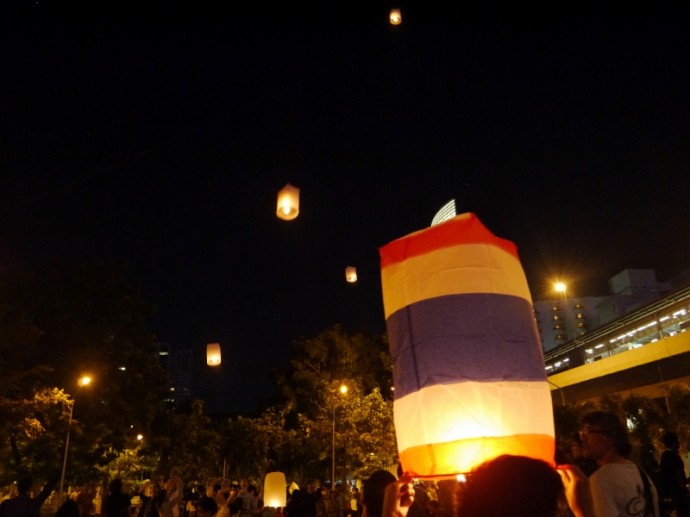 Most lanterns were plain white, but the one above was in the colors of the Thai flag.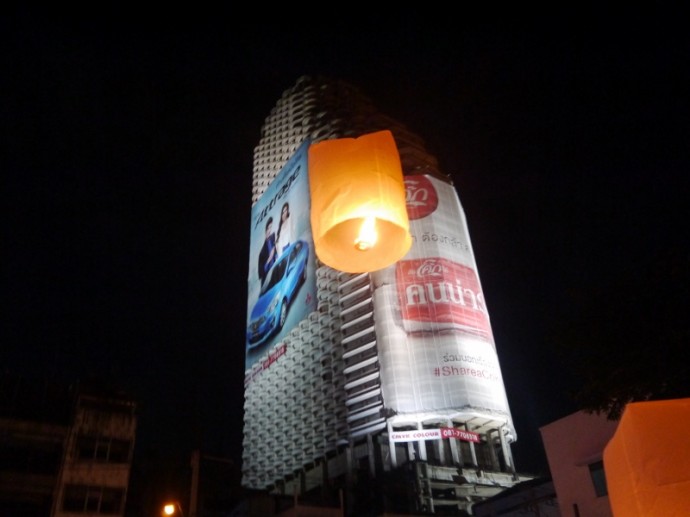 I have plans to see if I can get inside this tower to take a look around. I find abandoned buildings quite fascinating.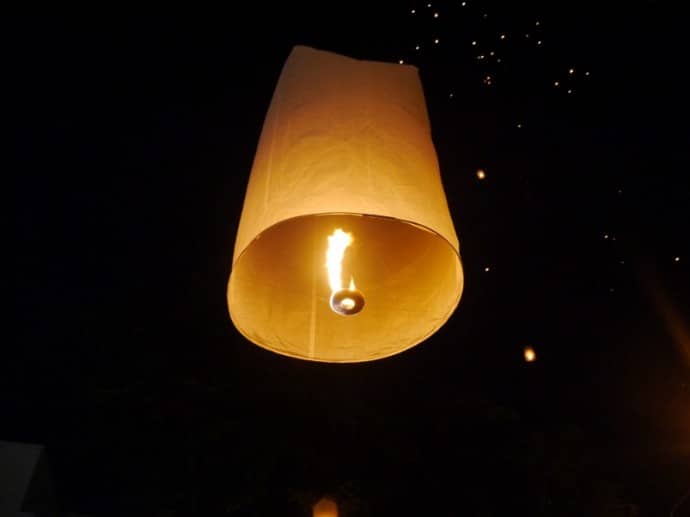 After watching hundreds of lanterns being released we headed to Wat Yannawa (Yannawa Temple) to release our krathong. A krathong is a floating decoration, usually made of banana leaves or bread, that is floated on the night of the full moon during the Loy Krathong Festival. Ours was made of bread, as this biodegrades quickly and can be eaten by the fish. You can make a wish as you float your krathong, and all your troubles are meant to float away with it.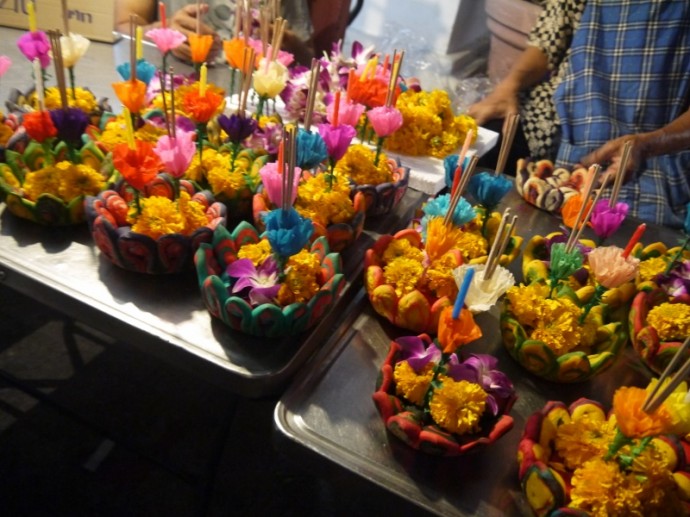 The krathongs on sale are very colorful, and sometime in usual shapes, like the turtles below.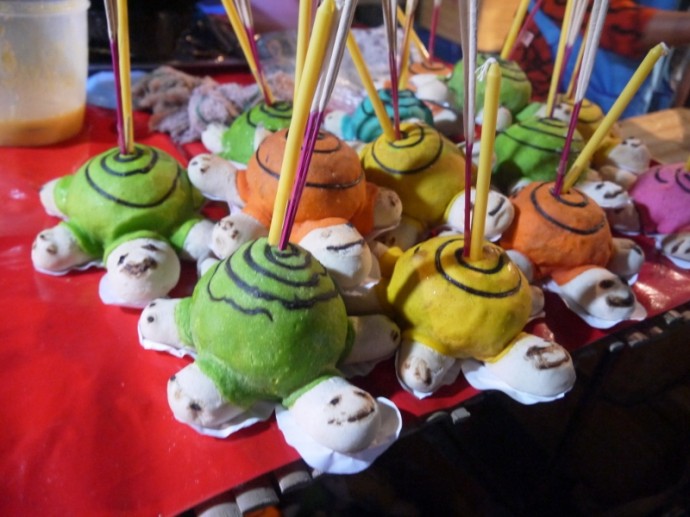 These turtle krathongs are made of bread.
The grounds of Wat Yannawa were packed, with numerous krathong and food stalls.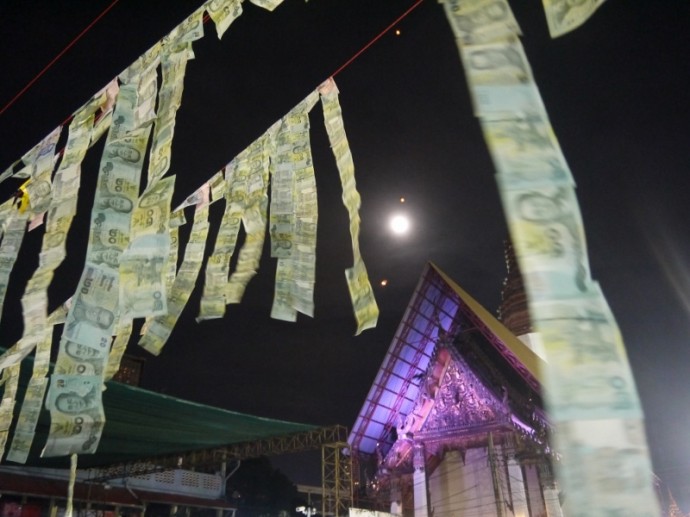 Many people donate money for the temple by stapling it to lengths of string.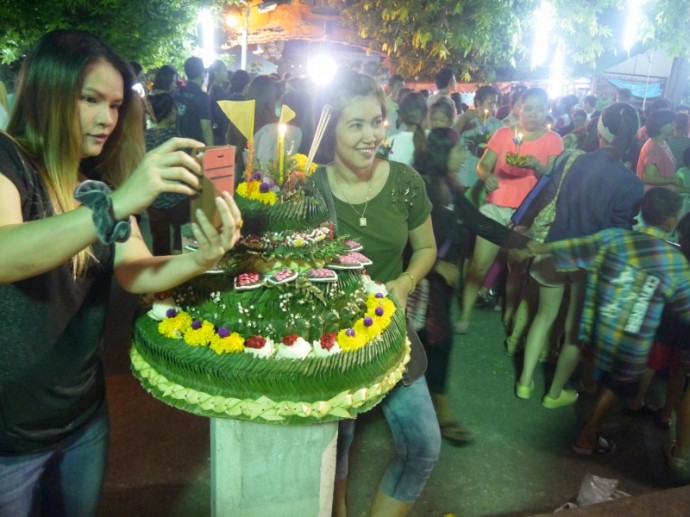 Some people create very elaborate krathongs. Above you can see two Thai woman posing for photos next to theirs.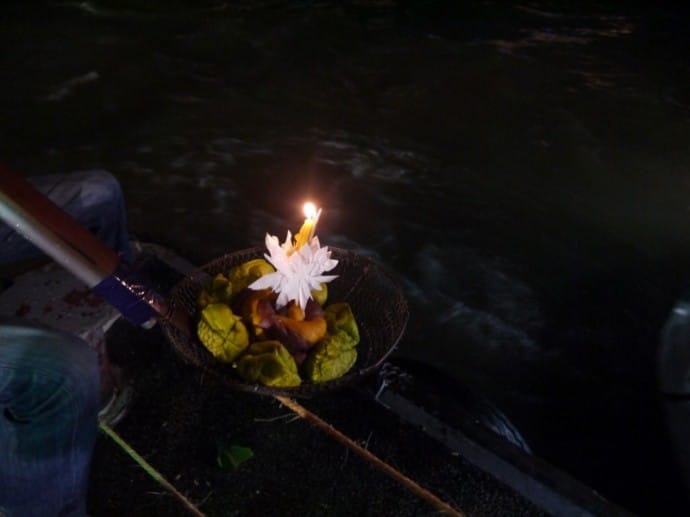 Our krathong was a much more modest affair. It's not all about size!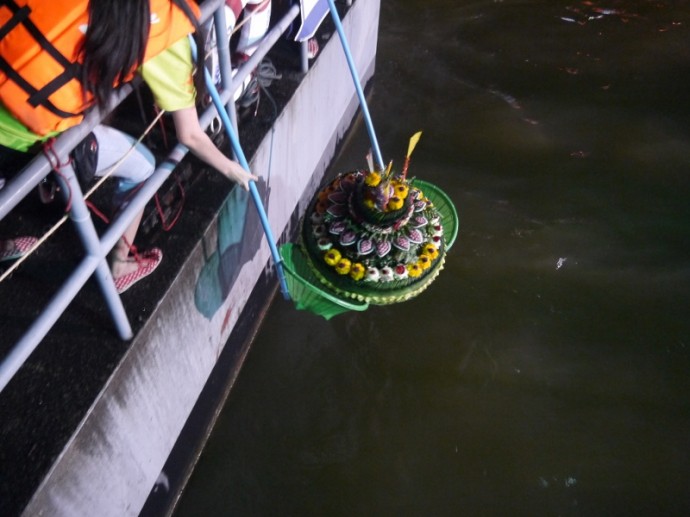 The krathong above ended up toppling over and breaking in half.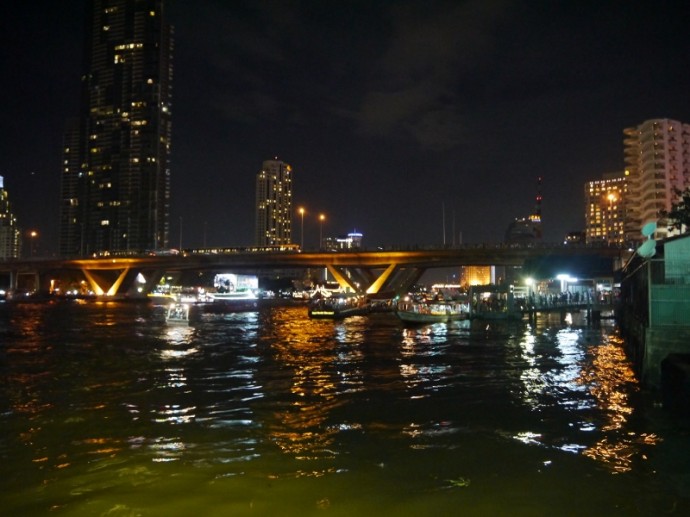 As you can see in the image above, the temple is very close to Saphan Taksin BTS.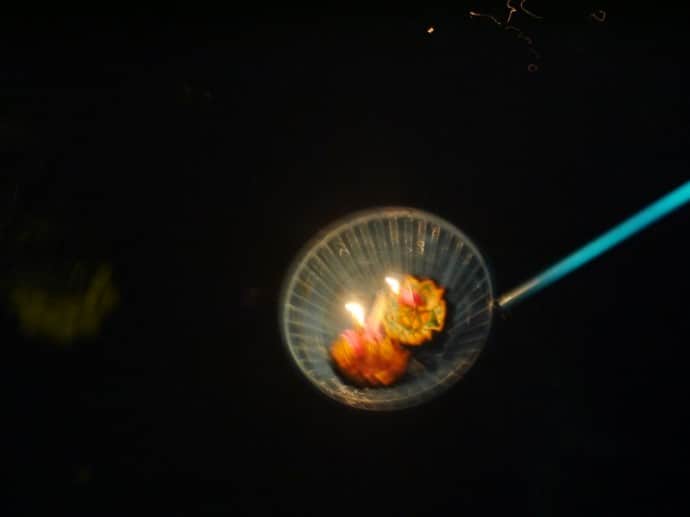 Most of the krathongs are lowered into the river on baskets at the end of long sticks.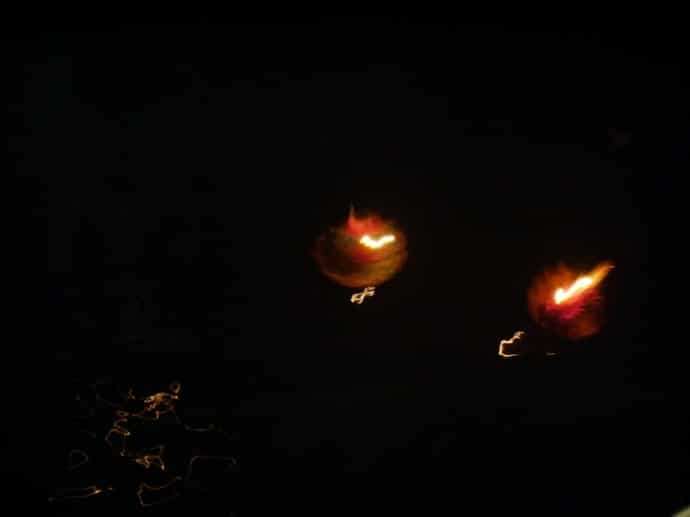 The krathongs are meant to float away any bad luck from the year.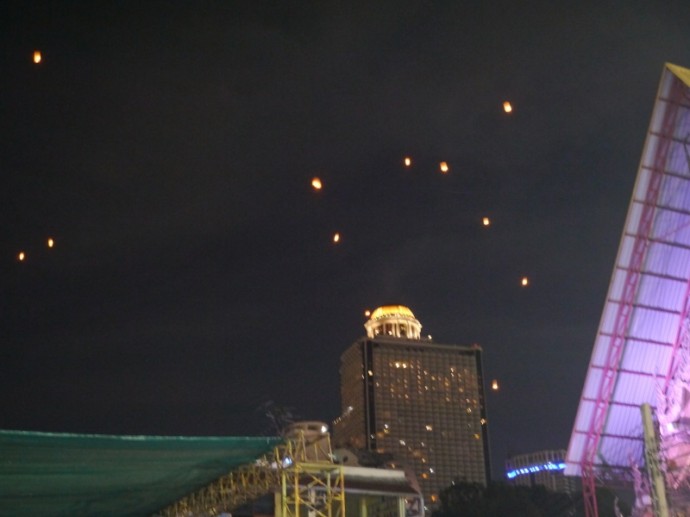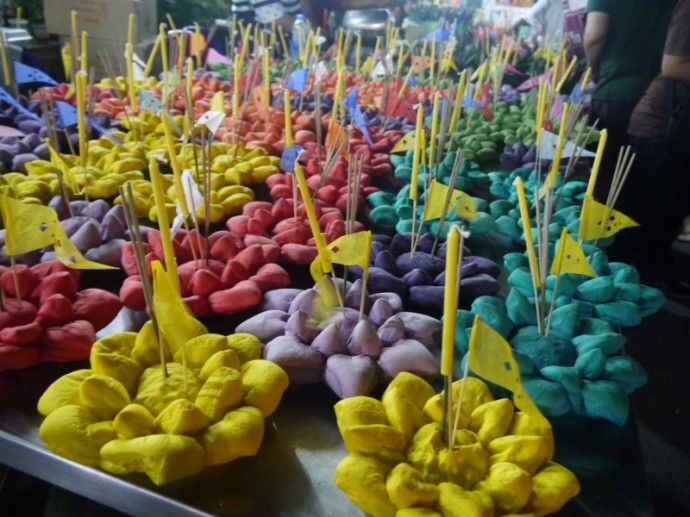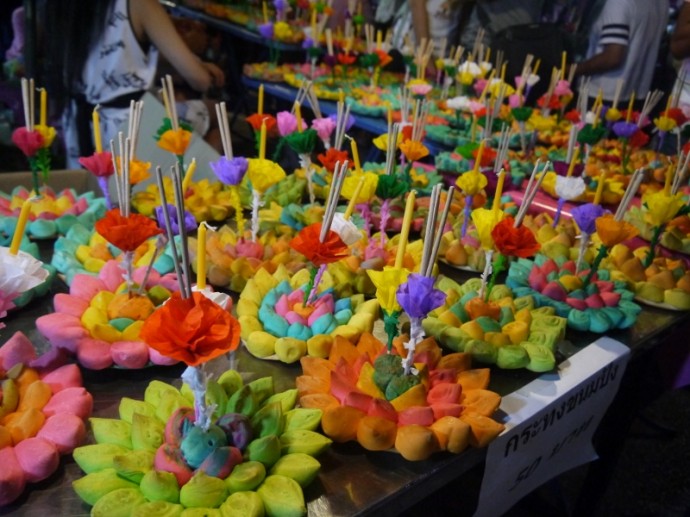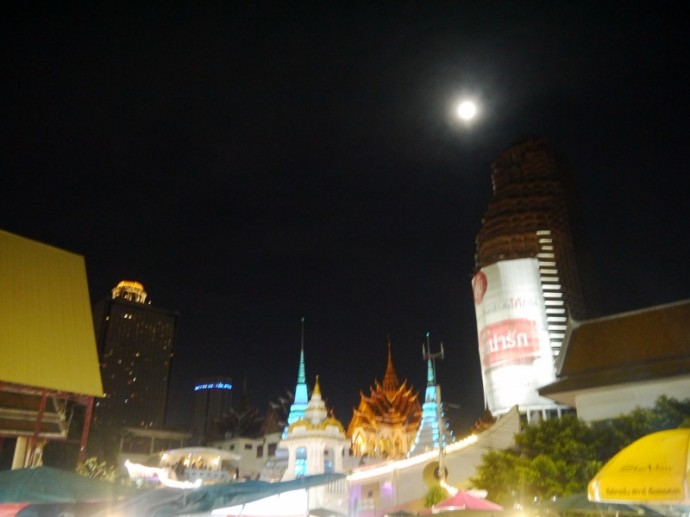 You should make time to see this festival if you're in Thailand at this time of year.
Hotels In Bangkok
If you're planning to visit Bangkok, you can get some great hotel deals from Agoda.com.