The high-speed trains from Madrid to Seville run every 30-60 minutes from 06:20 until 21:25, with the journey time being 2.5 hours for most trains. We used our Eurail and Interrail passes, but had to reserve seats, which cost EUR 24.30 ($27.50) each. Seville, the capital of southern Spain's Andalusia region, is around 530 km from Madrid.
Madrid Puerta de Atocha Train Station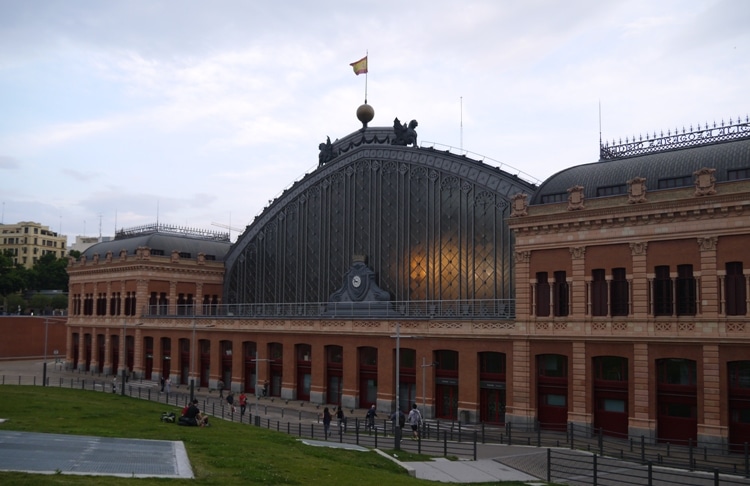 Madrid's Puerta de Atocha train station is a very large and fairly recently renovated train station that's conveniently located in the city center.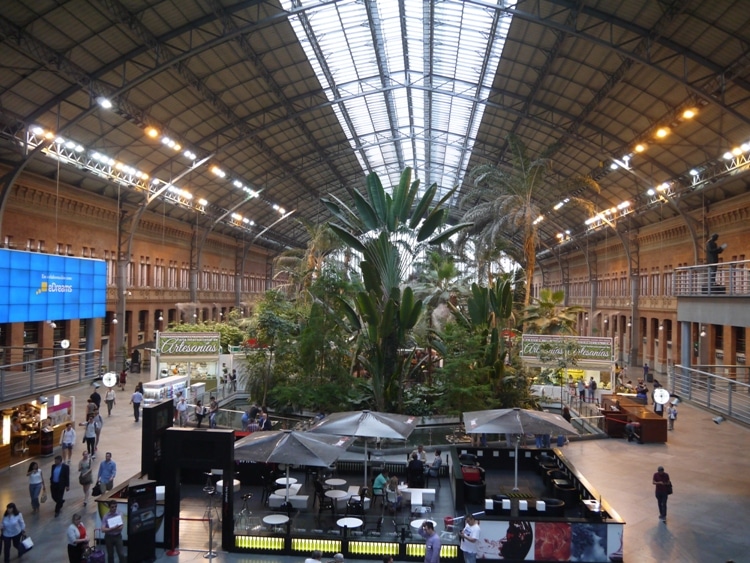 It's a little complicated finding your way around inside this station and the staff seem to be as confused as the customers. When we arrived one evening to book our seats for the trip to Seville we were told to use a different ticket office (there are at least two), but when we got there the machine that issued the tickets for the queue had been closed because so many people were waiting. Even though the ticket clerks at the first ticket office didn't have any customers to serve, they said they could only issue tickets for the same day but not advance tickets, so we left empty-handed.
The next day we went back earlier in the day and got our advance tickets from the ticket office that supposedly only sold same day tickets. There was a sign up saying that same day tickets can be bought 05:30-22:30, but advance tickets can only be bought 10:00-20:00. Anyway, we booked our seats at the ticket office next to the tropical plants that you can see in the image above. We booked the seats at around 15:00 and only had to queue for a few minutes.
The Train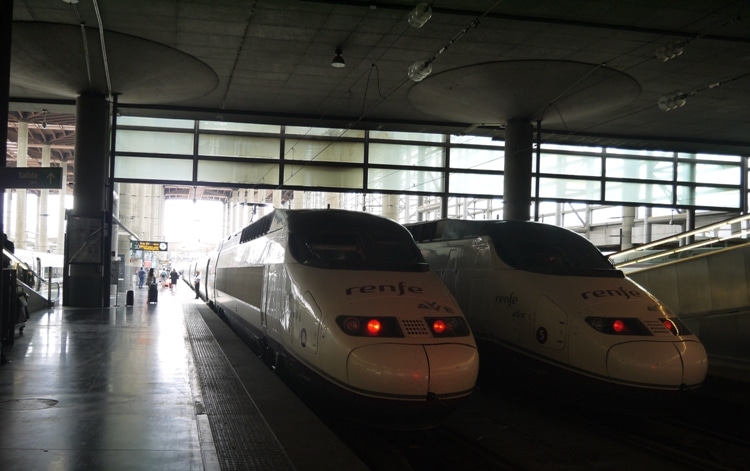 This train was very similar to the one we got from Barcelona to Madrid, except that it seemed a little older. As we traveled on a Friday afternoon, it was also much fuller. Our First Class carriage was almost completely full.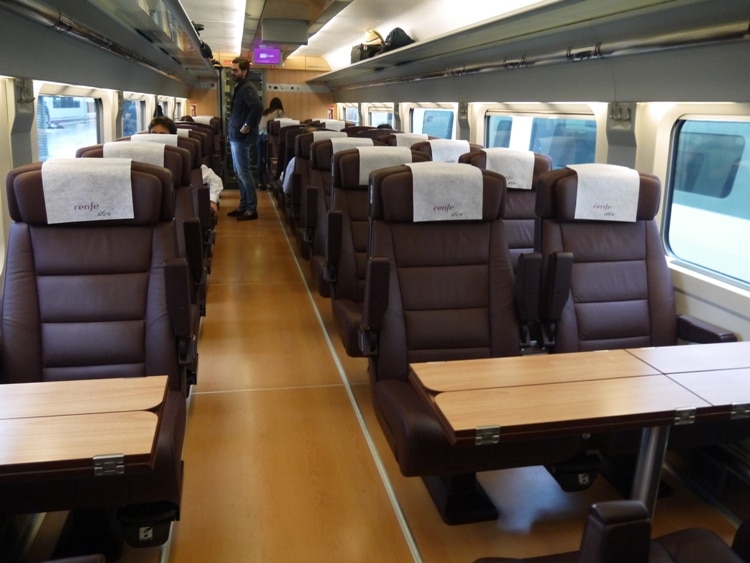 Just like the Barcelona to Madrid train, this train had comfortable seats, plenty of legroom and power sockets next to the seats. Lunch was also served on this train, with the meal being identical to the one on the last train.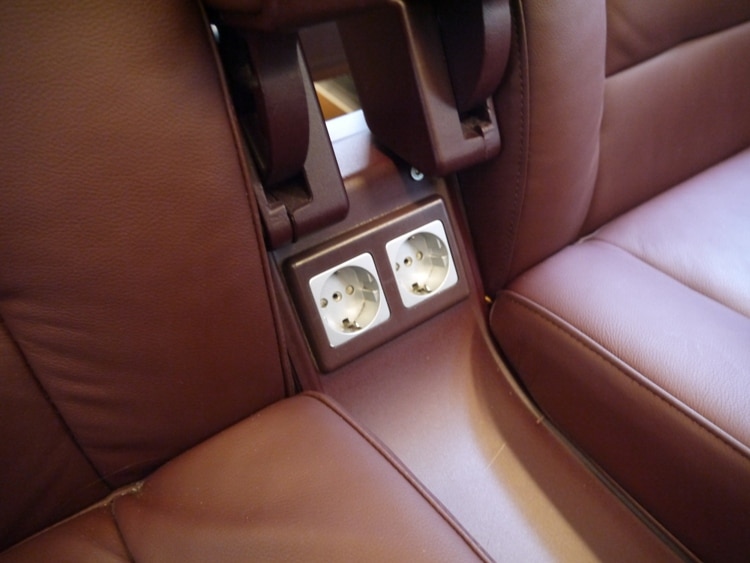 The scenery was pretty good along this route, and mainly consisted of hills planted with lots of trees.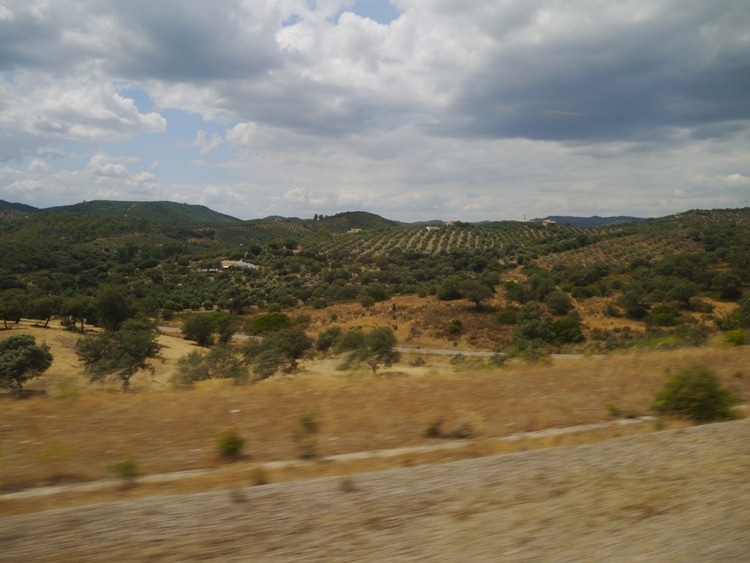 The train arrived on time in Seville and it was easy to find our way to the well-organized taxi stand outside the station. The taxi to our hotel cost around EUR 8.
Train Planner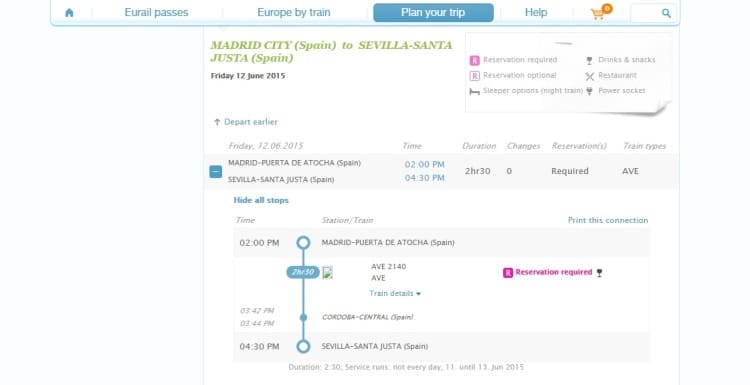 This is from the Interrail 'Plan Your Trip' section of the site.
Map Of Journey
The above map shows the train we got from Madrid to Seville. It's a journey time of 2.5 hours.
Cost Of Journey
When I checked the cost for this journey it showed as $71-93 for Economy Class, $85-130 for Comfort Class and $154 for Premier Class. I've no idea what these all mean, as all the trains we've traveled on in Europe only seemed to have 1st and 2nd class carriages. Even when we reserved our seats we were only quoted for 1st or 2nd class. As mentioned above, we paid EUR 24.30 ($27.50) each to reserve seats for the journey.
Note that ticket prices vary depending on the time of the train.
Where To Buy Your Global Pass
You can buy a Eurail global pass at the Eurail website, and an InterRail global pass at the InterRail website. If you're heading to Europe I highly recommend getting one.
Where To Stay In Seville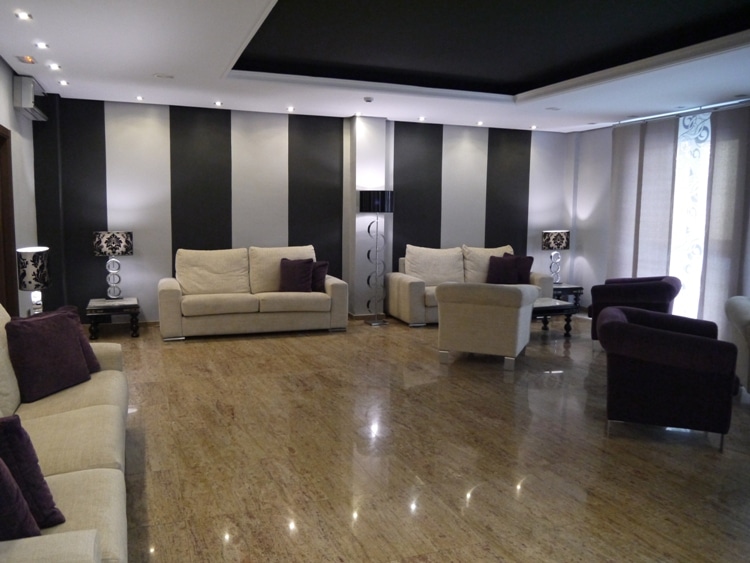 For our time in Seville we stayed at Hotel Venecia, a great place with super-fast wifi (70 Mbps) in the old town area. For other great apartments and hotels in Seville, check out Agoda Seville.