For our next hotel, we opted to stay at Marvin Suites on Sathorn Soi 11. This is a good location, with Surasak BTS being only a 5-minute walk away. It's also quite easy to walk to Silom Road, and there's a good vegetarian restaurant 2 minutes' walk away at 48 Soi Sathorn 11 – leave the hotel, turn right, and look out for the yellow vegetarian flags. It's called Krua Jay. See Silom Vegetarian Food for more veggie places in this area.
We were quite impressed with this hotel, as it's fairly new, and everything about the hotel is very modern. The rooms have kettle, free tea and coffee, safety deposit box, wardrobe, drawers, small fridge, TV, and desk and chair. Air con works well and wifi is super fast. It took me about one minute to load a 1-minute video to youtube.com. In the last hotel this took about 5 minutes, and in Indonesia it took a few hours. When I tested the speed it was 20 Mbps download and upload. That's the fastest upload speed I've had anywhere, even in the UK. So I was very impressed with the wifi.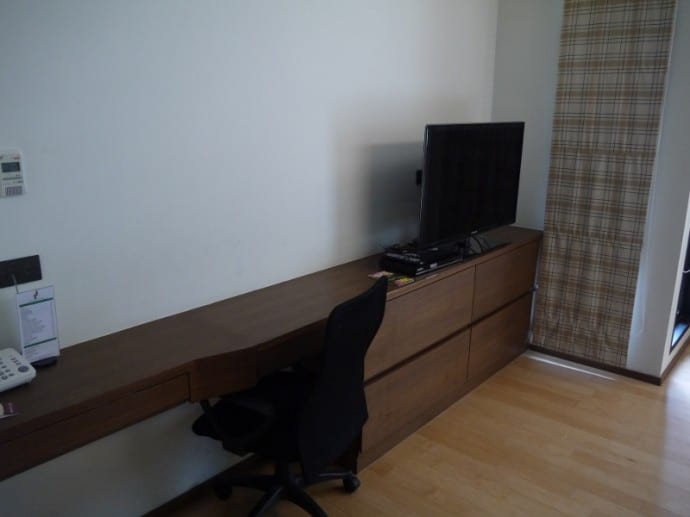 The bathroom was probably the most modern of anywhere we stayed in SE Asia in the last 6-7 months. Take a look for yourself below.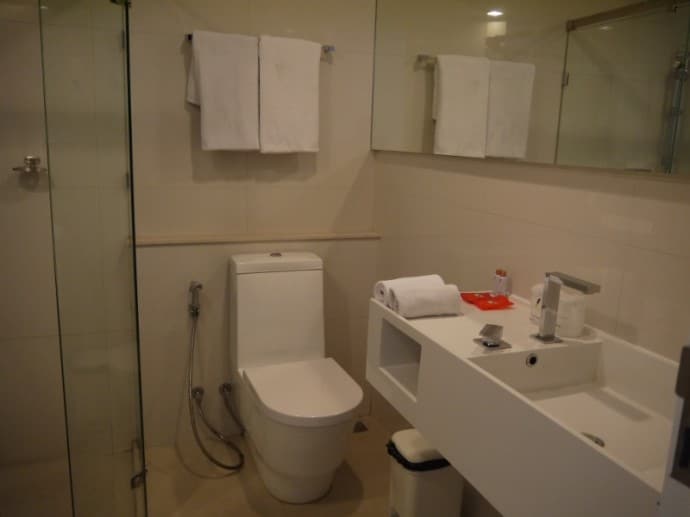 The shower was powerful and worked well, and was also a decent size.
All in all, this is a great hotel, and highly recommended. If you need to do any online work while in Bangkok then you'll be especially impressed with the wifi speed at Marvin Suites.
The hotel has a few parking spaces on the ground floor.The hotel lobby is on the second floor. Most staff seem to be from the Philippines, so speak excellent English.
Video Of Deluxe Studio At Marvin Suites, Bangkok
Hotels in Silom/Sathorn Area Of Bangkok
Click here to book a room at Marvin Suites via Agoda.