Learning to cook Thai vegetarian food at May Kaidee's restaurant in Bangkok has definitely been one of my favorite experiences in Bangkok. May's restaurant is in the Khao San Road area of Bangkok, so is pretty accessible for people who are staying in that area. Click here to book a great hotel in Bangkok.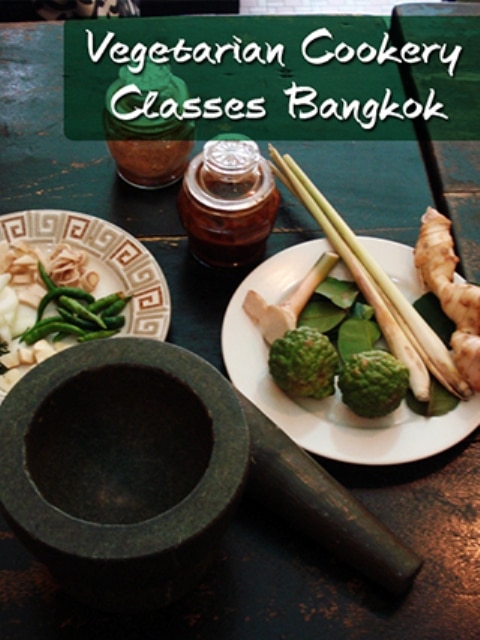 If you're staying elsewhere, you can either get a taxi or a river boat. If you plan to take a river boat, you can take the orange flag boat from Tha Sathorn (central pier), which is located next to Saphan Taksin BTS station. You'll need to get off at pier N13 (Tha Phra Athit/Banglamphu) and take a short walk from there.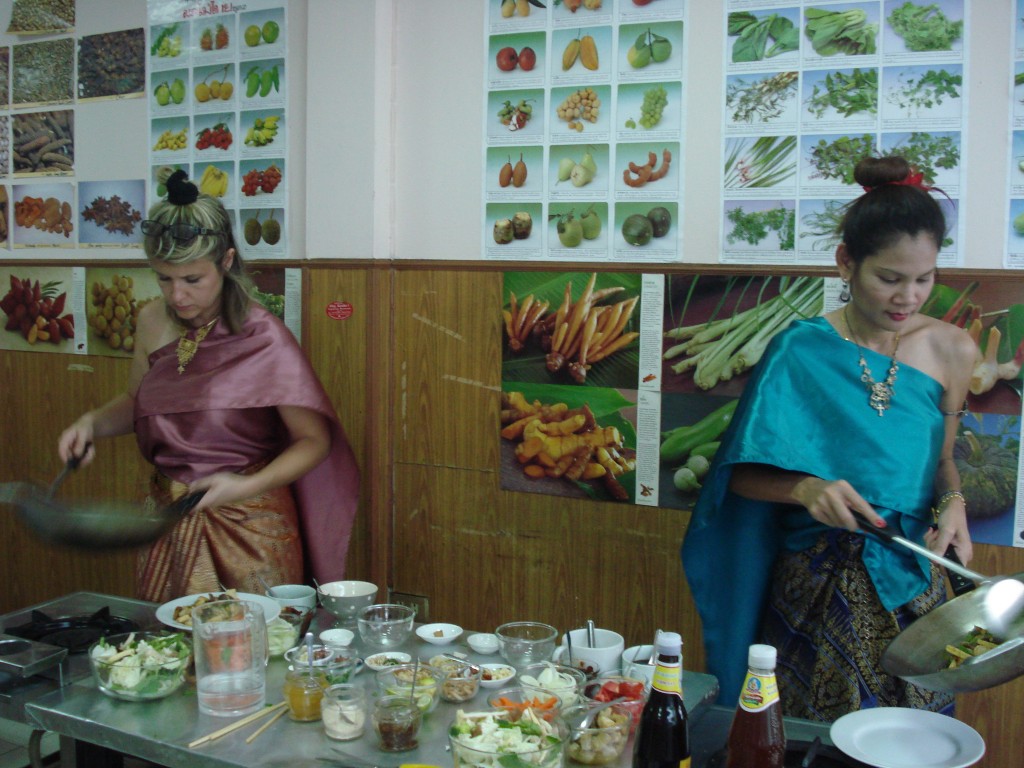 Our day started at 9 am with some fresh fruit and water and 5-10 minutes of getting to know the instructors, May and On. Then onto our first lesson, which was how to make fresh chilli paste with a pestle and mortar.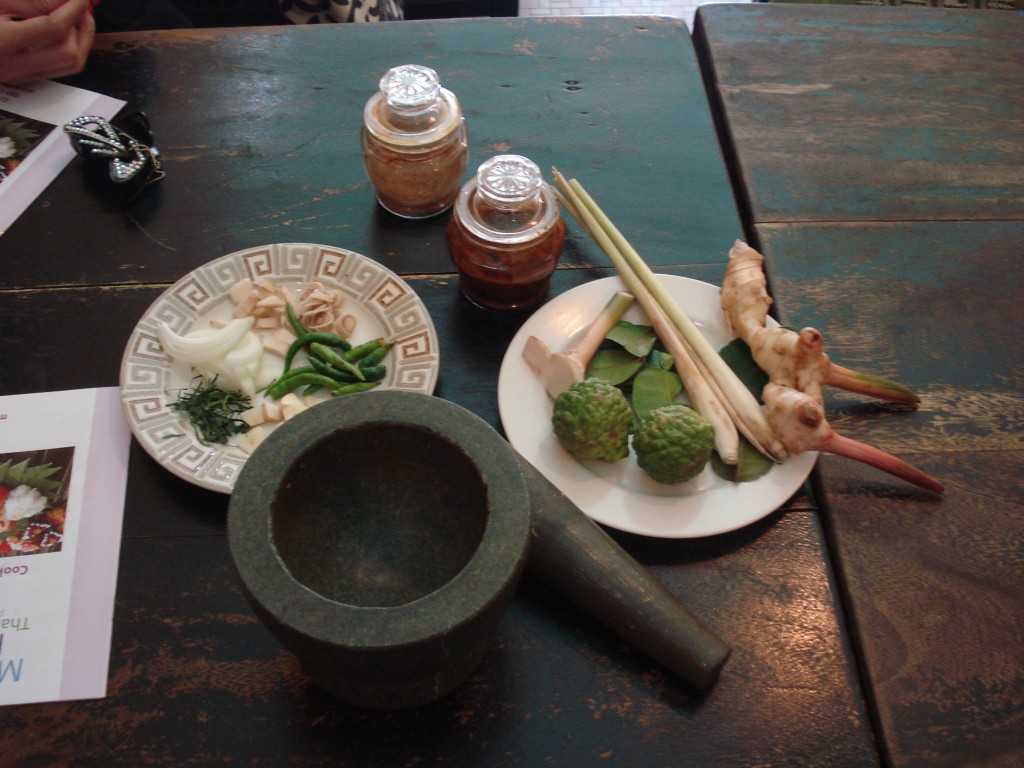 Then we discussed the different herbs and spices used in Thai cooking, before heading off to the market to learn how to identify and choose Thai ingredients for cooking. For this we took a tuk tuk, as the market was too far away to walk.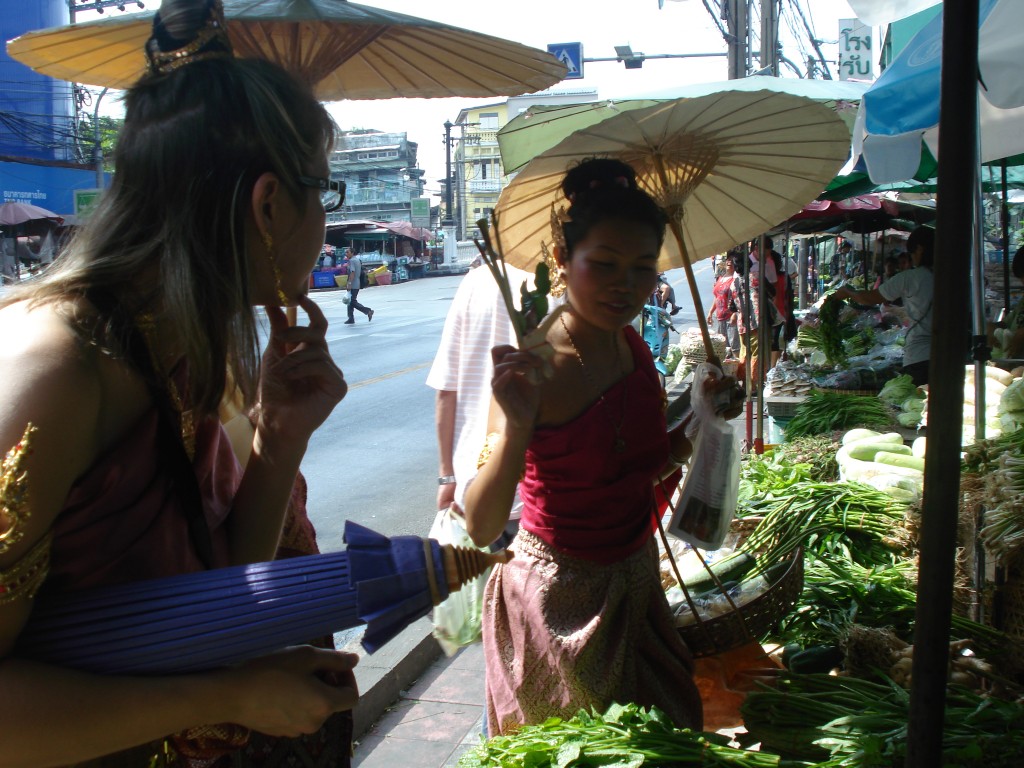 If you've ever shopped for Thai vegetables you'll know how confusing it can be. Coming from the UK, many of the vegetables here in Thailand were completely alien to me when I first arrived, and I had no idea what they were or how to cook them. So being taken around the market by a local is a great way to learn about what's on offer. It's also amazing how cheap fruit and vegetables are at local markets, compared to the UK.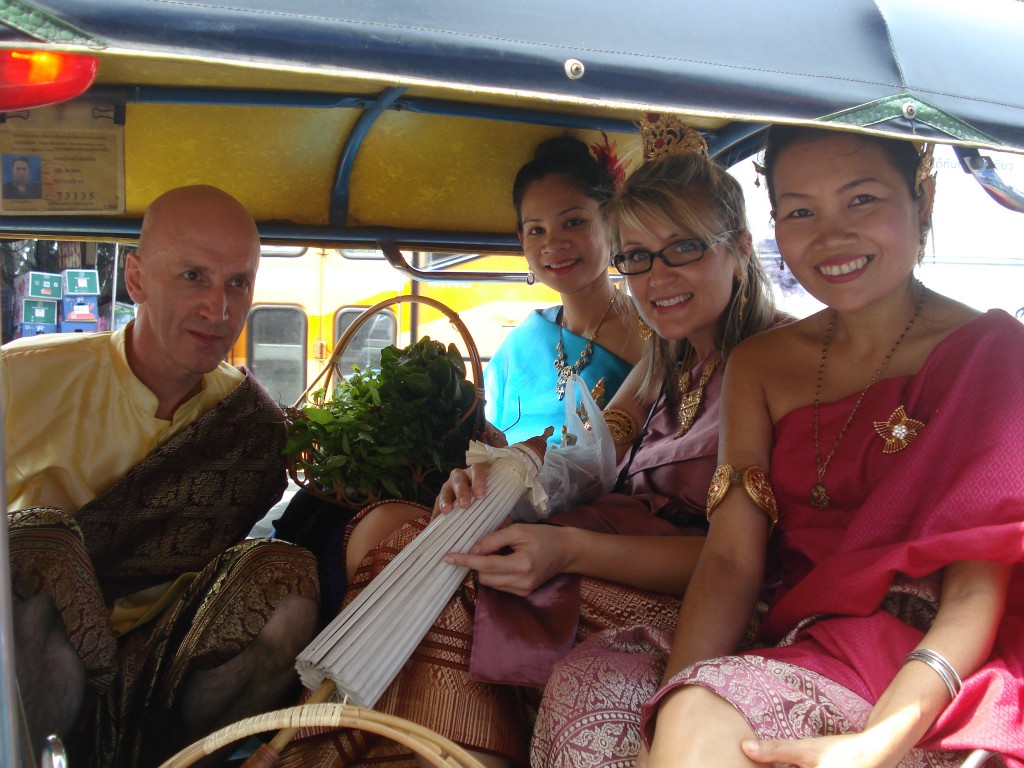 With the shopping done, it was time to head back to the restaurant. And this reminds me of one of things I love about Thailand – the fact that you can get really cheap and really fresh fruit and vegetables every day. It's rare to see produce this fresh in the UK.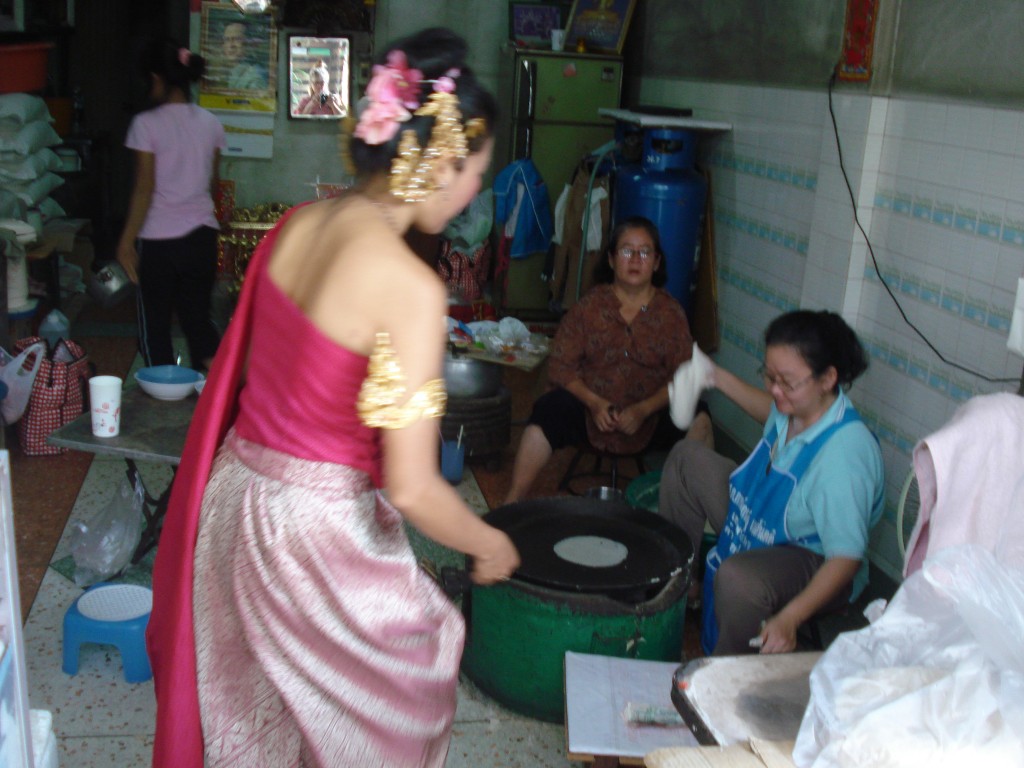 Next we headed out for a short walk to see spring roll wrappers being made on a specially designed hot plate. The woman making the wrappers was super-fast and could make each one in a matter of seconds. After that it was back to the restaurant to get to the main part of the morning, which was the actual cooking.
The cookery part of the class lasted two hours, and we learnt to make a variety of dishes, including Tom Yum Soup, Tom Kha Soup, Isaan Vegetables, Fried Vegetables with Ginger and Cashew Nuts, Pad Thai, Masaman Curry, Green Curry, and Spring Rolls. All these dishes seemed quite complicated to me before I took the cookery class, but I now regularly make many of these dishes at home, with Masaman Curry being my favorite.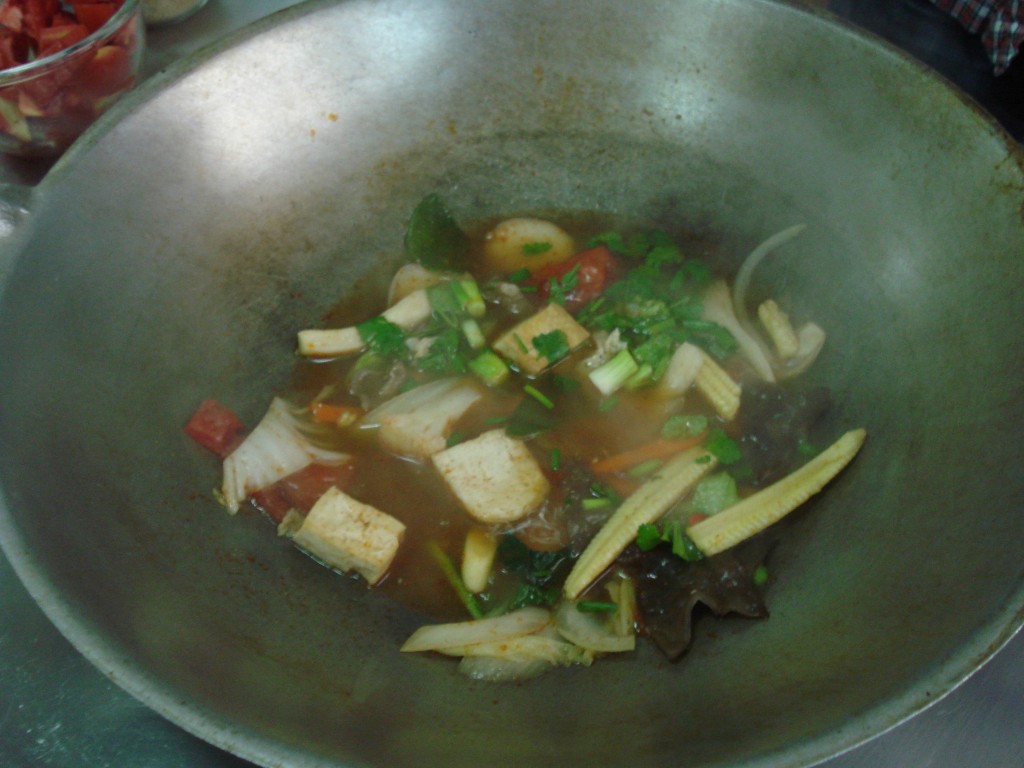 This was the first real Thai dish that I ever cooked – Tom Yum Soup – and it's still one of my favorites. And it's quick and easy to make once you know how.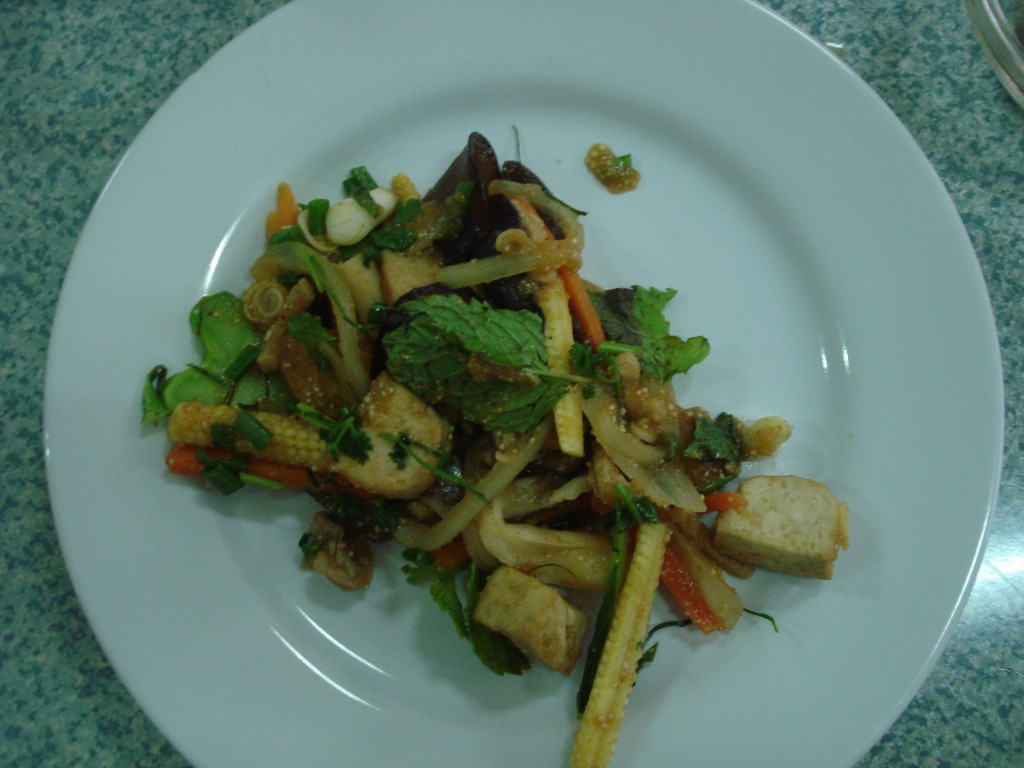 As there were only three people in our group, we had a little more time to spare, so May decided that it would be a good idea for us all to dress up in traditional Thai costume. I have to say that the girls looked much better in traditional Thai dress than I did!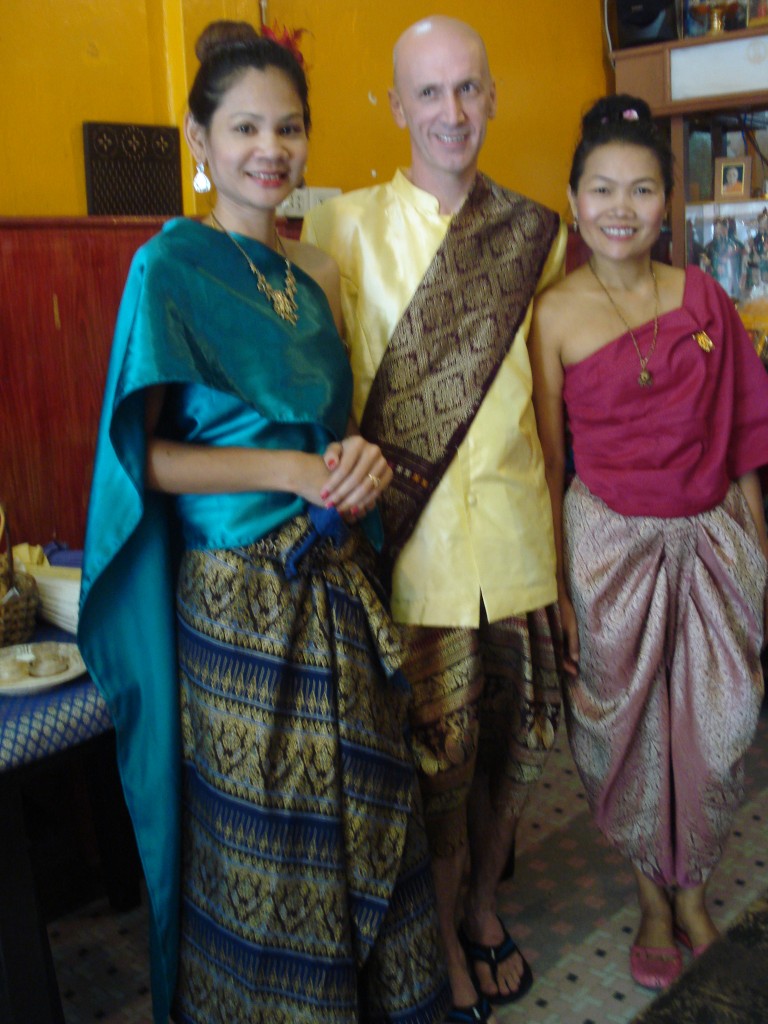 And to round off the class, May give us a demonstration of traditional Thai dancing. And then we all had Sticky Rice and Mango dessert.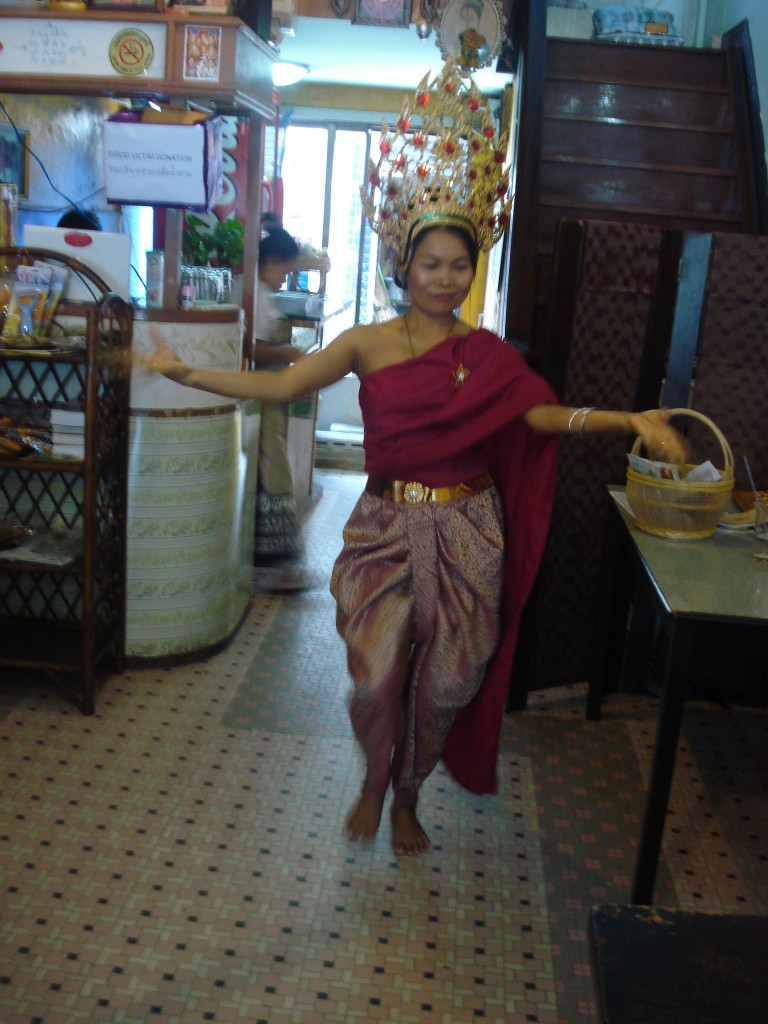 The best thing about the the class, apart from learning to cook all that delicious food, was that we got to eat everything that we cooked – so we were all very full by the end of the class. The class costs 1,200 baht ($40, £25). For more details and to book a class, see May Kaidee's Vegetarian Cookery Class.
Hotels In Bangkok