After six days in Nice, we headed for Barcelona. This is a distance of around 675 km (425 miles) and took us just over 9 hours to get there on two trains. We traveled from Nice to Montpellier, and then on to Barcelona. Even though we had Eurail and Interrail passes we had to pay for the first part of this journey, as no Eurail or Interrail seats were available on the train. We were told that this is often a problem on trains in France but not in other countries. My advice is to book as far ahead as possible if you want to use these passes for trains in France. It cost us a total of EUR 137.40 ($151) to buy the tickets and reserve the seats for these trains.
Nice To Montpellier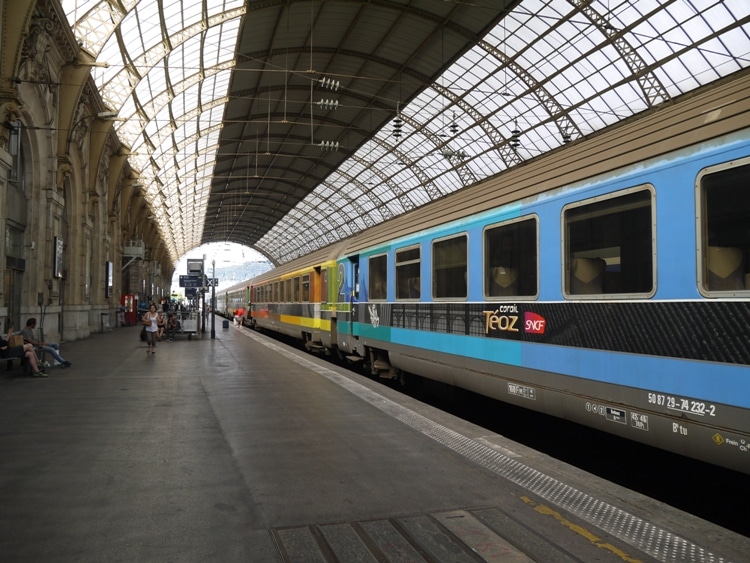 Our train to Montpellier left Nice Ville station at 10:24 and arrived in Montpellier Saint-Roch station at 14:53, a journey of 4 hours and 29 minutes. Tickets cost EUR 58 ($65) each for 2nd class.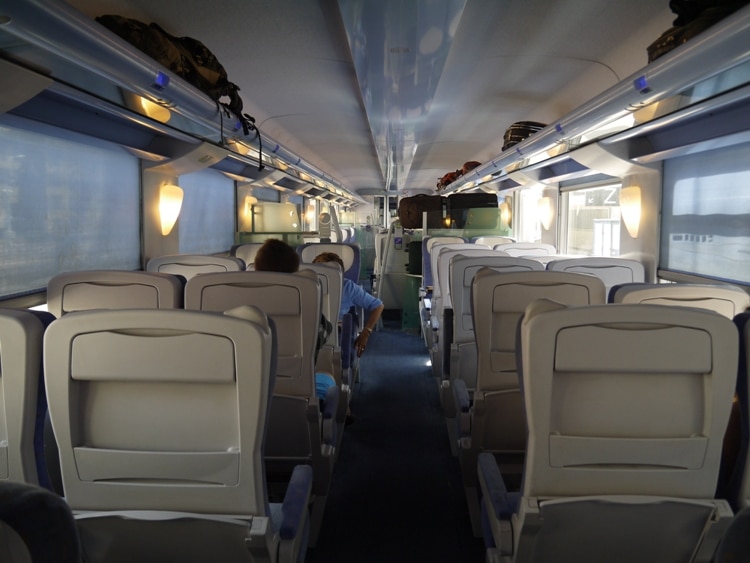 Our train was very comfortable, with the 2nd class carriage being better than the 1st class carriages we had on trains in Italy. The train didn't have a restaurant car, but there was a drinks trolley available after the Marseille stop, which was around 2.5 hours into the journey. This train also stopped at Antibes, Cannes, St Raphael Valescure, Les Arcs Draguignan, Toulon and Marseille St Charles.
Montpellier Train Station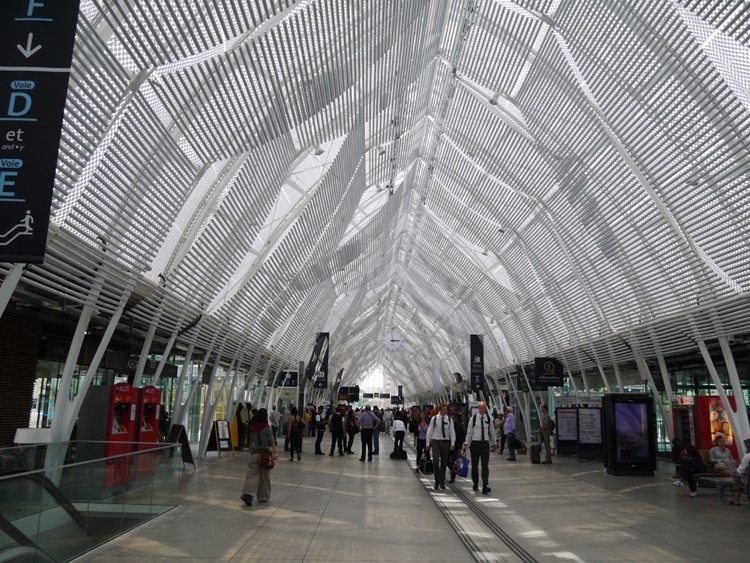 We had a wait of just over 1.5 hours at Montpellier station, which is very modern, as you can see from the image above.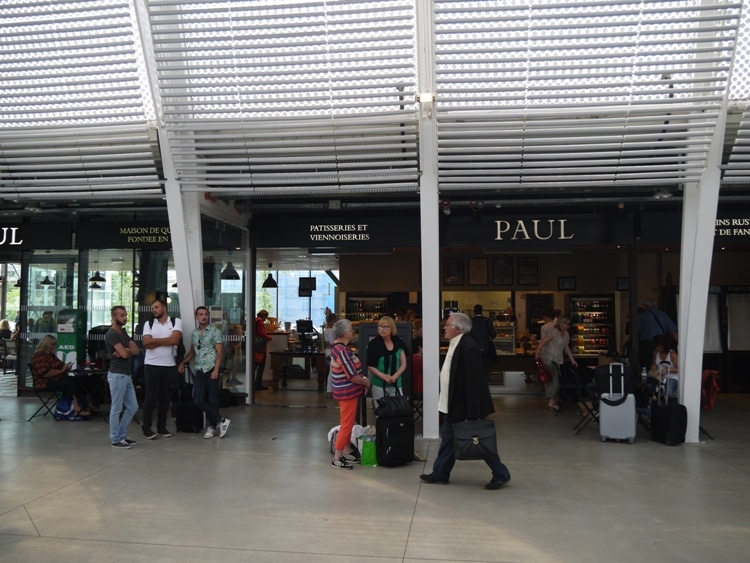 Montpellier station has a fantastic cafe called Paul. It has a huge selection of pastries and very good coffee. They also have a branch right outside Nice Ville train station.
Montpellier To Barcelona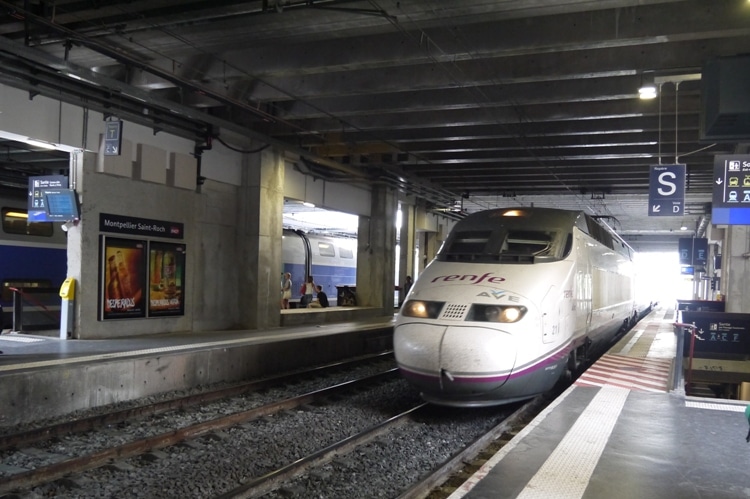 Our train left Montpellier Saint-Roch station at 16:25 and arrived in Barcelona Sants station at 19:28, a journey of 3 hours and 3 minutes. Even though we had 1st class Eurail and Interrail passes, we could only reserve seats in 2nd class, as no 1st class seats were available. We paid EUR 10.70 ($12) each to reserve the seats.
This was another very good quality train, with the 2nd class carriages being better than 1st class on trains in some other countries. The seats had headphone sockets and a film was shown during the journey. There are 2-3 screens per carriage. There was also a good restaurant car.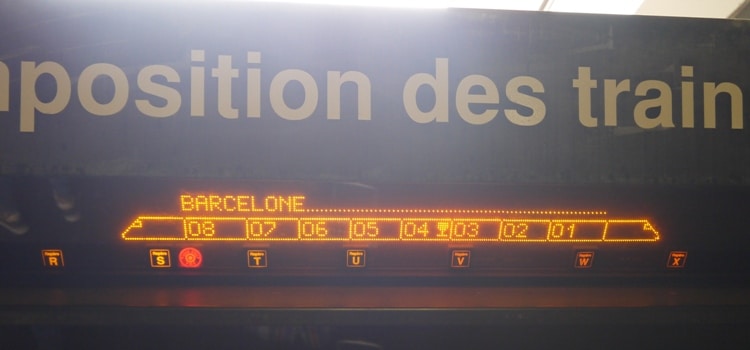 On many train platforms in France there are boards showing the composition of the train so that you know where to stand when waiting for the train. We had seats booked on carriage no. 8, so had to wait at section S of the platform. I wish all countries had boards like this, as not all trains are configured in the same way. Many a time we've had to rush to the opposite end of the platform to get to our carriage because we had no idea where it would be until the train arrived.
This train also called at Beziers, Narbonne, Perpignan, Figueres Vilafant and Gerona.
Train Planner
This is from the Interrail 'Plan Your Trip' section of the site.
Map Of Journey
The above map shows the journey by car, as Google Maps isn't able to show the train route. The routes should be pretty similar though.
Cost Of Journey
When I checked the cost of this journey it showed as $149 for Economy Class, $218 for Comfort Class and $245 for Premier Class. I've no idea what these all mean, as all the trains we've traveled on in Europe only seemed to have 1st and 2nd class carriages. As mentioned above, we paid EUR 58 ($65) each for the first part of the journey, and EUR 10.70 ($12) each to reserve seats for the second part of the journey.
Where To Buy Your Global Pass
You can buy a Eurail global pass at the Eurail website, and an InterRail global pass at the InterRail website. If you're heading to Europe I highly recommend getting one.
Where To Stay In Barcelona
For our stay in Barcelona we chose to stay in an apartment rather than a hotel, as the apartments seemed much larger and much better quality than hotels that cost much, much more. We booked our fantastic 2-bed apartment via apartmentsbarcelona.com. We can highly recommend them. If you prefer a hotel, check out the great offers at Agoda Barcelona.