We were only in Oxford for a couple of days, so wanted to stay at a hotel that was located in the city center, as that is where all the major attractions are. As Oxford is such a great city to visit, we also wanted to stay somewhere stylish, and were very happy indeed with our choice of the Old Bank Hotel.
The Old Bank Hotel is in a beautiful old building that dates back to at least the 13th century, when it was owned Osney Abbey. It's located in High Street, which is right in the town center. All the colleges, museums, theaters, shops, bars and restaurants are located within a few minutes' walk, so it's a perfect place to stay. Agoda.com reviewers give it a score of "Fantastic", and TripAdvisor.com reviewers rate it as the no. 1 hotel in Oxford. We loved it there and I'm sure you will as well.
Our Room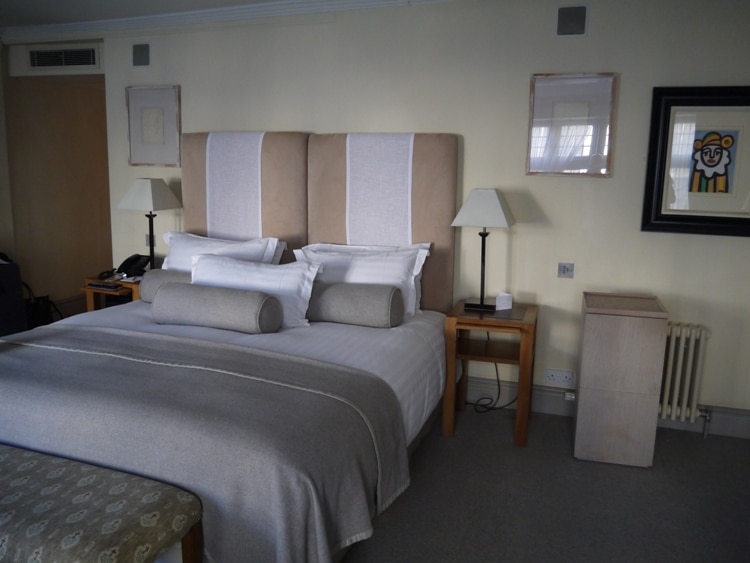 One of the most important aspects of a hotel is the bed. Some hotels don't seem to realize that, but the Old Bank Hotel has got it right. The bed was large and comfortable. Not too soft and not too hard. It meant we slept perfectly while we were there.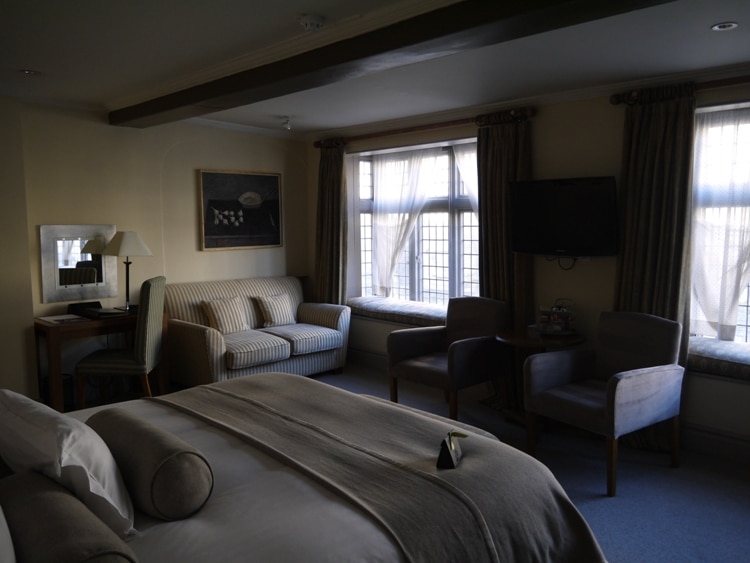 But it's not just the bed that's important for a great stay. All the other essentials also have to be in place, and the Old Bank Hotel had all of there. As you can see in the image above, we had two large windows facing the street, with views of All Souls College across the road. In fact, the hotel also has a complimentary walking tour that shows you around this and other colleges.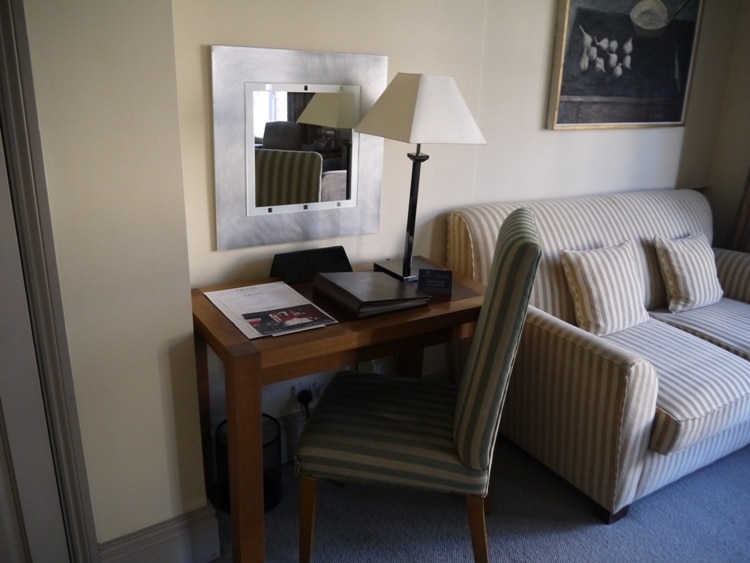 The room also had a sofa, desk, two armchairs & table, bedside cabinets, flat screen TV and other amenities that I'll mention below. This all made for a truly wonderful stay.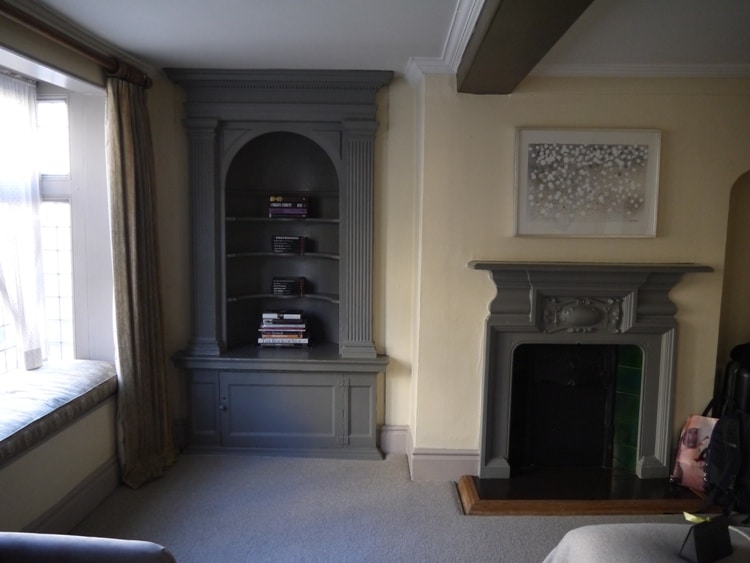 Some things you just don't expect to get in your hotel room, so it's a very pleasant surprise when you see them. In our room we had a beautiful old fireplace that helped make the room feel really homely. It reminded me of the fireplace we had at home when I was younger. But back in those days I had to help chop the wood and cut up the coal first thing in the morning. Luckily, the Old Bank Hotel has central heating.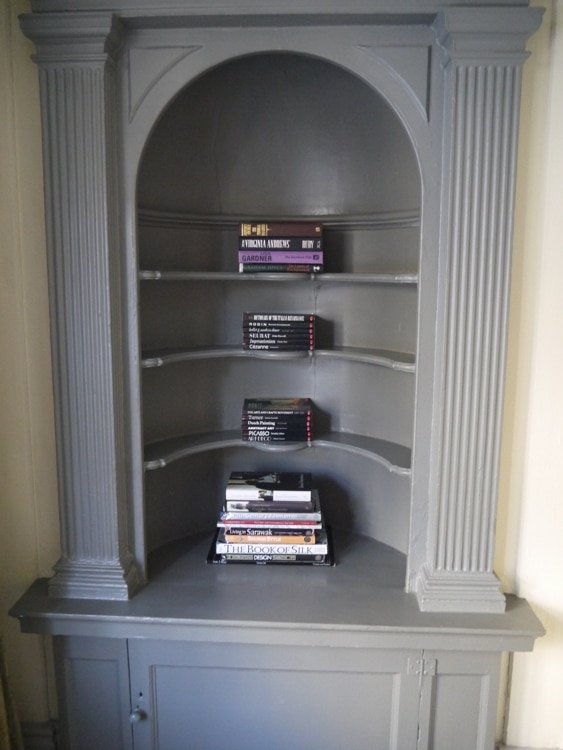 There was also what I called our mini library, which was some corner shelving with a range of books. It's a nice touch that makes you feel more welcome and more at home.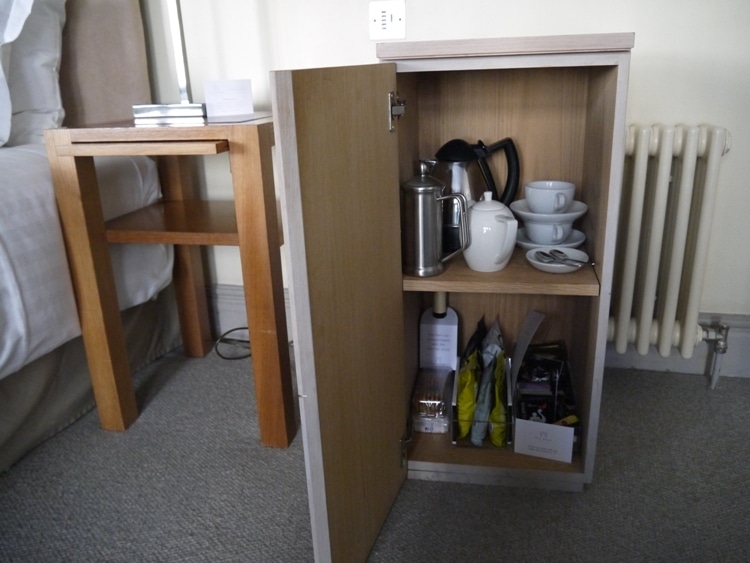 Our room also had kettle, cups, teapot and complimentary tea and coffee. This is definitely an essential for us.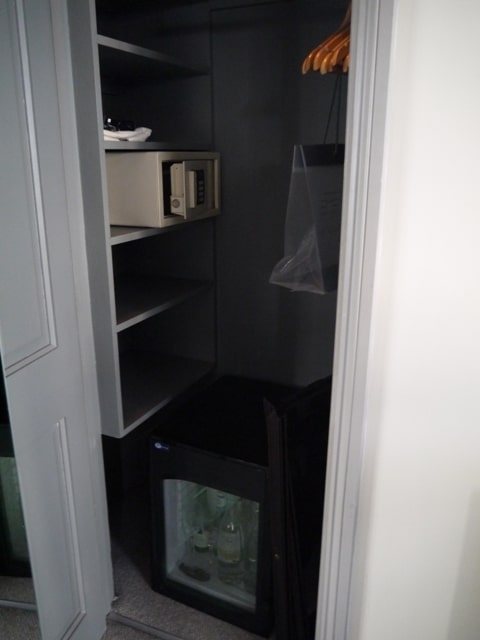 In the corner of our room was a cupboard that was used as a wardrobe. It is also where he minibar and safety deposit box were located.
The Bathroom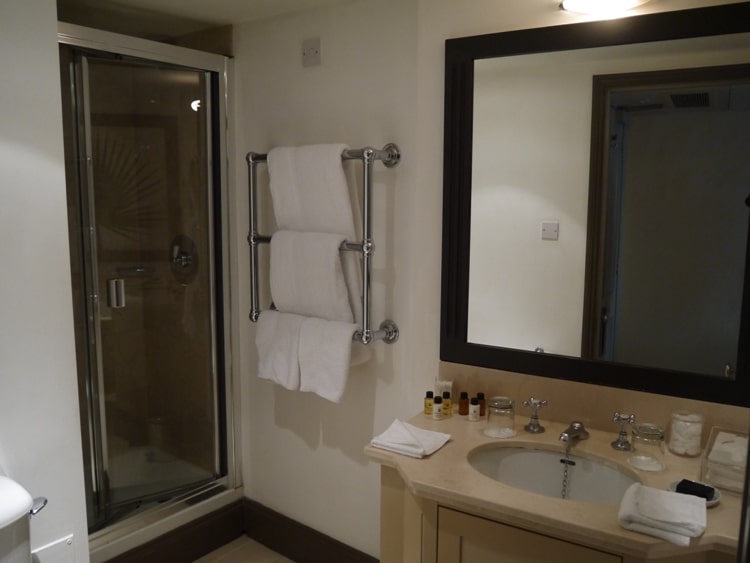 There was a both a bath and separate shower cubicle in the bathroom, and that is a bit of a rarity in hotels these days. The shower was powerful and worked well. The water temperate adjusted properly and it was a pleasure to have a shower.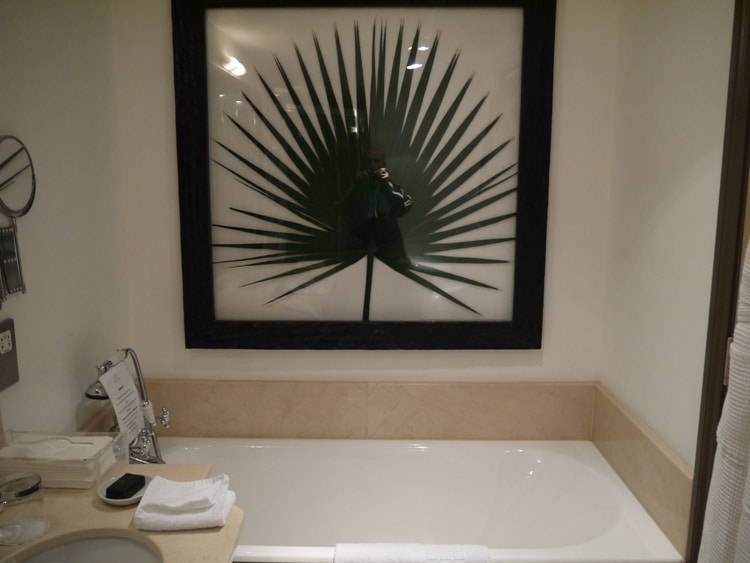 The bathroom also had a beautiful piece of art hanging above the bath. In fact, there was great art displayed throughout the hotel. Another one of those unexpected, but very pleasant surprises.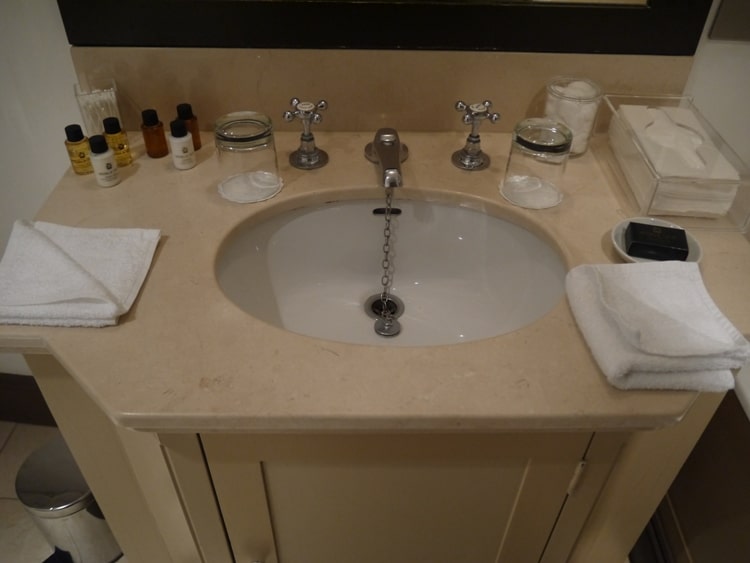 The bathroom had a range of Noble Isle products that Miu was very impressed with. It also had a range of extras that you don't usually get at most hotels, such as cotton buds and cotton wool. The cupboard under the sink also had extra supplies of everything, just in case we ran out of any.
Wifi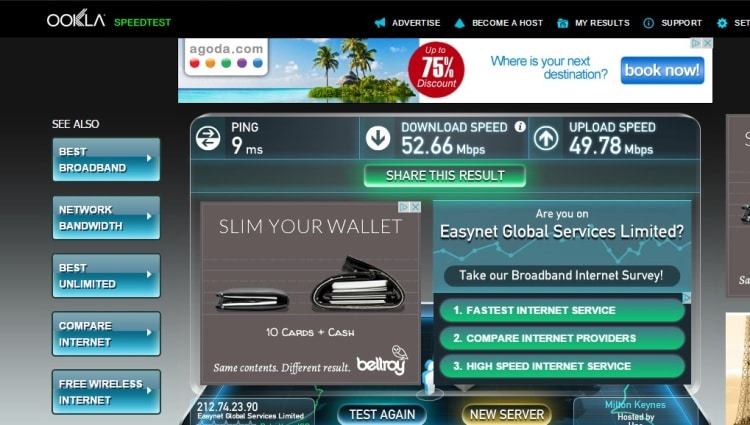 Just take a look at the results of the internet speed test above. These are the fastest internet speeds we've had anywhere in the world. Over 52 Mbps download and just under 50 Mbps upload. Fantastic. I'm very impressed!
The Quod Brasserie
The Quod Brasserie is a stylish Mediterranean influenced brasserie that's located on the ground floor of the hotel. It serves breakfast, lunch and dinner, and is open from 07:00-23:00 (22:30 on Sundays). It even has a vegetarian breakfast on the menu, which is a definite bonus.
The brasserie serves dishes that are mainly based around pizza, bread and pasta. Add in a wine from the small wine list and you could can imagine yourself eating on the Mediterranean coast.
There is a heated outdoor terrace next to the restaurant, so this is a great place to sit, especially in summer.
Every Sunday at the Quod there is world class live jazz from 17:00-19:30. Unfortunately we stayed on a Monday and Tuesday.
Complimentary Walking Tour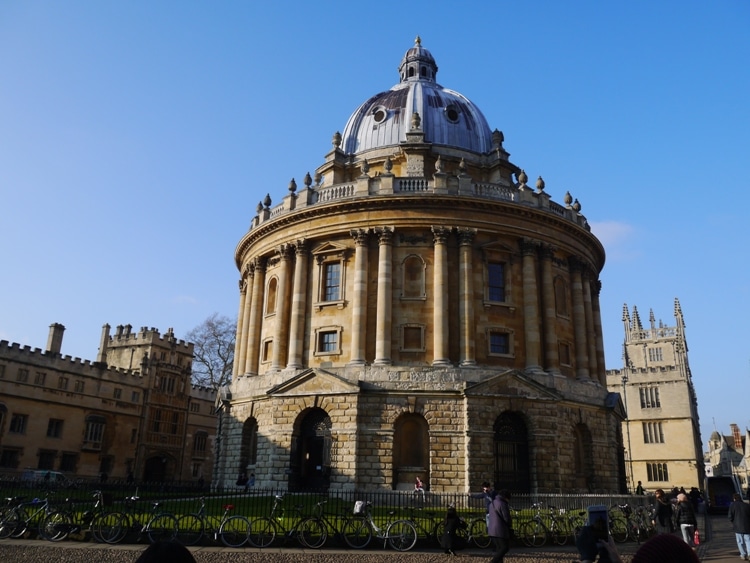 As mentioned above, the hotel runs a complimentary walking tour for guests every day at 14:30. These are led by either Isabella Underhill, who is an Oxford resident and art historian, or long-term Oxford resident David Block. We took the 90-minute tour with David, who took us around some of the colleges near the hotel. He's a very knowledgeable and friendly guy and our group of six thoroughly enjoyed the tour with him.
Bicycles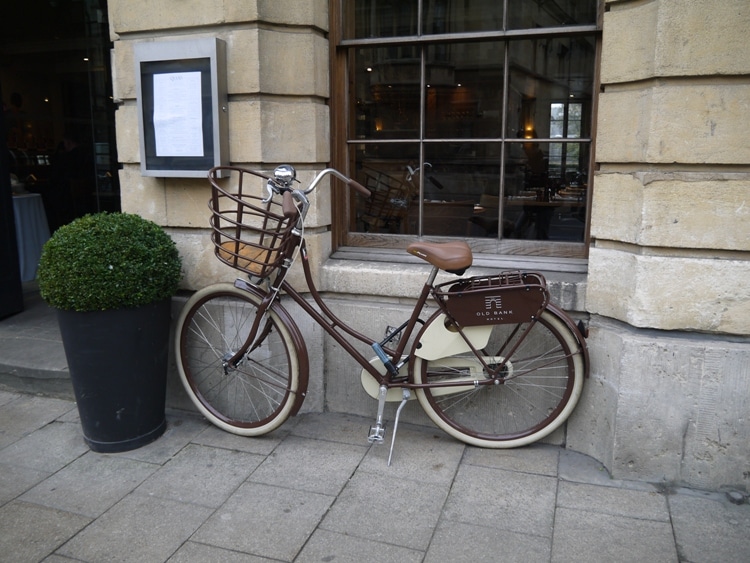 The hotel can also lend bicycles to their guests, which is especially useful if you want to travel a little further from the city center. Oxford city center is pretty flat, so cycling around is pretty easy.
Location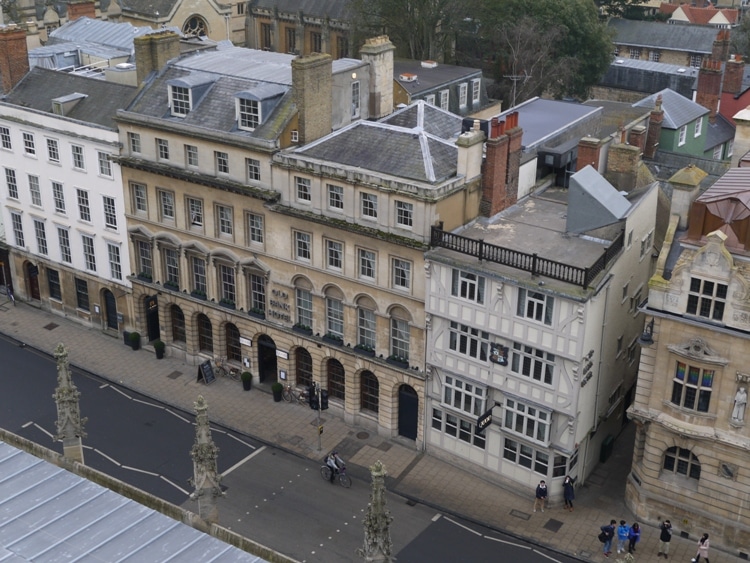 In the image above you can see the hotel from the tower of University Church of St Mary the Virgin, which is just across the road. I'd highly recommend a trip to the top of the tower, as there are stunning views from the top.
Video Of Our Room

We also filmed a short video of our room to help give you a better idea of what it's like.
Book A Room At The Old Bank Hotel
You can find out more information about the hotel and also book a room by visiting the hotel website at oldbank-hotel.co.uk. You can also book a room through our favorite hotel booking website Agoda.com.