If you're planning to stay in Thailand long-term, it can be very beneficial to open a local bank account. Perhaps this applies to you but you're just not sure how to open a bank account in Thailand. If that's the case, I'd like to share with you not only why you should consider opening a Thai bank account, but also what you'll need to bring with you and which Thai bank is best.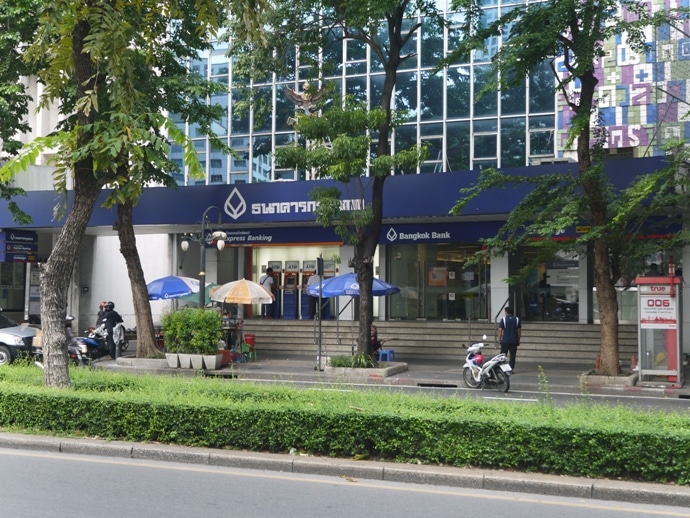 Why Open a Thai Bank Account?
Before we talk about how to open up a bank account in Thailand, I want to begin by sharing a few reasons why it's such a good idea. There are plenty of expats in Thailand who choose not to open a Thai bank account but it's possible to save quite a bit of money by doing so.
Save by Wiring Money Using a Thai Bank
With a Thai bank account you can wire money from your home country in one go and get a good exchange rate if you allow your Thai bank to do the conversion. So it you're from USA, for example, send the money in $USD and let the Thai bank convert to Thai baht (THB). Don't let your home bank convert to Thai baht before sending, as you'll get a much worse exchange rate. When I transfer money from the UK to Thailand it usually arrives the next day, so it's very fast.
Save by Avoiding Unnecessary Bank Charges
Before I opened a Thai bank account I used to make 5 or 6 withdrawals a month with my UK debit card. That added up to around $40-50 per month in bank charges. Over a year that's around $300 wasted.
Let's say you need to get money out of the ATM. If you withdraw money from an ATM in Thailand using a foreign debit card, it's possible to end up with fees around $8 per withdrawal. Using a Thai bank account, the withdrawals are mostly free. Most Thai banks here give free withdrawals if you use their ATMs, but charge a small fee if you use the ATM of another bank. Some also charge a small fee if withdrawing from an ATM in another province. Foreign ATM cards attract a tax/fee of 150-200 baht ($5-$7) per withdrawal, and that's on top of whatever your home bank charges. That's not to mention the loss you'll likely incur with the currency conversion!
But how do you go about opening a bank account here and which bank should you choose?
How to Open a local Bank Account
To help you better understand how to open a bank account in Thailand, I want to share with you a few tips including what you'll need to bring with you and which bank is best to use.
Personally, I use Bangkok Bank, as they are one of the biggest banks in Thailand and their head office is in my area. But I know expats that have accounts with other major banks here and they mostly report very good service. If possible, it's best to open your account at a head office, as they are more geared up to deal with foreigners. Small branches often don't have anyone that speaks English and aren't able to do some of the things that you need to have done. For example, I need to get a letter from Bangkok Bank once a year to confirm my balance, as I need this for my visa renewal. It's super-easy at the head office branch but maybe not so easy at some smaller branches. At the head office I can get the letter done in about 10 minutes. This is an important consideration for me.
What Do I Need To Open a Thai Bank Account?
Now the bad news – it can sometimes be difficult to open a bank account here if you're a foreigner, especially if you're American. Some bank branches claim you need a work permit in order to open a bank account, while others will open an account with a long-term visa or even a tourist visa. The general advice is that if you are declined, just try another branch. I know many expats that have been refused at 2 or 3 branches but then been successful in the next one.
On the Bangkok Bank account opening page it states that you can open an account even if you're only in Thailand for a short period of time. It goes on to say that all you need to open an account is your passport, one other official document and proof of your address in Thailand and at home.
Which Thai Bank do I choose?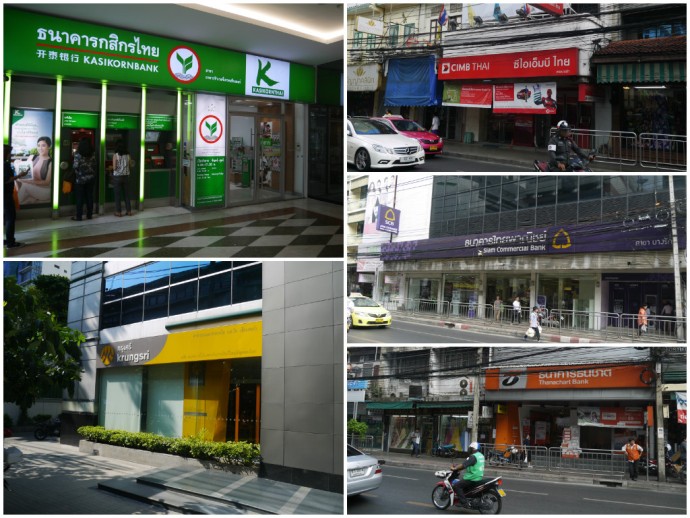 There are many banks to choose from and the choice mostly comes down to personal preference and which banks have branches that are convenient to where you live. Major banks in Thailand include Bangkok Bank, Siam Commercial Bank, Krung Thai Bank, Kasikorn Bank, Bank of Ayudhya, Thanachart Bank, TMB Bank and CIMB Thai.
Bank Opening Hours
General banking hours in Thailand are 08:30-15:30 Monday to Friday, but most banks have many smaller branches that open mush later and also at weekends. Smaller branches are often open from 10:00 or 11:00 until 19:00 or 20:00. Branches in shopping malls and department stores are also often open 10:00-20:00 on Saturdays and Sundays as well.
Hotels In Bangkok
If you're planning to come to Bangkok, be sure to check out the great range of hotels at Agoda.
---