Paris is one of the most popular cities in the world, with over 15 million visitors a year. There are an enormous amount of attractions in Paris, but for first-time visitors we'd suggest doing the following. We visited in winter, so we didn't have to do too much queuing, apart from at Les Catacombes. If you visit in summer it will take you longer to get around all of these attractions. I'd suggest just working your way down list until you run out of time, then pick up where you left off the next day. The following is a good order to see these attractions, so I've given details of how to get from each one to the next one. Have fun.
Montmarte Funicular Railway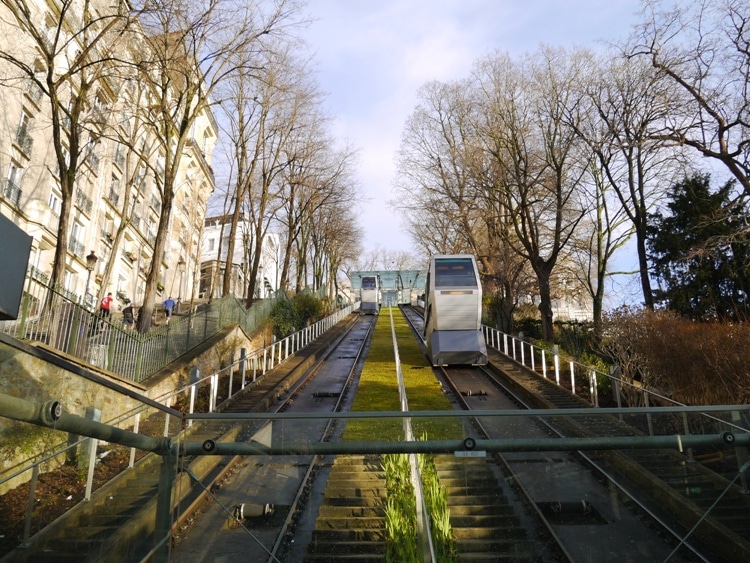 This is a good place to start your day because the railway starts running at 06:00. The last train is at 00:45. The closest Metro stations are Anvers (Line 2), which is 200 meters away, and Abbesses (Line 12), which is about 350 meters away. The Montmarte Funicular Railway is part of the Paris Metro system, so Metro tickets can be used for this train. The railway runs from the foot of the hill in Montmarte to its summit near the Sacre Coeur Basilica.

Above is a video of the journey up to Sacre Coeur.
Sacre Coeur Basilica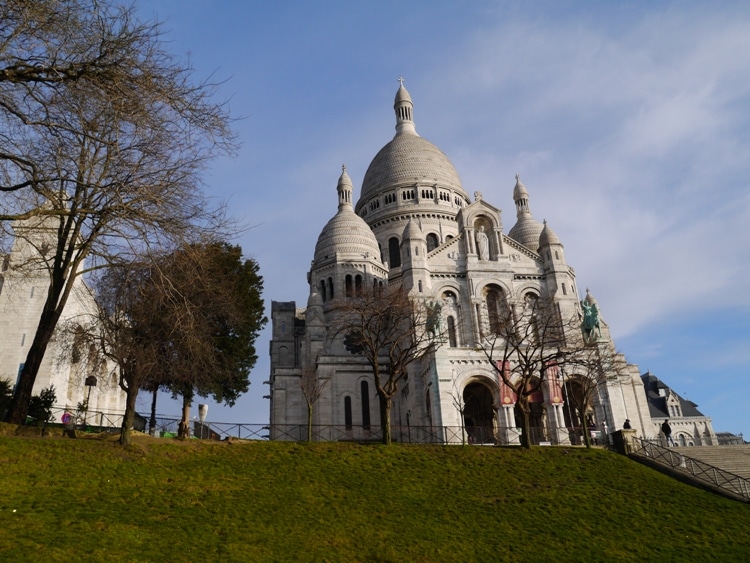 If you took the funicular railway as we suggested, you'll have arrived at Sacre Coeur Basilica. The full name of the basilica is Basilica of the Sacred Heart of Paris. Sacre Coeur is a Roman Cathlolic church that's located at the top of Montmarte hill, which is the highest point in the city. It's a very popular landmark that's open from 06:00 until 22:30 every day. The dome is open from 09:00 until 19:00 (18:00 in winter).
Love Wall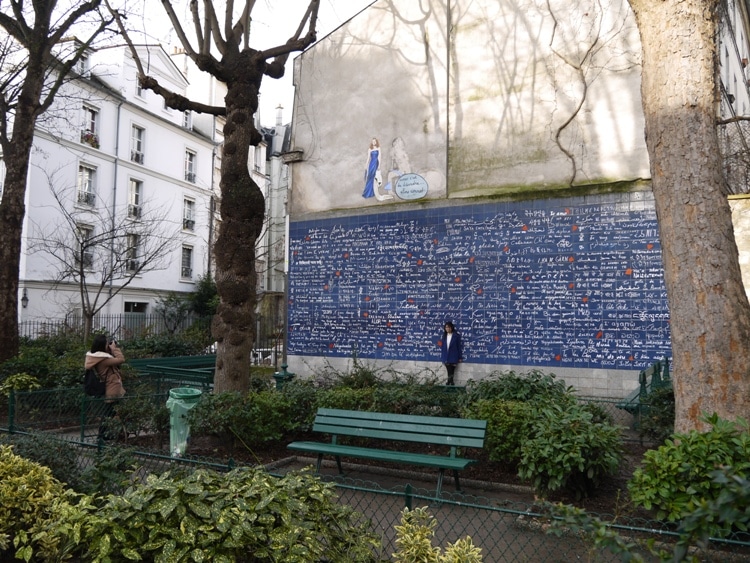 Paris is often described as one of the most romantic cities in the world, so this is of course the city where you'll find a Love Wall. It's a giant mural with "I Love You" scrawled in hundreds of languages. The wall is a collaboration between Frederic Baron and artist and calligrapher Claire Kito. The nearest Metro station is Abbesses, but this is only a 5-minute walk from Sacre Coeur Basilica. From the bottom of the funicular railway turn right and keep walking for above 5 minutes until you reach Abbesses Metro station. The Love Wall is in the small park behind the station entrance. It's easy to find.
Les Catacombes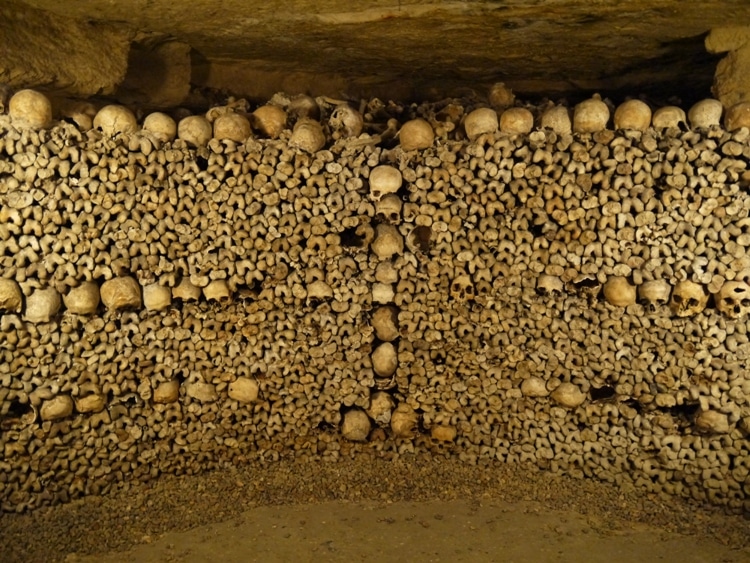 Les Catacombes are underground ossuaries, which are resting places for human skeletal remains. Les Catacombes is known as the world's largest grave because it holds the remains of around 6 million people. The catacombs are actually tunnels from old stone mines.
Les Catacombes is open from 10:00 until 20:00 daily, with the last access being at 19:00. Entry is EUR 10 ($12) and it takes around 45 minutes to walk around, covering a distance of 2 km. An audio guide is available for an extra EUR 5 ($6). You need to walk down 130 steps and back up 83 steps. There are often very long queues for Les Catacombes. We arrived at 10:00 and queued for 2 hours 20 minutes.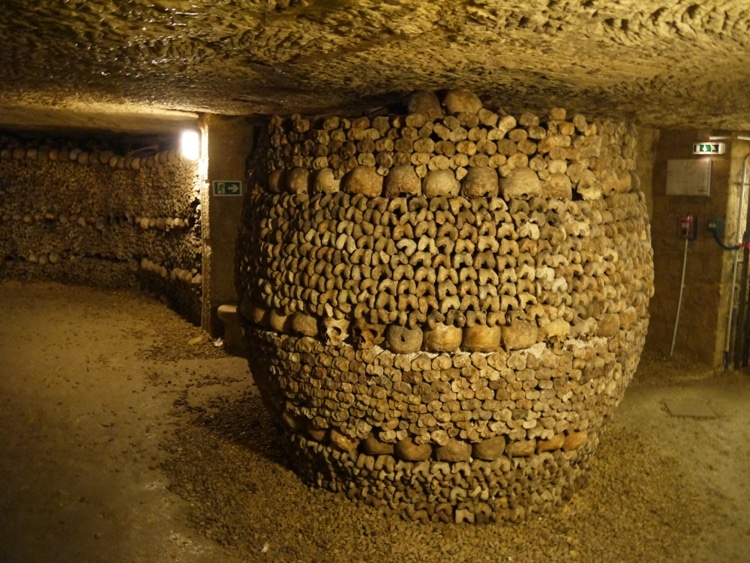 To get here from the Love Wall, take the Metro from Abbesses (Line 12) to Montparnasse Bienvenue and then change to Line 4 and head for Denfert-Rochereau. Les Catacombes is right across the road from the station exit.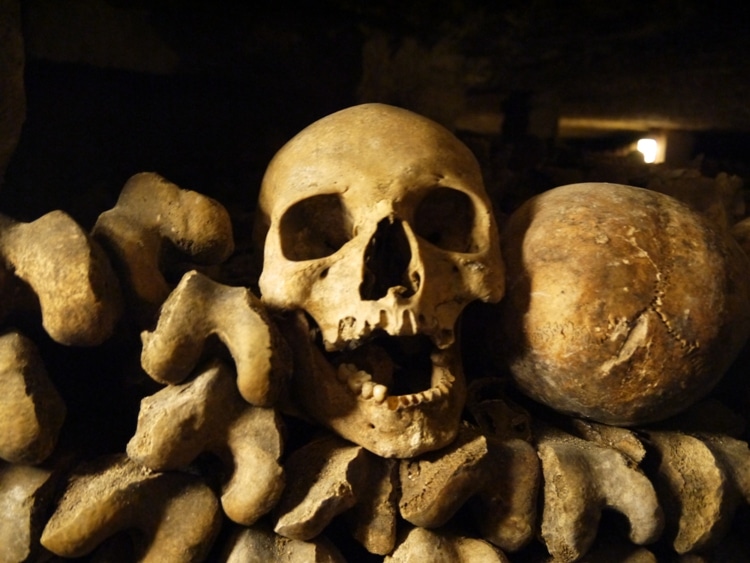 When you exit Les Catacombes you'll come out at a different place. Turn right when you leave the building, then turn right at the next junction. You'll see Mouton-Duvernet Metro station across the road about 100 meters ahead of you.
Eiffel Tower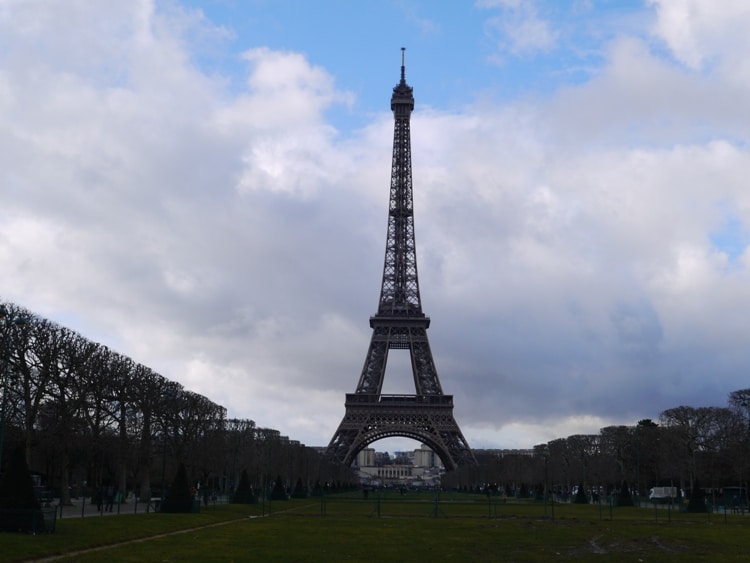 There are a few Metro stations near the Eiffel Tower, but we decided to get lunch at this point, so headed to Brasserie Lola, which a 1-minute walk from Metro Avenue Emile Lola (Line 10). The Eiffel Tower is only a 10-15 minute walk from there. See Vegetarian Paris for more details about Brasserie Lola. To get here from Les Catacombes, take Line 6 from Denfert-Rochereau to La Motte Picquet Grenelle. Change to Line 10 and head for Avenue Emile Lola.
You could get lunch somewhere else and visit the Eiffel Tower at a different point if you preferred.
Montparnasse Tower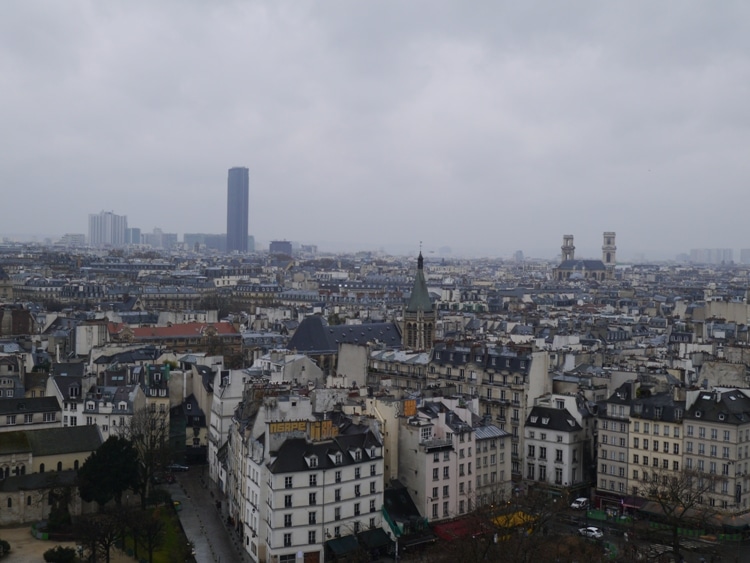 Montparnasse Tower is the tall black building in the image above. There are awesome views from both the 56th and 59th floor viewing platforms. I've written a separate post about this, so head on over to Montparnasse Tower.
To get to Montparnasse Tower from Les Catacombes, take the Metro from Mouton-Duvernet to Montparnasse Bienvenue (Line 4).
To get to Montparnasse Tower from Avenue Emile Lola, take Line 10 to La Motte Picquet Grenelle. Change to Line 6 and head to Montparnasse Bienvenue.
Notre-Dame Cathedral
Notre-Dame Cathedral doesn't really need much of an introduction, as it's very well known Paris landmark. Notre-Dame is open every day from 08:00 until 18:45 (19:15 on Saturdays and Sundays). Entry to the cathedral is free, but if you want to walk up to the top of the South Tower the cost is EUR 8.50 ($10). There are 387 steps to the top, so you need to be fit if you plan to go there. The Towers are open from 10:00 until 17:30 (1 Oct to 31 Mar), and until 18:30 the rest of the year. On Fridays and Saturdays in July and August they're open until 23:00. Entrance to the Towers is on the left side of the cathedral. The nearest Metro station is Cite on Line 4.
To get to Notre-Dame Cathedral from Montparnasse Tower, take the Metro from Montparnasse Bienvenue to Cite (Line 4).
Pere-Lachaise Cemetery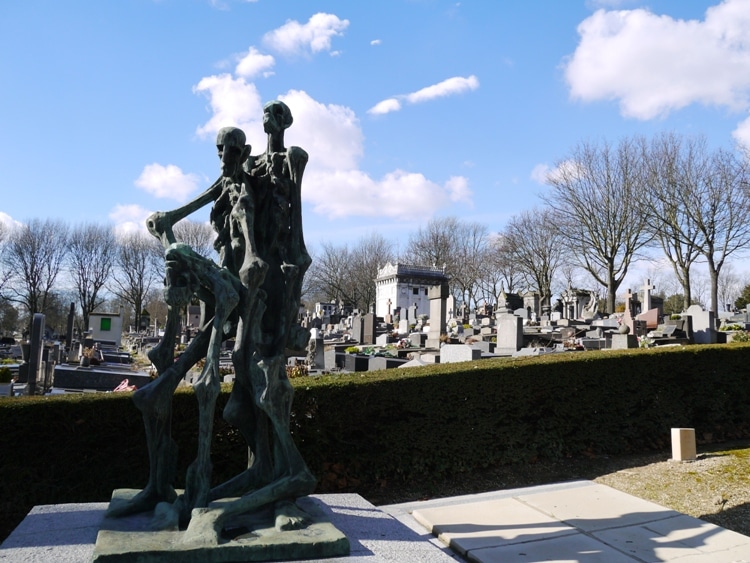 Pere-Lachaise is the largest cemetery in the city of Paris, covering around 110 acres. Metro Philippe Auguste (Line 2) is next to the main entrance, while Metro Pere-Lachaise (Lines 2 & 3) is around 500 meters away near a side entrance. Our tip is to get off at Metro Gambetta (Line 3), as this is at the top of the cemetery and you can then walk downhill. If you enter at the main entrance you'll have to walk uphill. Oscar Wilde's tomb is near the Gambetta entrance. Opening hours are from around 08:00 to 17:30 and it's free to get in.
To get here from Notre-Dame Cathedral take Metro Line 4 from Cite to Reaumur-Sebastopol, then change to Line 3 and get the train to Gambetta.
Walk La Promenade Plantee
Promenade Plantee, also called Coulee verte Rene-Dumont, is a 2.9 mile (4.7 km) park that's been built on a former elevated Vincennes railway track. Promenade Plantee is very popular, and you'll see hundreds of people walking along it ever day. It appeared in the film Before Sunset, which starred Ethan Hawke and Julie Delpy. The promenade starts at Metro Bastille (Lines 1, 5 & 8).
To get here from Pere Lachaise Cemetery take Metro Line 3 from Gambetta to Republique. From there take either Line 5 or 8 to Bastille.
Tip: There is an excellent vegetarian place, Cafe Ginger, near Metro Bastille, so you could stop there for lunch before walking along Promenade Plantee. See Vegetarian Paris for more details. Take exit 6 from Metro Bastille and you'll be able to see Cafe Ginger across the road.
Arc de Triomphe
The Arc de Triomphe is one of the most famous monuments in Paris. It's stands in the center of Place Charles de Gaulle, at the western end of Champs-Elysees. Entry to the top of Arc de Triomphe costs EUR 8 ($9), It's open 10:00-23:00 April-September and 10:00-22:30 October-March. To get there, take the Metro to Charles de Gaulle – Etoile station, which is on Lines 1, 2 and 6.
To get from Promenade Plantee to the Arc de Triomphe, just take Metro Line 1 from Bastille to Charles de Gaulle – Etoile.
Hotels In Paris
For our four days in Paris we stayed at the excellent Hotel Darcet. For other hotels in Paris, check out the great range at Agoda Paris.