This is the first time we've stayed at an apartment that we booked via Airbnb, and if this is typical of their properties we'll definitely be booking again. It's perfect in every way and in a superb location right next to Anguk metro station. This means we can walk to Insadong, which is our favorite neighborhood in Seoul. We love it here. Click here to book this apartment.
The first thing you notice when you walk into the apartment is how bright it is. It's on the 11th floor facing east, so has awesome views of the city, including Unhyeongung Palace, which is a former Korean royal residence.
We were pleasantly surprised to find out that you have the use of an iPad while staying at the apartment. It's little details like this that turn a good stay into a fantastic stay.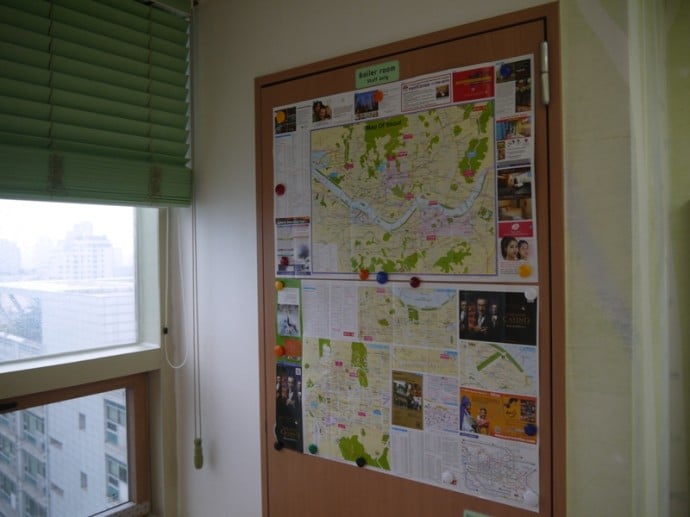 There are some maps of Seoul pinned to the door near the window – another helpful little detail. There was also a map of Seoul to take away and a Korea Travel Guide.
The main living area had two double beds, so would be suitable for a family to stay for a few days.
The Kitchen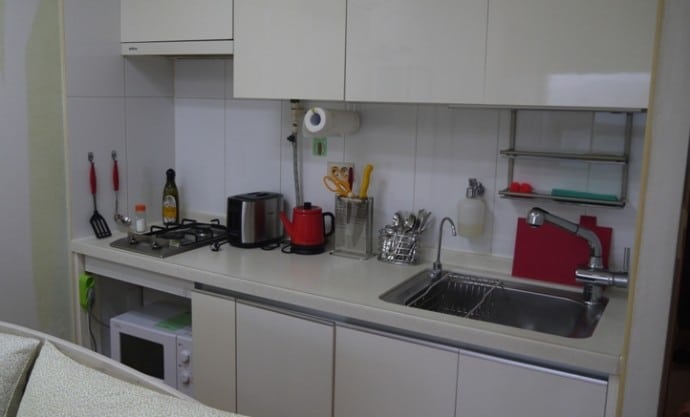 We loved the kitchen area, as it had everything we needed, including gas hob, microwave oven, toaster and kettle.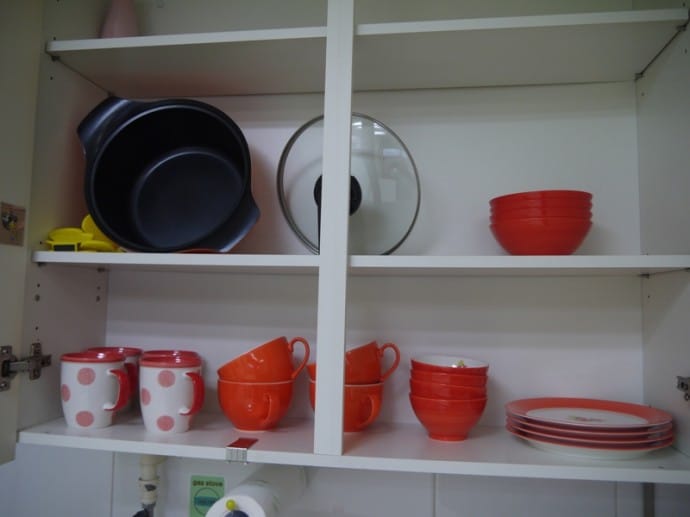 There were plenty of dishes and cutlery and everything was spotlessly clean.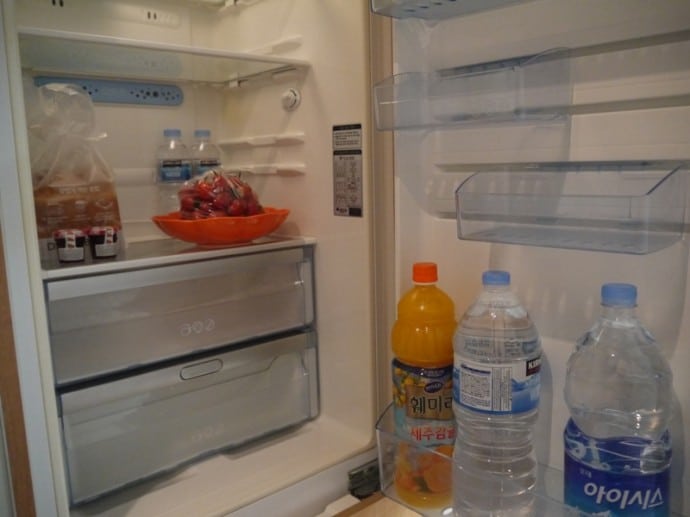 Another nice gesture was that the owner had provided bread, jam, tomatoes, orange juice and water in the fridge. This is great if you arrive late. There' a 7-Eleven store on the ground floor of the building which is very handy if you do need to buy some things when you arrive.
The Bathroom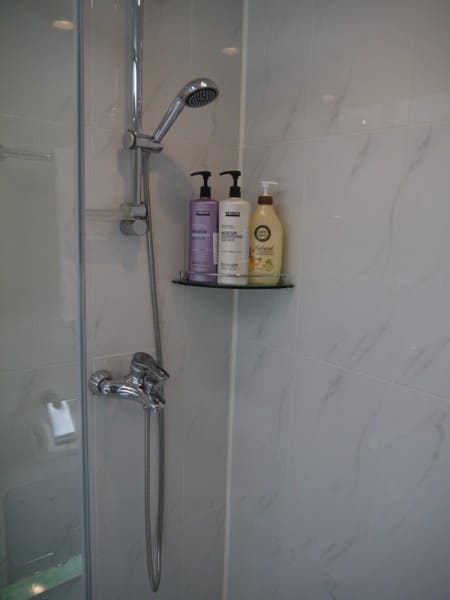 The bathroom was small, but great use was made of the space. There was a separate shower area that had shower gel, shampoo and conditioner. There were plenty of towels in the cupboard and they were very clean.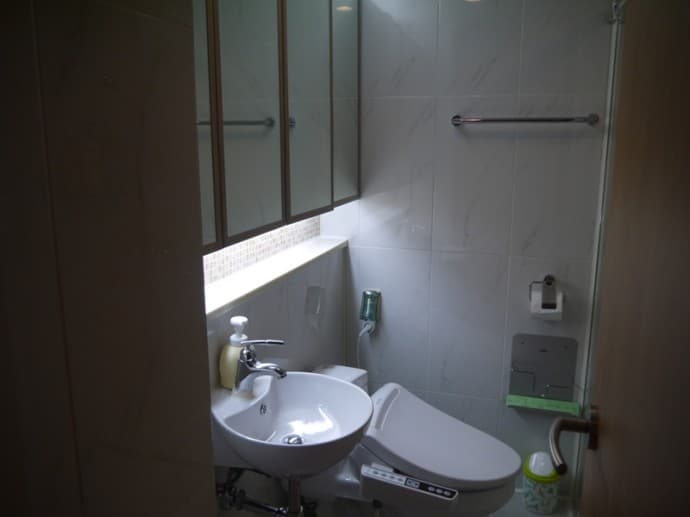 There was a Korean/Japanese style electronic toilet, so you can warm the toilet seat if you want.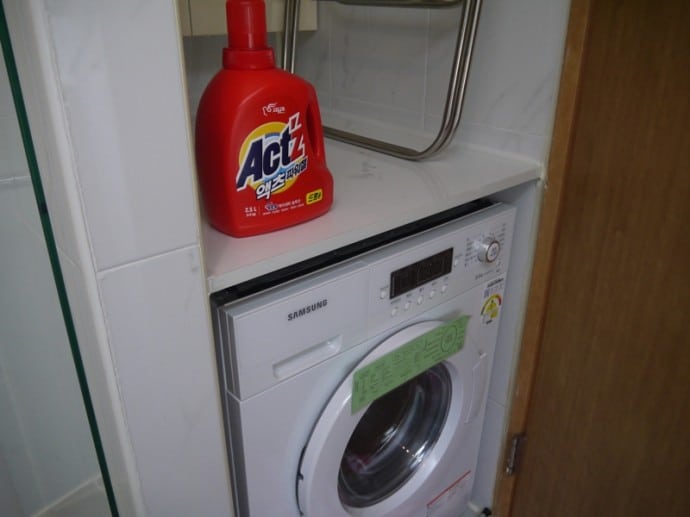 The bathroom also had a washer/dryer which is always useful when you're traveling.
Wardrobe & Cupboards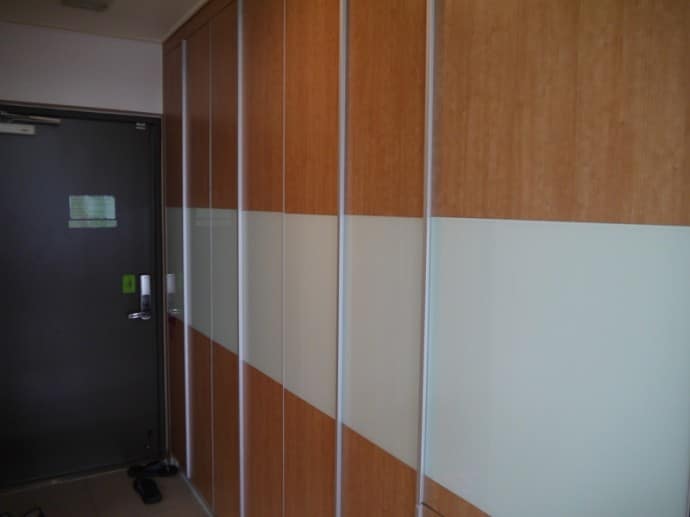 The wardrobe space is very large and there are plenty of hangers. There is also enough space to store other items.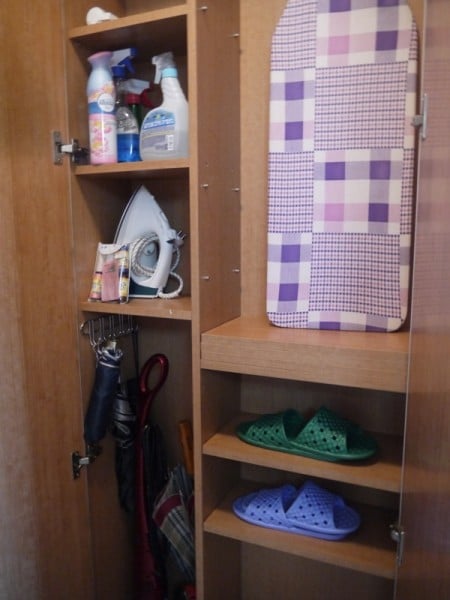 The end cupboard is equipped with iron, ironing board, umbrellas and small vacuum cleaner.
Aircon, Underfloor Heating & Cable TV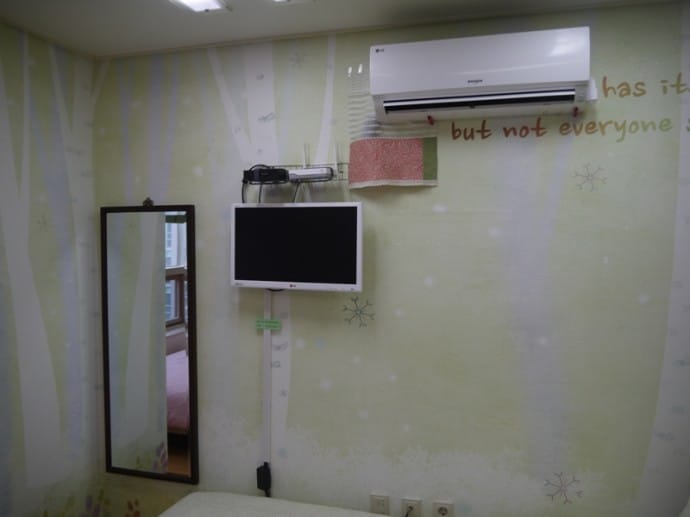 The aircon at the apartment worked perfectly.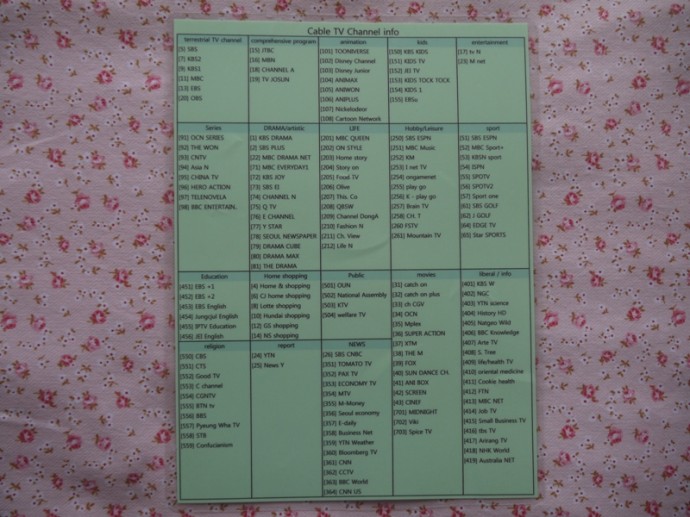 There are a huge number of cable TV channels available and there is a laminated card at the apartment showing each one. There are plenty of English channels.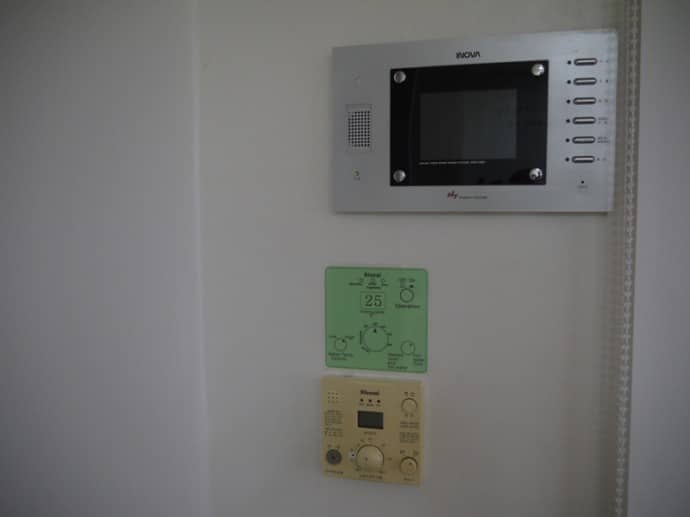 If you plan to stay in winter you'll be glad to know that there is underfloor heating at the apartment. The controls are on the wall with instructions in English.
Super Fast Wifi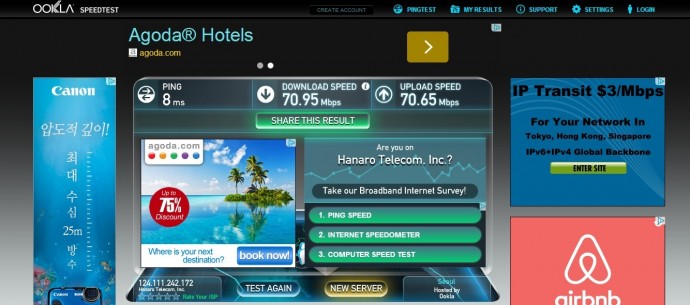 This is the fastest wifi I've had anywhere in the world. Maybe it's not surprising because South Korea leads the world in internet speed. Both download and upload speeds were over 70 Mbps. I was amazed. You can load a video to YouTube in seconds. It's taken me hours at some hotels.
Security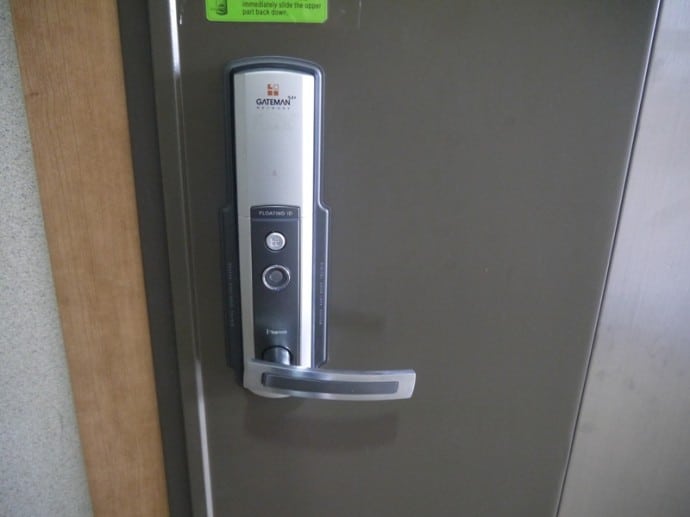 The building is very secure and has 24/7 security guards and CCTV. Entry to the apartment is via electronic door entry system; you just enter the PIN number to open the door. So no need to carry a key around with you. The door can also be locked from the inside for extra security.
Rooftop Garden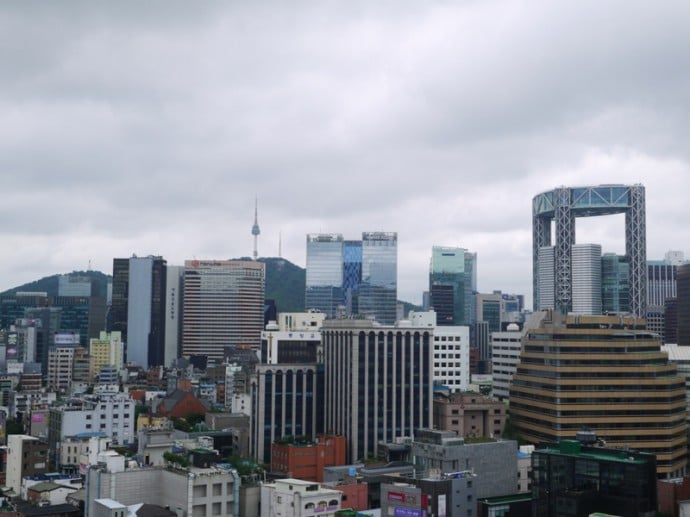 The apartment building has a small rooftop garden on the 13th floor with some great views looking over both the city center and N Seoul Tower on one side and the mountains on another side.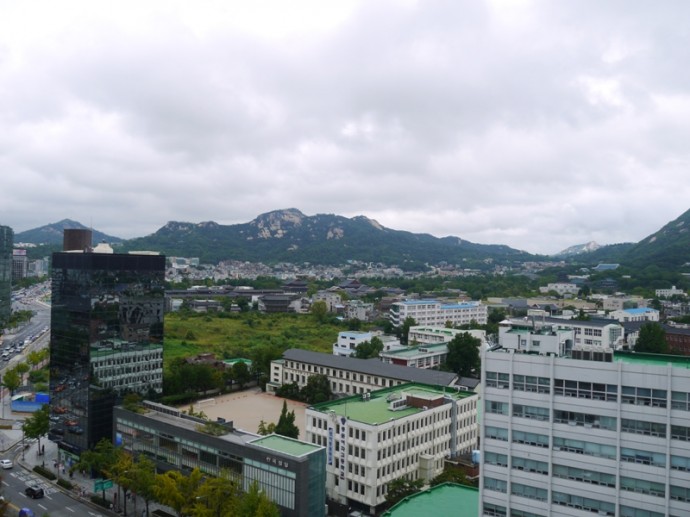 Location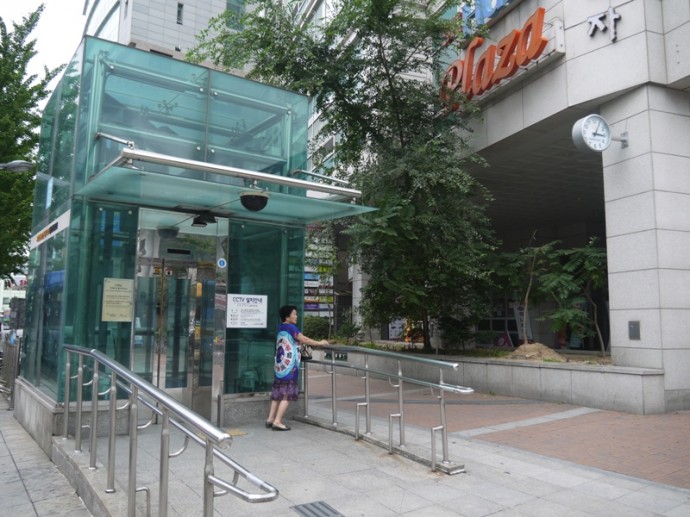 The location is superb. It's right next to the elevator of Anguk metro station on Line 3. In the image above the elevator is on the left and SK Hub is on the right. The 6011 airport bus stops right here.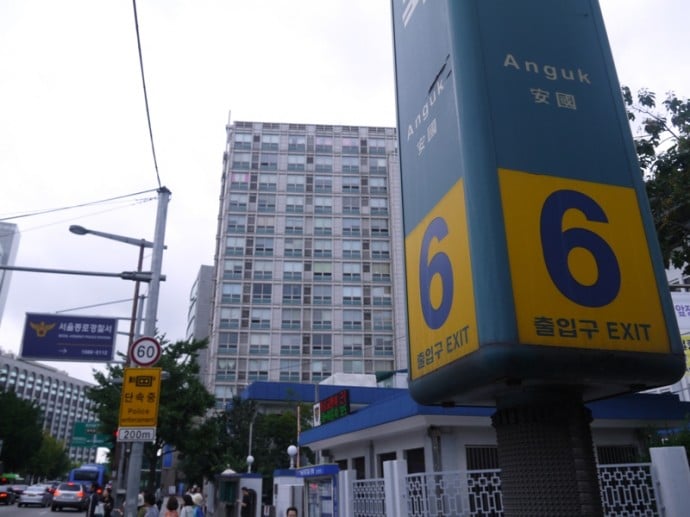 You can also use Exit 6 of Anguk metro station. In the image above you can see the apartment building, SK Hub, in the background. It's next to the police station. A 2-minute walk in the opposite direction takes you to Insadong Road, one of Seoul's most popular streets.
How To Get There From Incheon Airport
This is super easy. From the main arrivals hall just walk outside to either bus stop 5B or 12A (outside exit 5 or 12), From there take Airport Limousine Bus 6011. It stops right outside the apartment building at Anguk metro station.
The Owner
The owner is Jeremy and is one of the most helpful people I've met. He keeps the apartment spotlessly clean and provides everything you'll need for a perfect stay. He answers his emails promptly and you can also call him if you needed any help with anything.
I can't speak highly enough about this apartment and the owner. We travel a lot and in most hotels and apartments there is always something that's missing. But Jeremy has thought of everything and we really appreciated that. We will definitely be staying here again next time we're in Seoul.
How To Book This Apartment
Click here to book this apartment via Airbnb.
Videos Of The Apartment & Rooftop View
Other Places To Stay In Seoul
For our first 3 days in Seoul we stayed at All J Hanok Guesthouse, a traditional Korean house.
For other hotels is Seoul, check out Agoda Hotels Seoul.