For our three days in Cambridge we stayed at the brand new Premier Inn next to Cambridge Retail Park on Newmarket Road. This hotel only opened in January 2015, so it was great getting to stay at a hotel that was so new. It meant that everything was clean, new and worked perfectly. The staff were great and there were a few places to eat nearby, including a Starbucks just a couple of minutes' walk away.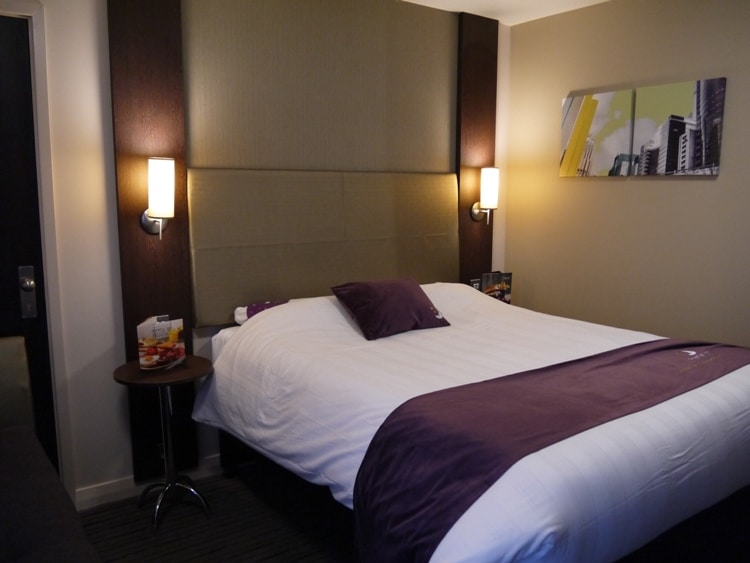 Our room had a large double bed with a very comfortable mattress. I hadn't realized when we booked this hotel, but Premier Inn have a Good Night Guarantee. Because they pride themselves on making your stay comfortable they guarantee you a good night's sleep or give your money back. Conditions apply, so read their website for details. But it's good that they take your sleep seriously, as having a good night's sleep is the main point of a hotel. Sadly, some hotels still don't take this aspect seriously. It's good to see that things are changing, with Premier Inn being bold enough to put their money where their mouth is.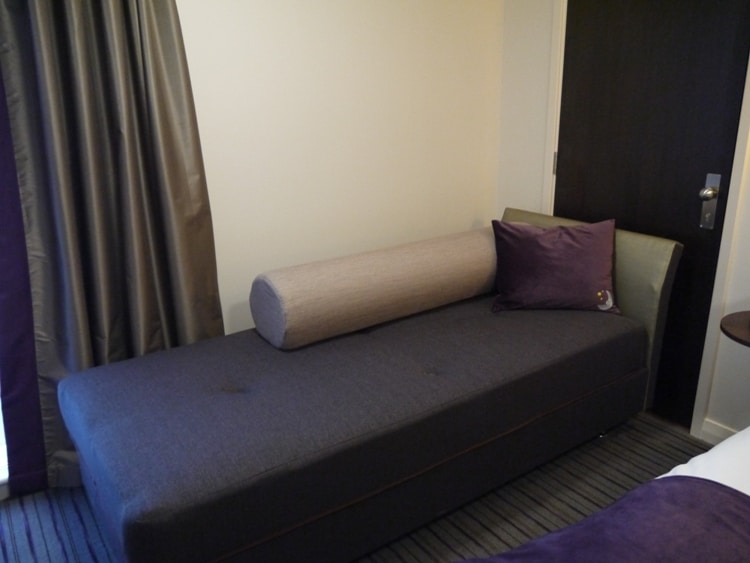 Our room had a large day sofa, so this could be used an an extra single bed if you are a couple with a young child. It was handy for us as well, as we used it to keep our odds and ends that often get in the way at some hotels.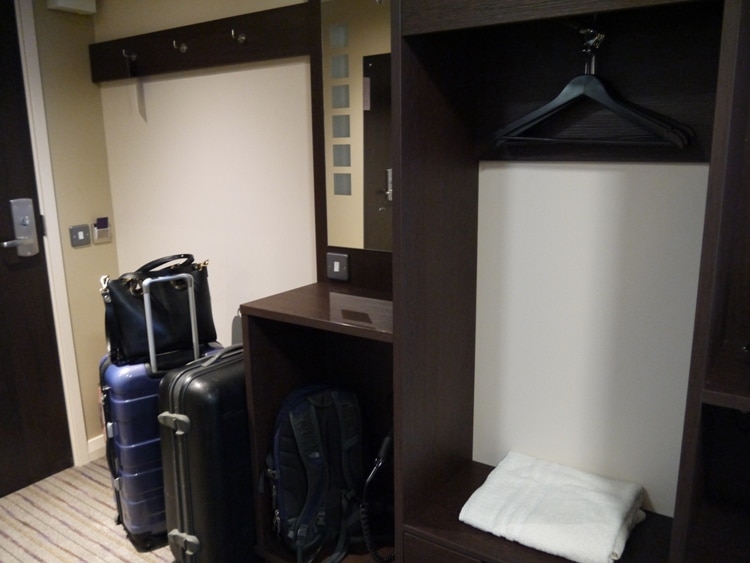 There was space just inside the entrance for luggage, a wardrobe area and some handy shelving. They have made good use of the space in this area, while still leaving enough room to walk passed easily.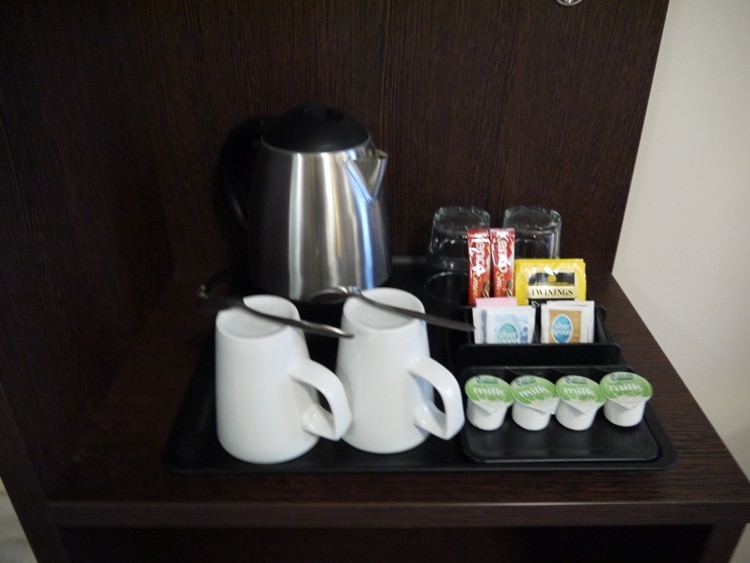 Next to the wardrobe we had a kettle, cups and free tea & coffee. We were told at reception that we could get extra supplies if we ran out, so that was a nice touch.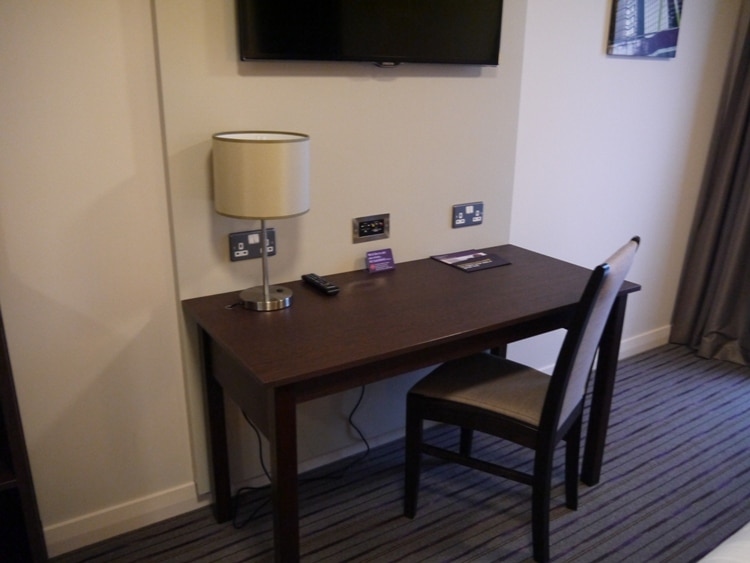 The room also had a desk and chair. This was perfect for me, as I needed to do some work during my stay. There was also a very large flat screen TV on the wall above the desk. This is much bigger than the TVs we've seen at most hotels. The room plenty of power points, which is another thing that some hotels don't get right. Everything has been taken into consideration when designing the rooms, and it all helped make our stay a pleasant one.
Bathroom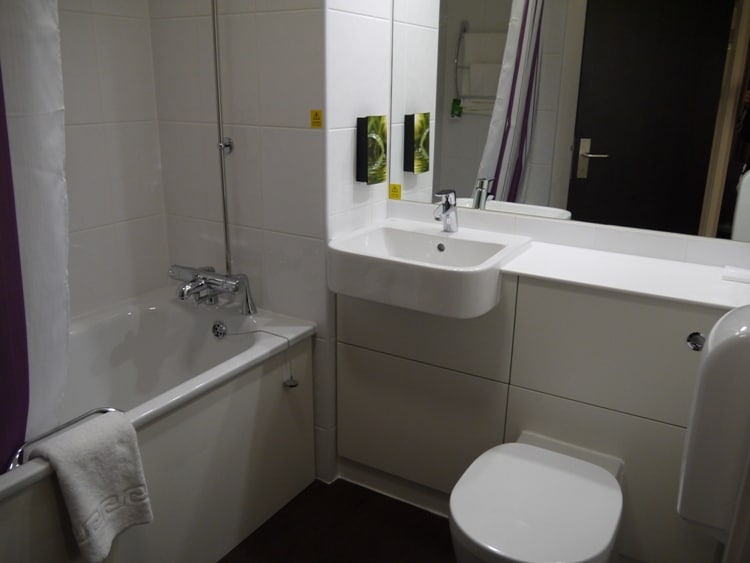 The bathroom was very clean and modern, which wasn't surprising given that the hotel is brand new. The shower was powerful and worked well, as did everything else in the bathroom. There were supplies of soap, body wash and shampoo, as expected.
Central Heating
We were able to control the temperature via a control unit on the wall. As it was very cold during our stay, we especially appreciated this. Most hotels have some form of heating, but usually you can't set the temperature to a particular level.
Wifi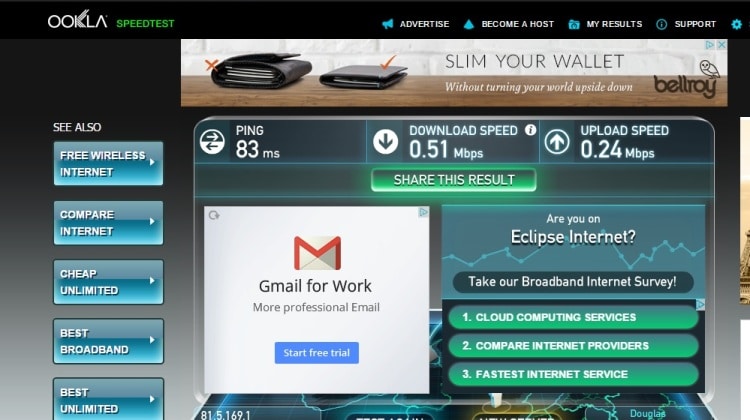 The hotel had a choice of free or paid internet access. The speed test above is for the free version which we used. This was adequate for our needs, as we didn't need to download or upload any large files. The paid internet is faster and costs £5 per day, with discounts available for weekly, monthly and annual plans. These plans are valid for all Premier Inn hotels.
Check In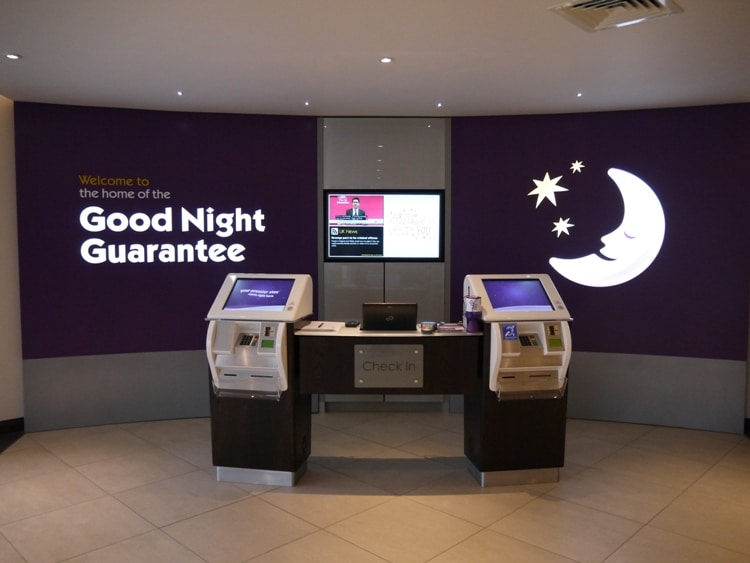 The check in was via a touch screen computer, with a member of staff on hand to help and explain details about the hotel. It was quick and simple. The reception area is open 24/7, so there will always be staff around if you need them.
Restaurant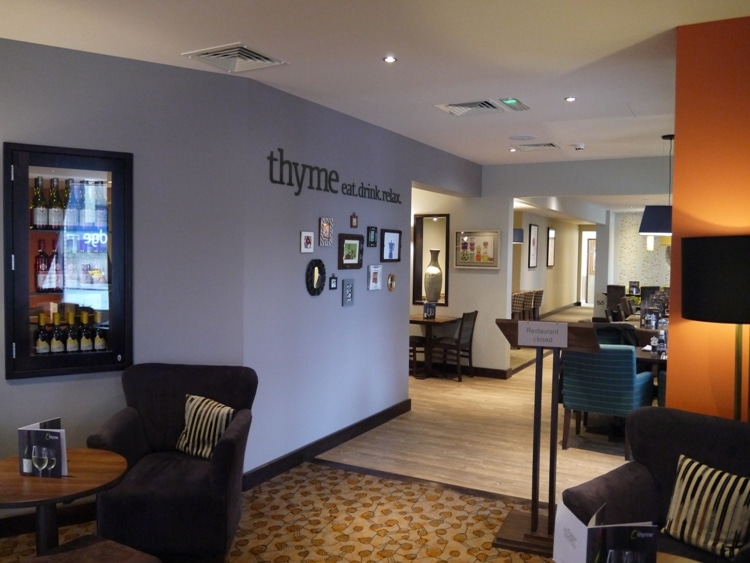 There is a Thyme restaurant on the ground floor where breakfast, lunch and dinner is served. We didn't eat there, but it looked pretty modern and inviting. There are a range of meals available, but the vegetarian options are limited.
Location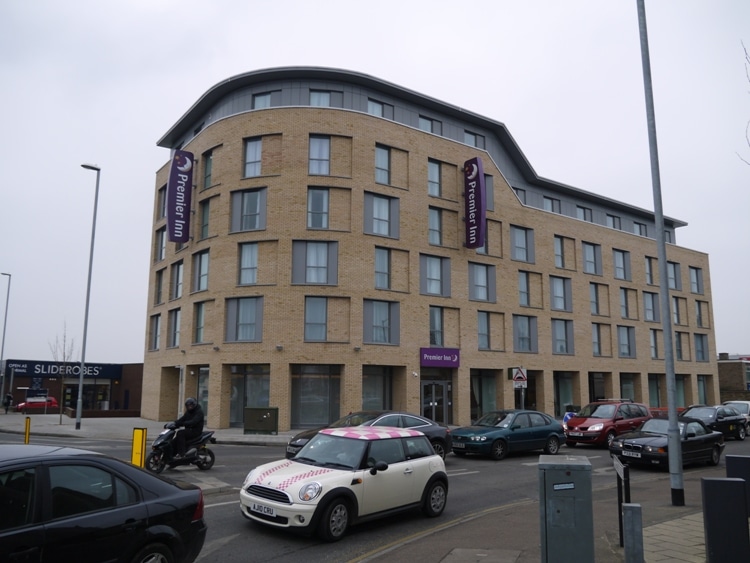 The hotel is located next to Cambridge Retail Park on Newmarket Road. There is a bus stop just across the road from the hotel, and the bus into the city only takes 5-7 minutes. It costs £2.20 for a single ticket, but you can get an all-day ticket for just £4. It's probably about a 10-15 minute walk.
How To Book A Room At Premier Inn
You can book a room at this hotel directly on the Premier Inn website, as well as via hotel booking sites such as Agoda.