We only stayed at this Travelodge for one night, as it was just a stopover on our way to Brighton the next day. We've stayed at a few different Travelodges, so we knew what to expect, which is often what you want when you're traveling. It's about a 10-minute walk from Farringdon station, which is on the Circle and Hammersmith & City Lines of London Underground. The walk was was fairly straightforward even with suitcases. NOTE: We walked to King's Cross after checking in and think that this hotel might actually be closer to King's Cross station than to Farringdon station.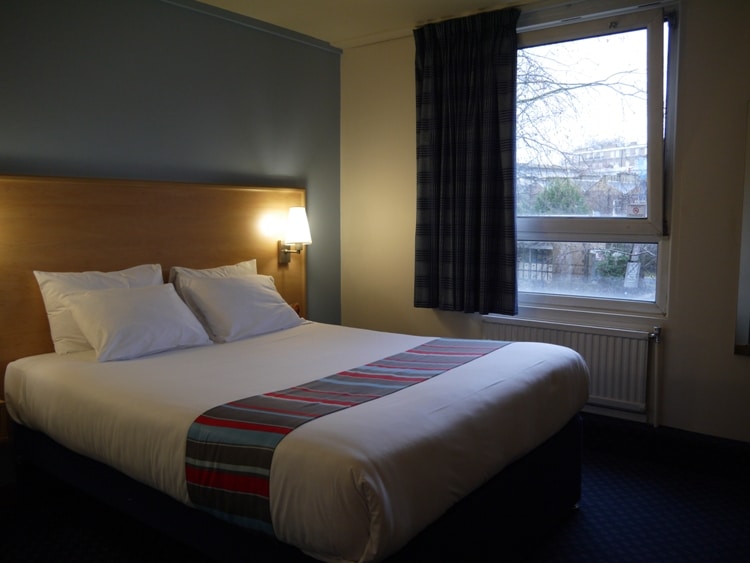 I know this area a little, as I spent a year working near Farringdon station a while back. It's a fairly decent area, although this Travelodge is a little way away from where we'd prefer to be. But being a Saturday night there wasn't much available when we booked. When booking a Travelodge it's best to book as far in advance as possible to get the best prices. You can book one of the flexible rates, so you're able to cancel the booking if you change your mind. This is a great way to lock in a low price.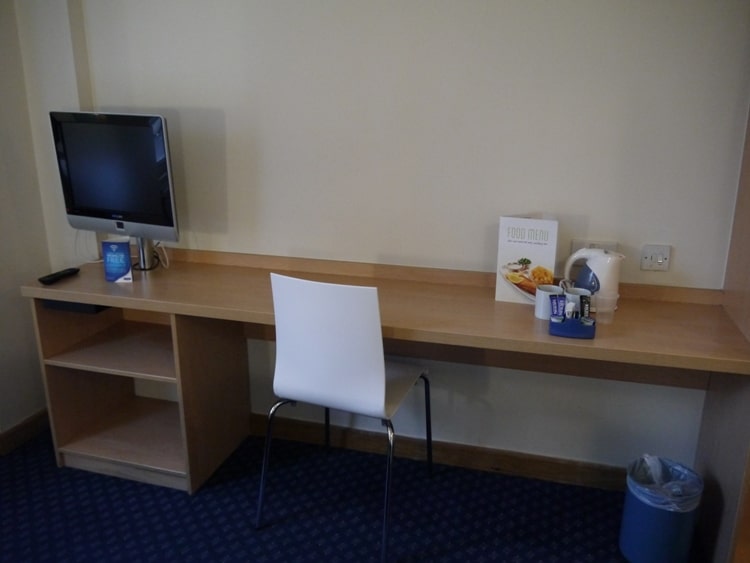 If you've seen our other Travelodge reviews you'll notice that all the rooms are pretty standard. They basically contain a bed, a large desk, TV, kettle, cups, free tea and coffee and wardrobe and luggage space.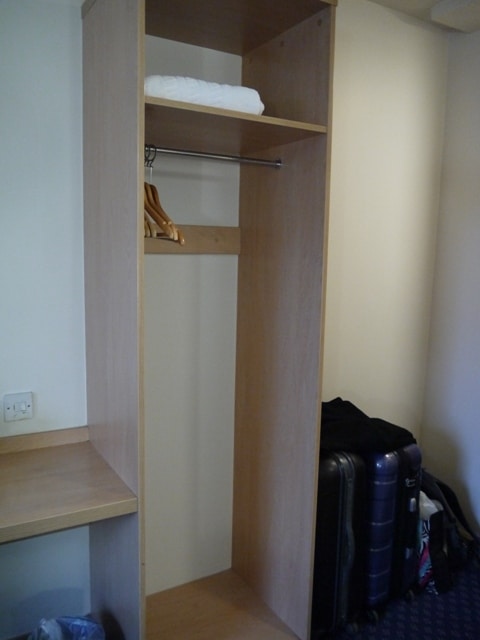 The bathroom was also very standard with a bath and shower.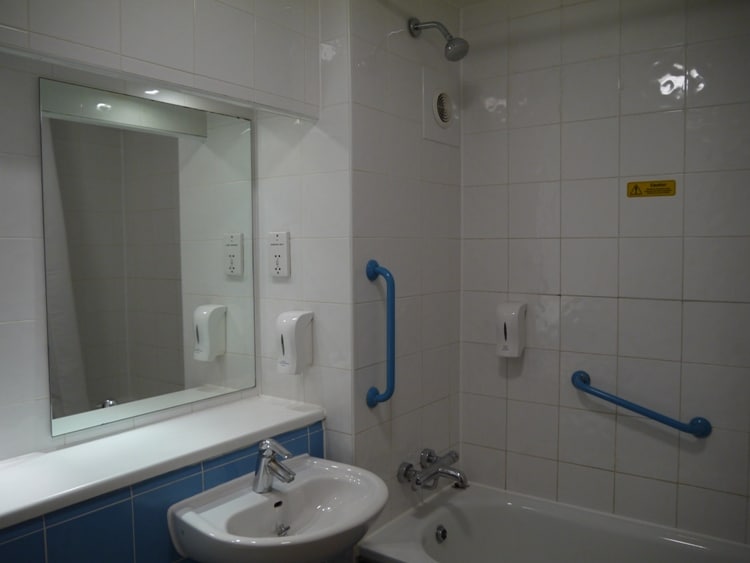 Travelodge is a budget chain of hotels that is very popular and often gets fully booked, especially at weekends. Prices are very reasonable if you book far enough in advance, but can get expensive if you leave the booking until the day before.
Wifi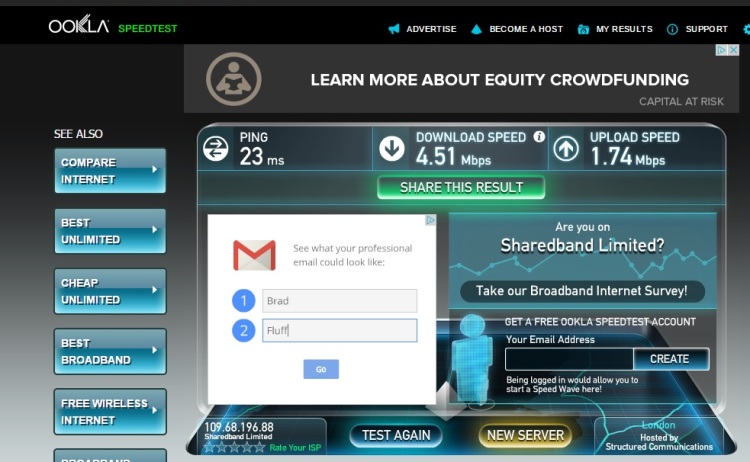 The first internet speed test (shown above) wasn't too bad, but later tests showed it to much slower. The internet also kept switching off, which is unacceptable for internet that you have to pay for. This was the worst internet of our stay in Britain. Wifi signal was quite weak as well.
Location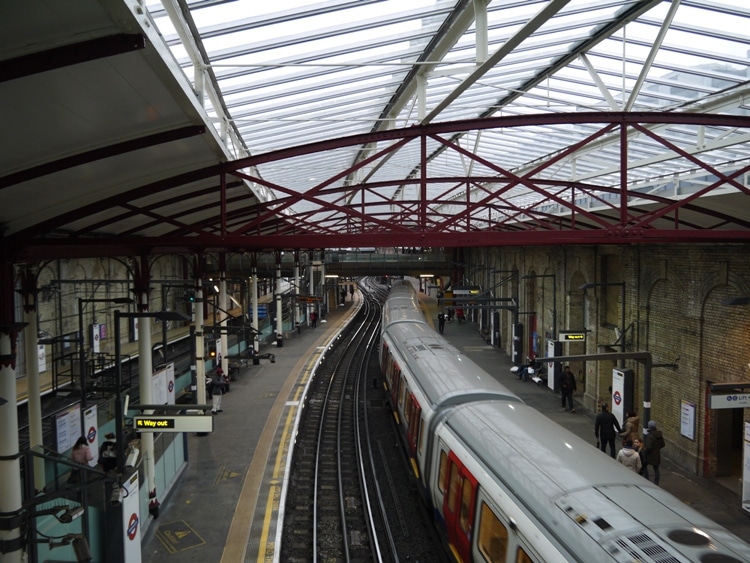 This Travelodge is about  10-minute walk from Farringdon station. It's probably a little close to King's Cross station, which we only found out late.
I'd rate this hotel as below average and definitely not as good as any other Travelodge we stayed at recently. Apart from the wifi problems, I think the hotel could do with being refurbished. One other annoyance was that after we checked into our room a member of staff just unlocked the door and opened it without even knocking. She apologized and said she thought the room was empty. I think she should have knocked just to make sure or at least have checked with reception first.
Then there was the noise from the street outside – traffic and people arguing late at night. I expect this to some extent in London, but I think the rooms here aren't well insulated enough from outside noise. I've stayed next to much busier roads and hardly noticed any noise. I lived in London for around 20 years, so street noise isn't something that bothers me, but it was much noisier here. The staff are friendly though and the rooms are clean, but it's not a great hotel for the price. We wouldn't stay here again.
Other Hotels In London
London has hotels to suit every budget and there are literally thousands to choose from. Our favorite from this London trip was the 73 Suites Apartment hotel in Bayswater.