This was our second visit to Kanchanaburi and also the second time that we'd stayed at the excellent Sabai@Kan Resort. We loved staying there the first time we visited a couple of years ago, so it was an obvious choice for our latest stay. And I'm glad to report that it was as great as we remembered it. Click here to book a room at Sabai@Kan Resort.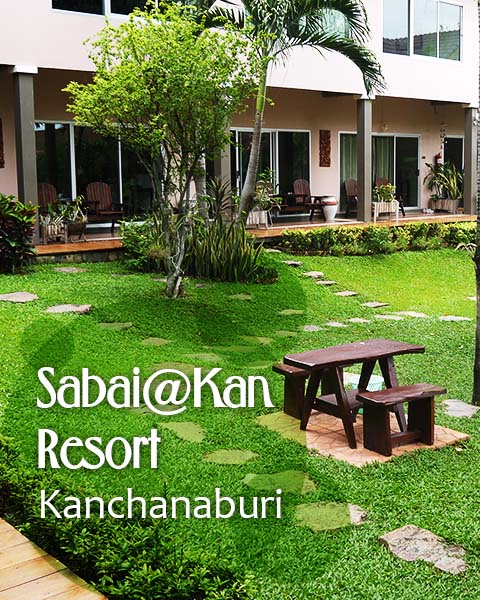 Sabai@Kan is a double-story resort that faces out onto beautiful landscaped gardens and a small swimming pool. We prefer the ground floor rooms, which is where we stayed both times, as they have seating right outside the rooms, so you can sit and relax while facing the gardens. But the second floor rooms offer more privacy, which might appeal to some people.
Our Room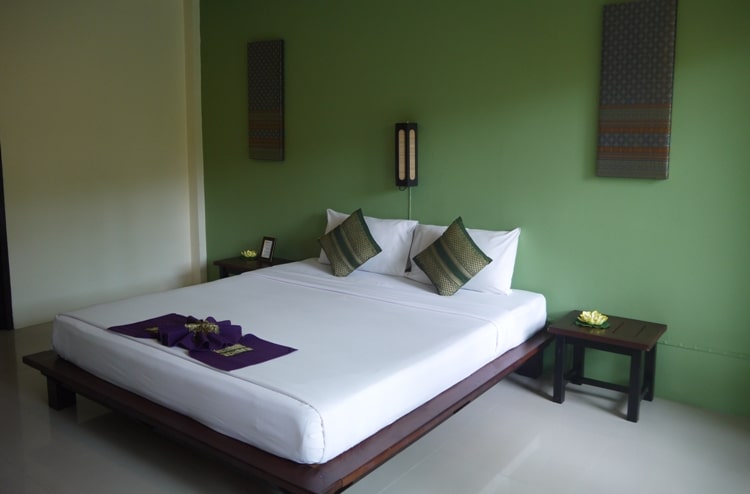 The rooms are quite spacious and also quite minimalist in design, which is exactly what we like in a hotel room. The look is simple but with nice touches of color. The bed in our room was very big and exceptionally comfortable. There were simple bedside tables decorated with flower-heads.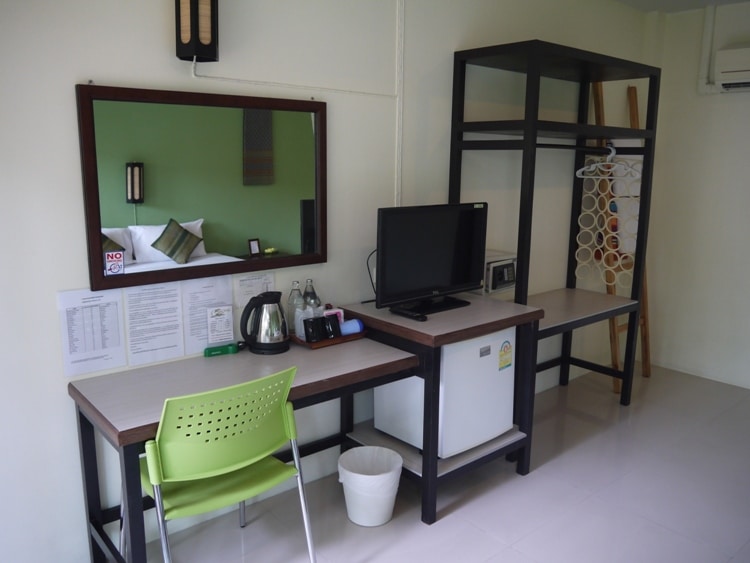 As you can see in the image above, our room was equipped with all the essentials, including desk and chair, kettle and cups, tea and coffee, two free bottles of water daily, a TV, mini-fridge, safety deposit box, hanging and shelf space for clothes, and a ladder for towels. Perfect. It also had aircon that worked perfectly and cooled the room very quickly.
The bathroom was the whole width of the room, so was quite large, with the shower, hand basin and toilet separated into three distinct areas.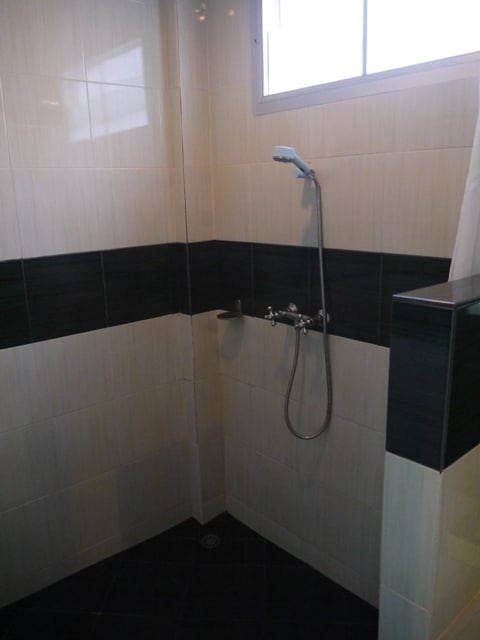 The shower was fairly simple, but had separate hot and cold taps, so it was easy to control the water temperature. The shower was fairly powerful as well.
Swimming Pool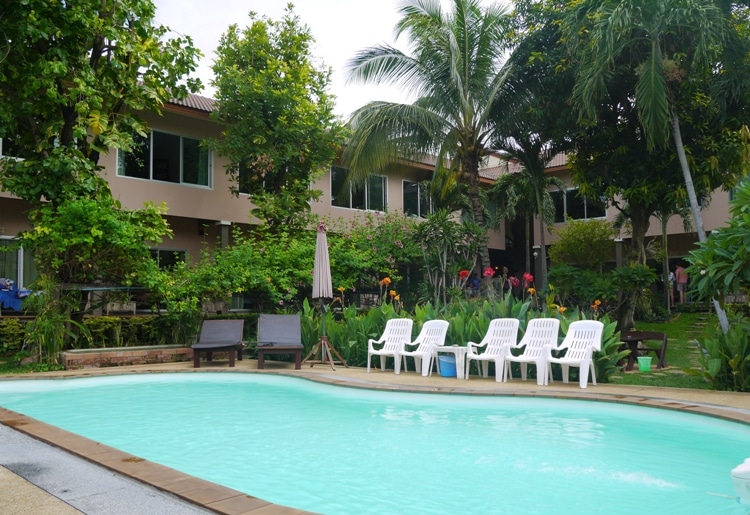 There is a small swimming pool at the resort that's set at the end of the landscaped gardens. It was popular with many of the guests during both of our stays.
Breakfast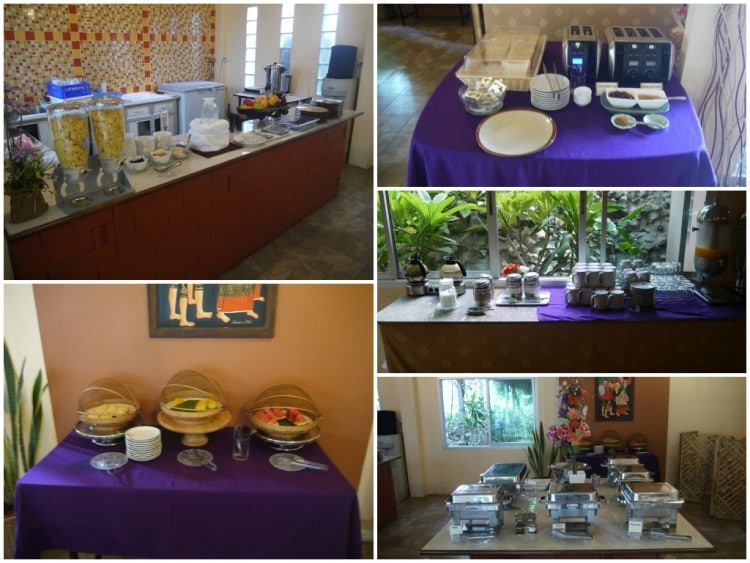 Breakfast was included in the price and was served in the breakfast/restaurant area on the ground floor next to the gardens. The buffet breakfast was split into five areas. The eight hot dishes included dishes such as rice, noodles, eggs, sausage, etc. Other sections were hot drinks, toast, fresh cut fruit, and cereals.
Wifi

The internet worked well during our stay and the wifi signal was always very strong. When we tested the internet speed it showed as 6.13 Mbps download and 0.12 Mbps upload. The upload speed seems a little slow but we didn't have any problems uploading our images.
Lobby & Staff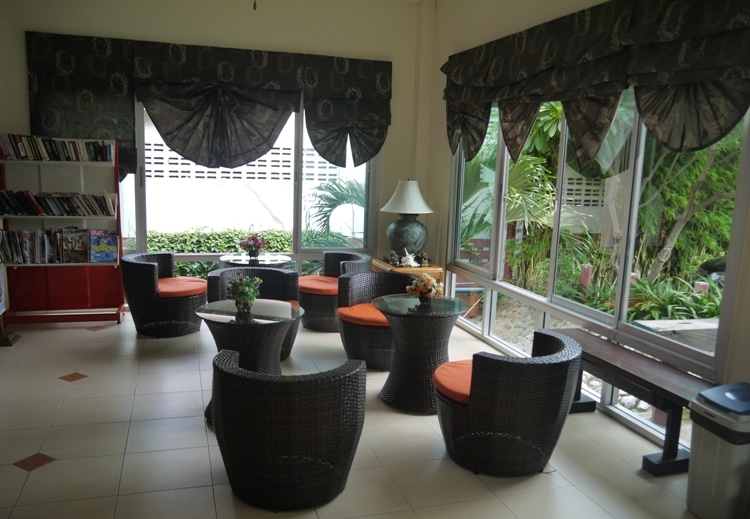 The lobby area is large with plenty of seating. There are also a range of drinks and snacks for sale. The staff were friendly and efficient, and went out of their way to ensure that we had a great stay. There are many tours available in the Kanchanaburi area, and the staff can help with booking these and making suggestions for things to do. But what we liked was that they weren't pushy, so didn't suggest any tours if you didn't ask.
Location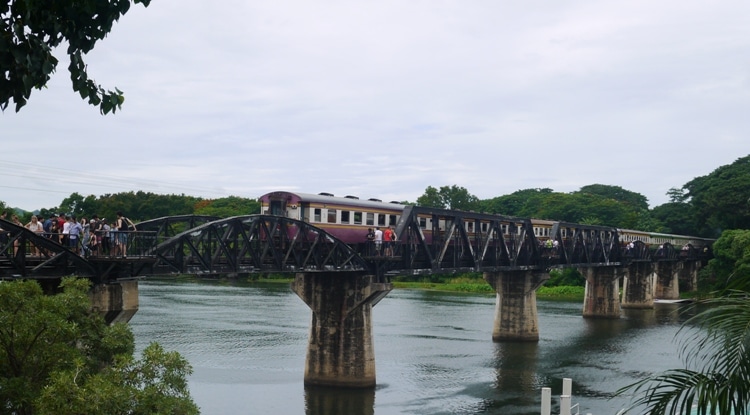 The hotel is located around 900 meters from the River Kwai Bridge, which is also where the train station is. Note that if you're arriving by train, there is another station called Kanchanaburi which is a little further away. So stay on the train for an extra stop and get off at River Kwai Bridge. See Bangkok to Kanchanaburi for details of the train journey.
As you can see from the above map, it's around 900 meters from the railway station to the hotel and should take around 11 minutes to walk. You should also be able to get a taxi from near the station for around 50-60 baht (under $2).
How To Book A Room At Sabai@Kan Resort
Click here to book a room at Sabai@Kan Resort. As you can see from the above review, this is an excellent resort and we'll definitely be staying again. Click here for other great hotels in Kanchanaburi.
Video Of Sabai@Kan