The bus journey from Sarajevo in Bosnia to Split in Croatia covers around 292 kms (182 miles) and takes around 7.5 hours. Along the way it has to pass through the Bosnia-Croatia passport control areas. Today it took longer then usual.
Buying The Bus Tickets
Once again we used our favorite website for booking bus tickets in this region – getbybus.com. We printed the tickets at our hotel in Sarajevo, but heard that e-tickets are being planned for the near future.
Sarajevo Bus Station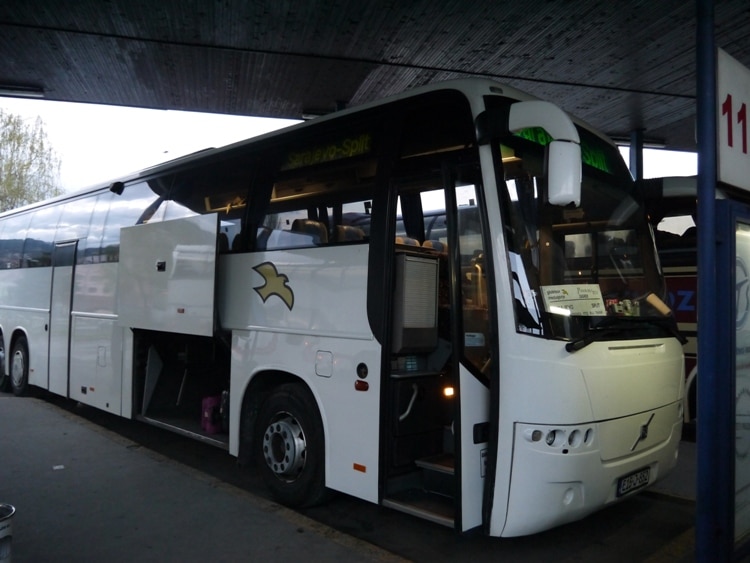 The bus departed from Sarajevo's main bus station at 06:00. There is also an East Sarajevo bus station, so make sure you use the correct one if you plan to get this bus. It was only a short taxi ride from our hotel, with the cost being 7.10 KM ($4). This price included 1 KM each for our suitcases. Even though we arrived at the station before 5:30, there were a couple of cafes open next to the bus stops.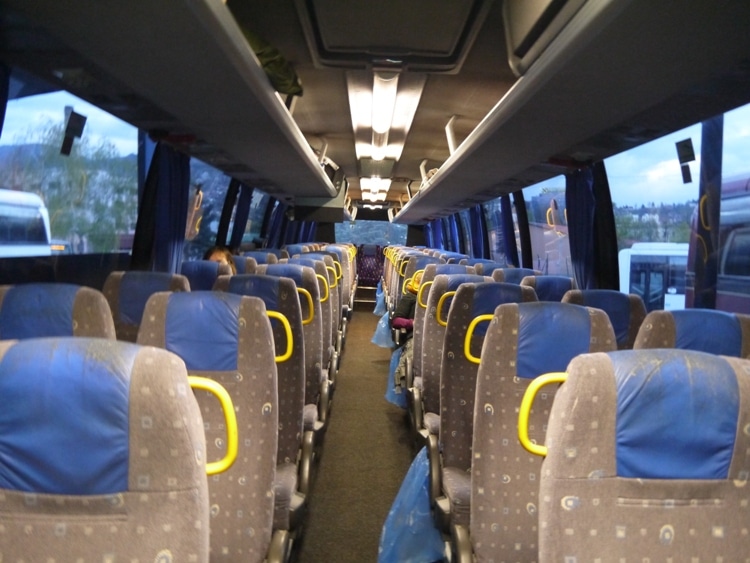 Our bus was comfortable and warm. We had two drivers, and they took turns to drive. This is a great idea, as the journey is 7.5 hours, and it's not great to have just one driver for a journey that long. We paid 2 KM extra for each of our suitcases to be put in he hold, but this is a normal charge in this part of the world.
The Journey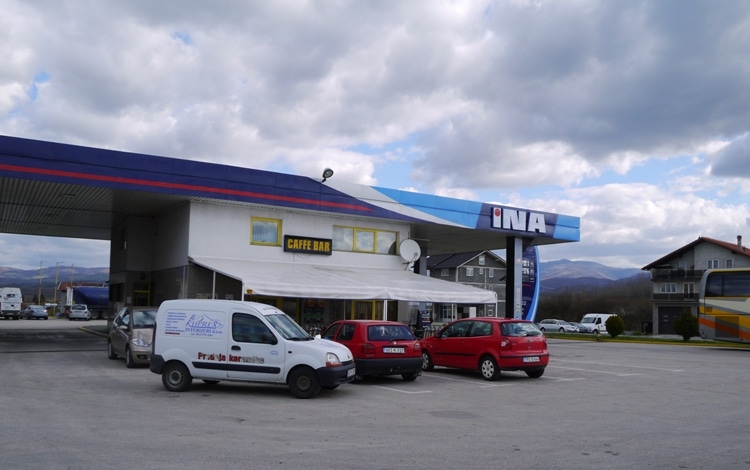 After around two hours the bus stopped at the cafe above. Most people got off to either have a coffee, cigarette or to use the toilet. Note that buses in this region don't have toilets, so if you need to use one you need to make use of these stops along the way.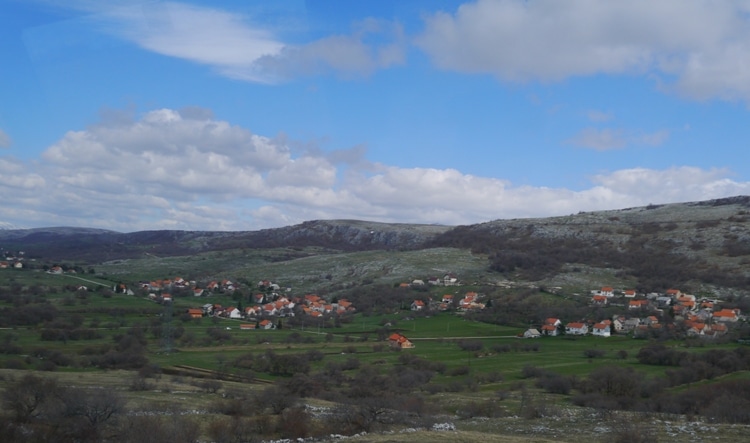 As with other buses we've taken in this region, the scenery on this journey was also pretty good. We passed many small and beautiful towns and villages, such as the one above.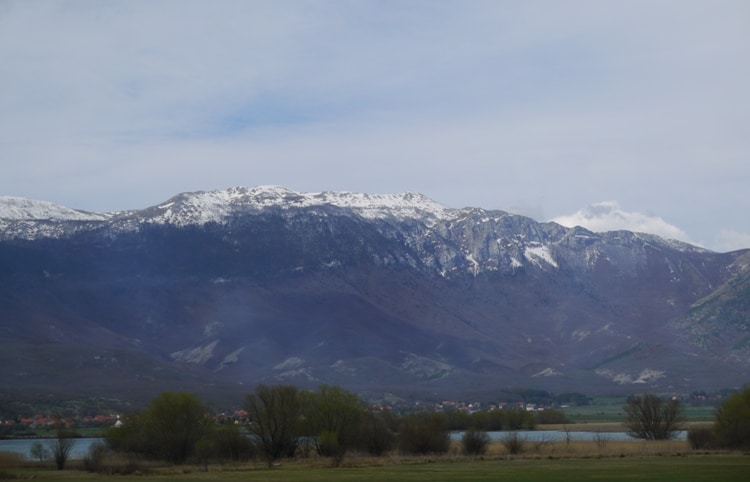 We also passed many snow capped mountains like the ones shown above.
Bosnia-Croatia Passport Control
Passing through Bosnian passport control took around 30 minutes, because we all had to get off the bus while a routine search of the bus was carried out. Three passengers also had their bags checked. I'm not sure what they were looking for, but they let us go on our way once the search was finished.
Passing through Croatian passport control was pretty quick, as most passengers had ID cards. Only three passports were collected to be stamped.
Split Bus Station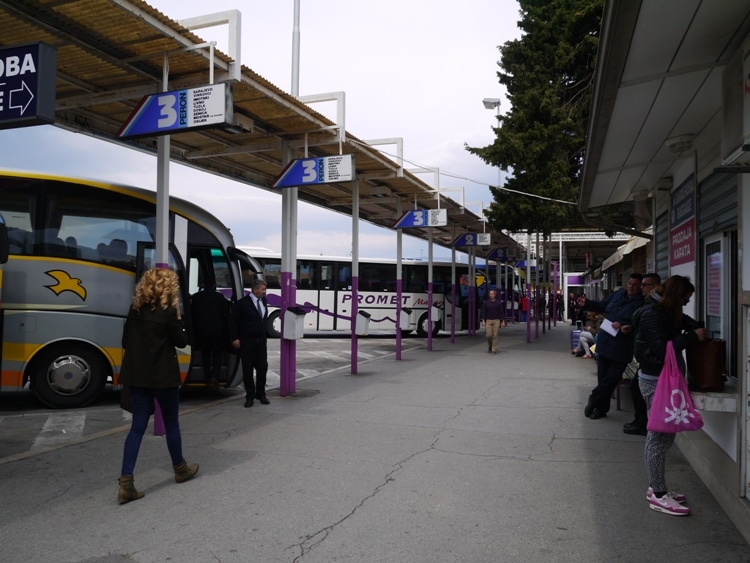 We arrived at Split bus station a little earlier than scheduled. The whole journey seemed to pass quite quickly, although we were both tired from getting up at 04:30.
Map Of Journey
Map of the journey from Sarajevo to Split, via Travnik, Livno and Podgradina. Journey is around 292 kms (182 miles).
Summary
Ticket Websites: getbybus.com or buscroatia.com
Bus Departure (Arrival) Times: 06:00 (13:30); 09:30 (17:30); 16:10 (23:45); 16:30 (23:15) – only the 06:00 and 16:30 are bookable online
Cost: 168 kuna ($24) single
Where To Stay In Split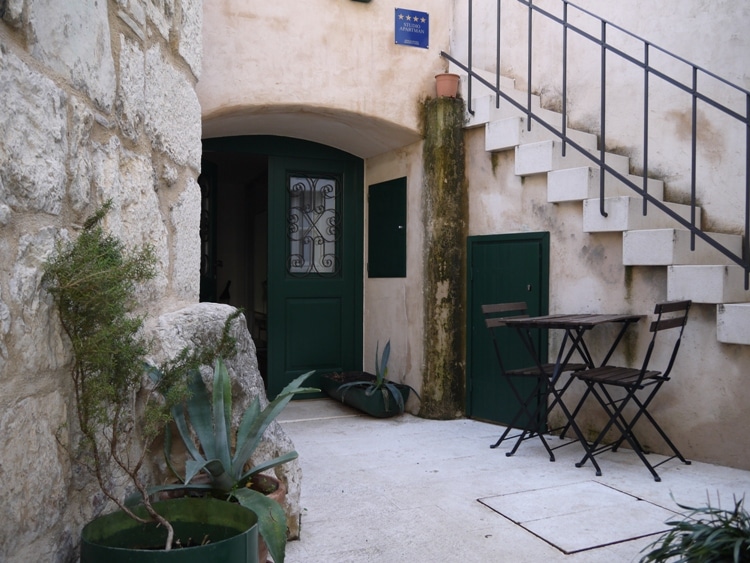 Two great studio apartments that we stayed in ourselves are Divota Apartment Hotel and Dosud Apartments. We can personally recommend both of these. For over 1,000 other apartments and hotels in Split, visit Agoda Split.