Outside the high season, the bus is the only way to get from Split to Dubrovnik, unless you have a car or hire one. The ferries only run during the main tourist season and there aren't any trains that travel that route. So when we traveled from Split to Dubrovnik today, we got the bus. It turned out to be a great journey with stunning scenery including mountains and coastline. An added bonus was the free and fast wifi that was available on the bus.
Buying Bus Tickets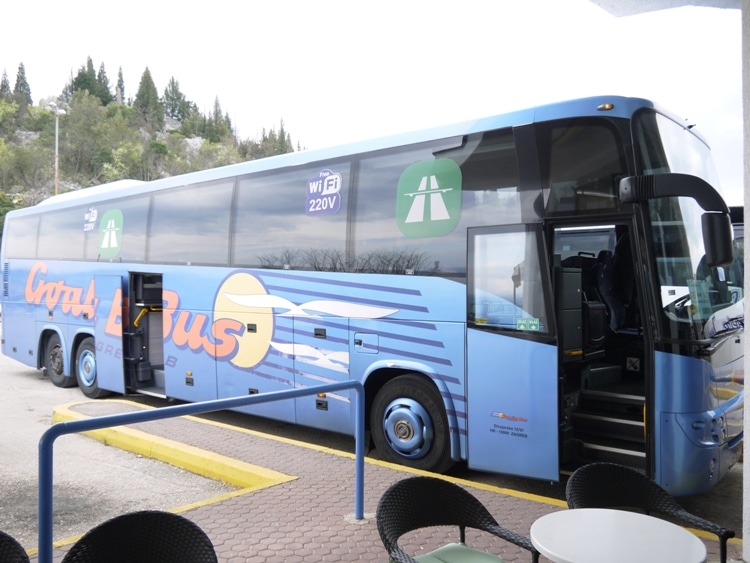 We opted to buy our tickets online from getbybus.com, as we were able to easily check the bus times from our laptop, pay with our credit card and print out the tickets an an internet shop in town. There are a number of bus companies that operate this route, with Croatia Bus being the one we traveled on.
Split Bus Station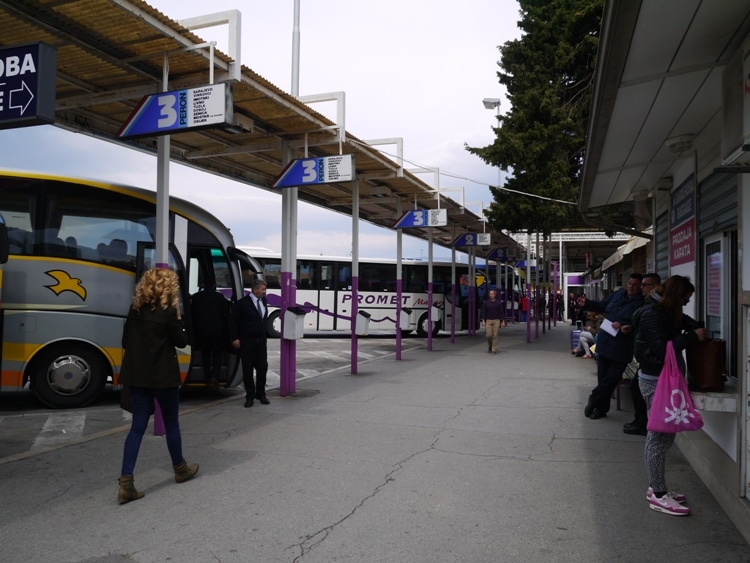 Split bus station is located next to the train station and harbor, and only a few minutes walk from he Riva. The buses to Dubrovnik leave from Bus Stop No. 2. Just wait for the bus to show up, put your luggage in the hold and get on the bus. To store luggage in the hold costs an additional 8 kuna ($1.15) per item.
Croatia Bus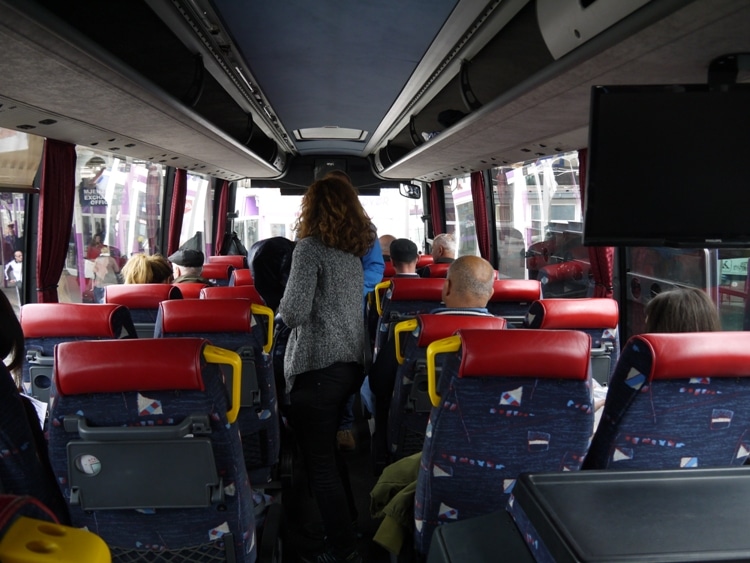 The bus we got was modern and comfortable and the aircon worked well. It was neither too hot nor too cold. There wasn't a toilet on the bus, but the bus stopped at a cafe after about 90 minutes. Many people got off to smoke and others to use the toilet. We stopped for around 10-15 minutes. Other stops were made on the way, but these were quite brief. I think it would have been ok to use the toilet at these stops if you needed to.
Croatia Bus Wifi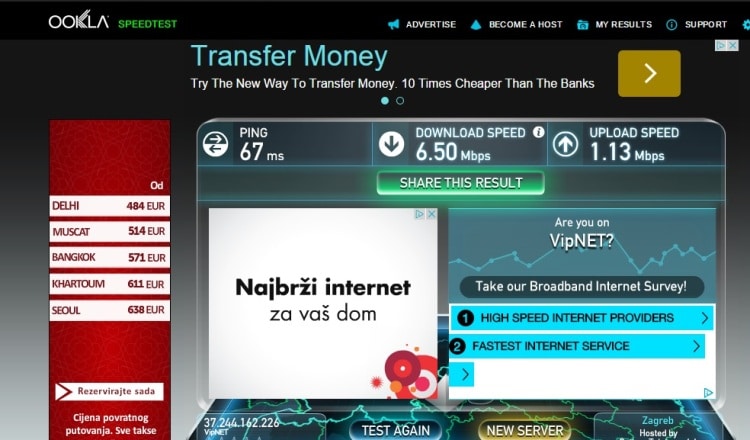 The free wifi on the bus was a very pleasant surprise, as we really weren't expecting it. It was even more of a pleasant surprise to find out that it was quite fast. I tested the speed at 6.50 Mbps download and 1.13 Mbps upload. That's faster than the wifi at all the hotels and apartments that we stayed at in Split and Dubrovnik. It should be noted that this was on Croatia Bus, so I'm not sure whether other bus companies also have free wifi.
Split To Dubrovnik Mountain Scenery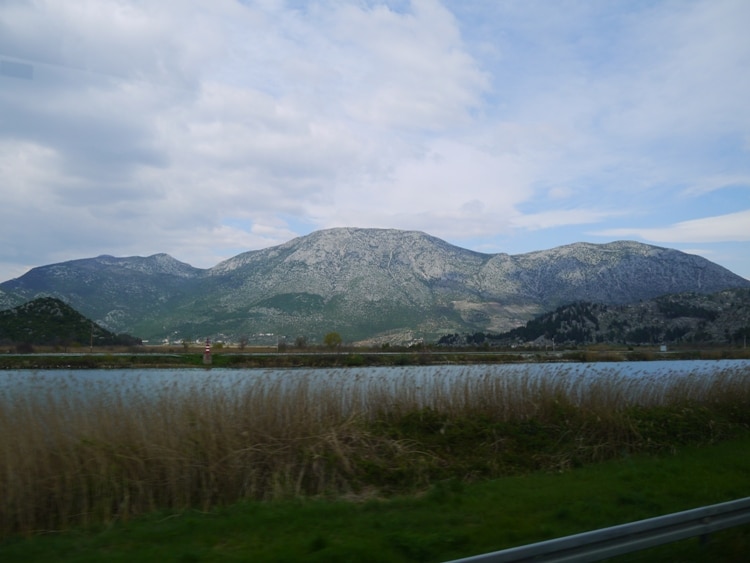 The scenery on this route is great for almost the whole journey. Soon after leaving Split we headed up into the mountains, many of which still had snow on them.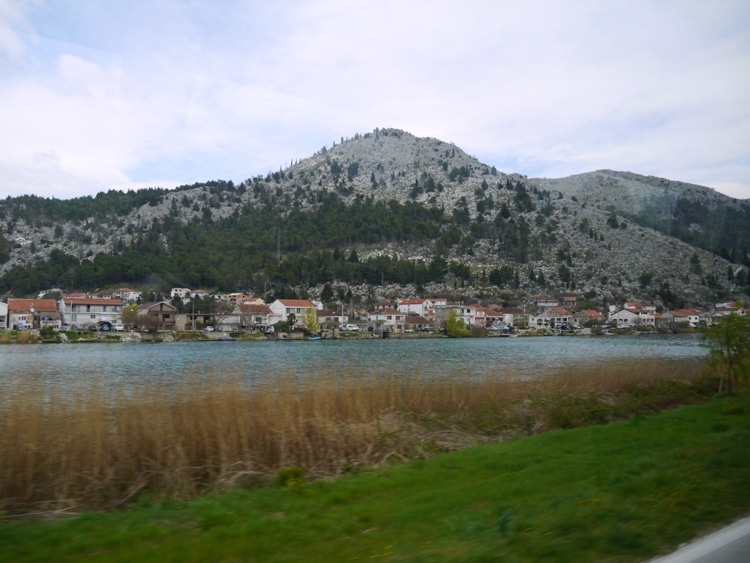 Sometimes the road was nearer the foot of the mountains and we passed numerous picturesque small towns and villages.
The above video is from not long after we left Split. This is when we saw mountains covered in snow.
We also saw many picturque villages like this. Croatia really is a beautiful country.
Bosnia Passport Control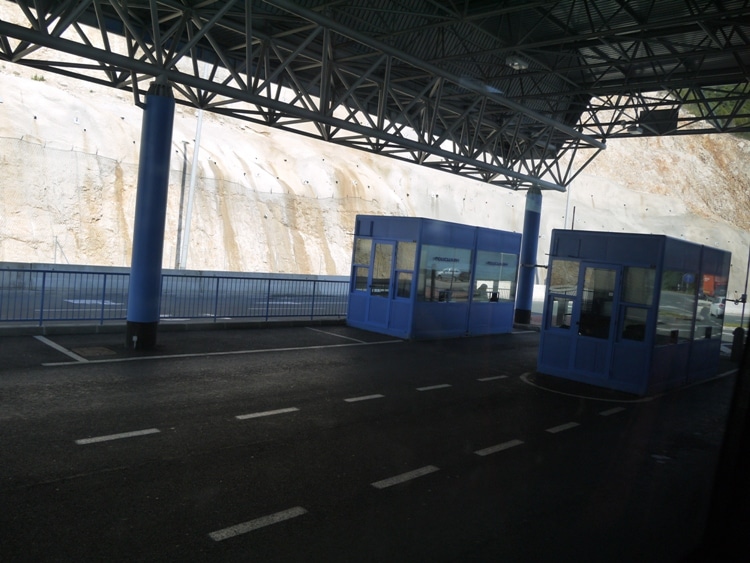 When traveling from Split to Dubrovnik by road you need to pass through a small area of Bosnia and Herzegovina, so make sure you take your passports with you. There is passport control both when entering and leaving Bosnia. We didn't need to get off the bus, as an immigration official got on the bus both times to check passports and identity cards. This was very quick and only took 2-3 minutes for the whole bus. It seemed very informal.
Split To Dubrovnik Coastline Scenery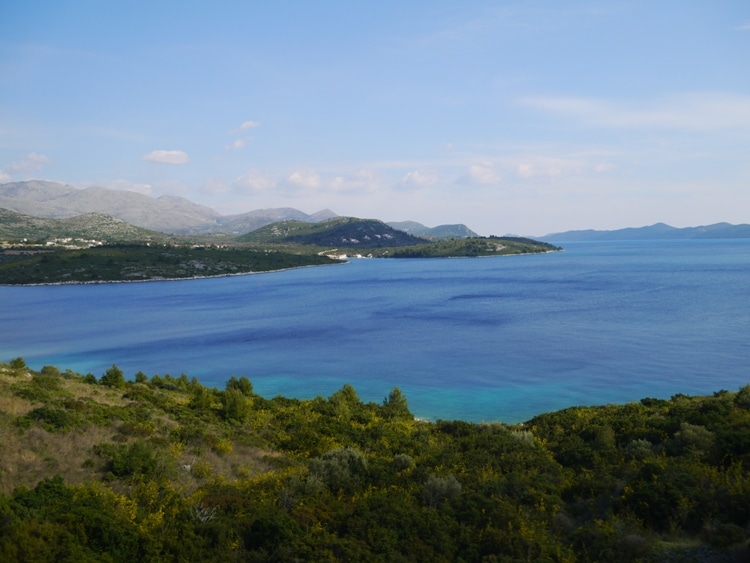 For about the last 50-60 km of the journey we traveled along the coastal road and the views were stunning. We could see beautiful blue seas and stunning mountain ranges. We were seated on the left hand side of the bus, but it's best to be on the right hand side for the best views.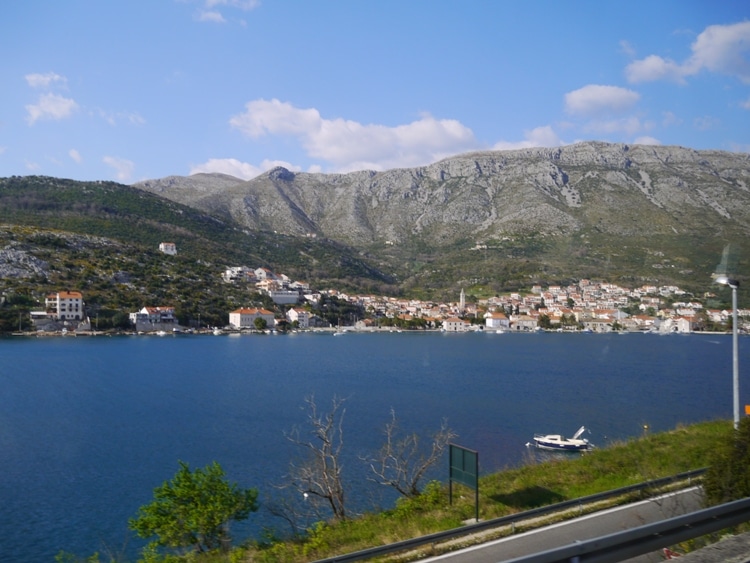 The stunning scenery and the fast wifi helped the time pass really quickly, and what was around a 5-hour journey felt like much less.
Above is a short video as the bus traveled along the coastline. This is just before Bosnia passport control. You can see the passport control area at the end of this video.
Dubrovnik Bus Station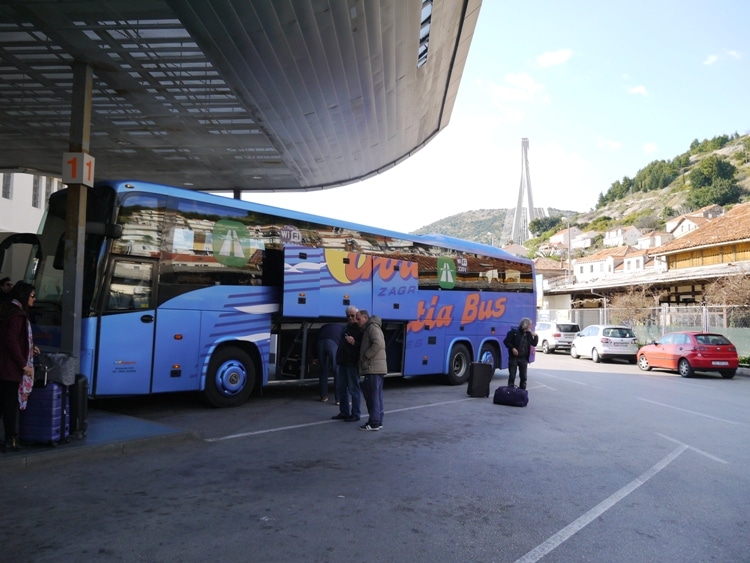 The bus station in Dubrovnik is a few kilometers from the old town, so we got a taxi for the last part of our journey. The taxis have a fixed price cost of EUR 10 ($11) from the bus station to the old town. Pretty expensive compared to taxis in Split.
Map Of Journey
Above is a map of our journey, which was around 226 km (140 miles).
Summary
Ticket Websites: getbybus.com or buscroatia.com
Bus Departure Times: 02:35, 5:15, 06:00, 10:00, 12:30, 14:00, 15:45, 16:15 (may be extra buses in high season)
Cost: 123 kuna ($17.50) single; 197 kuna ($28) return (prices vary depending on bus company)
Hotels In Dubrovnik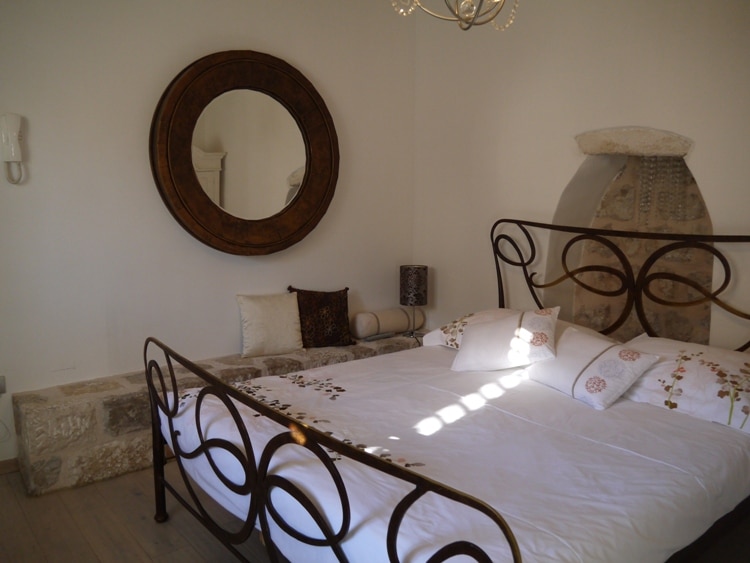 While in Dubrovnik we stayed at the beautiful Old Town Ivory Apartments. For other great hotels and apartments in Dubrovnik, check out the offers at Agoda Dubrovnik.