Sveti Stefan is an island near the town of Budva in Montenegro. If you've seen photos of Montenegro, then you've most likely seen photos of Sveti Stefan.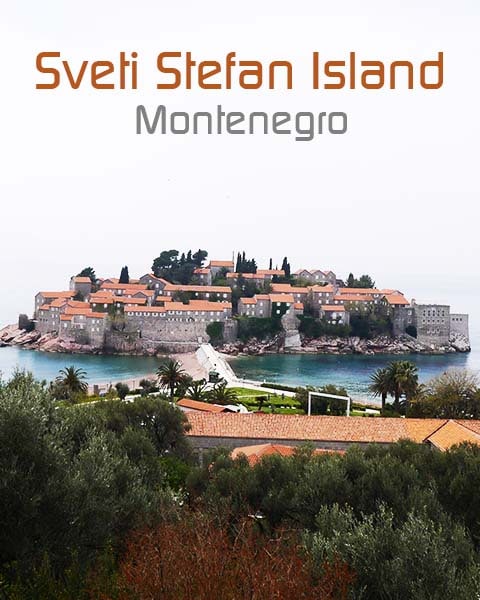 It's the most used image of Montenegro and is pretty iconic. While visiting Budva we took a bus to the island to see it for ourselves.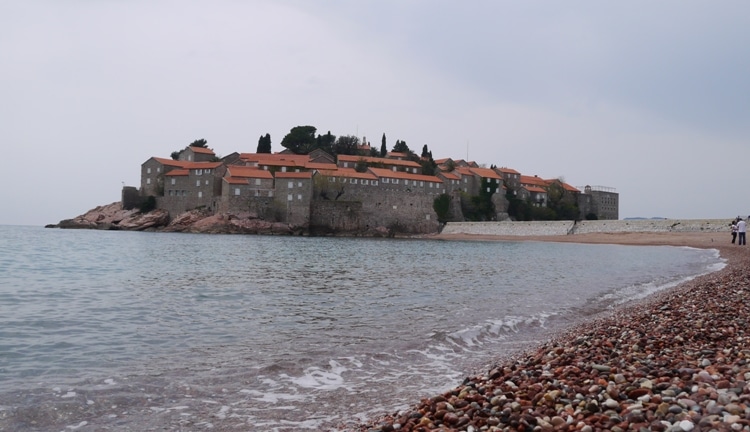 Buses from Budva to Sveti Stefan leave every 20 minutes from 09:00 until 17:00, and every 30 minutes from 06:00-09:00 and 17:00-22:00. Tickets cost EUR 1.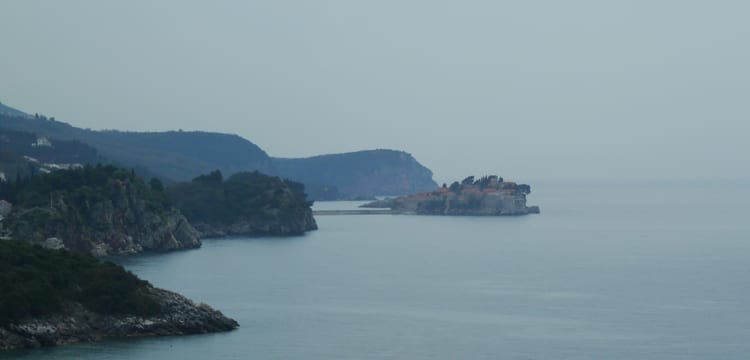 You'll be able to see the island from the bus when you're a short distance away from it.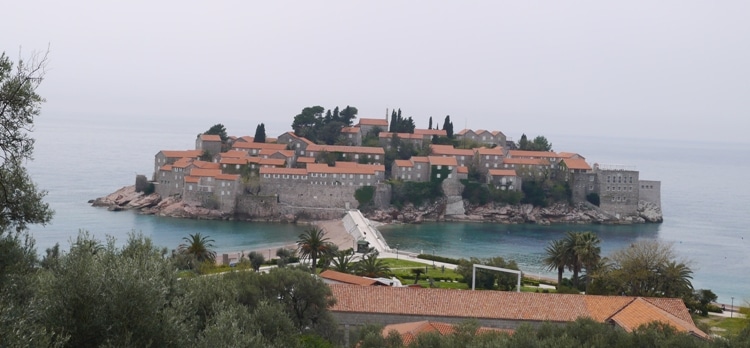 Get off the bus at the last stop and this is the view that you'll see.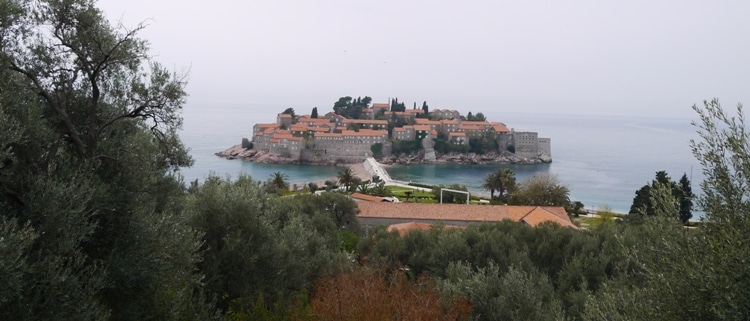 The fortified village on the island was built in the 15th century to help defend against attacks from the Turks.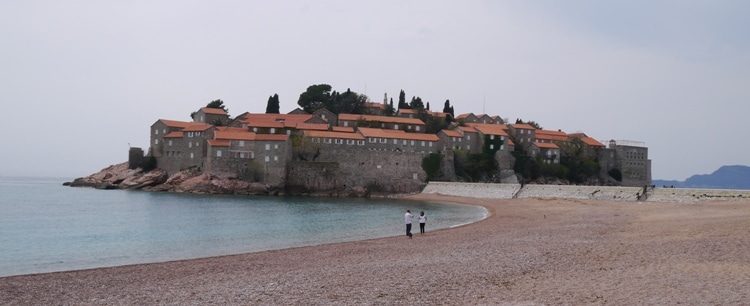 The island was eventually populated by around 400 people, but the villagers were moved out by the Tito regime, who turned it into a resort for the stars. During the 60s, 70s and 80s it became know as a playground for the rich and famous. Orson Welles, Elizabeth Taylor, Kirk Douglas, Sophia Loren, Princess Margaret and many others are known to have stayed there.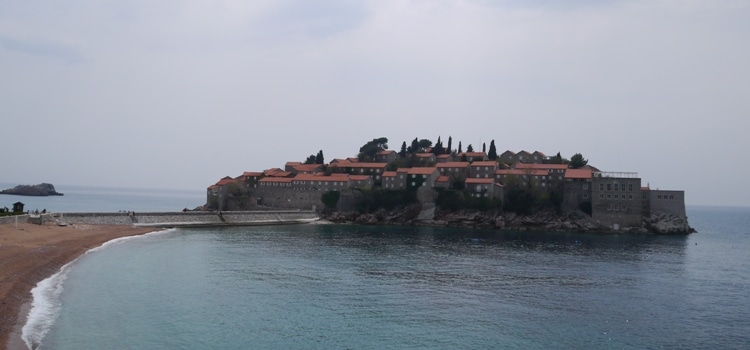 In the 90s, during the break-up of Yugoslavia, the resort fell into decline. It was eventually refurbished and turned into an exclusive resort by Aman Resorts. It's now called Aman Sveti Stefan and rooms there start at around EUR 800 a night. We had read that you could get onto the island if you paid a EUR 7 entrance fee, but the security guard told us that it was private and only guests could enter.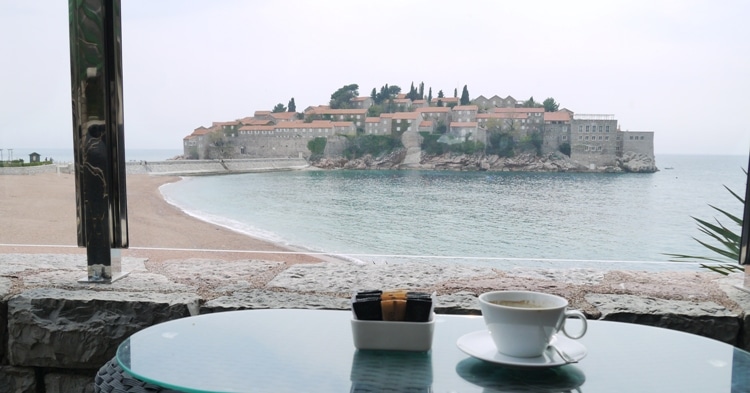 There is a restaurant, Olive, that looks out over the island. This must be one of the best places in the world to sit and have a coffee.
Continue walking passed the restaurant and the path leads you around to the next beach and back up to the road where you can get the bus back to Budva. There's no bus stop there, so just flag the bus down and it will stop for you.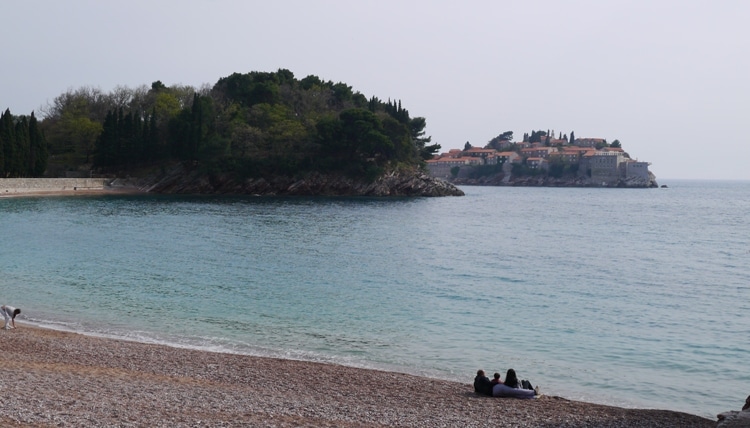 Videos Of Sveti Stefan
The above video is taken from the beach.
And this one is taken from the road at the last bus stop from Budva.
How To Get To Sveti Stefan From Budva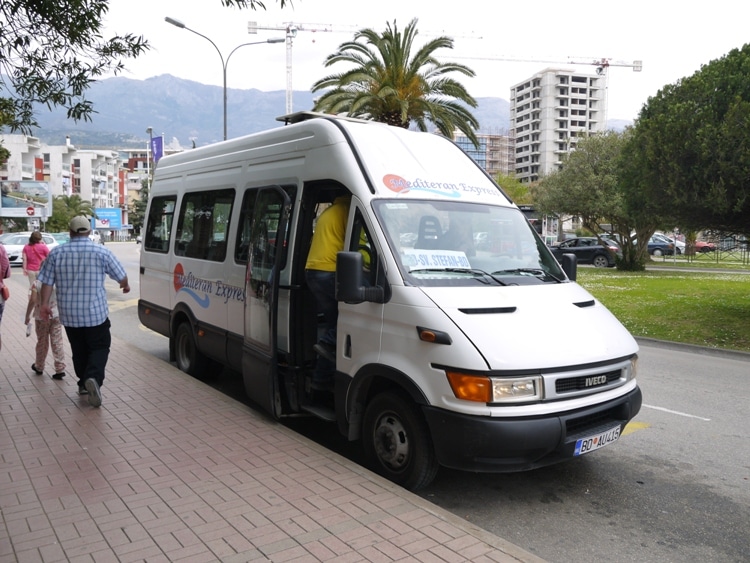 Buses run along this route from 06:00 until 22:00.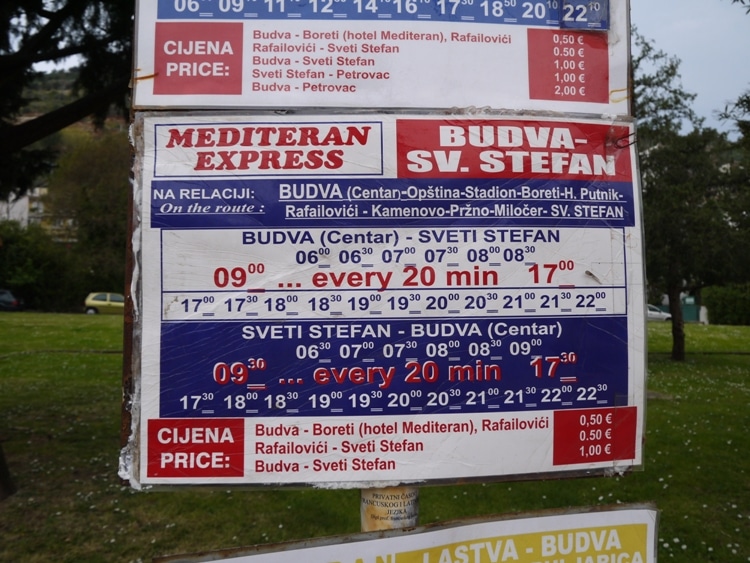 The buses start from Mediteranska, near the old town.
Where To Stay In Sveti Stefan Or Budva
You can either stay in Budva like we did, or stay in Sveti Stefan or anywhere in between. For a range of hotels and apartments in this area see Agoda Budva.