We had read that there were over 60 vegetarian cafes and restaurants in Chiang Mai, and wanted to try as many as possible. But with so many, we just don't have enough time. Rather than list all the ones we've been to, we have instead made a list of our favorite places. Click here to book a great hotel in Chiang Mai.
Our Number One Choice – Khun Churn Vegetarian Buffet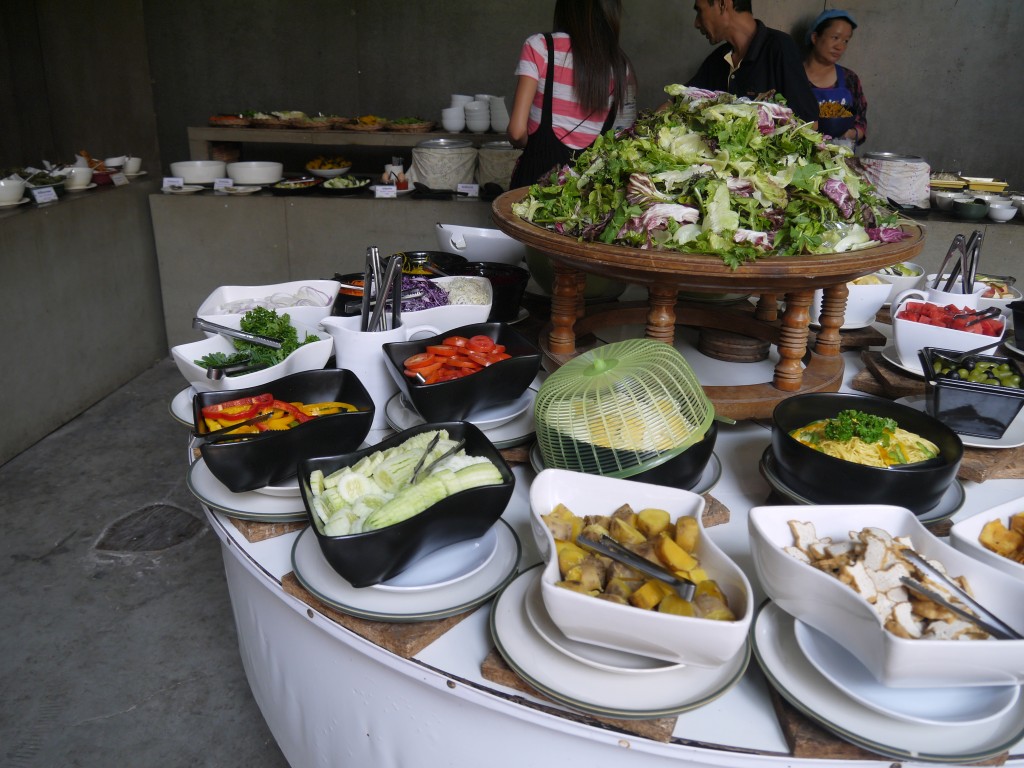 This is definitely the best buffet meal I've had had anywhere in the world. In fact, it's also some of the best food I've eaten anywhere. This isn't the standard all-you-can-eat buffet that has cheap ingredients. This is quality food. There is a choice of around six hot dishes, 6-8 soups, numerous salads, drinks, rice, dips and more. And all for a very affordable 129 baht per person. That's around $4.50 or £3. I don't know anywhere else in the world that you could get such a great lunch for such a low price.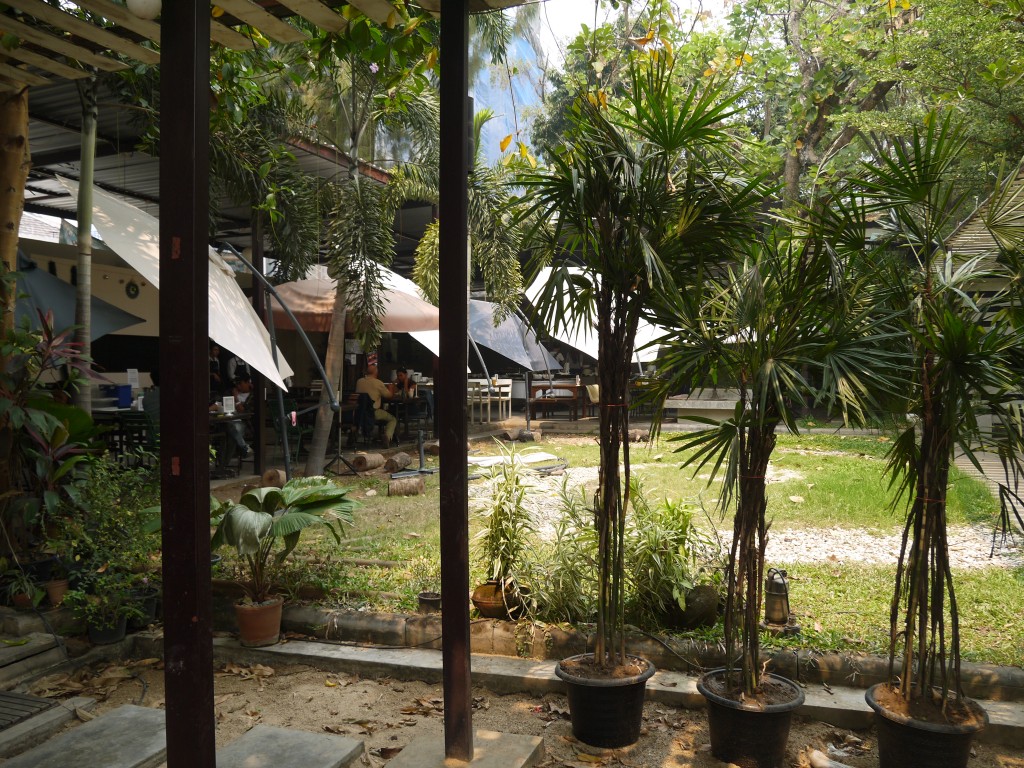 And it's not just the food that is first class. You also get to sit outside in the shade of their large garden. Khun Churn is a bit of an institution in Chiang Mai, and the food is loved by both vegetarians as well as non-vegetarians. So if you're not a vegetarian, you should still give this a try, because you'll most likely love the food.
Khun Churn buffet is open from 11:30-14:30 daily. The a la carte menu is available from 08:00-22:00. The restaurant is closed on the 16th of each month. Khun Churn is loacted on Nimmanhaemin Soi 17, about 50 metres from Nimmanhaemin Road.
Best Temple Food – Pun Pun
If you want have lunch in the grounds of a temple, then Pun Pun is the place to go. It's located within the grounds of Wat Suan Dok on Suthep Road.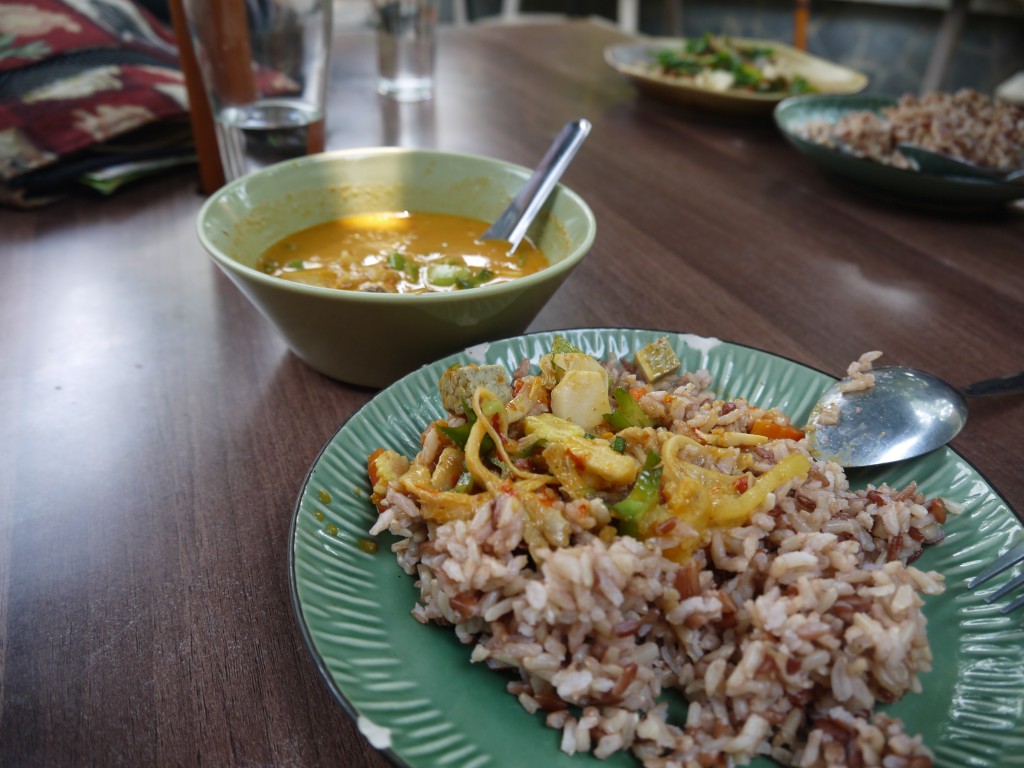 The menu at Pun Pun is extensive, and includes appetizers, special dishes, salads, spicy salads, fried noodles, noodle soup, pasta & spaghetti, fried rice, stir fried dishes, soups, curries, sweets, and drinks. With so much on offer, it's a place that's worth visiting often. We opted for the yellow curry and the stir fried fern with tofu and mushroom. Both dishes were perfectly cooked, and tasted delicious. Most dishes cost around 40-60 baht, which is very reasonable considering the high quality of the food.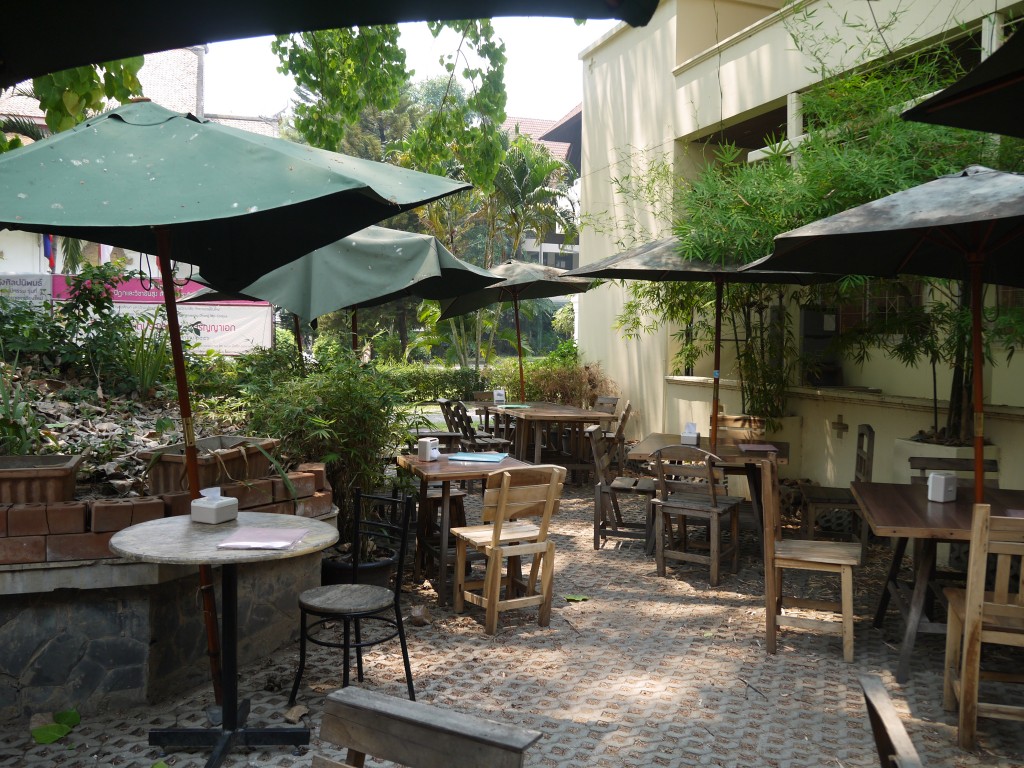 The seating at Pun Pun is arranged around a giant boddhi tree, and it's a very relaxing area. The easiest way to get there is to take a red bus (songthaew). It cost us 20 baht each. The restaurant can be a little tricky to find, as there aren't any signs leading up to it. When you enter the main gate of Wat Suan Dok, just keeping going straight ahead until you come to the Monk Chat building on your right. Pun Pun is directly behind that building.
Pun Pun is open 09:00-19:00 Mon-Sat, 09:00-16:00 Sun, closed Wed. There is also another branch at Santitham Road that's open from 08:30-20:00.
Best Masaman Curry – May Kaidee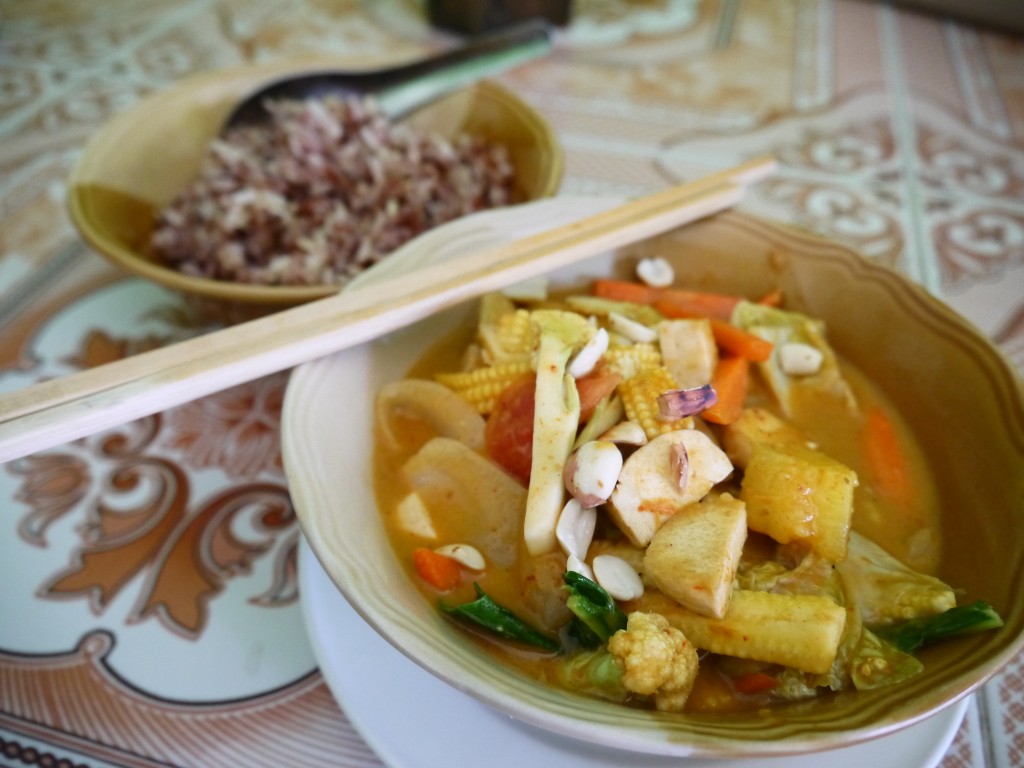 My favorite Thai dish is massaman curry, and the best I have found has been at May Kaidee at Ratvithi Road. The taste is just perfect, and it only costs 50 baht. As well as massaman curry, there is also a range of other Thai dishes available. My favorites include the papaya salad and the fresh spring rolls with peanut sauce. We eat at this restaurant about four times a week. It's just a simple shophouse that's very sparsely furnished, so it doesn't win any prizes for ambiance, but the food more than makes up for that.
May Kaidee is open 09:00-20:30 every day. Vegetarian cookery courses are also available. We actually took the cookery course in the Bangkok branch of May Kaidee. The two branches are run by sisters. The Chiang Mai branch will be changing its name to Morning Glory sometime soon.
Best Non-Vegetarian Cafe – P&P Coffee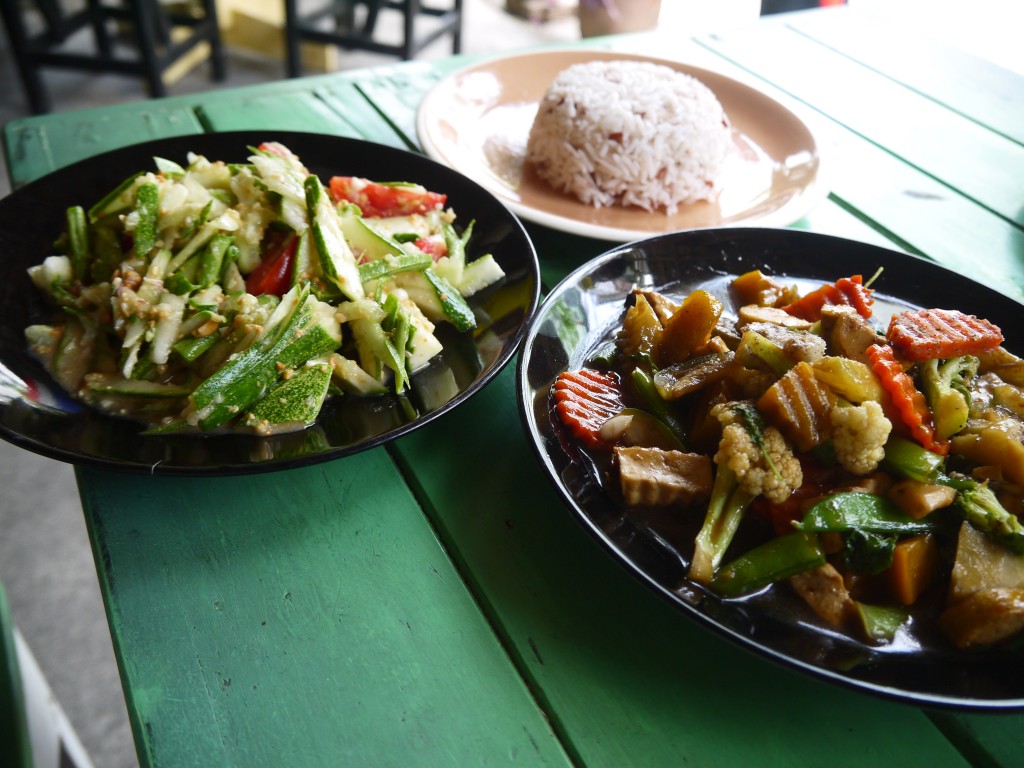 I don't often eat at non-vegetarian places, as I usually find the food quite boring. But I noticed this very small cafe advertising vegetarian food, so I decided to give it a try. And I was blown away by the quality of the food. The vegetarian food here is better than at many of the vegetarian places in Chiang Mai, and elsewhere in Thailand. The food is freshly cooked, and its cooked to perfection. The food is so good that I've eaten there every lunchtime for the last week.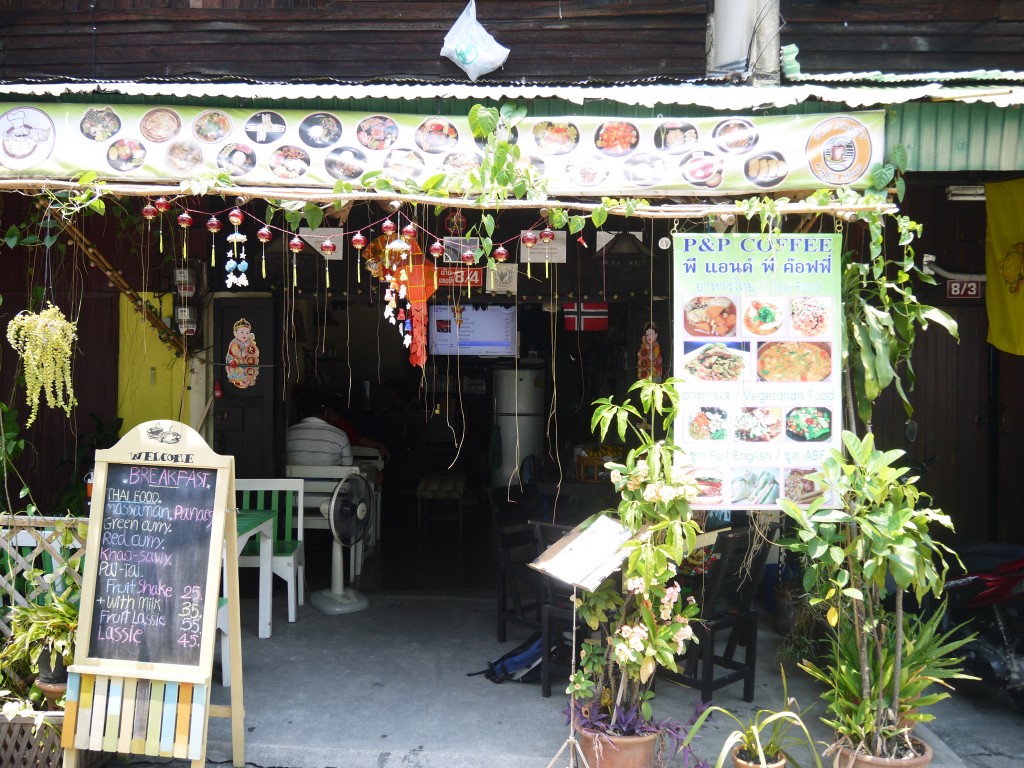 The menu doesn't have a vegetarian section, so you just need to ask for whatever dish you want, and the owner will cook it for you. It's a very small cafe on Ratchamanka Soi 3, about 20 metres on the left when walking from Ratpakinai Road. It's an easy walk if you're in the South Gate area of the city. I've tried stir fry with basil, deep fried tofu in soy sauce (this is on the menu), papaya salad, and cucumber salad. They only serve white rice, but if you ask for brown rice they can get it from a cafe two doors away.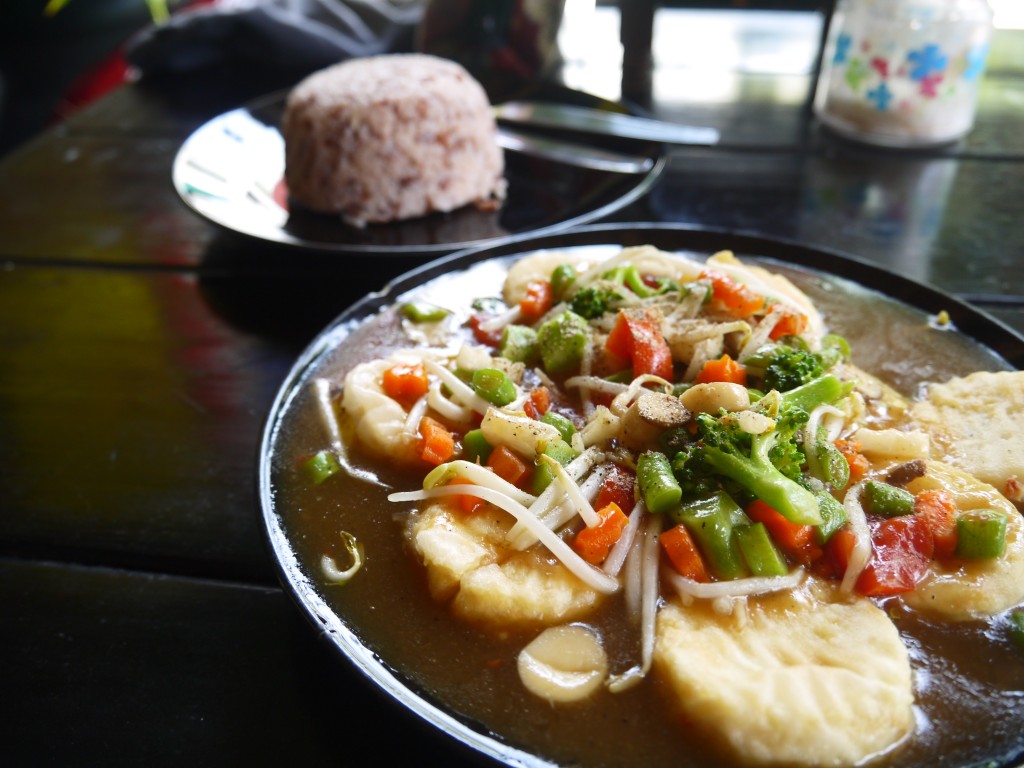 Each dish is priced at around 50 baht, which is excellent value for money for the quality of food. The cafe is open from around 10:00 until around 20:00. It's a family run place, and well worth a visit.
Best Falafel – Funky Monkey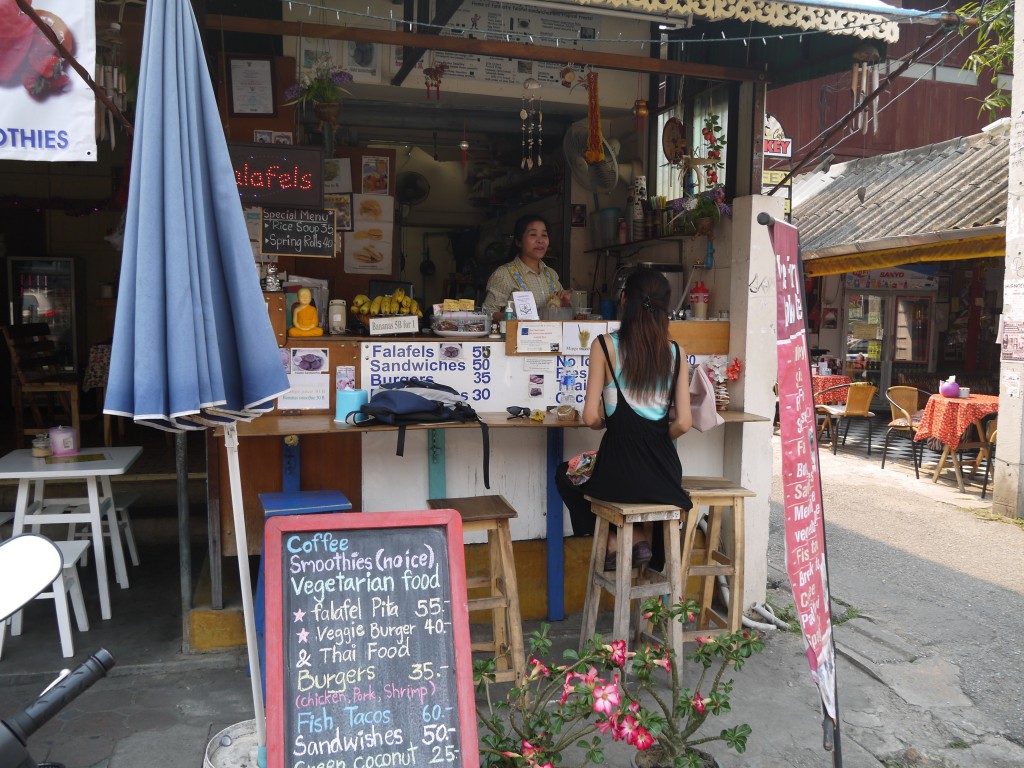 Funky Monkey is another non-veggie place that serves veggie food. It's another quite small cafe, but is very popular. The reason I love it is for the delicious falafel. I usually eat Thai food, but sometimes I need something a little different, and the falafel at Funky Monkey hits the spot. Cost is 55 baht. They also serve veggie burgers, hummus dip, and a Mediterranean plate.
Funky Monkey is located on Ratpakinai Road, near the junction with Ratchamanka Soi 3.
Best Cheap Veggie Food – Aubaon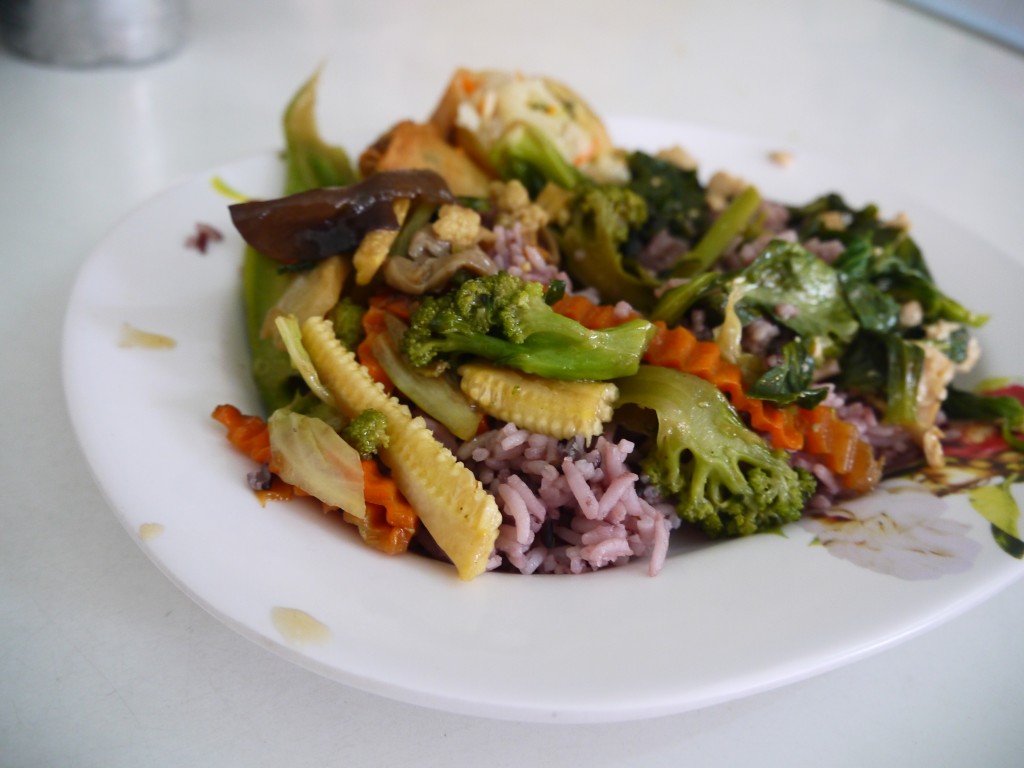 If you're on a tight budget, then Aubaon could be the place for you. It's only 30 baht for brown rice and 3 food choices. You'll have to get there early though. This place is open from 06:00-15:00, but the food has mostly run out by midday. It's a typical Thai shophouse, and very basic. There are a choice of about 8 hot dishes, and also a few deep fried options such as spring rolls. I wouldn't go out of my way to go here, but if you're in the area it could be a good choice. It's on Nantaram Road, just opposite the junction with Wulai Road (where the Saturday night market takes place).
Best Of The Rest
Here are a few other places that we've tried…
Veggie Stall At South Gate – At the South Gate in Chiang Mai you'll find around 20-30 food stalls that are open from around 17:00-24:00. One of these is a veggie food stall. It's on the market side of the road. It's there most nights. They only serve white rice though. All food is cooked to order.
Aum – this is located on Moon Muang Road, opposite Thae Pae Gate, and next to Black Canyon Coffee. It's a very popular place, as it sells a mixture of Thai and Western food. I found it to be ok, but not great.
Taste of Heaven – this is another place that's ok but not great. Serves a mix of Thai and Western food in a huge restaurant. It's quite basic, but ok if you're in the area.
Hotels In Chiang Mai