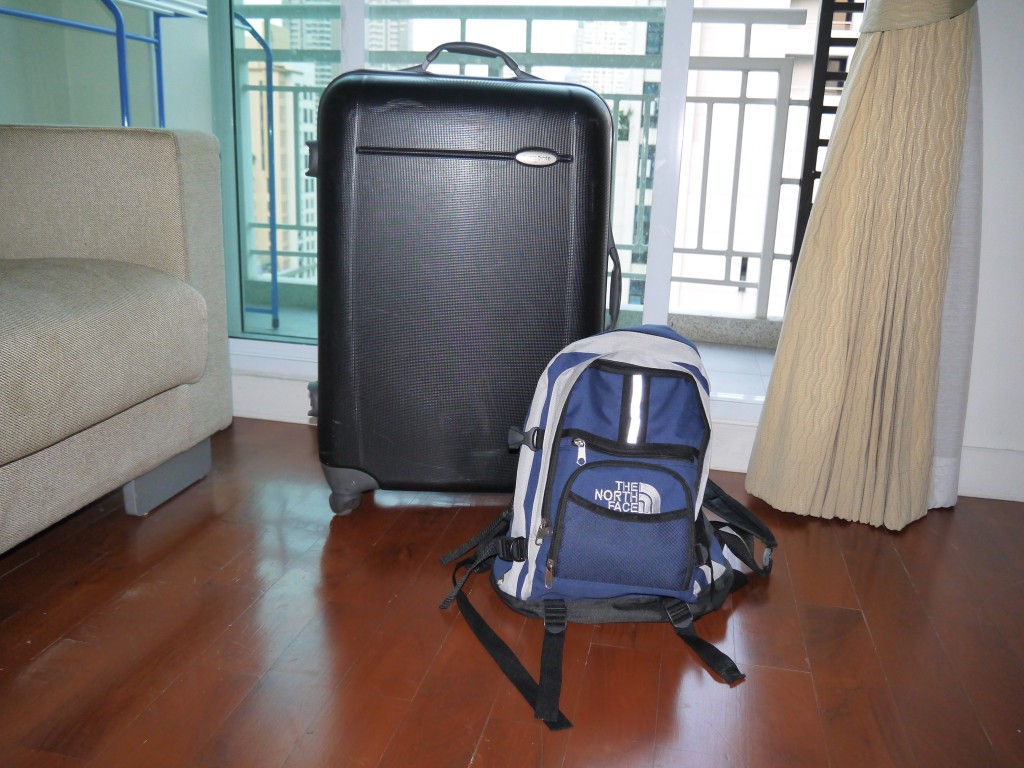 In the past we've both mainly been on vacations that involved flying to one or two destinations and then flying back again. And all the time there the suitcase has been in the hotel or apartment that we've stayed at. But now that we are going travelling full-time, should we take backpacks or suitcases? Both have pros and cons, so I decided to check out what other people think, and it's amazing how much debate there is around the subject.
The Case For Backpacks
One argument is favor of backpacks that I've seen quite often is that they are much cooler than suitcases, and that you just cannot go travelling with a suitcase, because you will be Mr or Ms Uncool. This view seems to be mostly put forward by the twenty-something crowd. Much as I would love to be in my 20s again, I'm not, so I think I can dismiss this argument.
Another popular reason for choosing a backpack is for people that are travelling off the beaten track. It's pretty much common sense that you wouldn't take a suitcase if you were going trekking on foot for a few days. A backpack wins hands down in these circumstances. If we go trekking, it is likely to be just for a day at most, so we can get by with a very small backpack for those occasions.
A third reason is that backpacks can take the knocks when being thrown around, and when traveling for an extended period they are likely to take a lot of knocks, especially when being loaded on and off planes. My current, fairly expensive, suitcase needed to be sent in for repair (under warranty) after being manhandled on a flight back from Croatia. I think the backpack wins this one.
A final reason is that it is much easier to getting things in and out of a backpack in a hurry, as there are many pockets to keep your odds and ends. With a suitcase you'd need to find a flat surface, open it up and then get it shut again, which can be a problem if you suitcase is tightly packed. Which is best depends on how often you need access to your possessions while on the move.
The Case For Suitcases
A major point in favor of suitcases is that they are very easy to maneuver if they have wheels, and it means that you don't have to carry 10-20kg on your back. This can be a large weight to carry around for many people, especially for smaller people and those that are a bit frail.
Second reason a suitcase is great is because it means you can also carry a small backpack with you for daytime use. This would be pretty much an impossibility if you traveled with a large backpack as well.
A third reason is that clothes and other items can be packed more neatly in a suitcase, and once you have the suitcase open, access to everything is very easy. With a backpack, many item will be at the bottom and will be mean unpacking everything to get at them. A definite win for the suitcase here.
The final reason is that suitcases are very easy to lock. Most have both a key and combination lock, so you can feel safe knowing that and opportunist thief can't easily steal anything. Rucksacks are difficult to keep safe unless you have small locks for each pock, which is a major hassle.
So, What Have We Decided To Take?
The clear winner is the trusty suitcase. Just because we have chosen to take suitcases doesn't mean they'll also be right for you. You need to choose whatever is most suitable for you. There are multiple reasons that we opted for taking our suitcases.
A Suitcase Is Easier to Pack And Unpack
We both think that a suitcase is easier to pack than a backpack. We don't want to have to dig to the bottom of a backpack every time we want the item that's at the bottom. This is a major reason for us.
A Suitcase Is Easier To Move Around
Our suitcases have four wheels so are super easy to move around. When I'm at airports I'm amazed at how many people seem to be struggling with their luggage while I effortlessly push my suitcase along.
We Won't Be Doing Much Trekking
We don't plan to do much trekking, and any we do will be limited to a day out at most. For this we will use our small day backpacks. If we were planning to do a lot of trekking we'd have had to choose a backpack.
It's Too Hot To Carry A Large Backpack
We will spend the first few months traveling in Asia, so it is likely to be very hot. In fact, far too hot to be carrying around a large backpack. With temperatures above 30C (86F), even walking without a bag can get uncomfortable, so why haul around an extra 10-15kg on your back?
A Large Backpack Is Too Heavy To Carry
For Miu, a large backpack is likely to be too heavy to carry, so it's just not an option.
We Are Taking Small Backpacks As Well
We are both taking small backpacks to carry our laptops, cameras and phones, and to also use during the daytime. We just can't see a way to easily carry both a large and small backpack at the same time.
Taking A Suitcase Is Cheaper Than Taking A Backpack
As we both already own suitcases it just seems a waste of money to buy new backpacks. We would rather save the money and spend it on traveling. We need to stick to a fairly tight budget, so spending extra upfront would mean we had less to spend while on the road. Also, we're currently in Thailand, and buying a good backpack here can cost twice as much as in North America or Europe.
What If We Made The Wrong Decision?
That's super easy to fix – we'll just get backpacks while we are traveling.
So that's our decision. What did you take, or do you plan to take, traveling and why?