We weren't in Prague for very long, so only ended up eating at two vegetarian restaurants, both of which were excellent. For a great lunchtime buffet, head to Loving Hut on Zborovska, but for somewhere more romantic we'd suggest the fantastic LoVeg vegan restaurant, which was just a few minutes' walk from the apartment we rented for our stay.
LoVeg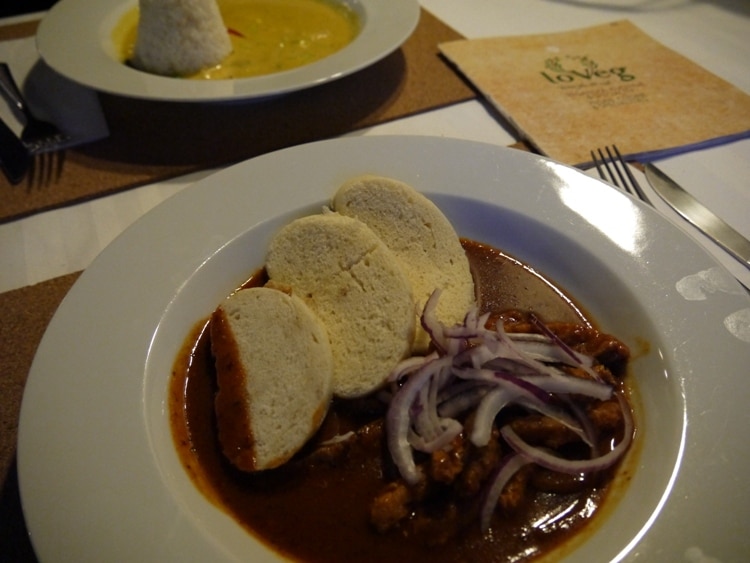 This is a great place to eat if you want a nice setting and good atmosphere. I especially liked the vegan Goulash & Dumplings here, which is a traditional Czech dish.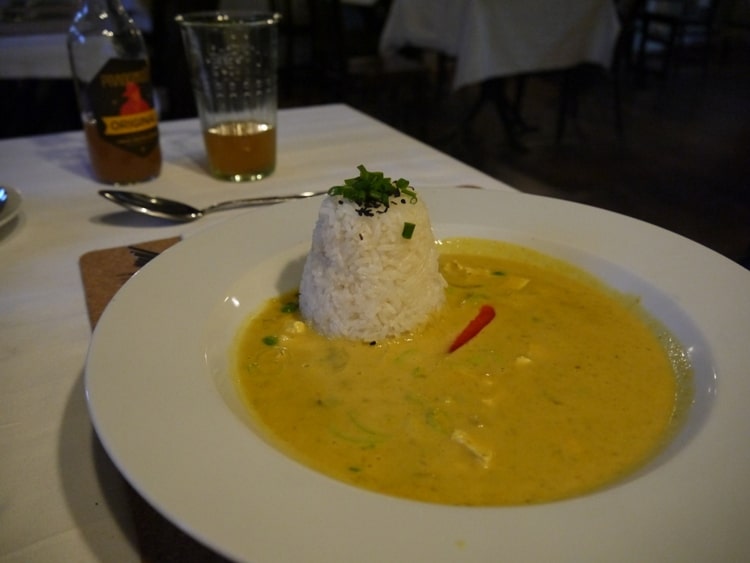 They even sold Thai Curry, which was a huge plus for Miu, although it wasn't spicy at all, so not quite like it would be in Thailand.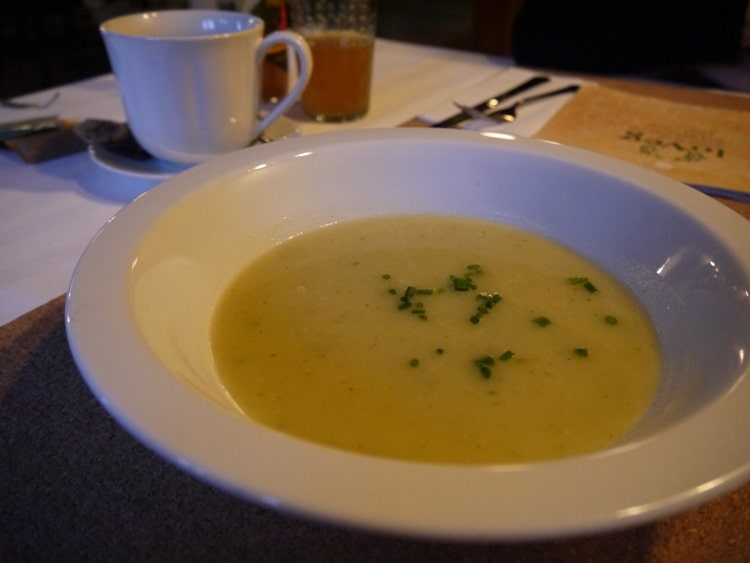 LoVeg always has a soup of the day, with the Zucchini Soup above being particularly delicious.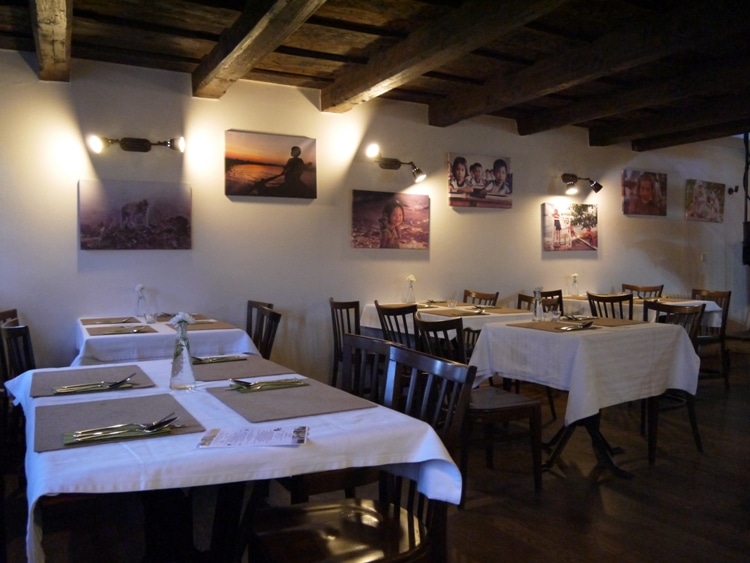 LoVeg is on the 2nd floor, so after entering at street level you need to walk up a mostly spiral staircase. The restaurant is in a beautiful room decorated with Asian images and artifacts.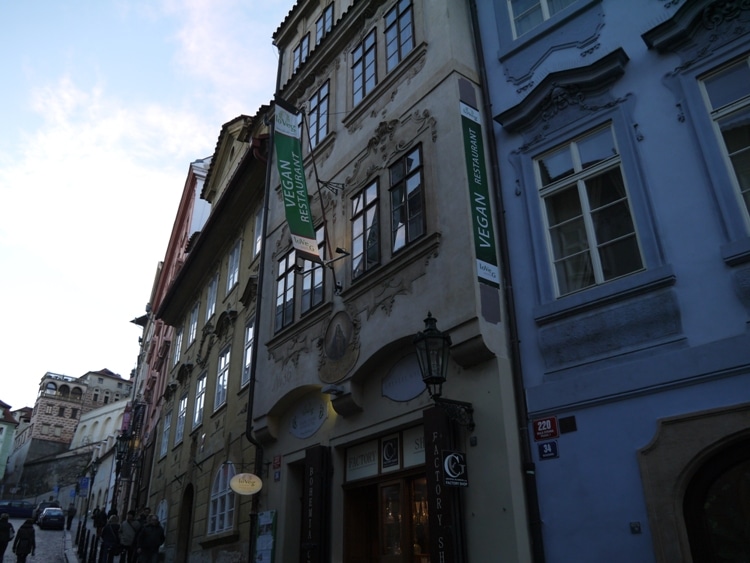 The restaurant is easy to find – just look out for the vegan banners hanging outside. You'll also see a menu at the entrance.
Two main meals, one soup, one coffee and an apple juice cost us CZK 515 ($21).
LoVeg Details
Address: Nerudova 36
Opening Hours: Sun-Sat 11:30-22:00
Website: loveg.cz
Loving Hut (Zborovska)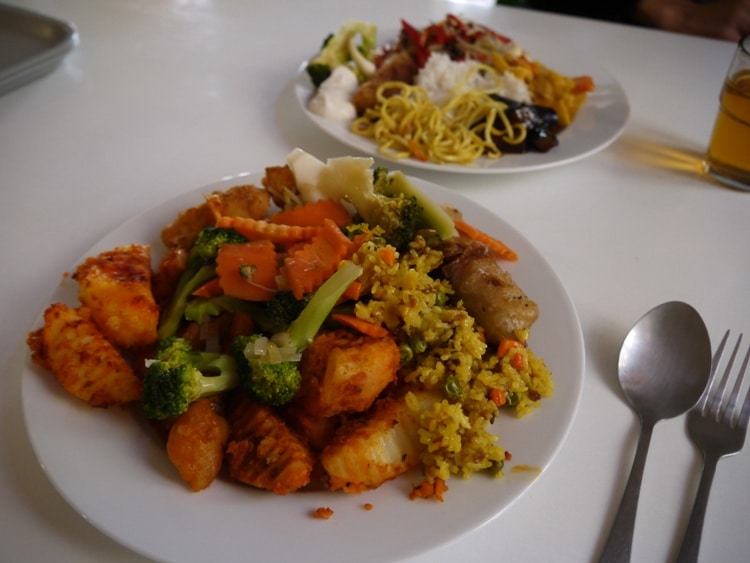 This was our favorite place to eat at lunchtime, as they have an awesome buffet that's priced at just CZK 22 per 100 grams ($0.90/100 grams).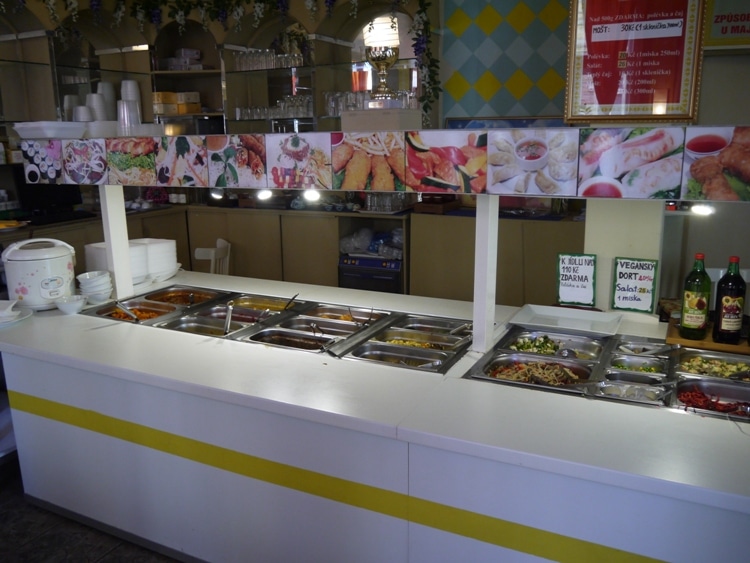 There were about 10 hot dishes and 8 cold dishes to choose from at the buffet. Just choose what you want and then your plate is weighed to determine the cost. If you prefer, you can choose food from the extensive menu. The menu is in both Czech and English, and there are also photos of the dishes.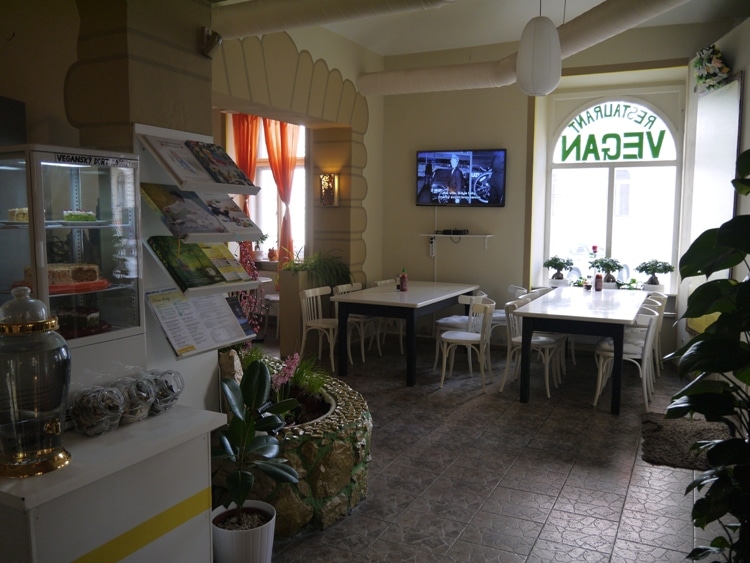 The restaurant is pretty spacious and has plenty of seating. It probably seats around 50 people and was quite busy with mainly local people when we ate there.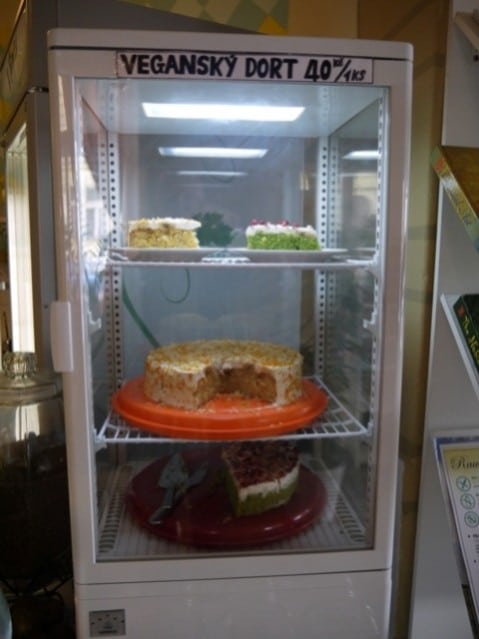 This Loving Hut also had vegan cakes, although we didn't try any of them.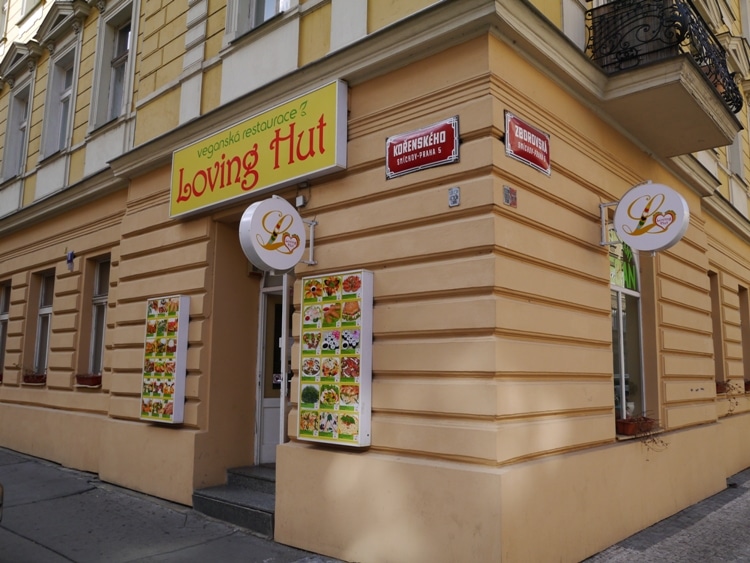 There are around 7 branches of Loving Hut in Prague, but this review refers to the one on Zborovska in Prague 5. This is about a 10-minute walk from Charles Bridge.
The two buffet meals in the image above cost us around CZK 280 ($11).
Loving Hut Details
Address: Zborovska 814/19, Prague 5 (Corner of Korenskeho)
Opening Hours: Mon-Fri 11:00-21:00; Sat 12:00-20:00; Sun Closed
Hotels In Prague
While in Prague we stayed at an Airbnb apartment a few minutes' walk from Charles Bridge. It was a great choice and we'd highly recommend it if you're looking for an apartment for your stay in Prague. But if you prefer to stay at a hotel, there are some superb hotels on offer at Agoda Prague.