There are many places in Bath that serve vegetarian and vegan meals, but there are only three fully vegetarian places, two of which we ate at. They were both excellent and we'd highly recommend eating at both of them if you're visiting Bath. The vegetarian breakfast at The Green Rocket Cafe was particularly memorable.
The Green Rocket Cafe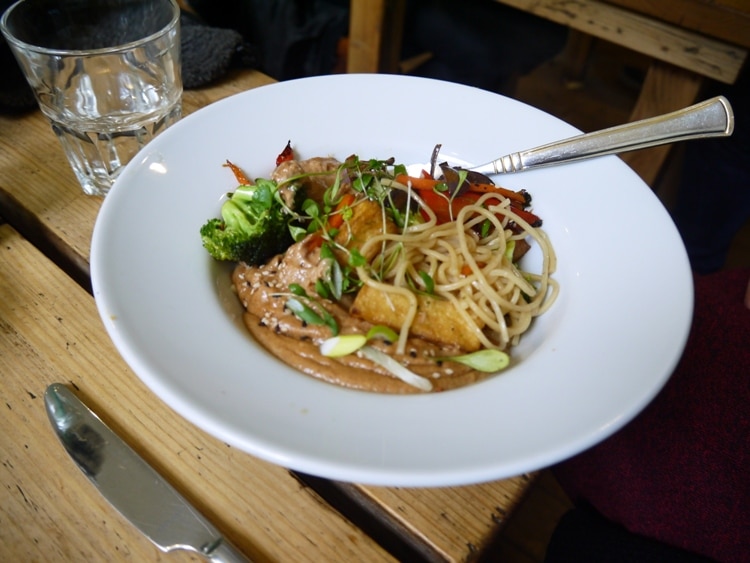 The Green Rocket Cafe was our favorite place to eat in Bath. It's an excellent vegetarian and vegan cafe that's very popular and usually pretty full. The Sesame Ramen Noodles in the photo above were delicious and cost was a very reasonable £8.50.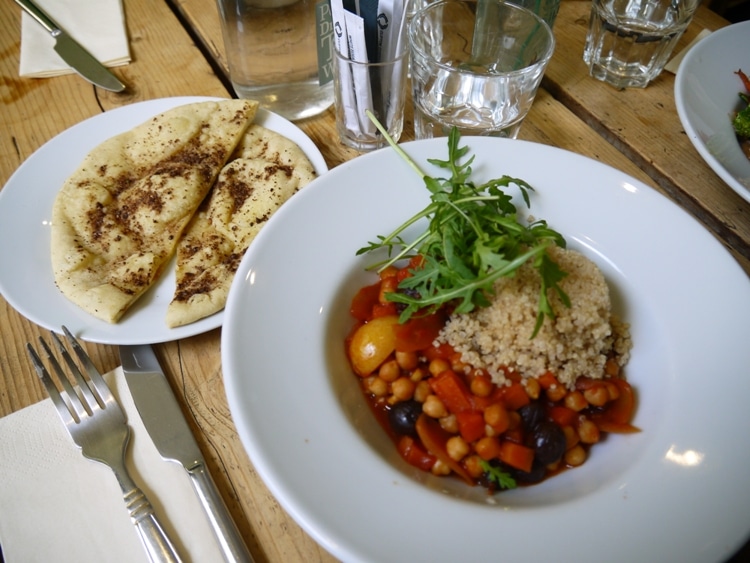 The delicious Chickpea Stew shown above was £7.25, with the flatbread costing an extra £1.50. The Green Rocket Cafe has separate menus for breakfast, lunch and dinner and is one of the few places where you can get a really good veggie breakfast.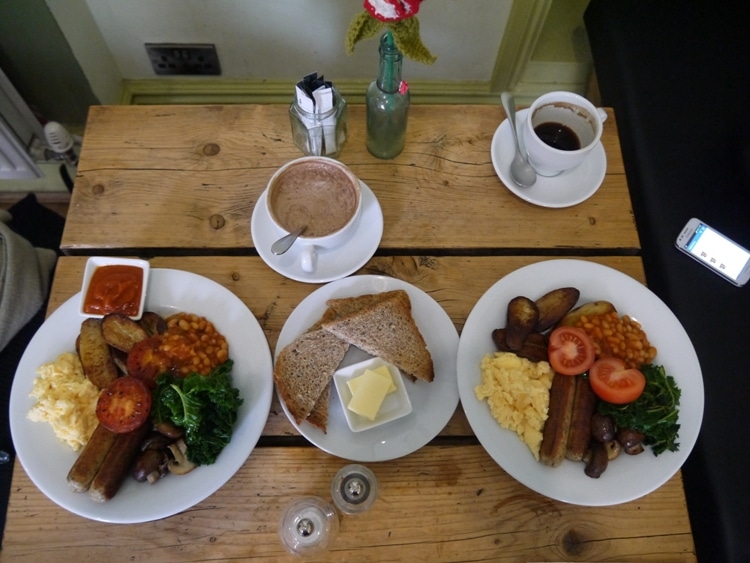 The Monster Veggie Brekky consists of two sausages, mushrooms, sauteed potatoes, tomatoes, greens, scrambled egg, toast and beans. There is also a vegan option of this available. It's costs £8.50. If you're less hungry you can choose any four with toast for £6.50.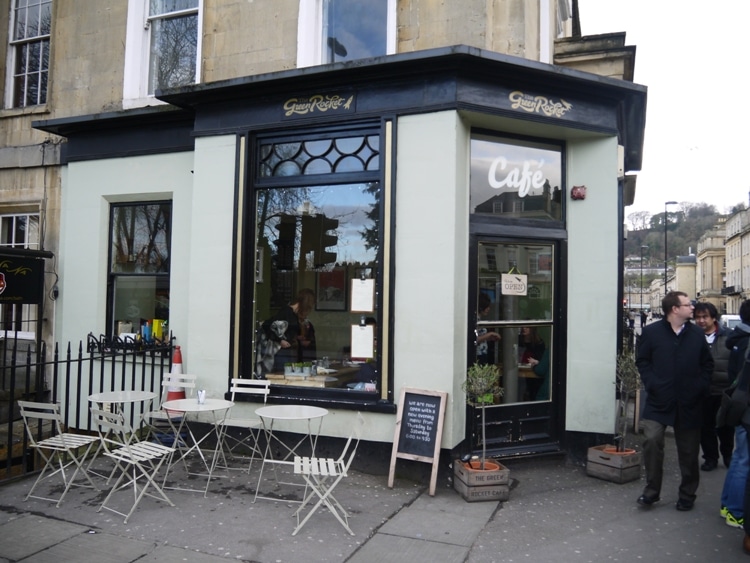 This is a great cafe and I'd highly recommend eating there if you're visiting Bath.
The Green Rocket Cafe Details
Address: 1 Pierrepont Street
Opening Hours: Mon-Sat 09:00-16:30; Sun 10:00-16:30; Thu, Fri, Sat: also open 18:00-21:30
Website: thegreenrocket.co.uk
Chapel Arts Cafe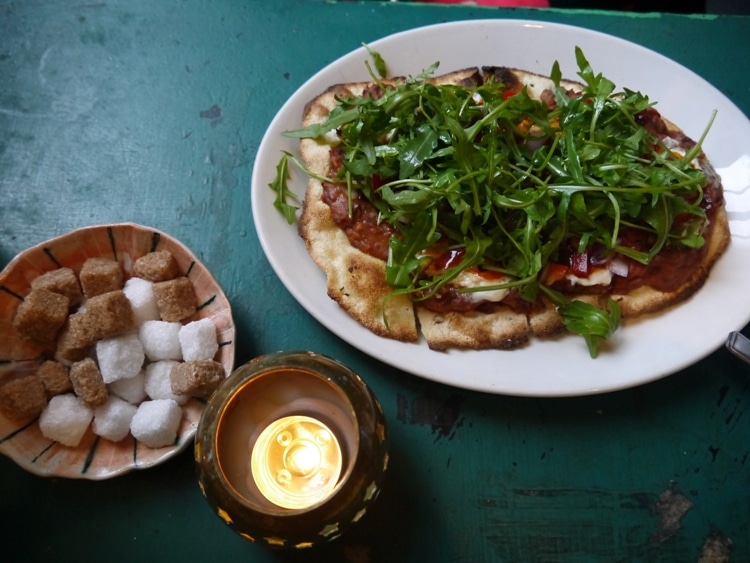 Another great place that we ate at in Bath was at the Chapel Arts Cafe. Their specialty is flatbreads, which we had a couple of times. You'll need to ask if you want them to be made vegan, as I think all/most use cheese. The Mexican Flatbread above has cheese, but the Moroccan Flatbread below is vegan.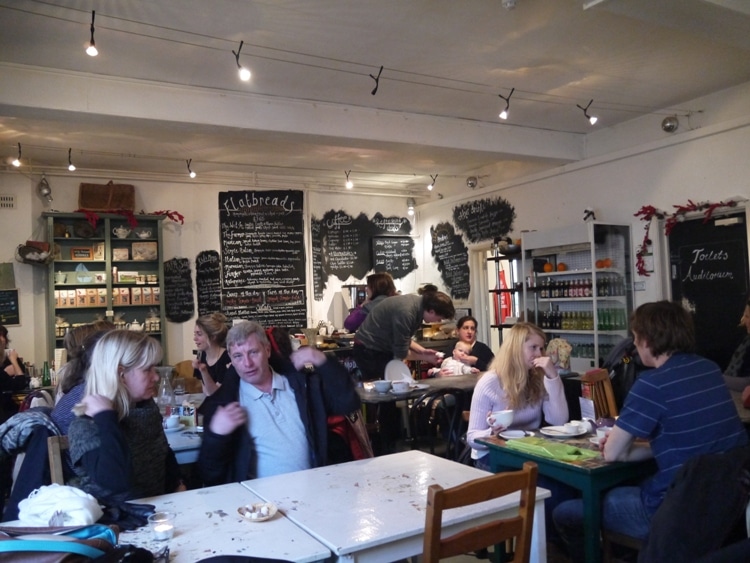 As well as flatbreads, they also sell a range of salads, soups, cakes, hot and cold drinks, beers and wines. As you can see in the photo above, it is very popular and gets very full. It has quite a laid-back vibe and is a relaxing place to hang out.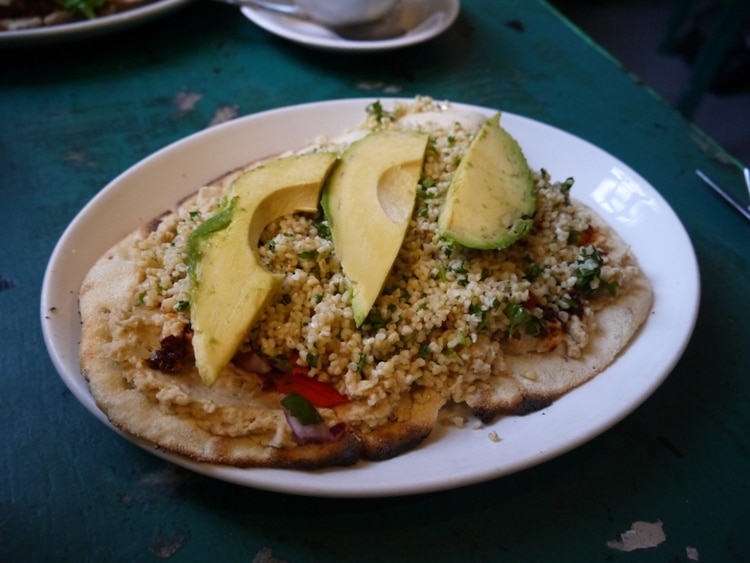 The cafe is part of Chapel Arts Centre, which is on Lower Borough Walls. Just walk to the bottom of Stall Street, turn right and you'll see Chapel Arts Centre on your left, set back slightly from the road. The cafe is downstairs to the left of the arts centre entrance.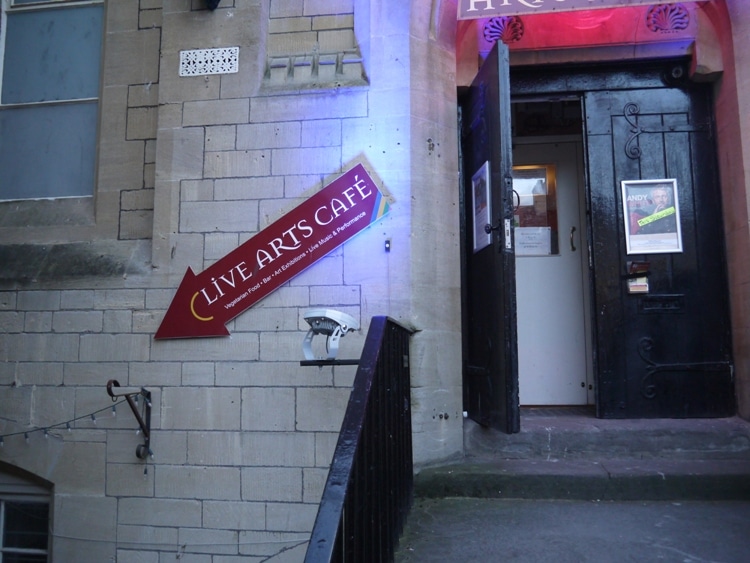 The two flatbreads shown above, plus two coffees came to £20.
Chapel Arts Cafe Details
Address: Chapel Arts Centre, St James's Memorial Hall, Lower Borough Walls (off Stall Street)
Opening Hours: Mon-Sat 09:00-17:30; Sun 10:00-16:00
Website: chapelarts.org/chapel_arts/cafe
Acorn Vegetarian Kitchen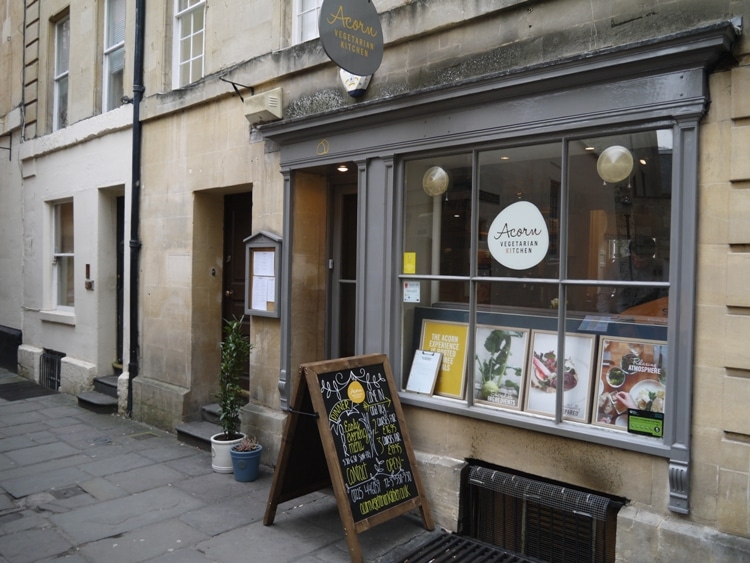 We didn't get a chance to eat here but the food looked really good. This restaurant is in the Good Food Guide 2015 and has won Viva's Best Vegetarian & Vegan Restaurant award.
Acorn Vegetarian Kitchen Details
Address: 2 North Parade Passage (next to Bath Abbey)
Opening Hours: Mon-Fri 12:00-15:00 & 17:30-21:30; Sat 12:00-15:30 & 17:30-22:00
Website: acornvegetariankitchen.co.uk
Hotels In Bath
While in Bath we split our time between the excellent Queensberry Hotel and the budget Travelodge on George Street. For other hotels in Bath, check out Agoda Bath.