There are quite a few vegetarian restaurants in George Town, as well as some places you can get vegetarian street food. Here are the places we ate at.
EE Beng Vegan Buffet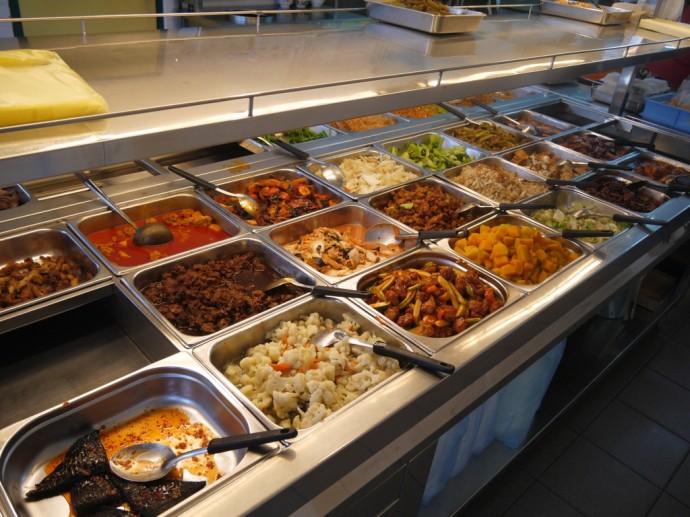 EE Beng is an extremely popular vegetarian and vegan buffet. There is a choice of around 20-30 hot dishes, brown and white rice, a separate section for Chinese buns, and a cook-to-order-section with a separate menu. Go here for breakfast, and you'll see droves of people stopping by to buy take-away for work. Gets very packed at lunch time as well, and is generally busy all day.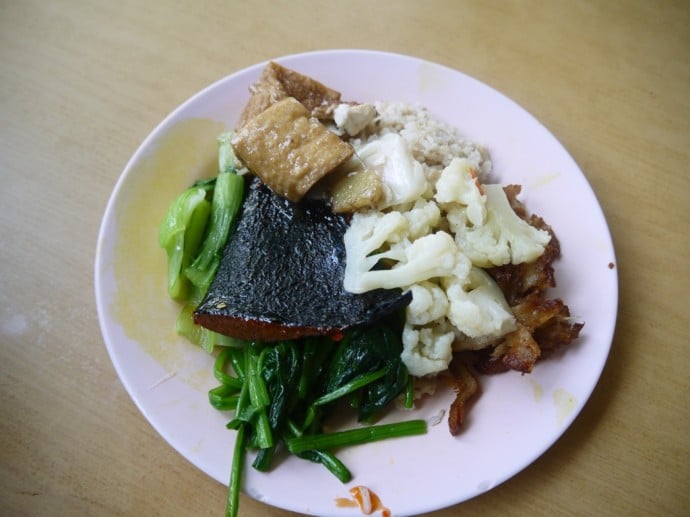 All food at the buffet is vegan. They also sell a range of hot and cold drinks. For example, iced Chinese tea costs 0.50 RM ($0.15) and hot Chinese tea costs 1 RM ($.30).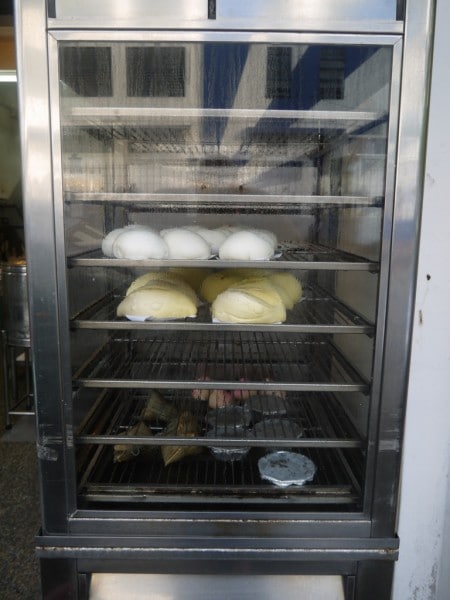 These Chinese buns cost 1.20 RM ($0.40) each. The buffet pricing is by item, and can seem a little complicated. But just pick what you want and take it to the cashier. She adds everything up and tells you the price. We usually pay 7-8 RM per plate, which is very reasonable.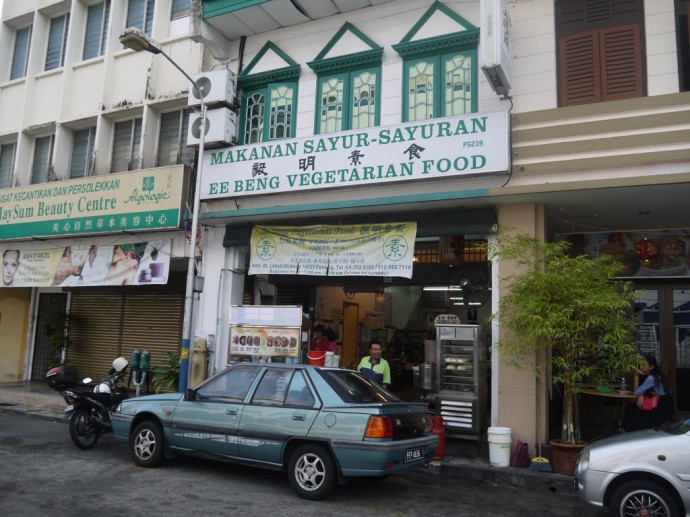 We love this place and eat here almost very day. After around 6 pm the choice of food is a little less and seems to be a bit cheaper. I think maybe they reduce the price to clear the food.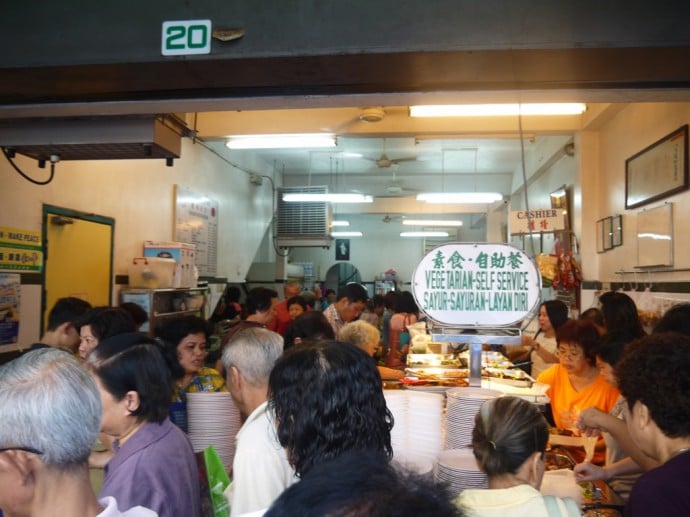 The same owners also have a vegetarian restaurant next door.
Address: 20 Lebuh Dickens, George Town, Penang
Opening Hours: 07:00-20:30 Mon-Sat, Closed Sun
EE Beng Vegetarian Restaurant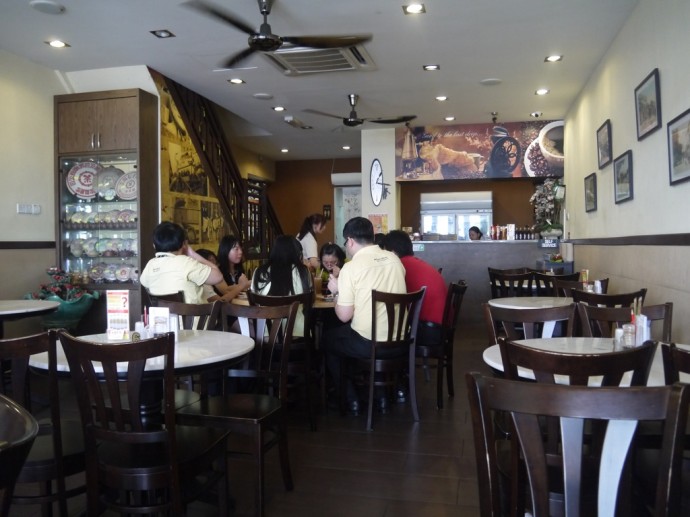 This has the same owner as the vegan buffet next door, but is an a la carte vegetarian restaurant, so a bit more expensive. Most of the dishes are vegan, but they also have a Cheesy food section. For me, the best thing about this restaurant is that they serve puer tea. You don't see this tea being sold in many places, so it's a real treat for me.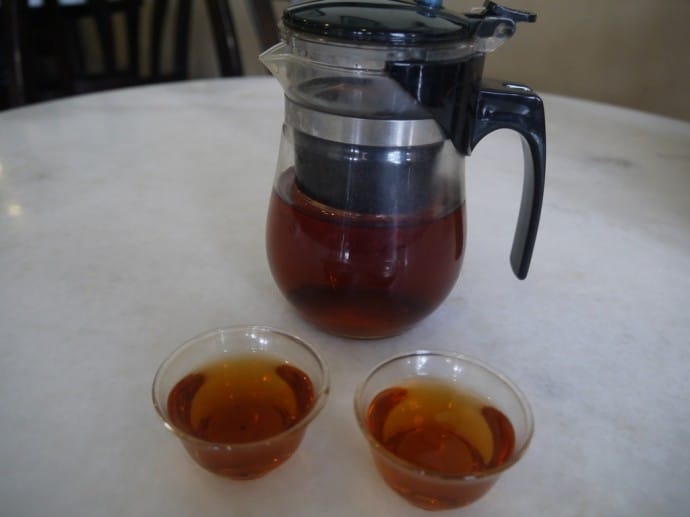 A pot of puer tea costs 8.90 RM ($2.80), so is very reasonably priced.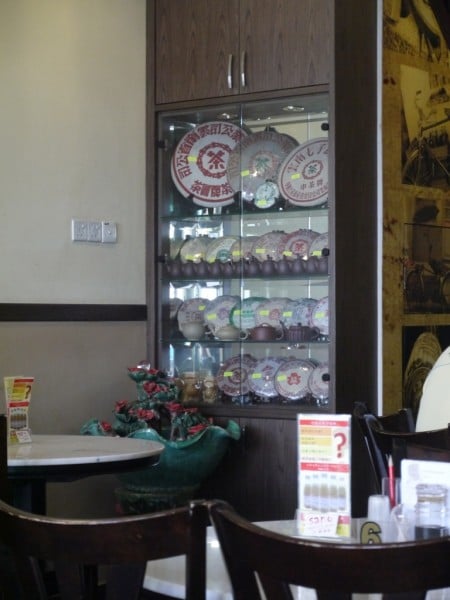 You can also buy blocks of puer tea, Prices range from 200 RM to 1,500 RM ($65 to $470).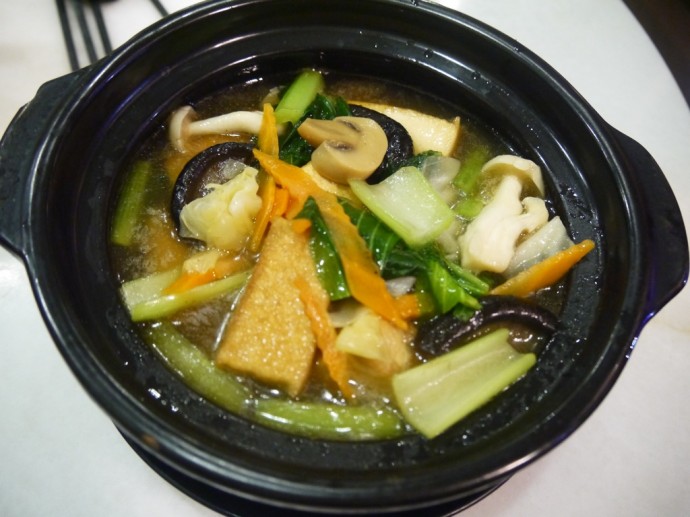 They even sell fake fish and chips here!
Address: 18 Lebuh Dickens, George Town, Penang
Opening Hours: 11:00-14:30 & 17:00-22:00 Mon-Wed & Fri, 11:00-22:00 Sat-Sun & Public Holidays, Closed Thu
Sushi Kitchen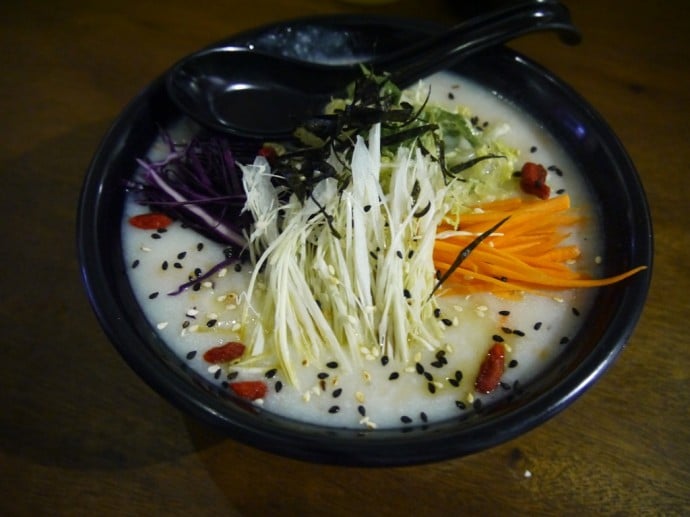 This is the first vegan sushi restaurant that I've ever visited, and it was well worth it. They have an extensive menu that includes sushi, noodles, porridge, drinks, and other dishes. I had the Radiant Light Porridge, and was very happy with my choice. It's the best porridge I've ever tasted, and was quite filling.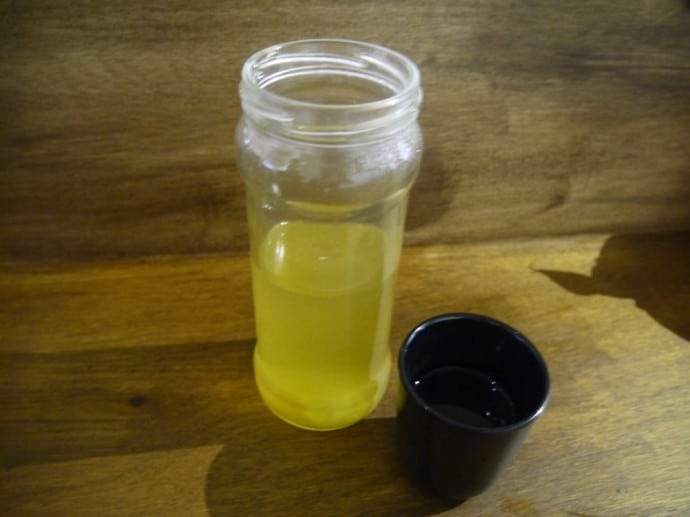 I also had Japanese Green Tea, which was served in a jar. Very unusual.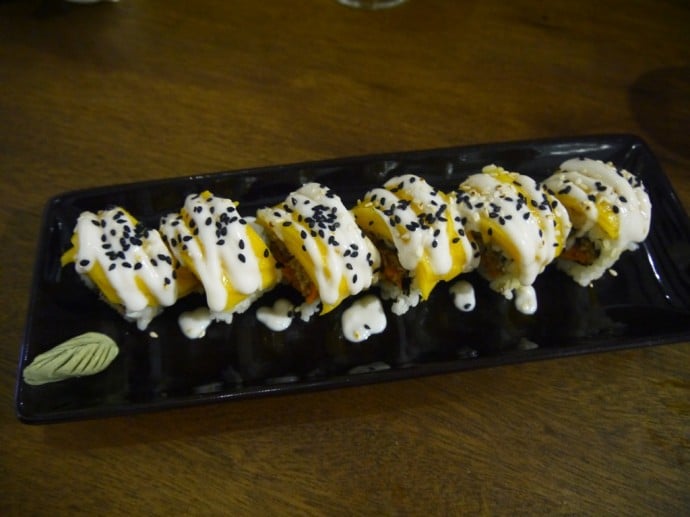 Miu had the Golden Age inside-out sushi rolls, and they turned out to be another excellent choice.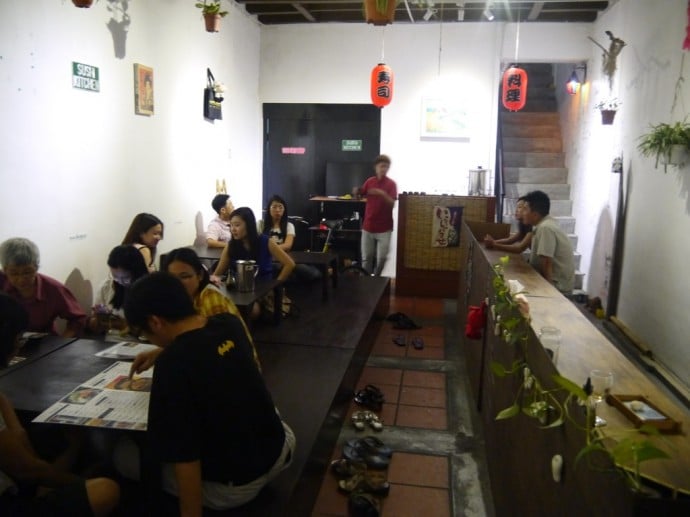 The restaurant was very busy when we were there, which isn't surprising given the quality of the food.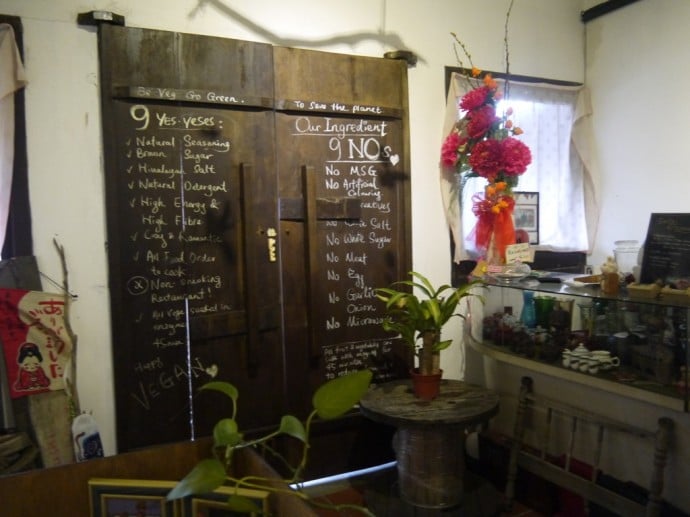 They have a list on the door of what ingredients they use and what they don't.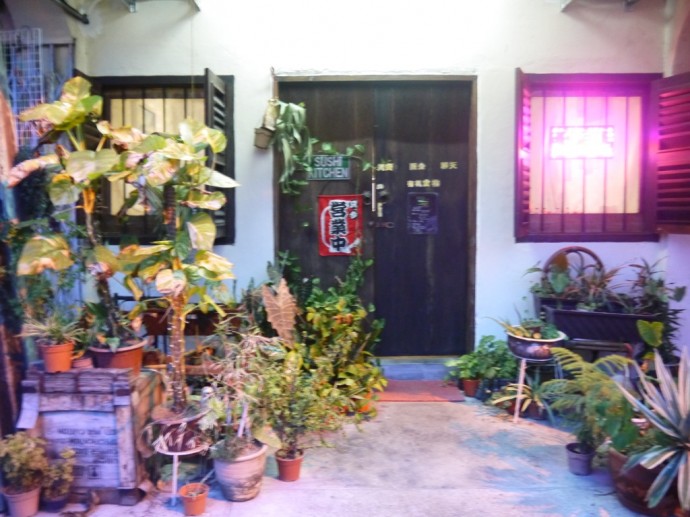 We'll definitely be going back here before we leave Penang.
Address: 12 Gat Lebuh Acheh, George Town, Penang
Opening Hours: 11:30-21:30 Tue-Fri, 11:30-14:30 & 18:00-22:00 Sat-Sun, Closed Mon
Lebuh Kimberley Soya Milk Stall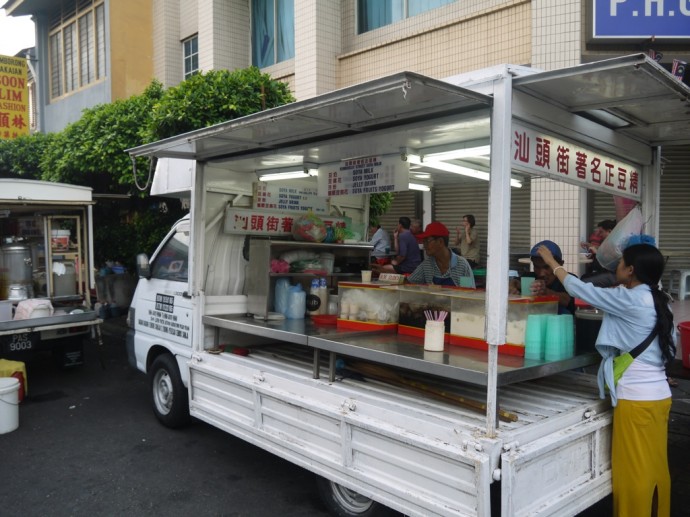 This soya milk stall is parked almost outside New Asia Heritage Hotel every evening. It sells fresh soya milk, soya jelly and soya yogurt. I was a little surprised when I first ordered the yogurt because I was expecting it to be cold. But it was hot, and more like warmed up soft tofu. It was very tasty though. There are lots of food stalls in this section of the street every evening, and it's very popular.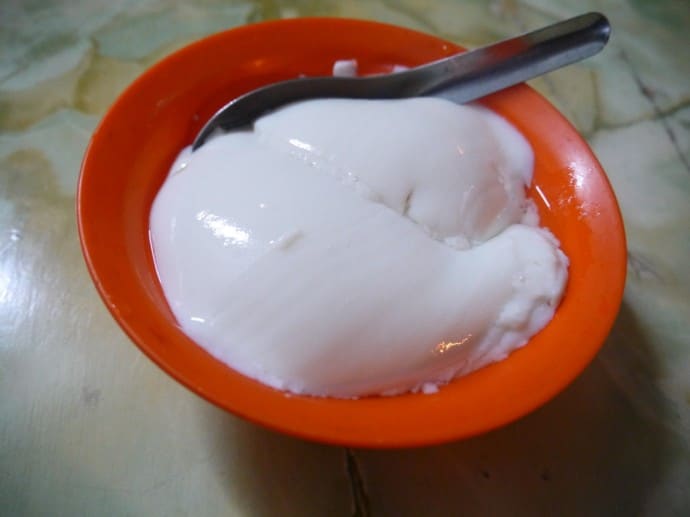 Address: Lebuh Kimberley – near junction with Jalan Sungai Ujong
Opening Hours: every evening
Lebuh Kimberley Char Mee Hoon Stall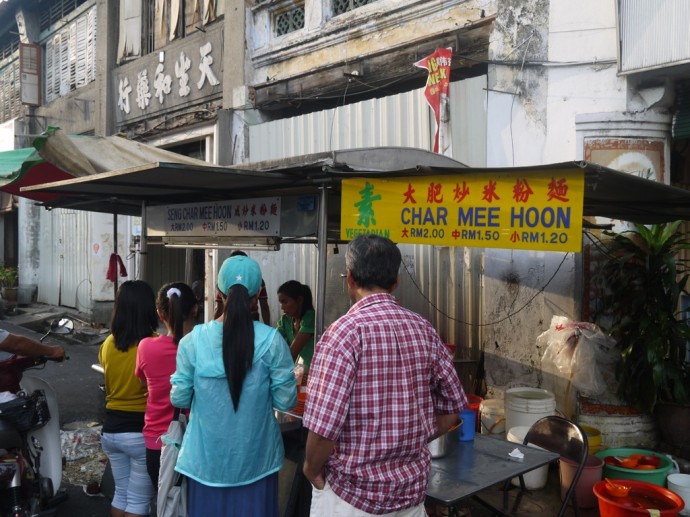 The stall sells both meat and vegetarian versions of the popular Char Mee Hoon. Costs 2 RM (large), 1.50 RM (medium, 1 RM (small). That's $0.65, $0.50, $0.30). Incredibly cheap.
Address: Lebuh Kimberley – near junction with Jalan Sungai Ujong
Opening Hours: every evening
Jalan Penang Corn, Chickpea & Peanut Stall
If you're feeling a little peckish, you can get some corn, chickpeas and peanuts from this stall. A bag of chickpeas costs 2 RM ($0.65) and corn costs 1.90 RM ($0.55).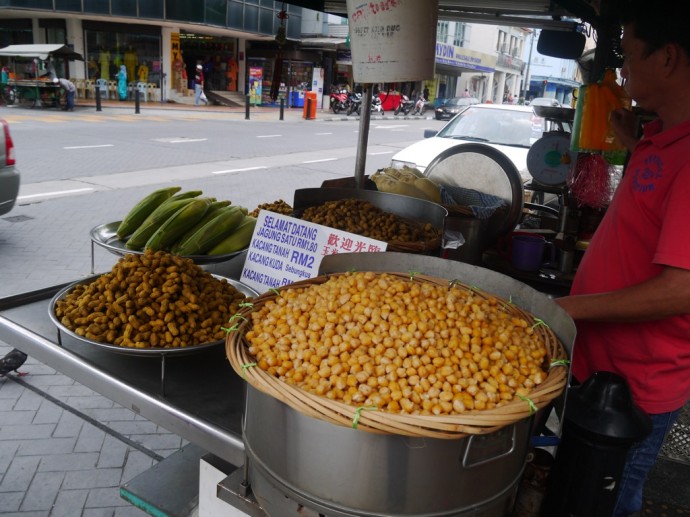 Address: Jalan Penang – near junction with Jalan Chowrasta
Opening Hours: Stall is usually here when we walk passed, but no idea of operating hours
Hotels In George Town, Penang
For our time in George Town we stayed at the New Asia Heritage Hotel.
Click here to book the New Asia Heritage Hotel via Agoda.