We ate well in Nice, as there is one vegan restaurant there, one vegetarian restaurant, and numerous other restaurants that have good vegan and vegetarian options on the menu. Our favorite was Le Speakeasy, but the other places that we ate at were all pretty good. Nice has a very wide choice of restaurants, so finding vegetarian and vegan food there is quite easy.
Le Speakeasy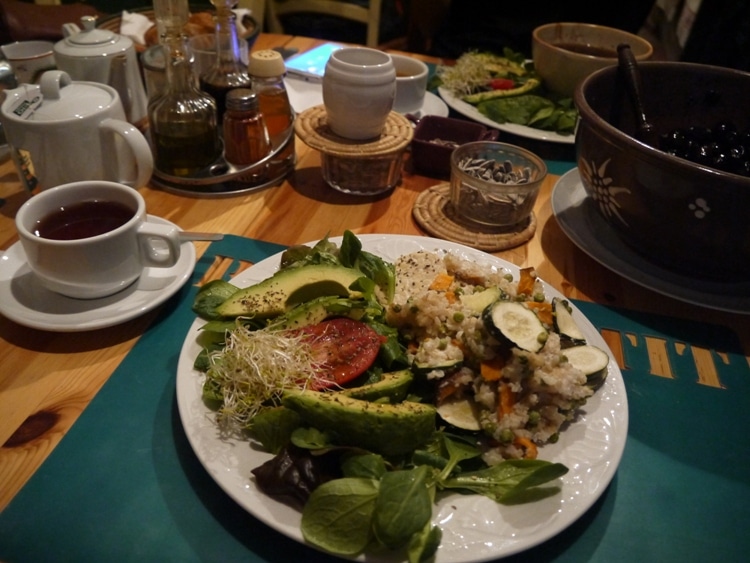 We ate at Le Speakeasy a few times and the food was always delicious. The above dish is from our first night. It was brown rice and veggies, tempeh and salad. This cost EUR 10.80, which is very reasonable for Nice.
Starters were priced at EUR 4, with a choice of Carrot Juice, Miso Soup or Vegetable Pate.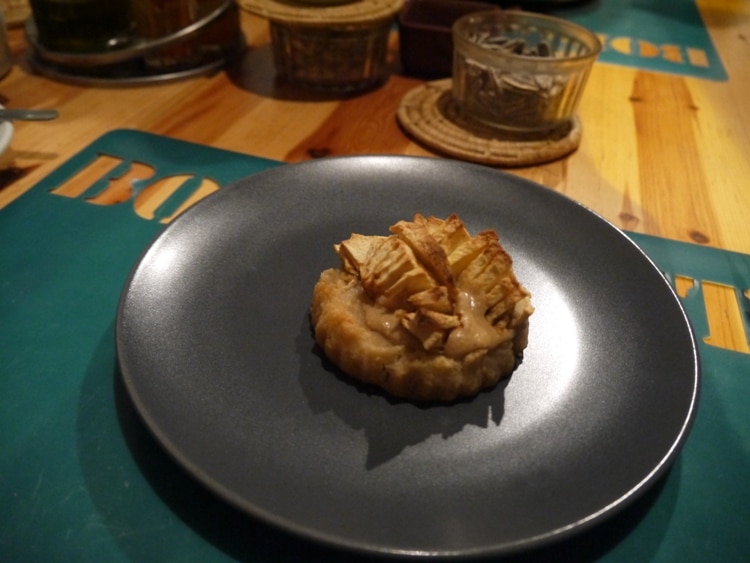 There were a few choices of dessert including Fruit Tarts. You can see the Apple Tart above. This was small but delicious. It cost EUR 4.50.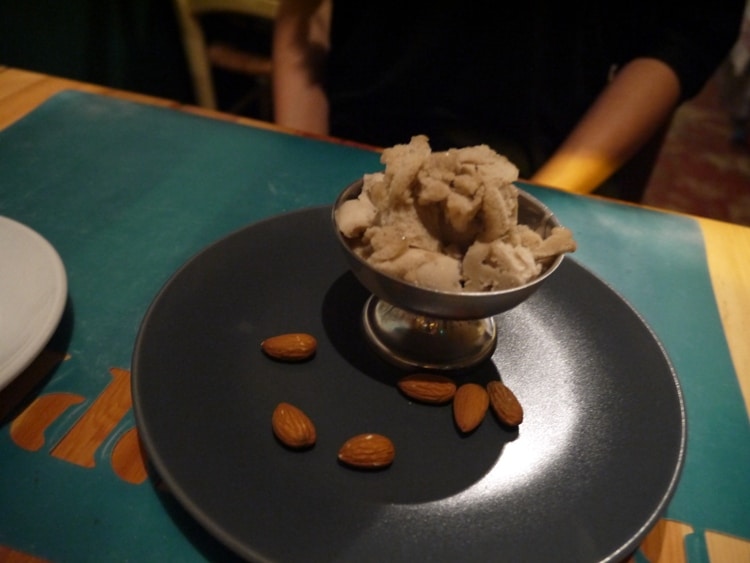 The Banana Ice Cream shown above seemed to be made from frozen bananas, so wasn't too sweet. It was served with a few almonds. Cost was EUR 3.50.
A Fig & Date Compote was also available for dessert.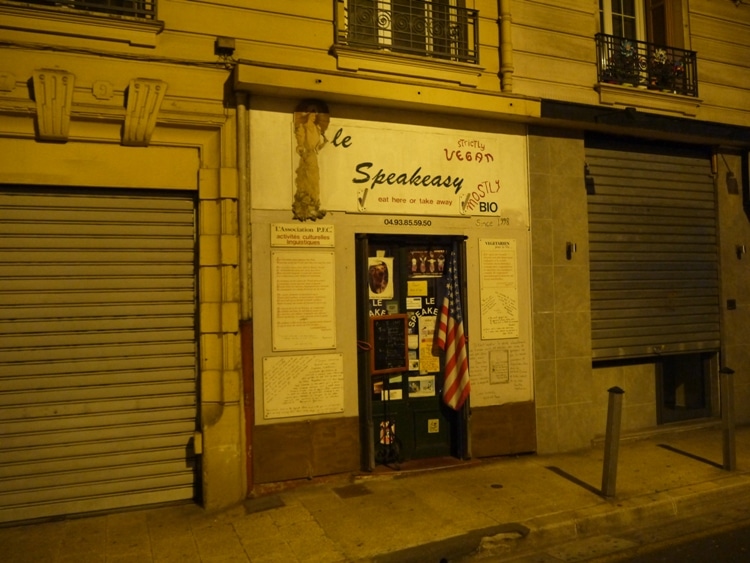 Le Speakeasy is a small restaurant with just three tables, so can seat a maximum of 12 people. The opening hours are limited to lunchtime and early evening. The restaurant is run by an American woman who seems to do everything on her own and has been running this business for around 16 years.
Tea, coffee, juice, wine and organic beer is also available.
Le Speakeasy Details
Address: 7 Rue la Martine (behind Nice Etoile shopping mall)
Opening Hours: Mon-Sat 12:00-14:15 & 19:00-20:30; Sun Closed
Argane Bio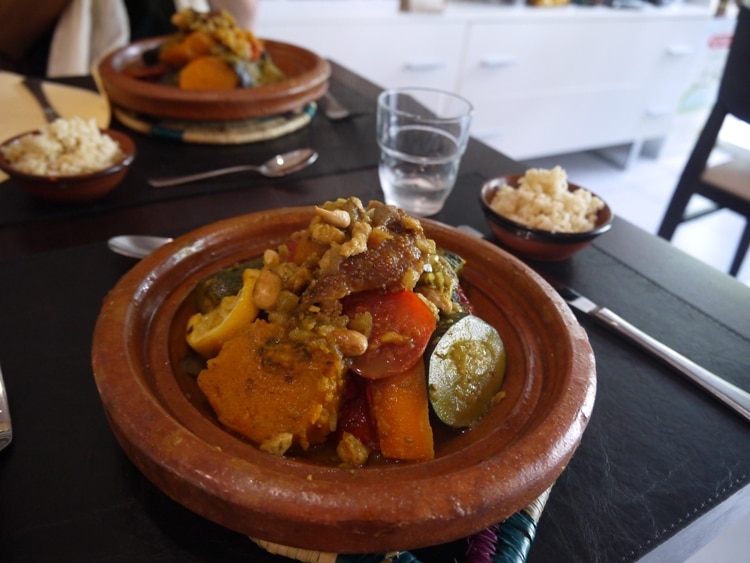 Argane Bio is a health store that also has a restaurant area that serves food from lunchtime onwards. The only vegan dish available when we ate there was the Moroccan Tagine, which was really good. It cost EUR 13.50, which isn't too bad for Nice.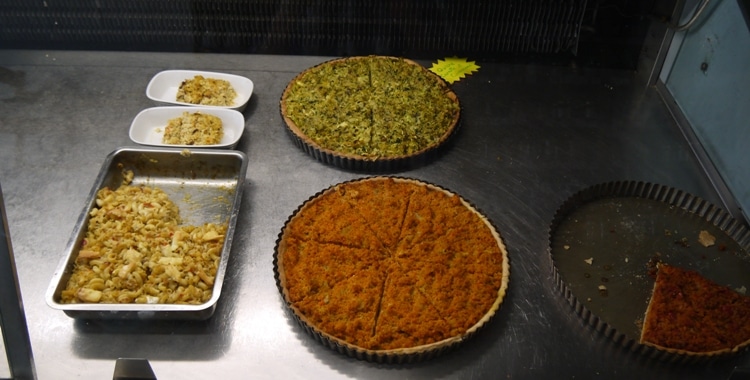 Most of the vegetarian food on displayed consisted of dishes that seemed like different types of quiches. These were served with a side salad.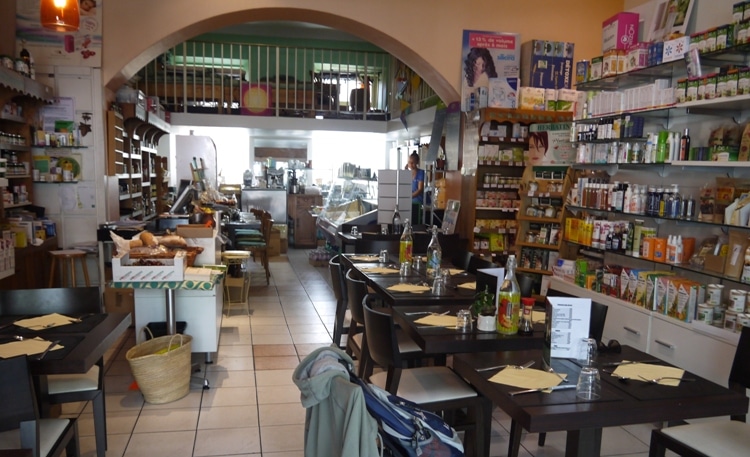 The seating area at Argane Bio is quite large, with seating for around 20-24 people. This is mostly a lunchtime place, but the owner said it might be possible to get food as late as 18:00, but he seemed a bit vague about the actual time they stopped serving food. So it's probably better to get there earlier rather than later.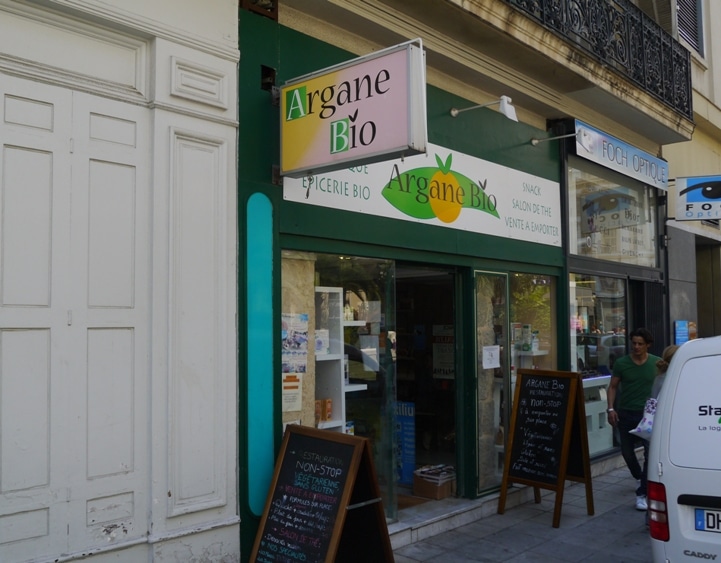 The staff here spoke a little English and were very helpful. The store is open earlier and closes later than the restaurant.
Argane Bio Details
Address: 35 Avenue Marechal Foch
Store Opening Hours: Mon-Fri 09:00-19:30; Sat 12:00-19:30; Sun Closed
Restaurant Opening Hours: Mon-Sat 12:00-18:00 (might close earlier sometimes); Sun Closed
Website: arganebio.cdiet.net
Alounak (Non-Vegetarian)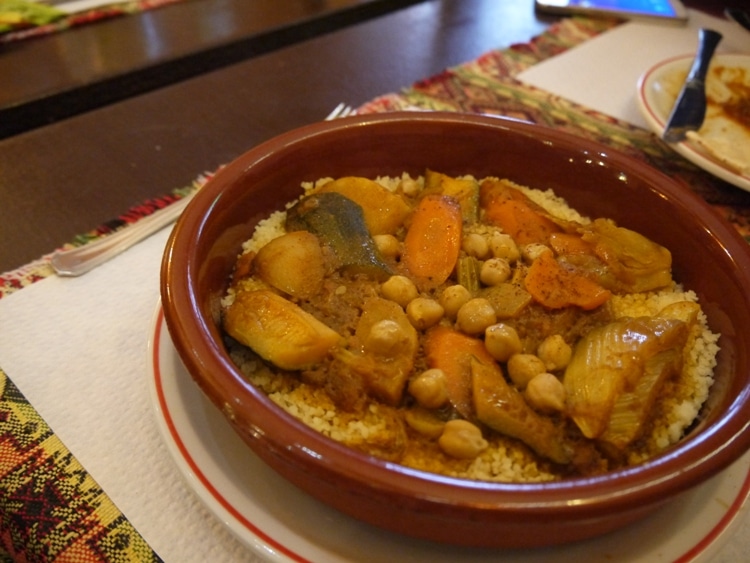 We ate here once during our stay in Nice and thought the food was quite good and also reasonably priced. This restaurant also serves meat, but if has a very good selection of vegan food that is clearly marked on the menu. It gets good reviews, so is worth a visit.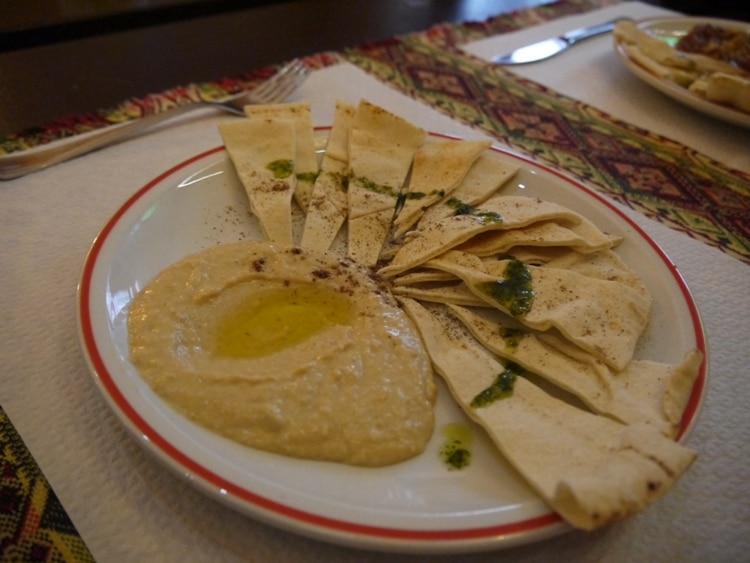 There are four vegan starters to choose from, three soups, three main dishes and two desserts. We had the Cous Cous with Vegetables as our main meal, and Hummus and Aubergine Dip for our starters.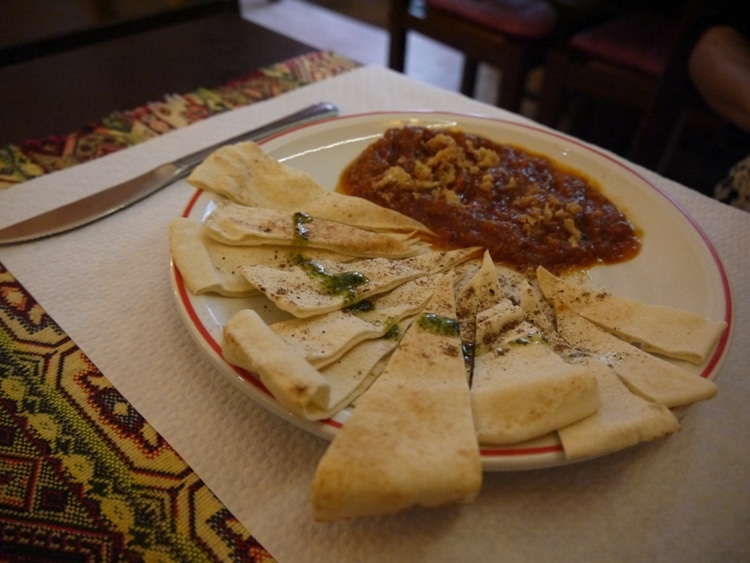 Both the main meals and starters were very good, and we'd definitely eat there again.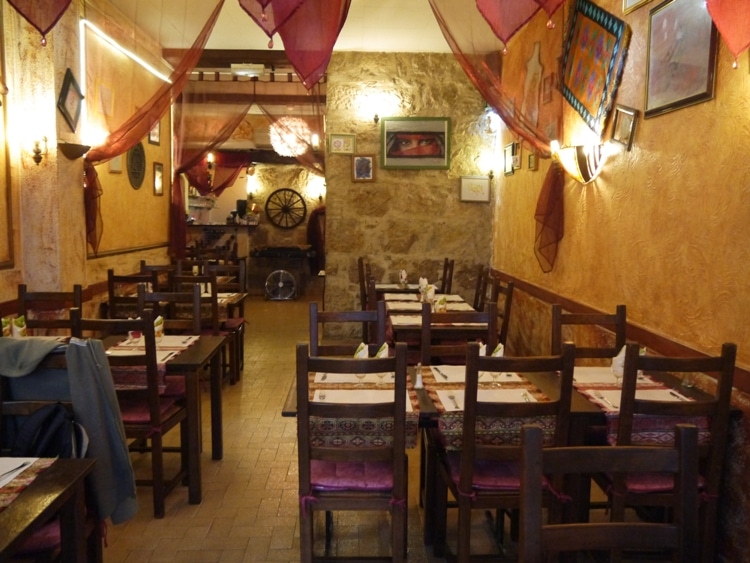 The restaurant is nicely decorated in a Moroccan style. The owner is also the chef, and is a very friendly and helpful guy that speaks excellent English.
Alounak Details
Address: 3 Rue d'Alsace Lorraine (just off Avenue Jean Medecin, not far from the train station)
Opening Hours: Mon-Sat 12:00-14:30 & 19:00-22:30; Sun 19:00-22:30
L'Olivier Lebanese Restaurant (Non-Vegetarian)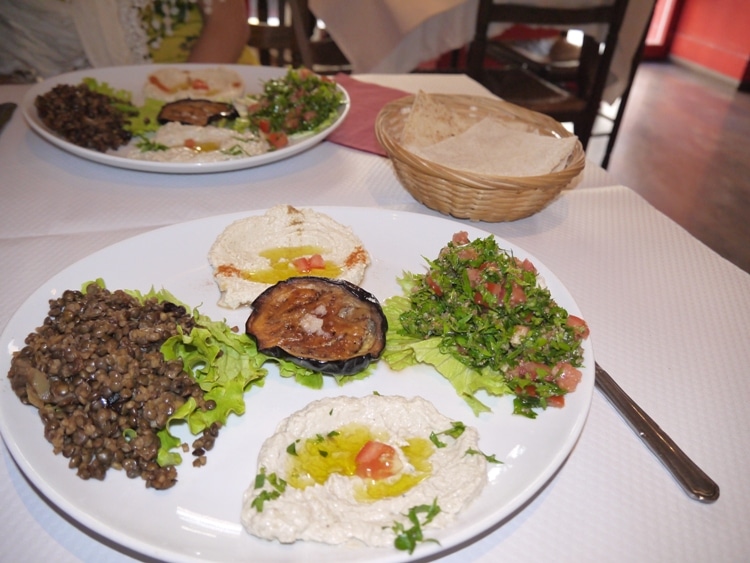 I love veggie Lebanese food, so was lucky that this restaurant was directly opposite our hotel. The food there was really good, and we ate there a couple of times. It's also very reasonably priced for Nice, with the above Mezze costing EUR 10. Only 100 meters from the tramway.
Alounak Details
Address: 13 Rue Biscarra (opposite Hotel Star)
Opening Hours: Mon-Sat Lunch & Dinner; Sun Closed
Where To Stay In Nice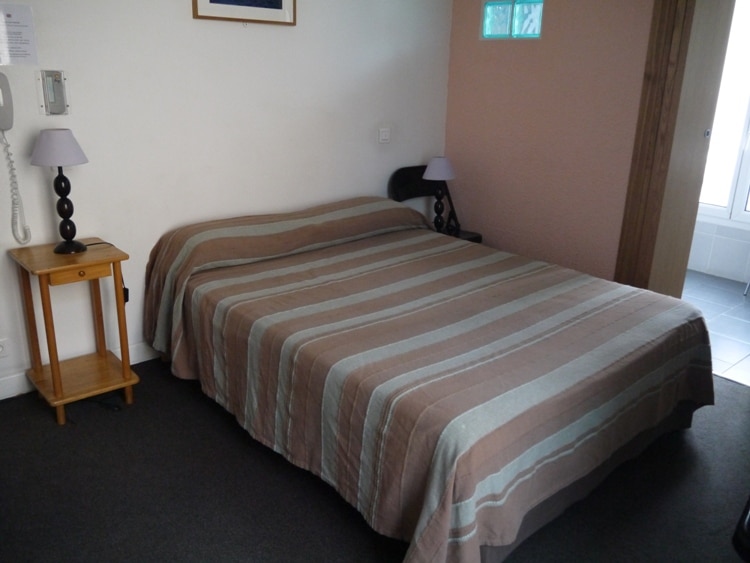 For our first few nights in Nice we stayed at Hotel Star, which is a located in the city center and only around 800 meters from the train station. The room was newly renovated and we had nice views from both the bedroom and bathroom windows. For other great hotels in Nice, check out Agoda Nice.