As far as I'm aware there is one vegan cafe and two vegetarian restaurants in Seville, although there are a few other veggie-friendly places where you can get good veggie food. Here's where we ate while we were there.
Gaia Bar Ecologico (Vegetarian)
Gaia has a fairly varied menu that includes vegan, vegetarian and gluten-free dishes, and all of these are clearly marked on the menu. The food is also 100% organic.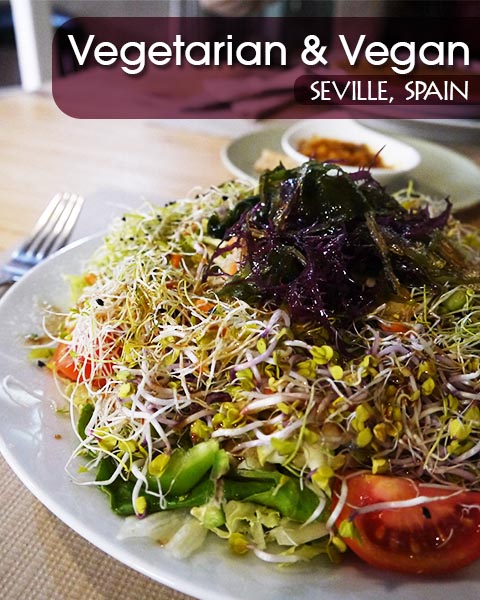 The above dish of Green Salad with Seaweed & Germinated Seeds cost EUR 12.50. Other menu items include soups, hummus, croquettes, burgers, salads, plus egg and cheese dishes.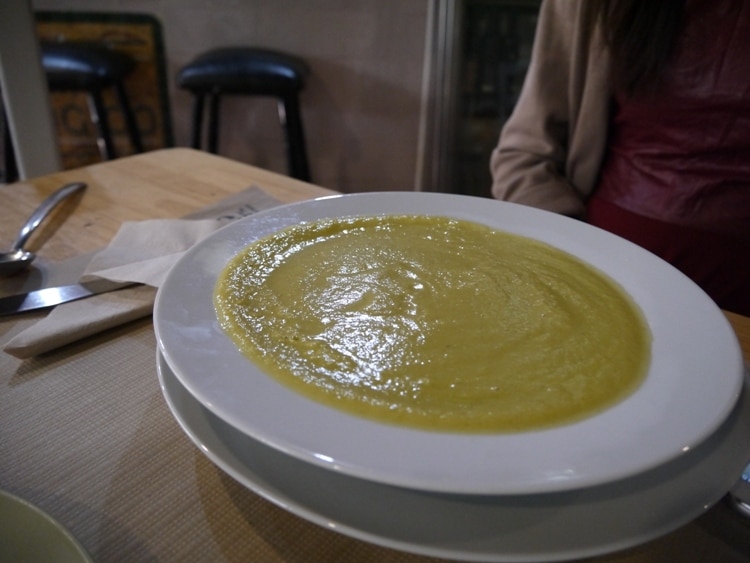 The Seasonal Vegetable Soup shown above cost EUR 4.95, but we weren't sure what it was made from. The waitress didn't speak any English at all, so we just relied on the English menu to make our choices.
We were given a basket of bread with our meal and also a small dip that tasted like Indian Dal. There is plenty of seating, but when we went most tables had a reserved sign on them, so it might be better to make a reservation if you can.
Gaia Bar Ecologico Details
Address: Luis de Vargas 4 (off Marques de Paradas)
Opening Hours: Mon-Thu 13:00-16:00 & 20:00-23:00; Fri-Sat 13:00-23:30; Sun 13:00-16:00
Veganitessen (Vegan)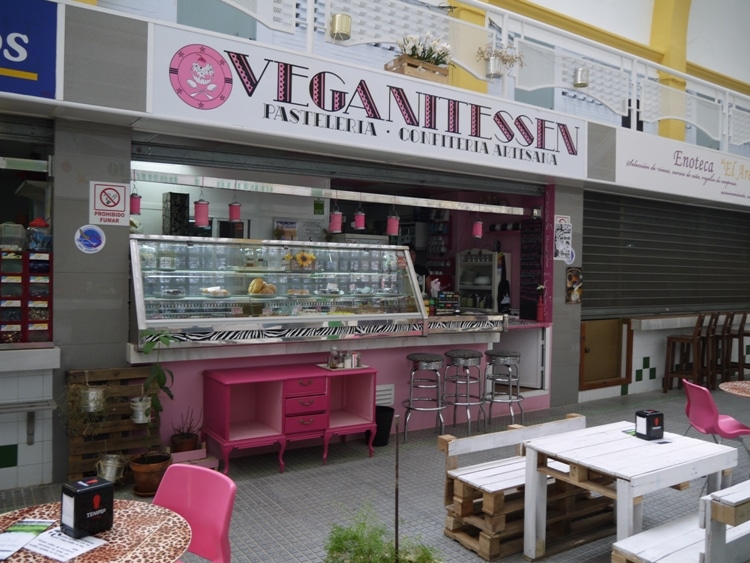 This place was closed most of the time that we were in Seville, so we only ate here once. We'd read a review that said they sold vegan tapas, but that doesn't seem to be the case any longer. All they had was a selection of sandwiches, cakes and pastries. This place is ok for a quick snack, but it's not really a lunch or dinner place.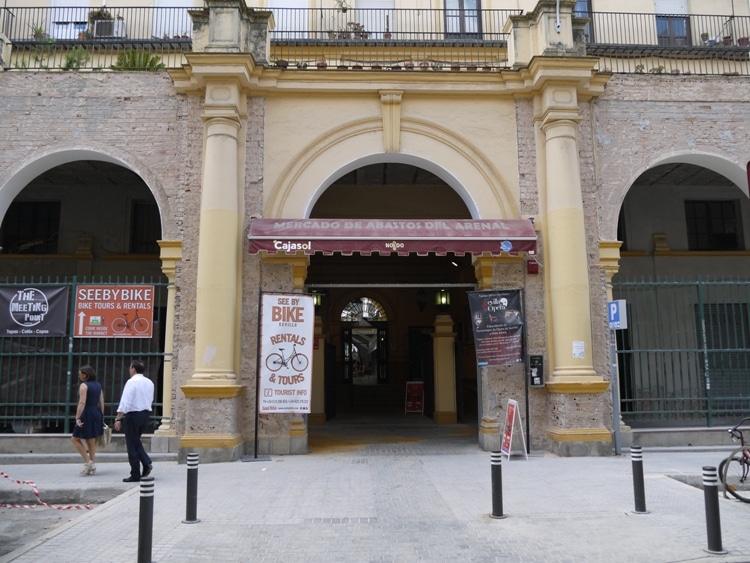 Walk into the market using the entrance shown above, and Veganitessen will be straight ahead on the left.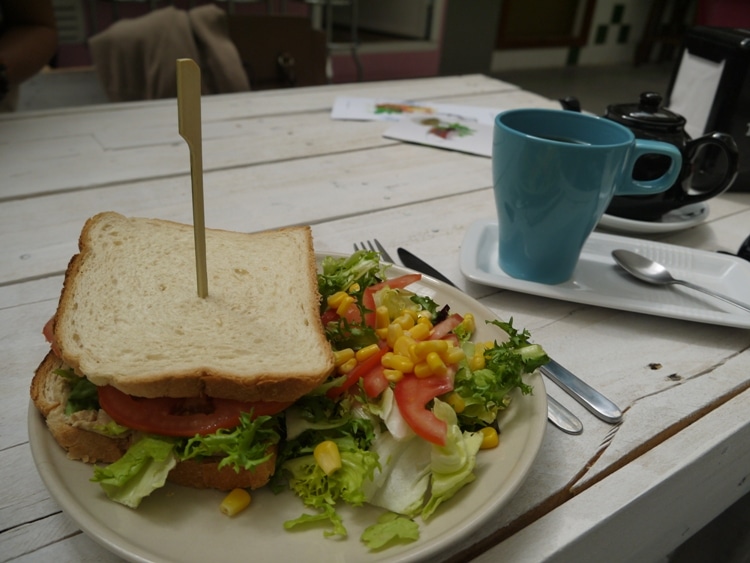 I had the Hummus Sandwich when we visited. It was a pretty basic sandwich on white bread. Veganitessen is handy if you're passing by, but it's not somewhere I'd eat at very often. Prices are reasonable, with the above sandwich costing EUR 3.50.
Veganitessen Details
Address: Mercado del Arenal (Arenal Market), Calle Pastor y Landero
Opening Hours: Tue-Wed 10:30-14:30; Thu-Sat 12:30-19:00 (12:30-16:30 in summer); Sun-Mon Closed (Will open on some Sundays and announce on their facebook page)
Website: veganitessen.es
Facebook: facebook.com/Pasteleria.Veganitessen
Alameda Rock (Vegetarian)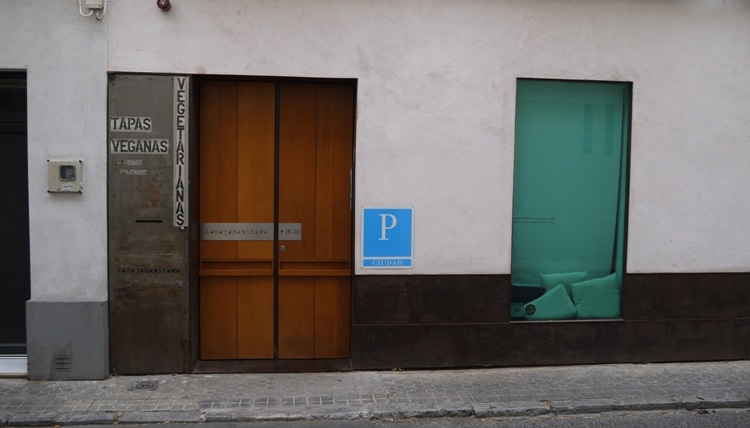 This is supposedly a veggie tapas bar on the ground floor of La Caja Habitada Hostel, but we went three times and it was always closed. First time, it was closed and door was locked. Second time we rang the bell, and a man answered the door and told us it was closed on Monday but would open at noon on Tuesday. We said we'd come back then, which we did. On the Tuesday a woman answered and said the owner came in but said he had to go shopping and would open at 8 pm. Complete waste of time.
Alameda Rock Details
Address: Calle Credito 20 (on ground floor of La Caja Habitada Hostel)
Opening Hours: Whenever owner decides to open
Facebook: facebook.com/Alameda.Rock.Cerveza.Tapas
Restaurante El Egipcio (Veggie-Friendly)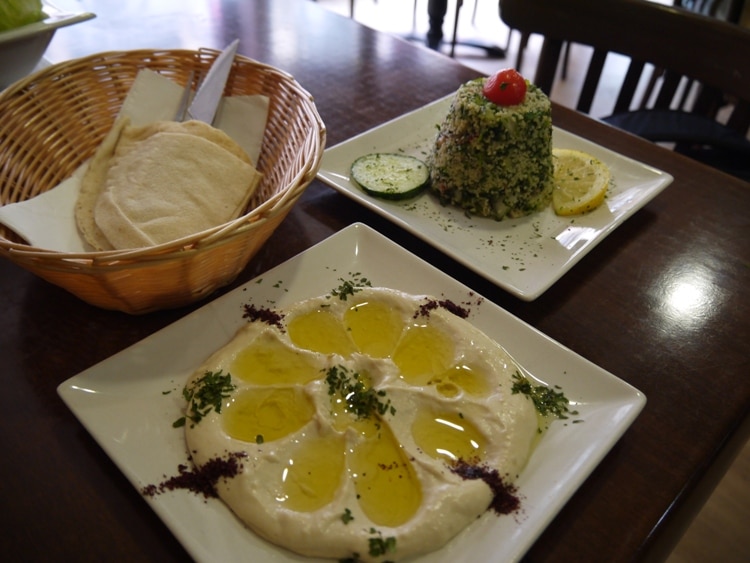 This restaurant has a good selection of veggie food, such as hummus, tabbouleh, falafel and baba ghanoush. It was near our hotel, so we ate there a few times, and the food was surprisingly good. It was also very reasonably priced, with the hummus and tabbouleh shown above costing EUR 3.50 each.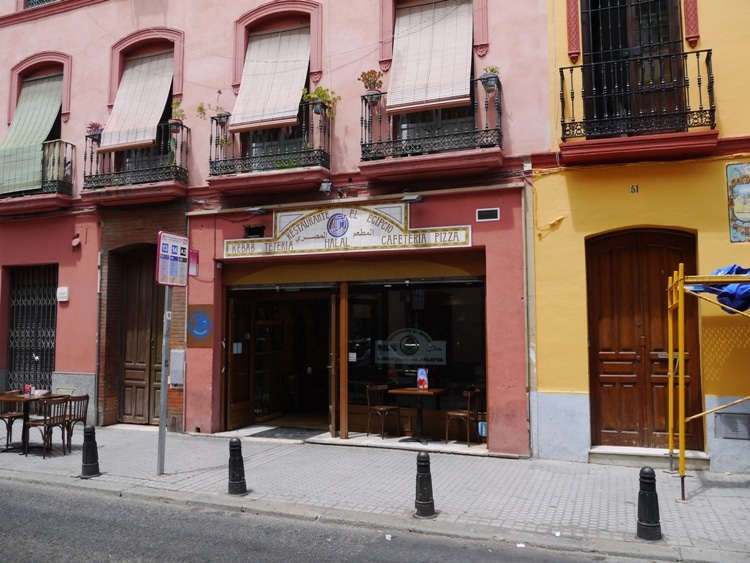 The restaurant is very close to Alameda de Hercules.
Restaurante El Egipcio Details
Address: Calle Trajano 45
Opening Hours: Sun-Sat 13:00-17:00 & 20:00-late
Ciudad Dong Hai Chinese Restaurant (Veggie-Friendly)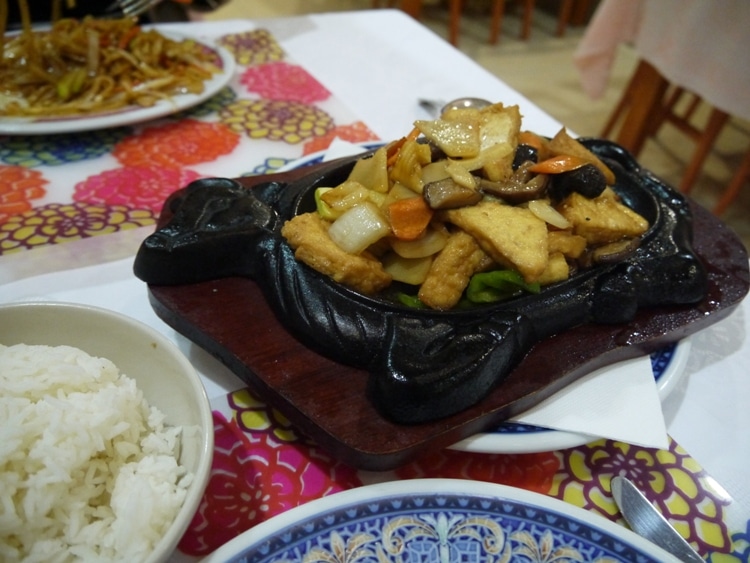 This Chinese restaurant was also near our hotel (see below), so we ate here a few times. There are around eight vegetarian dishes on the menu, including the tofu dish shown above. The food is very reasonably priced, with many dishes costing around EUR 5. The staff are friendly and it's a very clean and inviting place. Don't be put off by the outside, as the inside is newly renovated. The food here was very good. In Seville, I preferred eating at the non-veggie restaurants rather than at the veggie places.
Ciudad Dong Hai Details
Address: Calle Aponte 4
Opening Hours: Sun-Sat 12:00-16:30 & 19:30-24:00
Where To Stay In Seville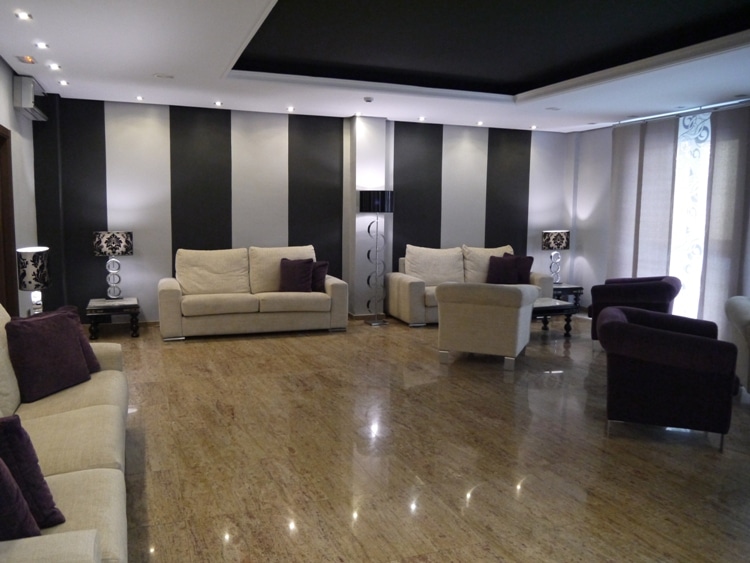 For our time in Seville we stayed at Hotel Venecia, a great place with super-fast wifi (70 Mbps) in the old town area. For other great apartments and hotels in Seville, check out Agoda Seville.