Paris isn't a great city for vegetarians and vegans, but if you take the time to explore you'll find some great places to eat. We spent four days in Paris, but only ate at two vegetarian places, both of which were vegan as well. Both had delicious food and we'd highly recommend both of them. We found a third one near our hotel, but it was closed for 10 days while we were there.
Brasserie Lola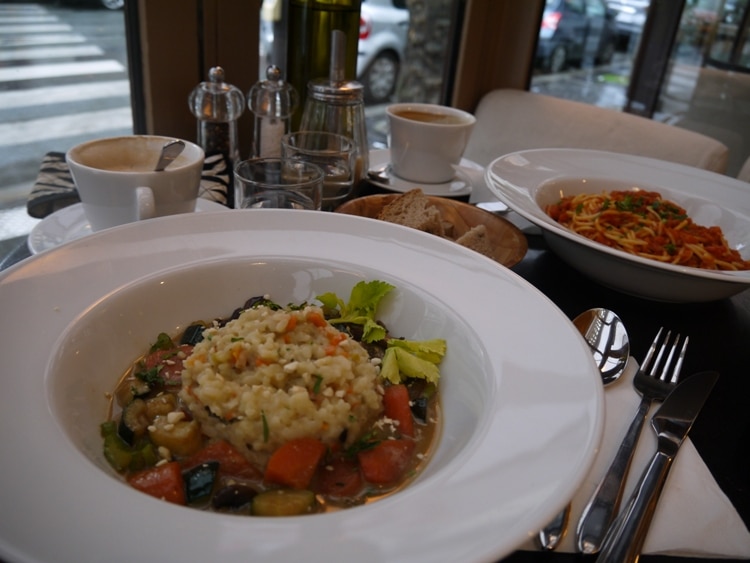 Brasserie Lola is a vegan brasserie run by a very friendly couple. It's just a couple of minutes' walk from Metro Avenue Emile Lola, which is on Line 10. We had the Risotto Cremeux and Spaghetti Bolognaise.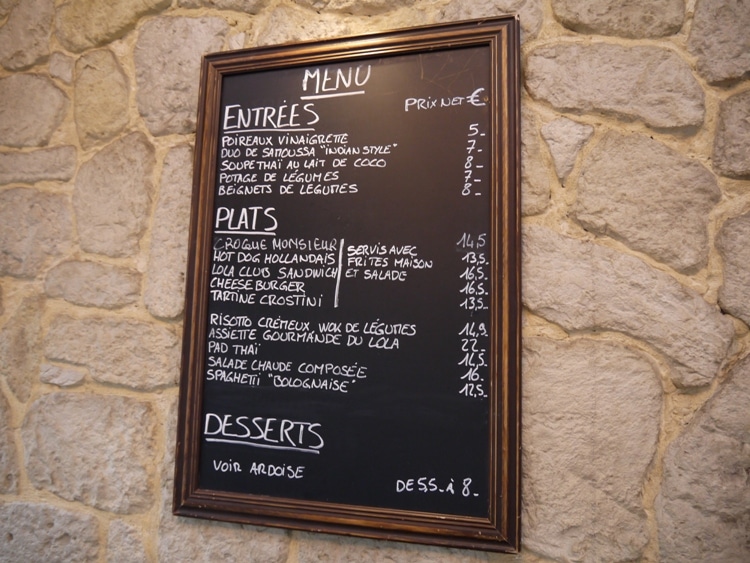 The menu is on a board that is brought to your table. There is a separate menu for desserts.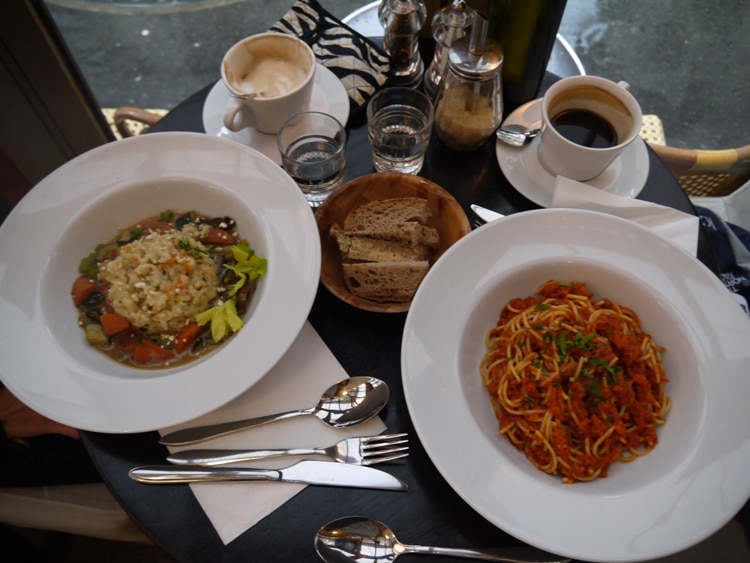 The two main meals above and three coffees cost EUR40 ($45), so pretty reasonable for Paris.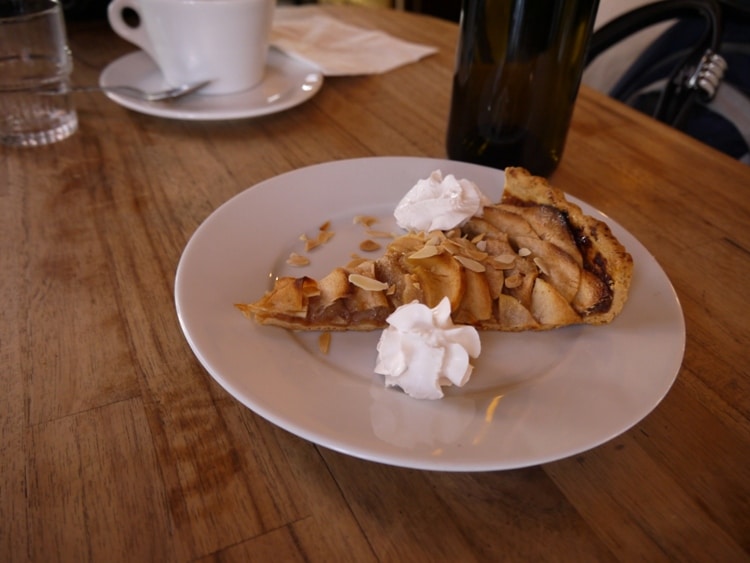 We loved this restaurant so much that we went back a second time. We had the vegan Apple Tart & Cream. It was absolutely delicious.
TIP: This restaurant is only a 10-15 minute walk to the Eiffel Tower. Come here for lunch and then head over to the Eiffel Tower.
Brasserie Lola Details
Address: 99 Rue du Theatre (Metro: Avenue Emile Lola)
Opening Hours: Mon-Fri 07:30-midnight; Sat 09:00-midnight; Sun Closed
Facebook: facebook.com/brasserielolaparis
Cafe Ginger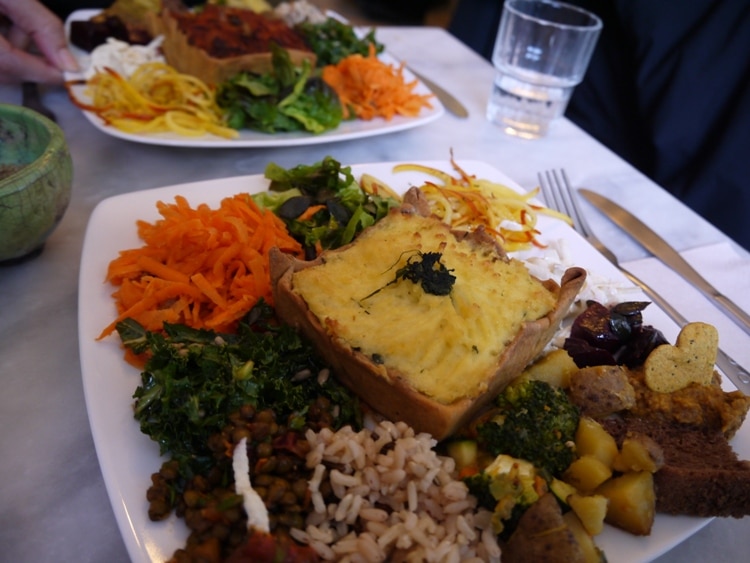 We ate here at lunchtime on our last full day in Paris. It's near Metro Bastille and very easy to find. It's a small cafe and very busy, but the food is worth waiting for if you have to queue for a little while. For our main course we had the Plat du Jour, which was a choice of pie with numerous kinds of salads. I chose the potato and spinach pie.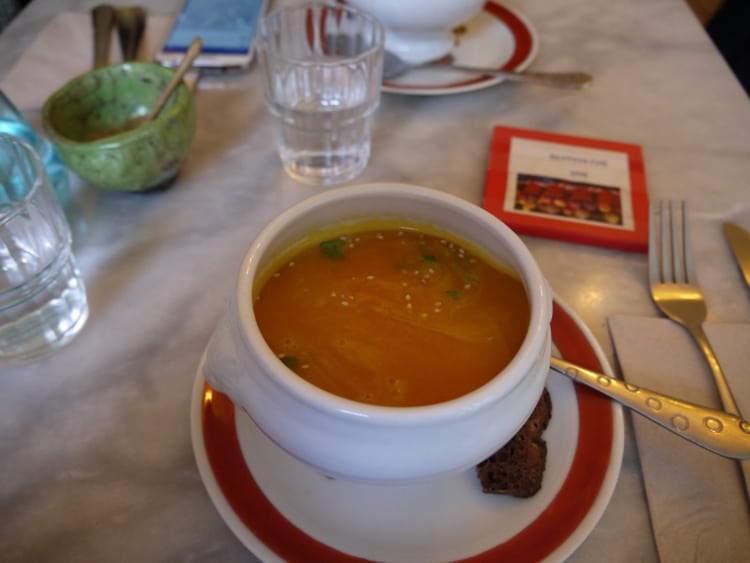 For starters there was a choice of fresh juice or Pumpkin & Coconut Soup. For the dessert I had a delicious Lime Tart, although I ate this before remembering that I should have taken a photo of it first.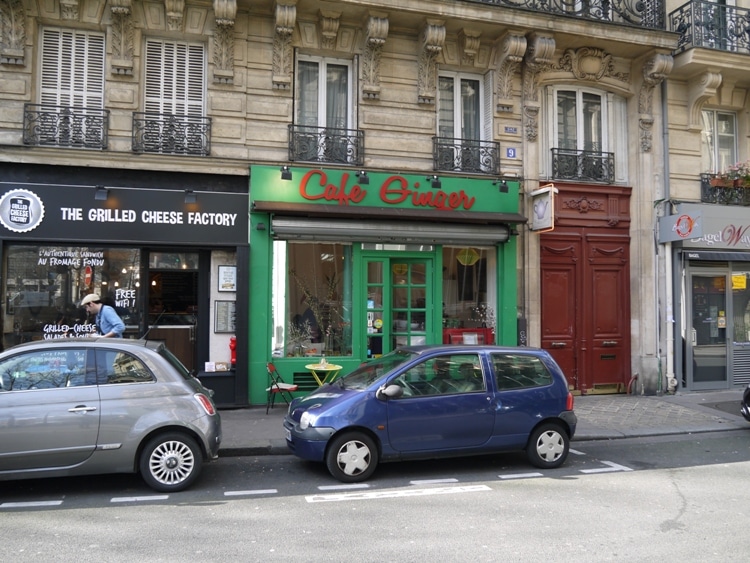 This cafe is open mainly for lunch, although it opens in the evening on Saturdays and Sundays. Because the cafe is so busy at lunchtimes, the food sometimes runs out early. So either eat early or call to book a table.
To get to this cafe take Metro Line 2 to Bastille, leave at exit 6, and you'll see the cafe across the road, almost at the junction with the crossroads.
TIP: This cafe is only a 5 minute walk to the Promenade Plantee. Come here for lunch and then head over to Promenade Plantee for a walk.
Cafe Ginger Details
Address: 9 Rue Jacques Coeur (Metro: Bastille)
Opening Hours: Tue-Sun 12:30-16:00; Sat-Sun 19:30-23:00; Mon Closed
Website: cafe-ginger.fr
Joy In Food
This was the closest vegetarian restaurant to out hotel, Hotel Darcet, so it would have been a great place to eat. Unfortunately it was closed for a 10-day holiday when we were there.
Joy In Food Details
Address: 2 Rue Truffaut (Metro: Place de Clichy, Rome)
Opening Hours: Mon-Fri lunchtimes
Hotels In Paris
For our four days in Paris we stayed at the excellent Hotel Darcet. For other hotels in Paris, check out the great range at Agoda Paris.