If you're looking for vegetarian, vegan, raw or gluten-free food in Dubrovnik, there is an excellent restaurant that you should visit in the old town. It's called Nishta, and also has a branch in Zagreb. We've eaten at both places and they were both excellent.
Nishta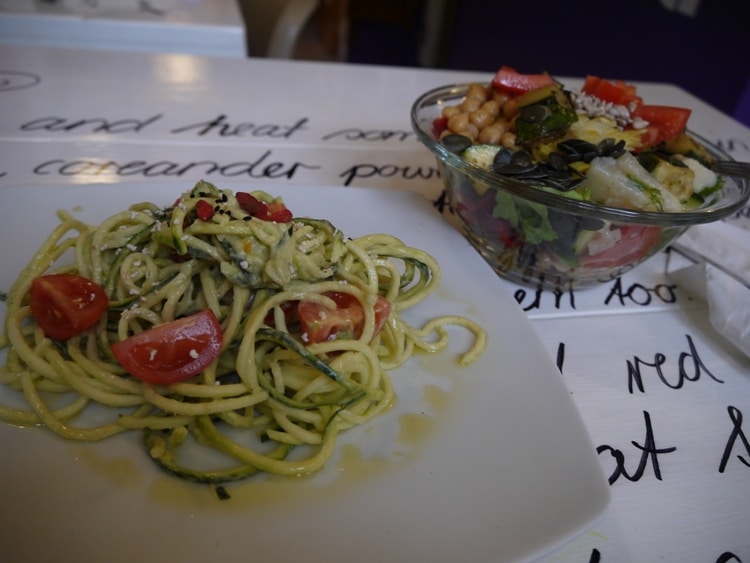 We ate at Nishta every day that we were in Dubrovnik. The food there is excellent and good value for money. Nishta is a vegetarian restaurant that also sells vegan, raw and gluten-free dishes. These are all clearly marked on the menu. The dish above is Zelenilo. This is raw spaghetti made from zucchini, and topped with a delicious avocado and lime sauce. This was my favorite dish. Cost was 39 kn ($5.50). For the salad you get to choose your own from a selection of about 20 dishes, which are a mixture of raw and cooked. Salad also costs 39 kn ($5.50).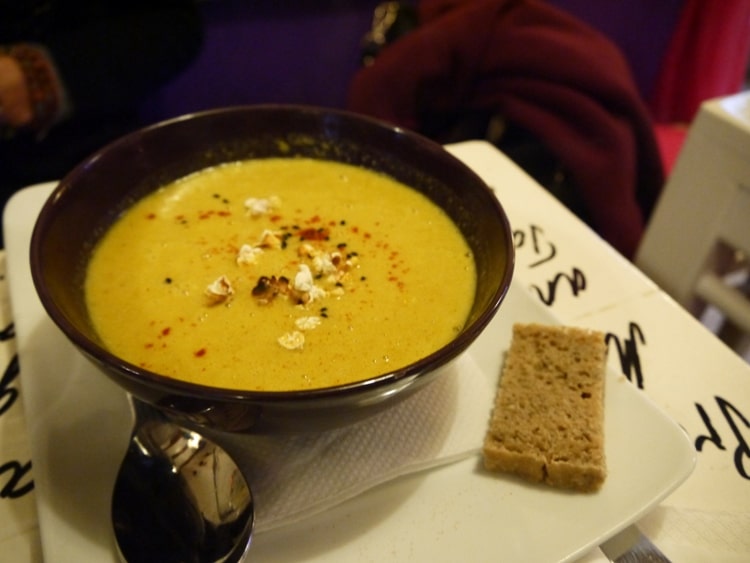 There are three soups of the menu, all of which are vegan and gluten-free. The above is Kukuruza, a creamy corn soup spiced with Madras curry and garnished with popcorn. There is one raw soup on the menu – a ginger soup made from carrots, celery, ginger and cashew nuts. All soups cost 38 kn ($5.50). Note that the bread that comes with the soup contains gluten.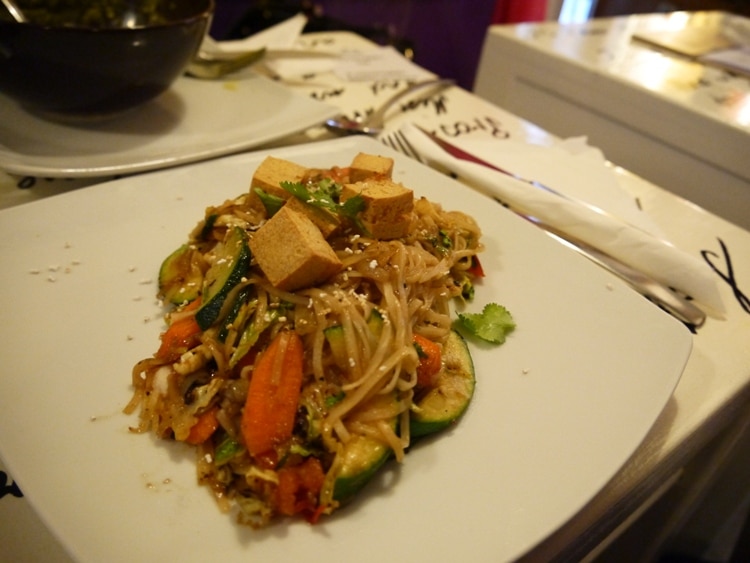 Miu's favorite dish was the Pastalicious – fried rice noodles, tofu, ginger and vegetables in a hoisin sauce. The hoisin sauce can be left out if you want this gluten-free. This dish was 69 kn ($10).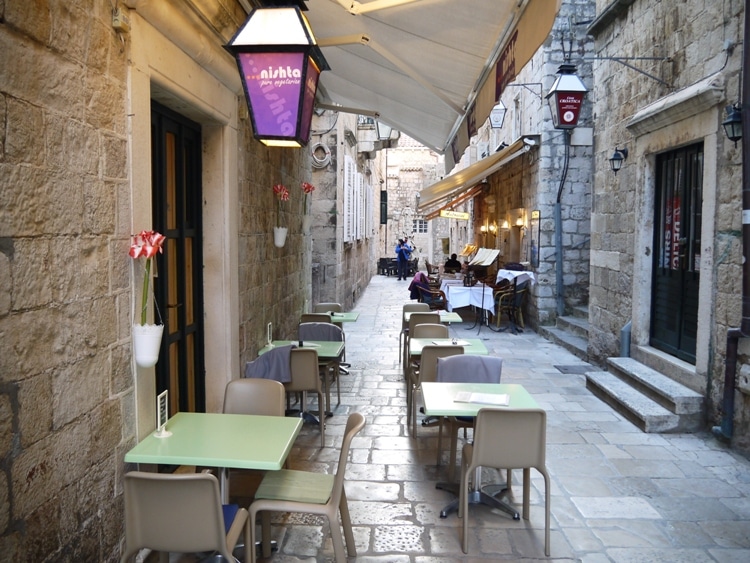 As with most restaurants in Dubrovnik, there is seating both inside and outside.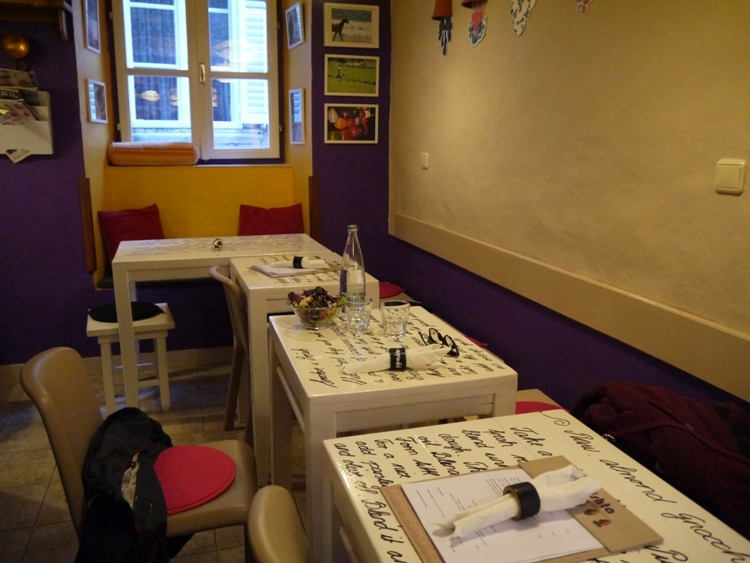 The menu here consists of 3 soups (all vegan and gluten-free, one raw), 5 starters (4 vegan, 4 gluten-free, 2 raw), 7 main dishes (6 vegan, 3 gluten-free, no raw), and 4 desserts (2 vegan, 2 gluten-free, no raw). There is also the salad selection, which has plenty of vegan, gluten-free and raw options).
Nishta Details
Address: Prijeko bb, Dubrovnik
Opening Hours: Mon-Sat 11:30-23:00; Sun Closed
Website: nishtarestaurant.com
Hotels In Dubrovnik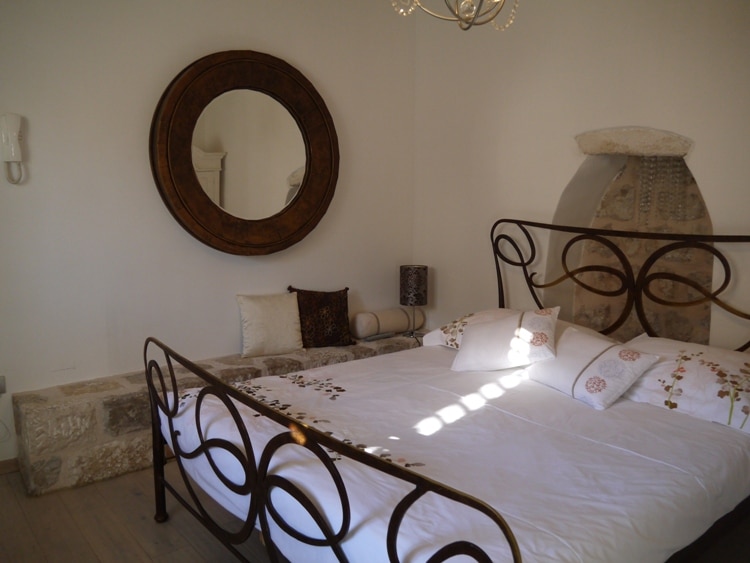 While in Dubrovnik we stayed at the beautiful Old Town Ivory Apartments. For other great hotels and apartments in Dubrovnik, check out the offers at Agoda Dubrovnik.