Gracia is one of the best neighborhoods in Barcelona and is also a great place to be based if you're vegetarian or vegan. There are lots of places to get veggie food in this area, and below are just a small selection. We would have had to stay much longer to get around to eating at all the places that looked good.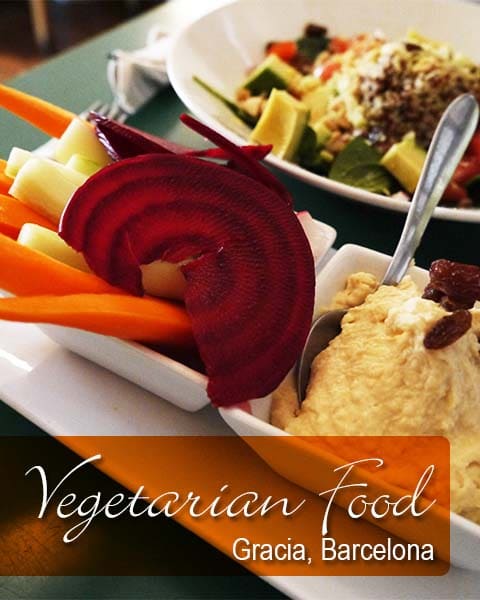 Quinoa Bar Vegetaria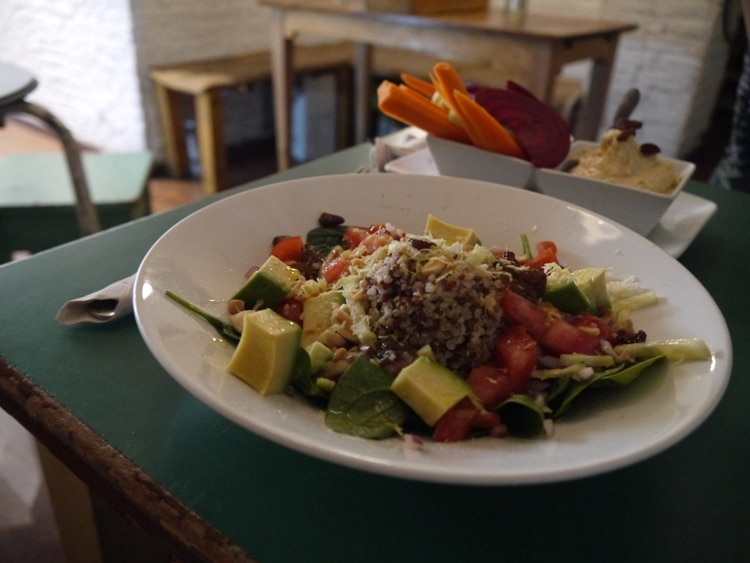 Quinoa Bar Vegetaria is a very small restaurant with only a few tables plus some bar stools. If it's busy you may need to wait for a seat, but it's well worth the wait. This was one on my favorite veggie places in Barcelona, as the food is both tasty and healthy.
Foods available here include salads, soups, sandwiches, burgers, hummus, quiche, fresh juices, milkshakes, tea, coffee, beer, wine and cocktails. It really does have something for everyone.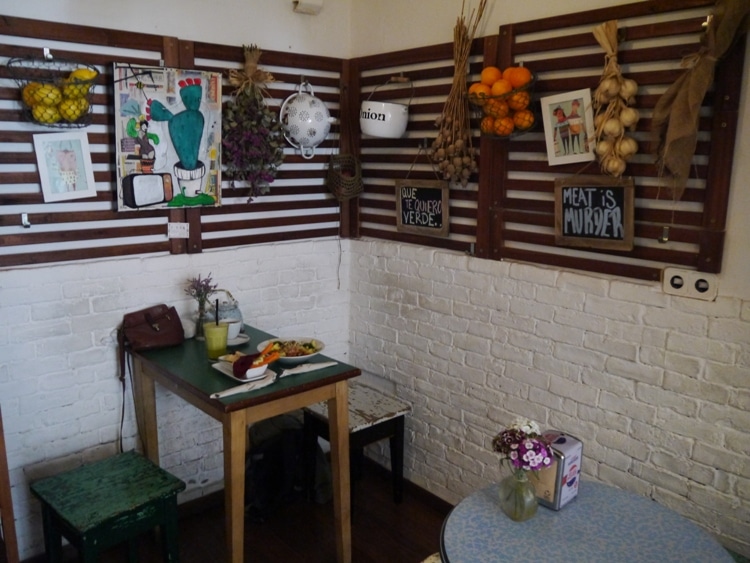 Prices are very reasonable. The Quinoa Salad shown above was EUR 6, and the Hummus with Raw Vegetables was EUR 4.50. Most of the food on the menu is vegan, and most of the rest can be made vegan if you want.
Quinoa Bar Vegetaria Details
Address: Travessera de Gracia 203, Gracia, Barcelona
Opening Hours: Sun-Thu 10:00-23:00; Fri-Sat 10:00-23:30; Sun Closed
Facebook: facebook.com/quinoa.barvegetaria
Cafe Camelia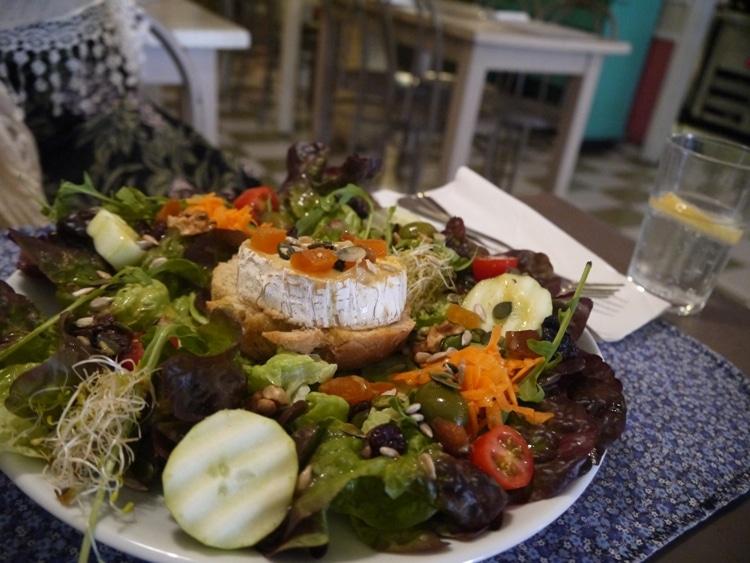 Cafe Camelia is a great neighborhood veggie cafe that has a set lunch menu as well as an a la carte menu. The lunch menu usually consists of soup, a main course and dessert. This costs a very reasonable EUR 10.90.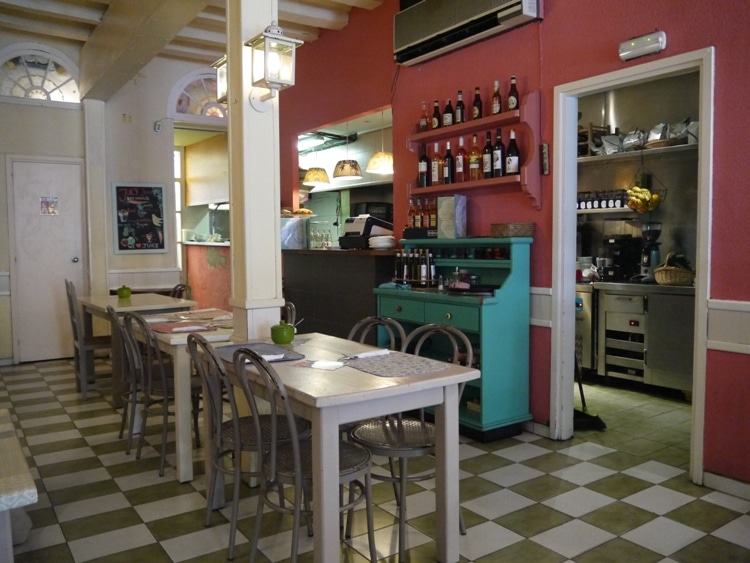 The cafe has a laid-back vibe and the staff are friendly and speak good English. The menu is fairly extensive and includes soups, salads, bagels, sandwiches, burgers, juices, smoothies and lots more.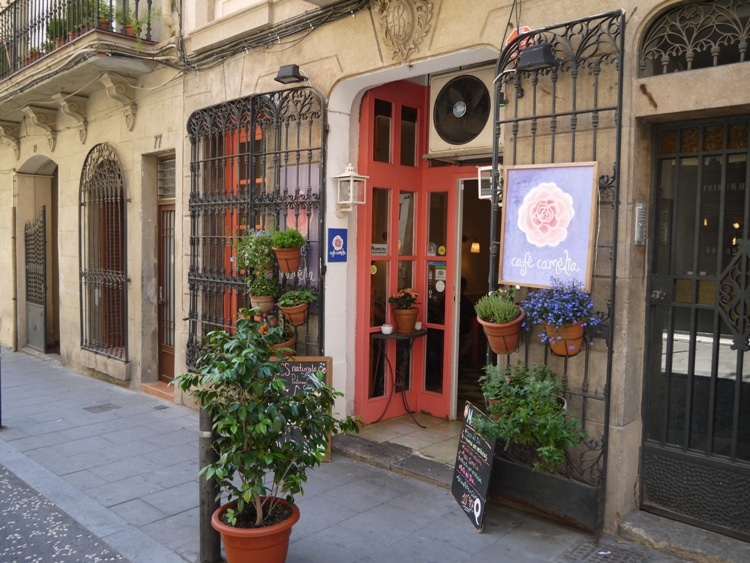 This cafe is only around 500 meters from Fontana Metro station (Green Line 3)
Cafe Camelia Details
Address: Carrer de Verdi 79, Gracia, Barcelona
Opening Hours: Mon-Tue 10:00-21:00; Wed-Sun 10:00-24:00
Facebook: facebook.com/pages/Cafe-Camelia
Vegetart Cuina Vegana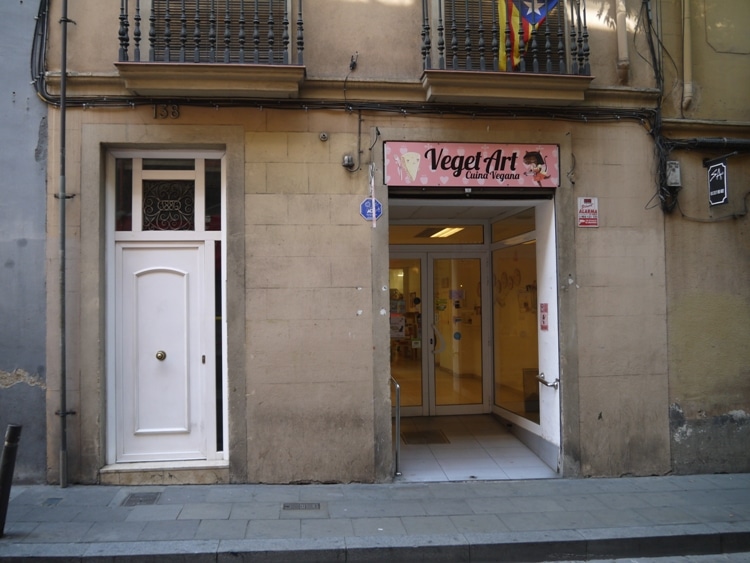 Vegetart Cuina Vegana is a takeaway-only place but the food here is fantastic value for money. It's 100% vegan and has a menu that changes daily.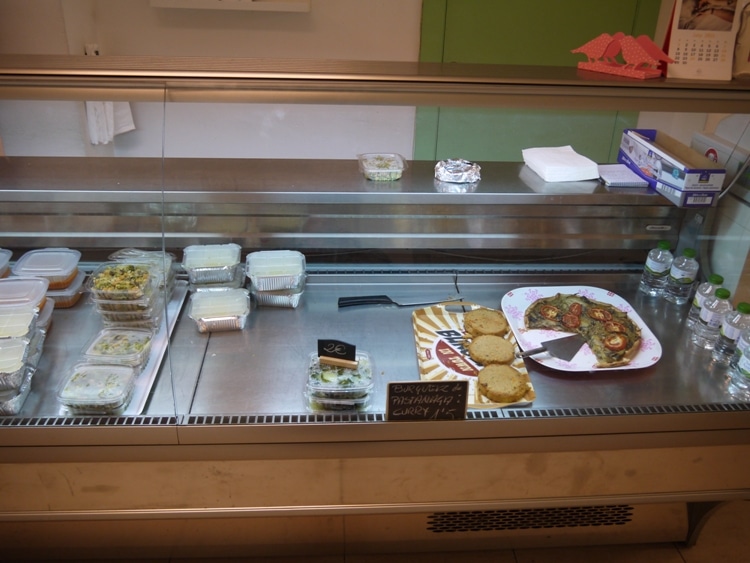 Food here includes soups, salads, mains, desserts, etc. A typical tray of food, such as Chickpeas & Broccoli, costs just EUR 1.50. The Veggie Burgers also cost EUR 1.50. We stayed just around the corner from this place so often got food to take back to our apartment.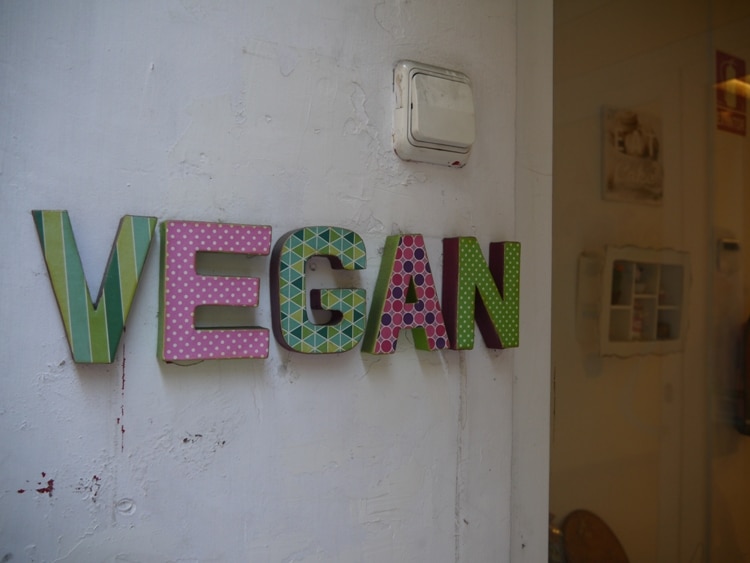 It would be great if they had a few tables so that you could eat at the shop, but unfortunately it's only takeaway that's available. There are plenty of public squares scattered around the Gracia neighborhood though, so you could eat the food there if you wanted.
Vegetart Cuina Vegana Details
Address: Carrer del Torrent de l'Olla 138, Gracia, Barcelona
Opening Hours: Mon-Fri 12:00-20:30; Sat 13:00-15:30; Sun Closed
Facebook: facebook.com/VegetartCuinaVegana
El Buffet Verd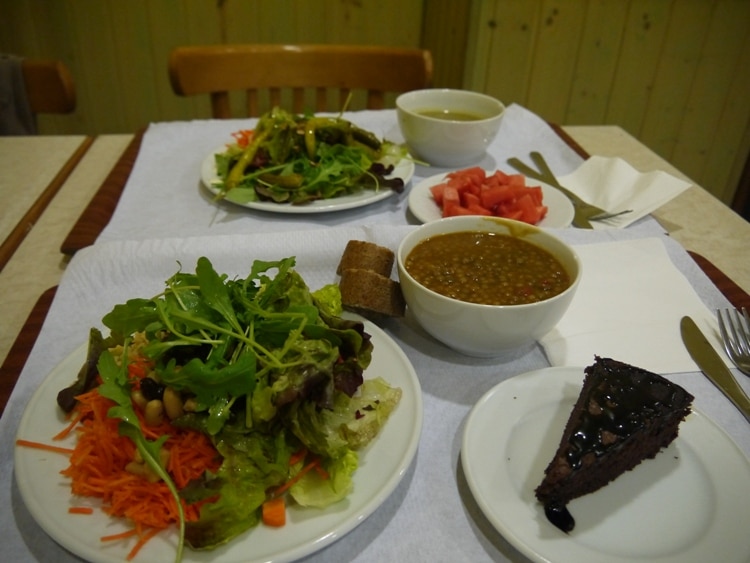 This is a fantastic place for lunch, as you can have a set meal for only EUR 9.75. This includes a plate of salad that you choose yourself, a choice of four hot dishes (we chose soup), bread, dessert (flan, cake, fresh fruit), and another dish (not shown above) that I think varies each day. We chose the croquettes, and a plate of three each were brought to our table.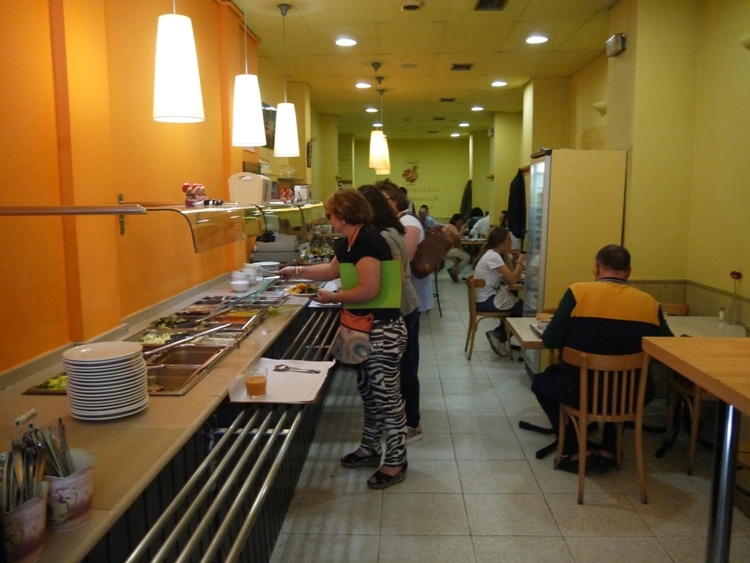 This is quite a popular place, as you can see from the image above. The staff don't speak any English, so it was a little difficult to understand what we were getting. After leaving we noticed that the sign also mentioned coffee, so I think we missed out on that, as we saw someone at another table being given coffee but assumed that they had ordered it separately.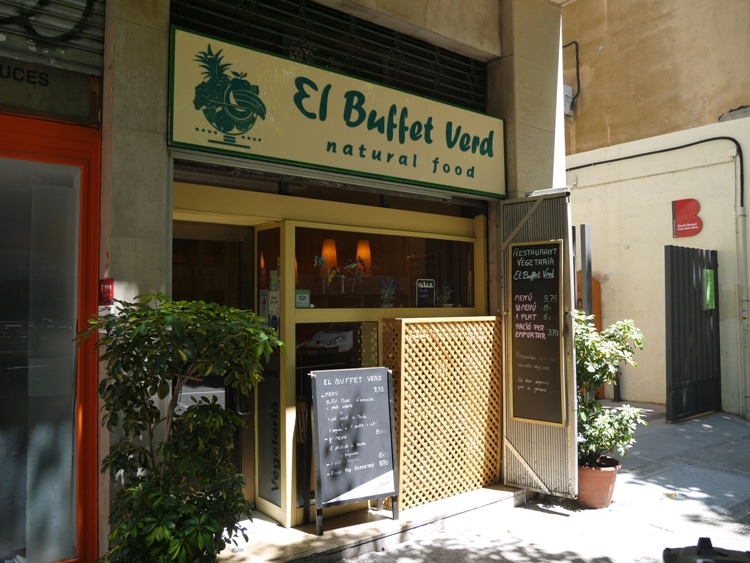 There's a sign in Spanish explaining what options are available, but we didn't see any English signs.
El Buffet Verd Details
Address: Carrer de Roger de Lluria 134, Gracia, Barcelona
Opening Hours: 13:00-16:00 – I'm not sure of exact times or if it's open every day
Where To Stay In Barcelona
If you want to take advantage of all this wonderful veggie food, then why not do what we did and stay in this beautiful neighborhood. We stayed at Monica's Place Apartment and can highly recommend it. If you prefer a hotel, check out the great offers at Agoda Barcelona.