We only spent a few days in Ljubljana, but managed to find three vegan and vegetarian restaurants. We only ate at one of them though, which was Loving Hut. It had a much better choice of food than the other two, but was a little further from the town square.


Loving Hut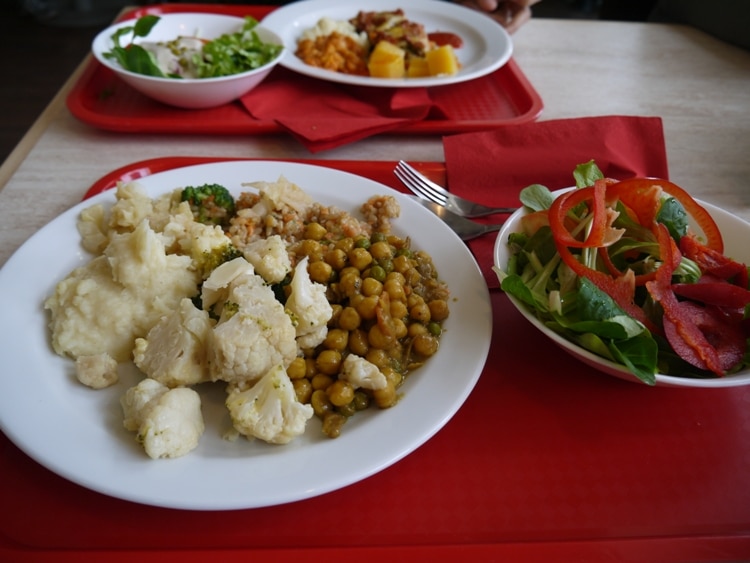 Loving Hut have branches all over the world and we've eaten at many of them. They're independently owned and run, but follow a similar formula of Asian and local food. This one didn't have any Asian food though, so seemed more aimed at locals.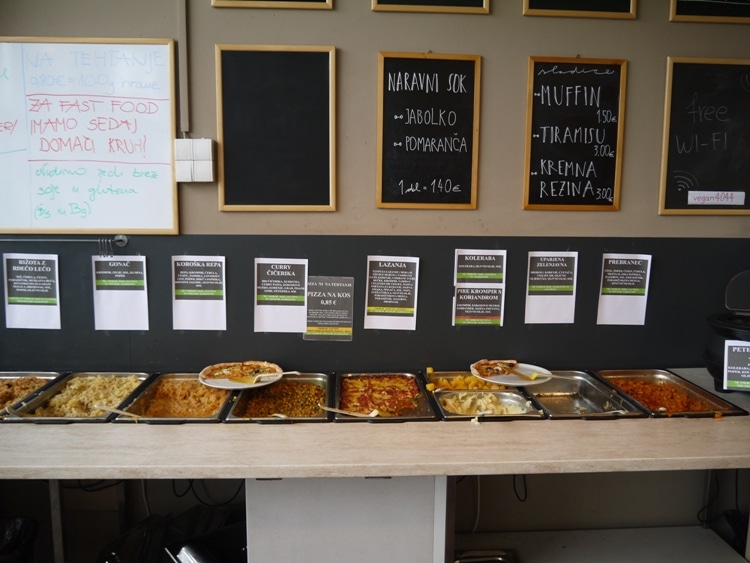 The highlight at this Loving Hut is the amazing buffet. It costs EUR0.80 ($0.90) per 100 grams. Just choose what you want and the food is weighed at the till. Some items, such as salads and soups, are a set price, so just fill a large of small bowl.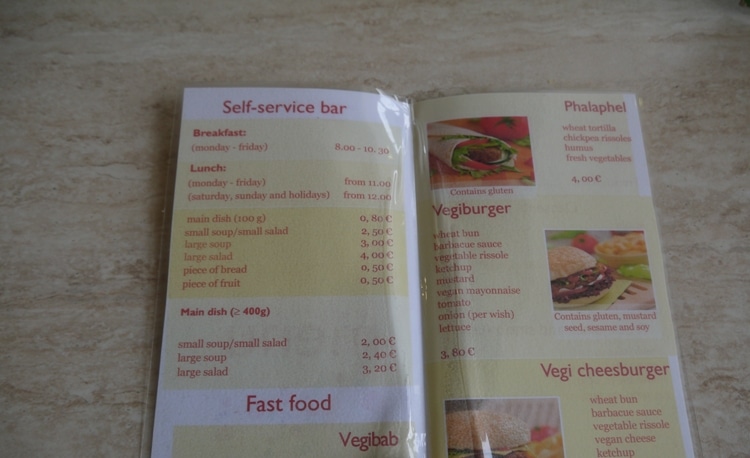 The menus on the tables are in English and explain how the buffet pricing works. They also has a selection of fast-food style dishes that you can order.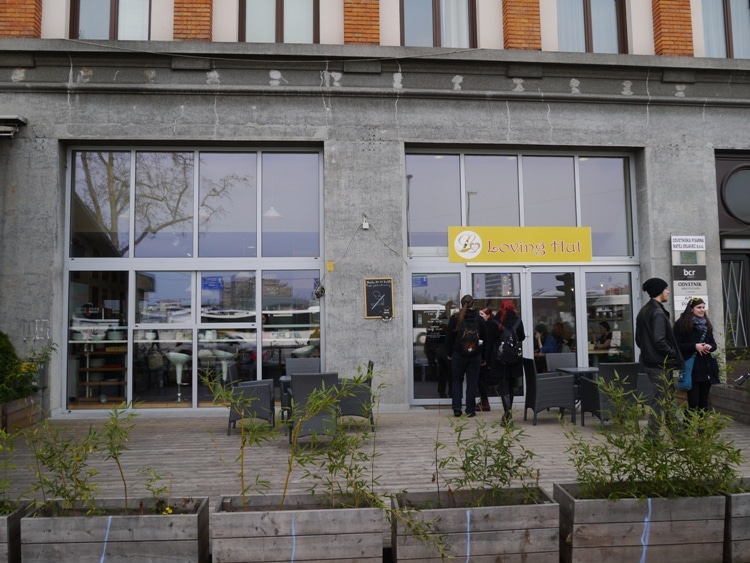 Loving Hut is about a 5-10 minute walk from the Town Square and a 2-3 minute walk from the train station.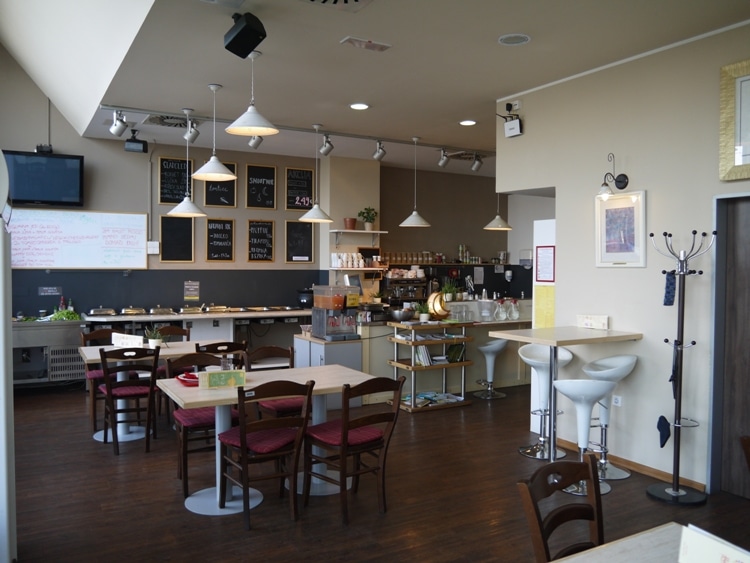 Loving Hut Details
Address: Trg Osvobodilne fronte 14 Opening Hours: Mon-Fri 07:30-22:30; Sat 10:00-22:30; Sun 10:00-21:00 Facebook: facebook.com/lovinghutljubljanacenter

Ajdovo Zrno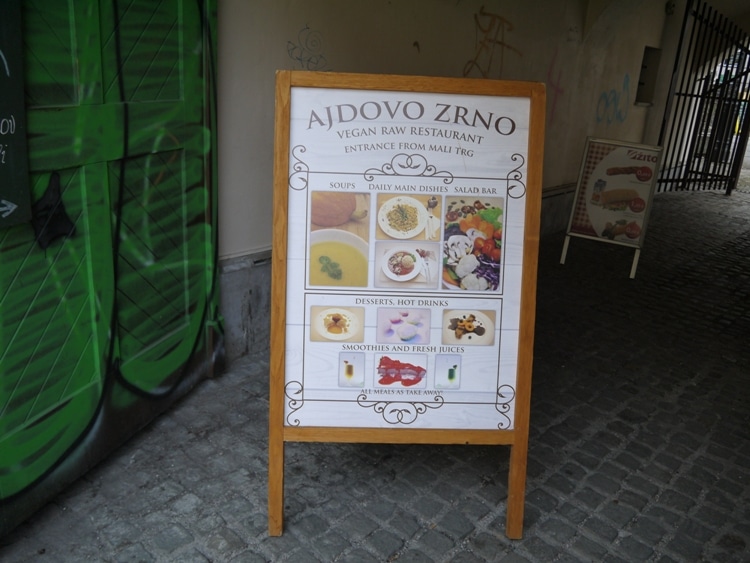 This place is only around 100 meters from the Town Square. Walk from the Town Square into Trubarjeva and Ajdovo Zrno will be on your left. Look out for No. 7.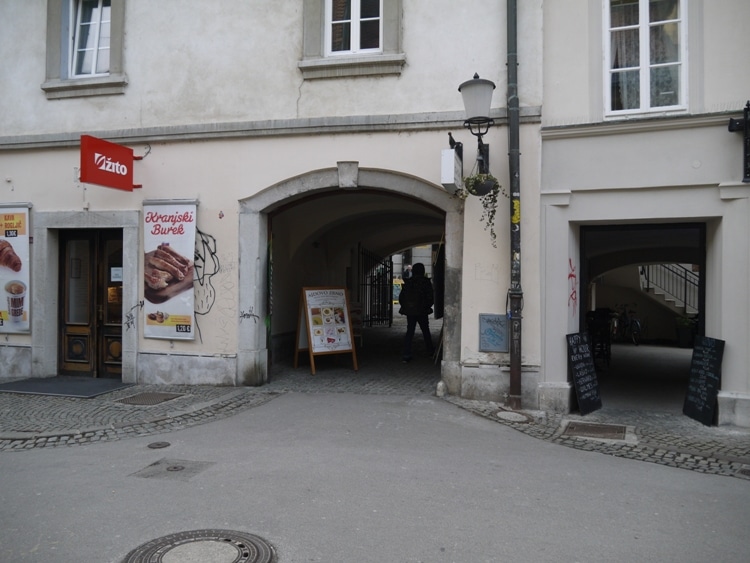 Once you see No. 7, walk a few steps further ahead and you'll see the arch, as shown in the above image. Walk through the arch and you'll see Ajdovo Zrno on your left.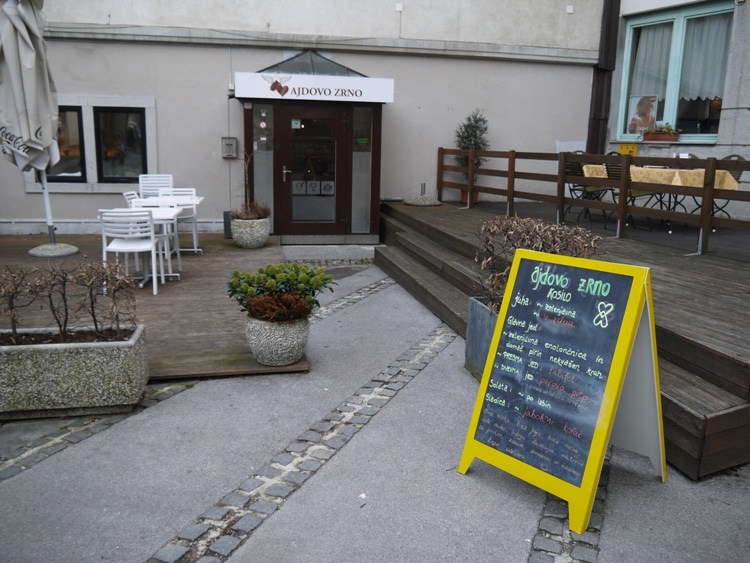 The downside to this place is that the opening hours are limited to 08:00-17:00 Monday to Friday.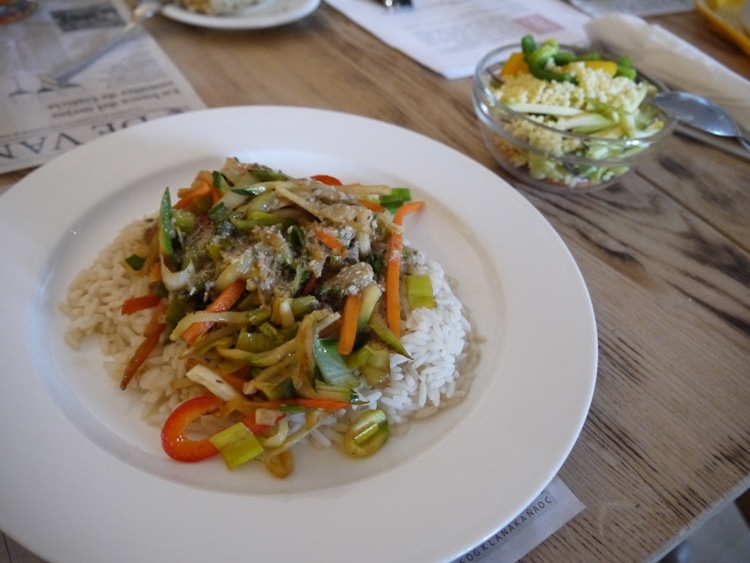 What we liked about this place is that it does a set meal of the day that includes a main meal, soup, salad and dessert. I think the cost of this was EUR 7.50, which is a big saving compared to buying them separately. When we ate there, the main meal was a choice of Asian Stir Fry With Rice or Raw Falafel. There is always a raw dish on the menu.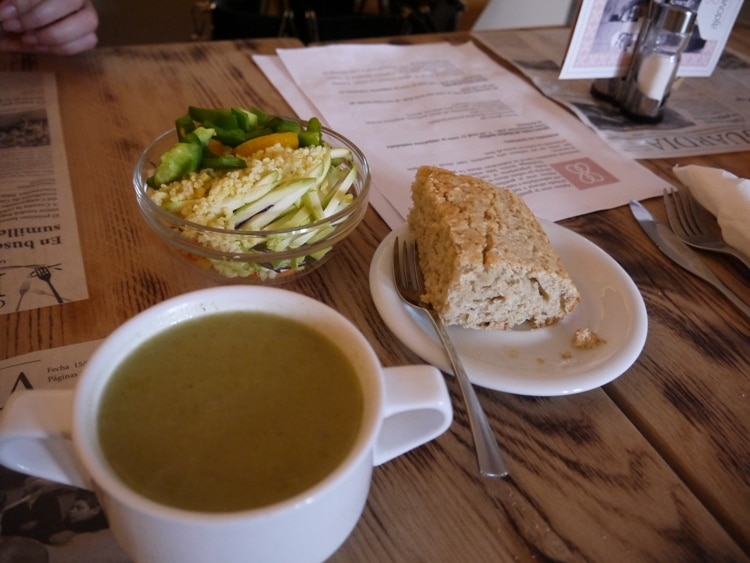 They have vegetable soup every day and another that changes daily. When we we there they had Leek Soup.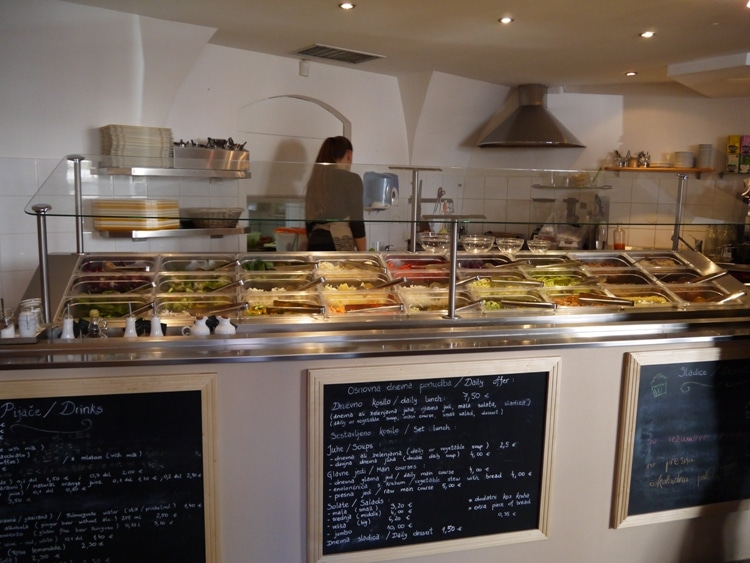 You can choose your own salad from a choice of 27. Excellent!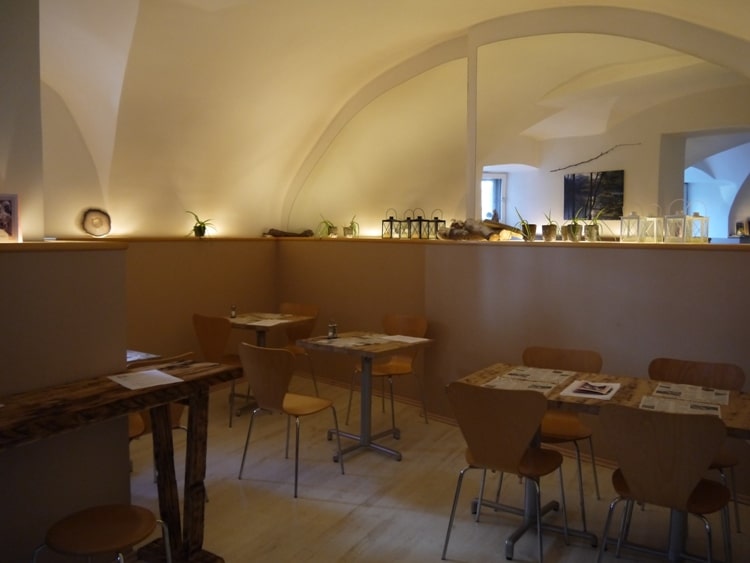 This restaurant has been beautifully renovated and has seating both inside and outside.
Ajdovo Zrno Details
Address: Trubarjeva 7 Opening Hours: Mon-Fri 08:00-17:00; Sat-Sun Closed Website: ajdovo-zrno.si
Bobencek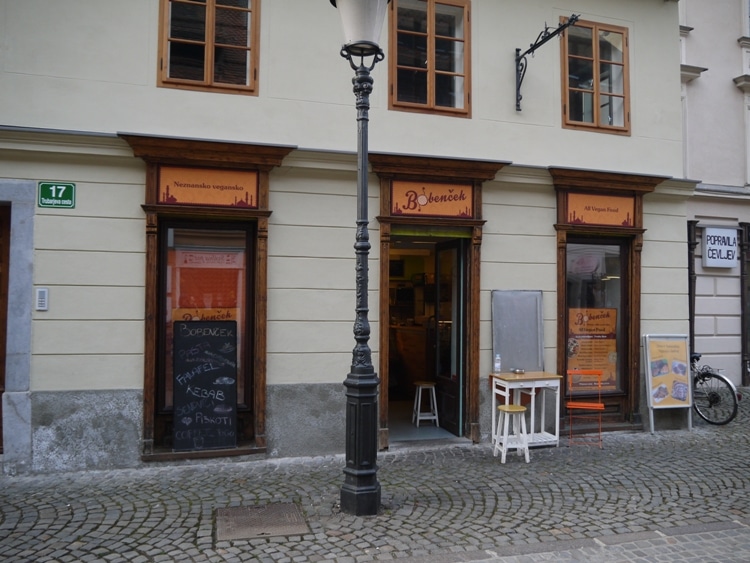 Bobencek is a fast-food type cafe, but the food is surprisingly good and we've eaten there a few times lately. It's a little further along the same street as Ajdovo Zrno (mentioned above), so about 200 meters on the left if walking from the Town Square.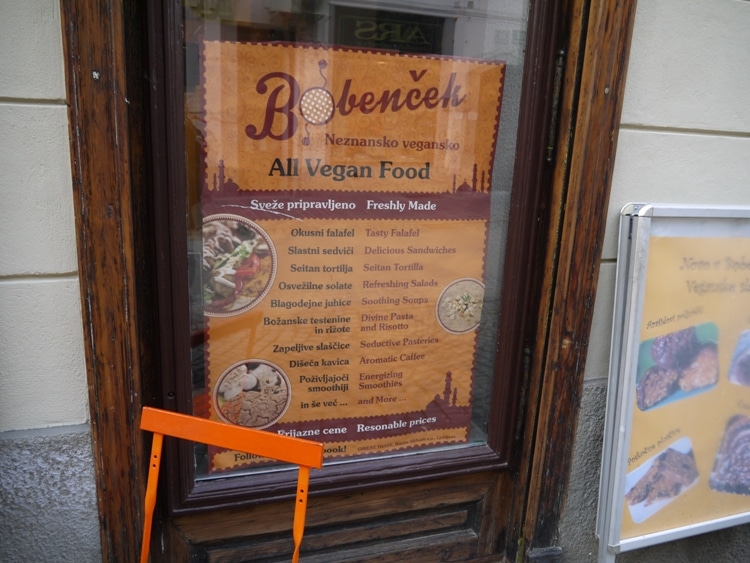 The menu above shows what food and drinks are available.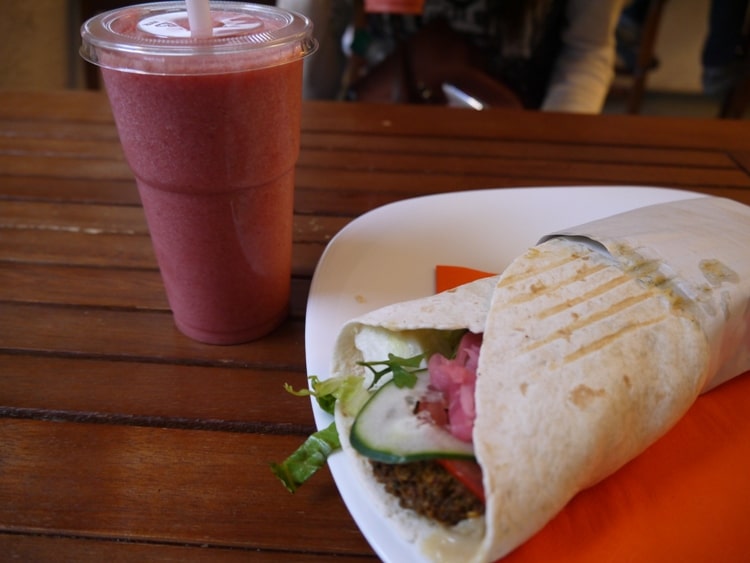 Yesterday I had a Falafel Wrap (EUR 3.50) and a Banana & Strawberry Smoothie.
Bobencek Details
Address: Trubarjeva 17 Opening Hours: Mon-Fri 07:30-22:00; Sat 08:30-22:00; Sun 10:30-20:30 Facebook: facebook.com/bobencek
Hotels In Ljubljana
While in Ljubljana we stayed at Galeria Rooms, which was a great hotel only a 5-minute walk from the city center and a similar distance from the train station. For other great hotels in Ljubljana, check out Agoda Ljubljana Hotels.