We've visited a few
quirky and weird temples
in the last few years, but Wat Kai (or Wat Gai) has become my new favorite. This is because it's a combination of a hell temple and a monkey temple. The 'hell' part is pretty gruesome and feels like you've landed on the set of a horror movie.
Hell Temple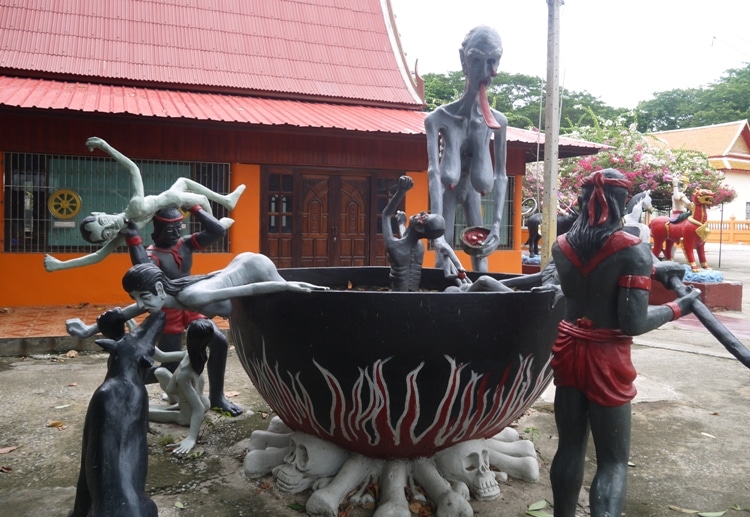 We've seen some odd temples in Thailand, but neither of us have seen anything quite like what's on display at Wat Kai (Chicken Temple) in Ayuttaya.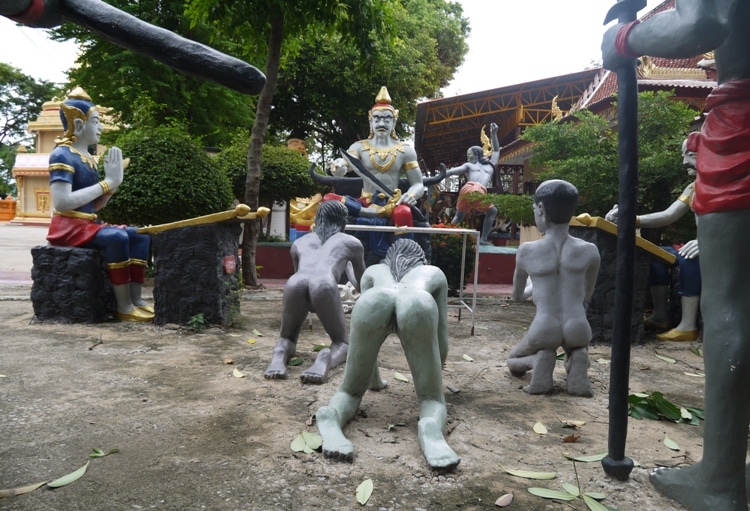 This temple is around 25 km from Ayutthaya city center, down a small lane off route 32.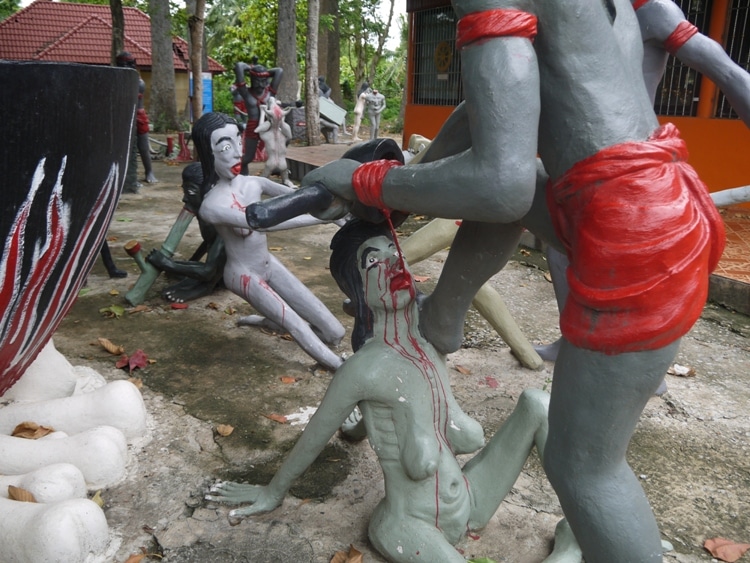 All the male and female figures are completely naked, and most are having their tongues removed. There is lots of blood on display.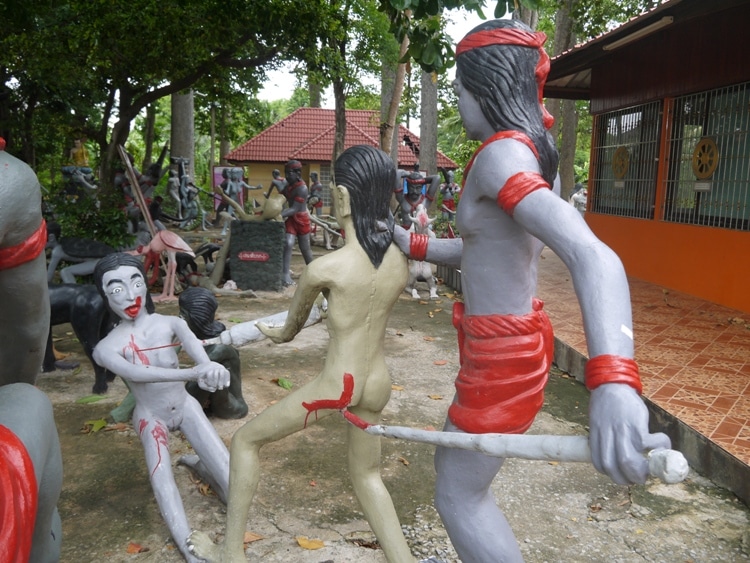 This temple definitely isn't for the squeamish. Everything here is extremely graphic and could shock some people.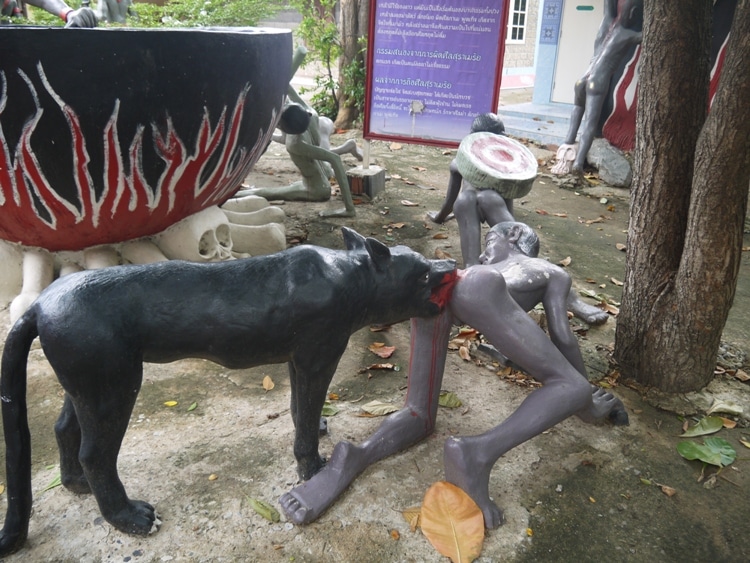 I've no real idea what story is being told, but it seems to be a Buddhist version of hell that's on display. I suppose this is where you will end up if you misbehave.
Apart from us, the only other people we saw at this part of the temple were three local teenagers that came for a few minutes to take a few photos. There is a school next door, so perhaps they came from there.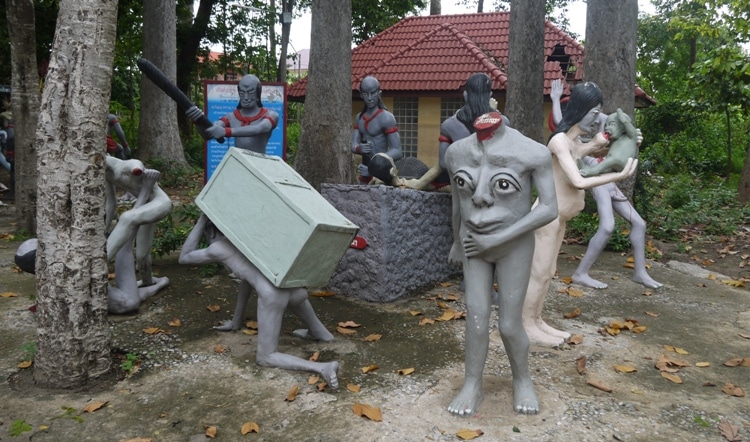 If you like odd, weird and quirky attractions, then this could be the place for you.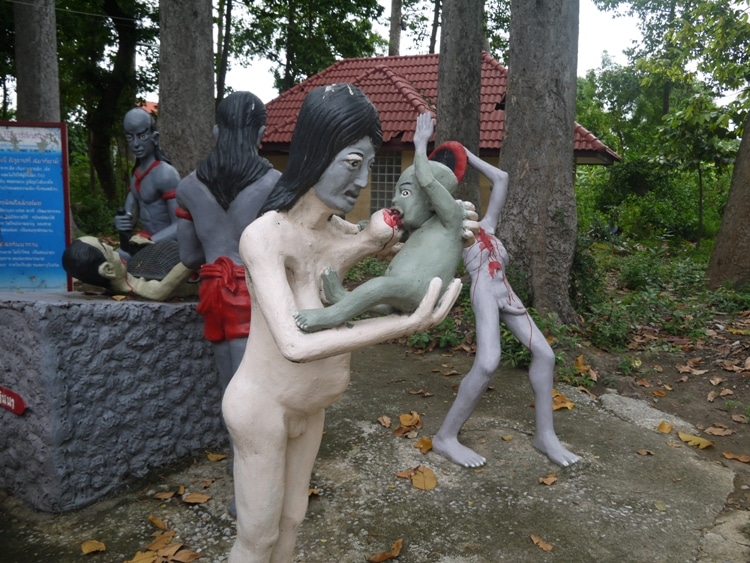 I wish I had some idea of the story behind this temple, but unfortunately I don't.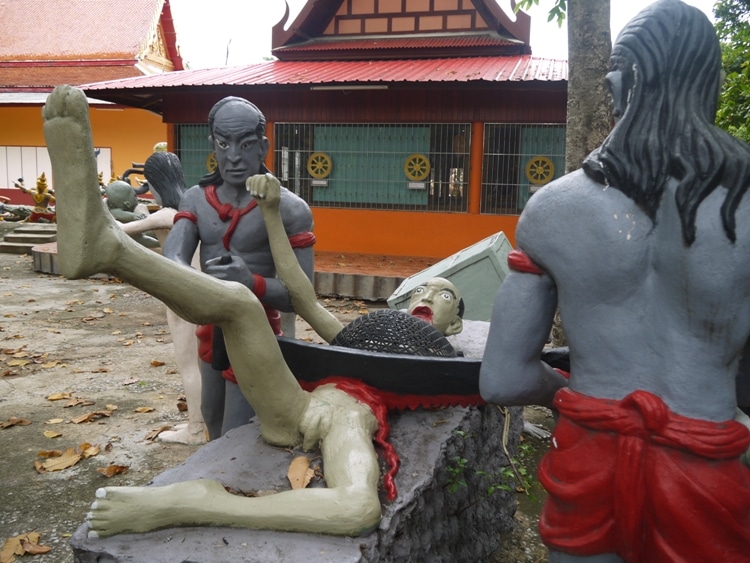 This looks pretty painful.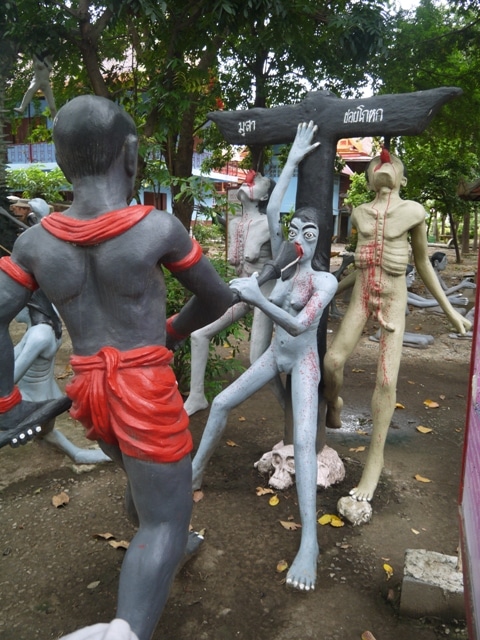 As this is a Buddhist temple, I wonder why there is a cross in this vision of hell. I took many more photos and there is plenty more for you to see if you visit.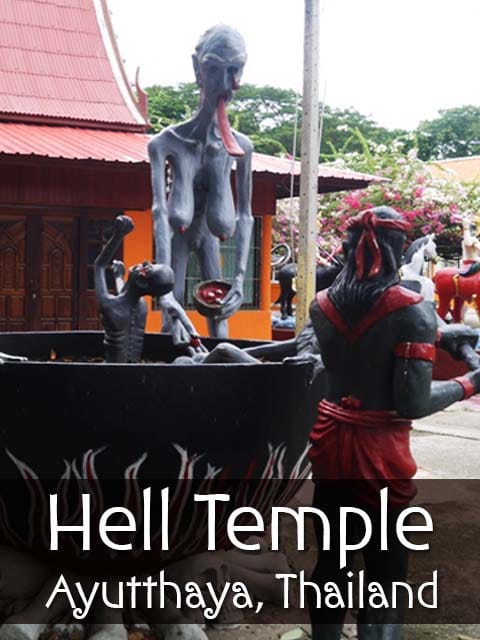 You can pin the above image to pinterest.
Above is a video of the hell section of Wat Kai.
Monkey Temple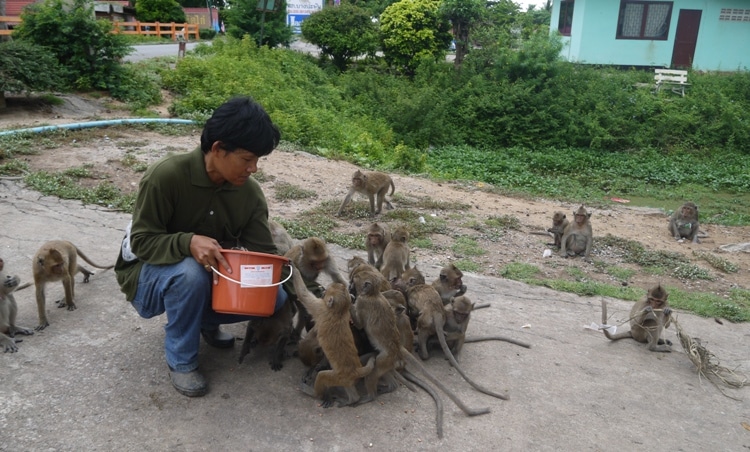 While you'll find a few monkeys wandering around the main part of the temple, most are located across the road.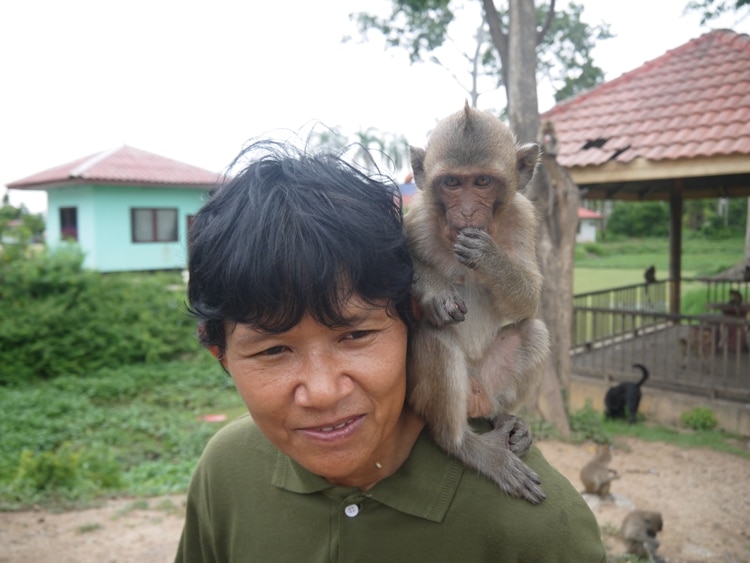 The woman in the photo above has worked at the temple for a few years and knows almost all the 400+ monkeys. She said this one was the most friendly and loved to interact with humans.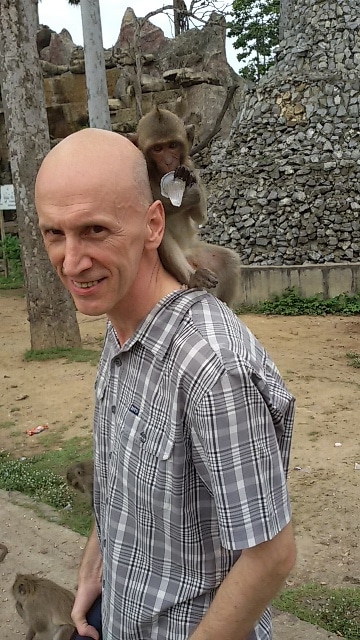 He was so friendly that he even came to sit on my back for a while.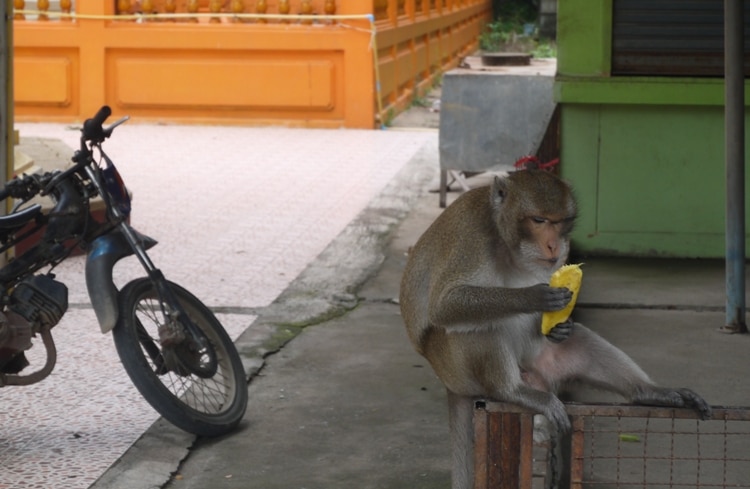 I gave this monkey the last slice of my mango, which he seemed to appreciate.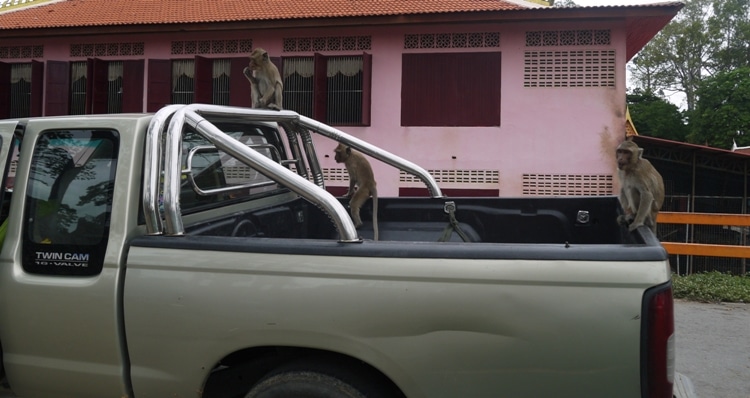 The monkeys are very inquisitive and can be seen above checking the truck of a visitor.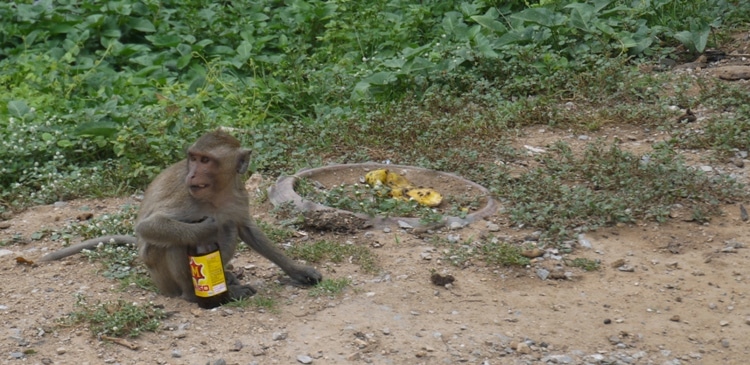 One monkey spotted a bottle of energy drink in the back of the truck and ran off with it.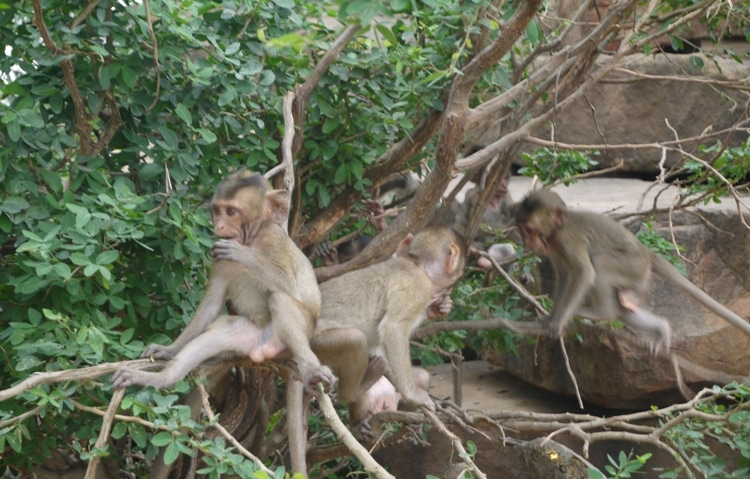 There were lots of young monkeys at the temple, along with a few baby monkeys.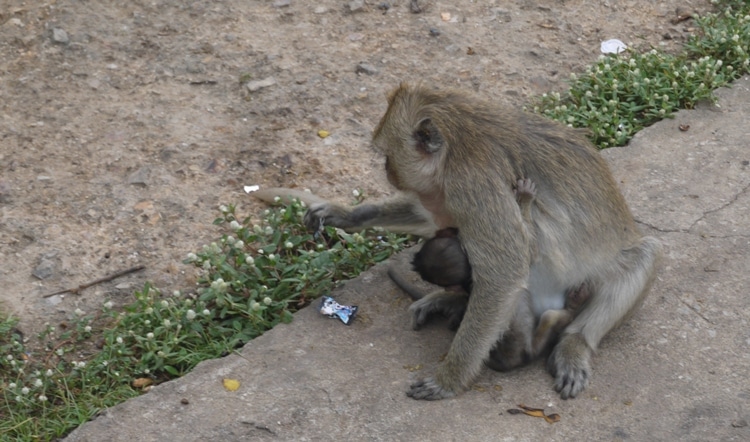 Above you can see one of the baby monkeys hanging on to its mother.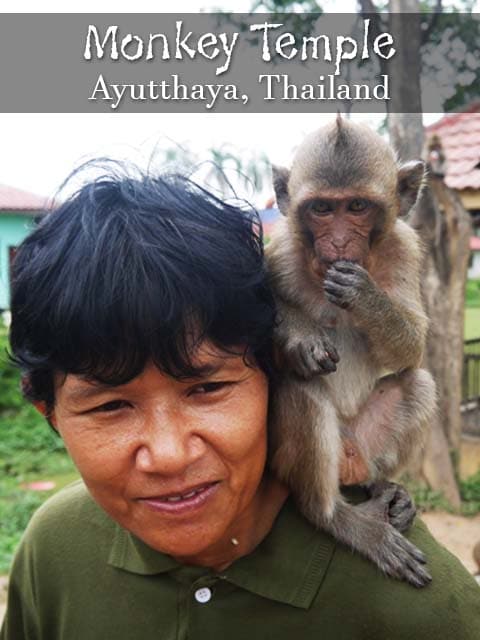 Help us to spread the word by pinning the above image to pinterest.
Above is short video of some of the younger monkeys playing.
Getting To Wat Kai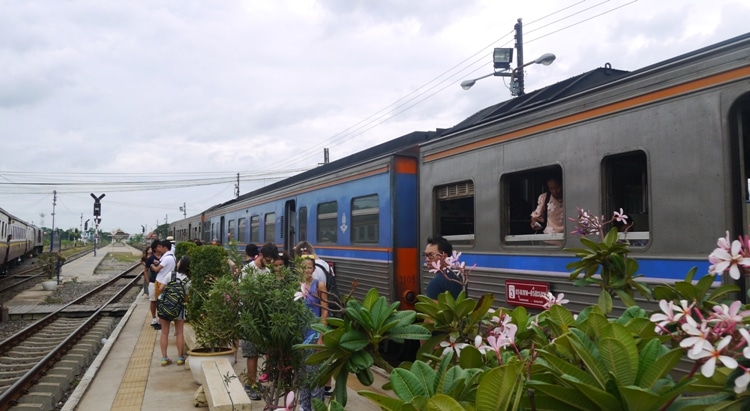 Getting to Wat Kai from Bangkok is pretty straightforward, and you can get there and back in a day. We went by train, as it's one of the easiest and cheapest ways to get there. A seat in a 3rd class carriage with fans costs just 20 baht ($0.60) each way. We got the 10.05 train from Bangkok's Hua Lamphong station. It was due to arrive in Ayutthaya at 11.24, but was about 10-15 minutes late. We got the 15.35 train back to Bangkok, and this arrived 6 minutes early at 17.04.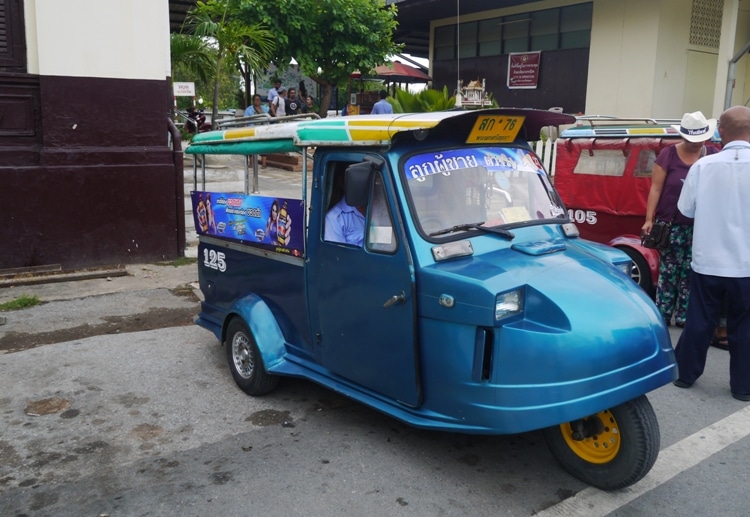 To get to Wat Kai from Ayutthaya train station, we just jumped into one of the numerous tuk-tuks that wait outside the station. This cost us 600 baht ($17) to get there and back. The driver waited for us at the temple.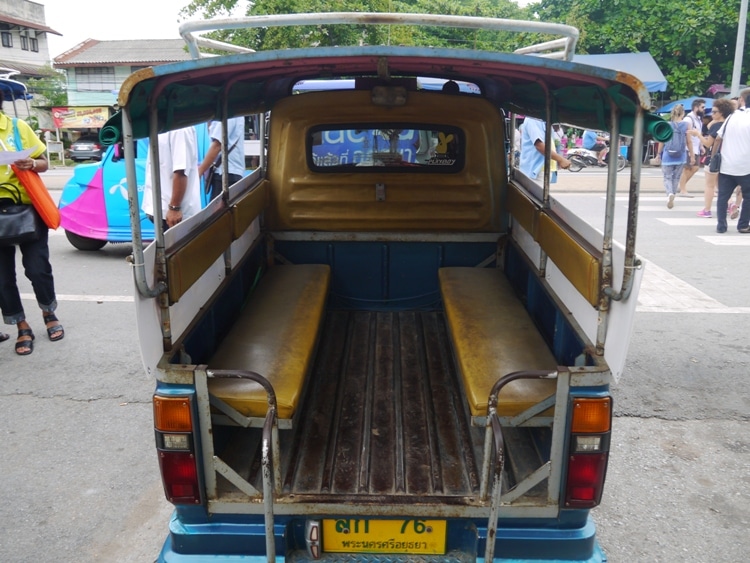 The tuk-tuks hold around 6 people, so you can share the cost if there are a few of you. It's about a 20-30 minute ride to the temple.
Where To Stay In Ayutthaya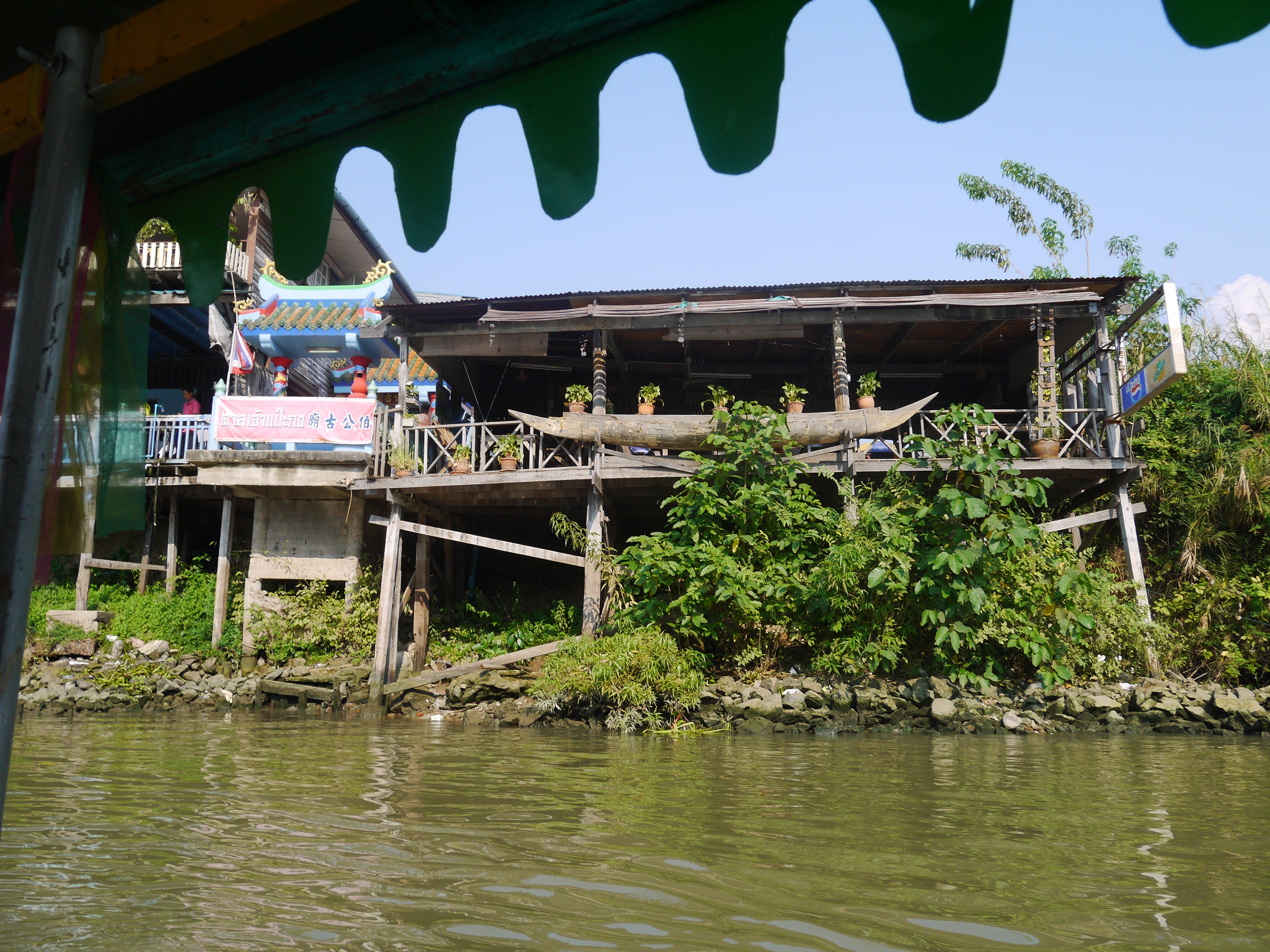 The last time we visited Ayutthaya we spent a few nights at Baan Are Gong Riverside Guesthouse. It's only around 200 meters from the train station so is an ideal location. This is a simple budget guesthouse that has a restaurant that looks out over the river. We had food there today after visiting the temple.
For more suggestions you can click here for other great hotels in Ayutthaya. If it's your first visit to Ayutthaya I'd suggest staying a night or two and exploring some of the temples around the town as well.