There was a lot to like about the apartment we booked in Hong Kong via Airbnb, but we were a little disappointed after staying at such a great Airbnb apartment to Seoul. But this is Hong Kong, and space is at a premium, so you can expect a lot less for your money. Maybe our expectations were just too high after our stay in Seoul. Click here for great Hong Kong hotel deals.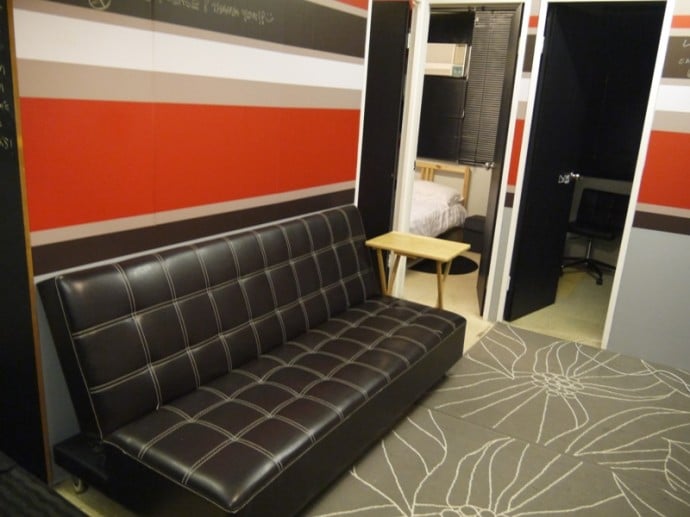 The best aspect of the apartment was the large size. Even expensive hotels in Hong Kong often have small rooms, but there really was plenty of space here. The apartment had a fairly large living area with kitchen at one end, three small bedrooms (two double beds and one singe bed), a shower room and a separate toilet.
Living Area
The living area is very colorful and fairly well equipped. It has a comfortable sofa, flat screen TV, two stools, two chairs, a small table and a cabinet that can also be used as a small desk. There is also a standalone aircon unit. The bedrooms have their own aircon.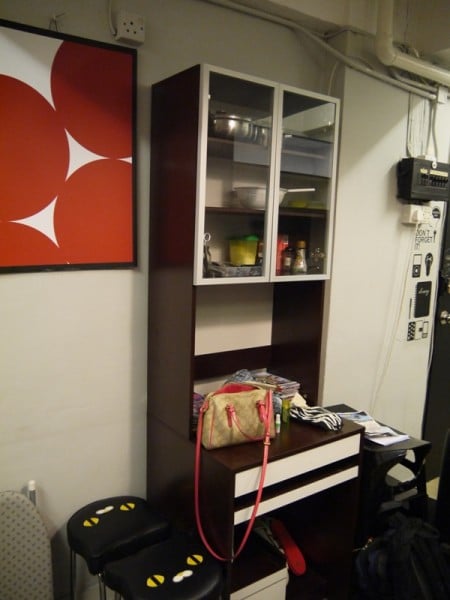 Bedrooms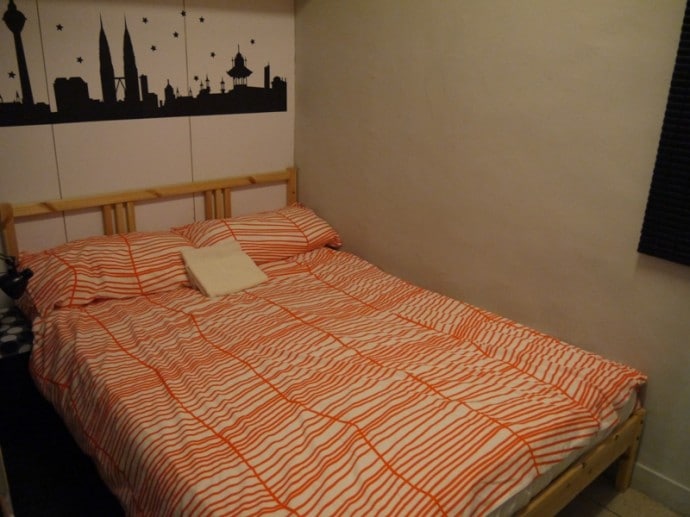 The bedrooms are fairly small, but that doesn't matter as there is a larger living area. Our one complaint with the two double beds was that they were quite uncomfortable. They could do with new mattresses and pillows, as both are quite soft. But they are ok for a few nights stay. The single bed was very firm though, but not much use for us.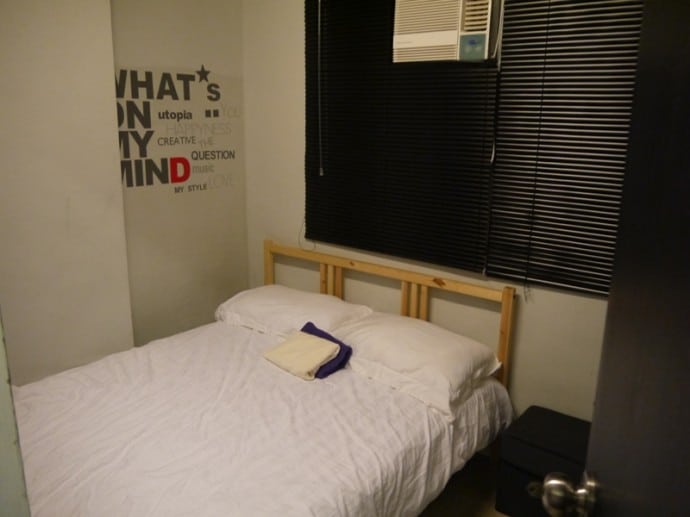 All bedrooms had aircon, and the ones we used worked well.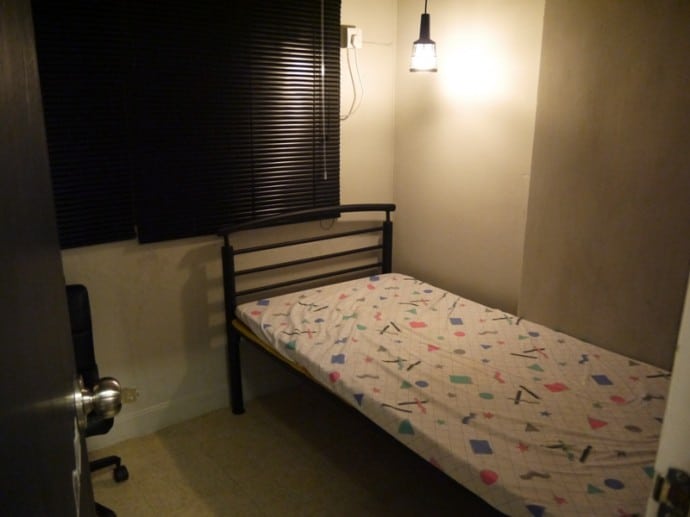 The apartment could sleep 5, but would be more comfortable with 2 or 3 people staying.
Kitchen Area
The kitchen area was a decent size for a Hong Kong apartment and had everything we needed. There was a fridge, kettle, microwave oven, pots and pans, dishes and cutlery.
Shower Room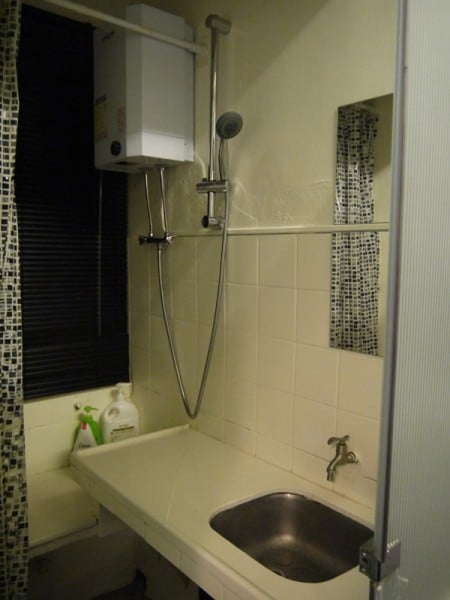 The shower room is a little odd, but not untypical of Asia. You can't really keep anything next to the sink, as the water gets all over that area when you take a shower. But there is a shelf behind the shower curtain that stays dry, so you can store your bathroom stuff there.
Toilet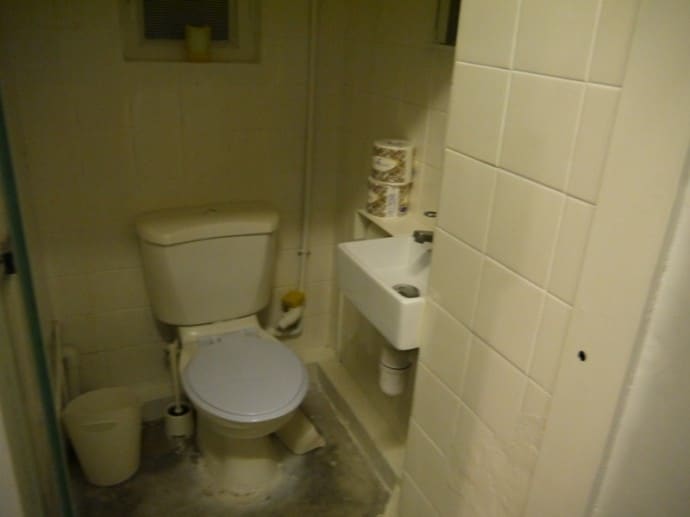 There was a separate toilet that worked well. Two rolls of toilet tissue were provided.
Washing Machine
A real bonus was that the apartment had a washing machine, and detergent was also provided. The area to hang your clothes was above the washing machine. There was also an iron and small ironing board.
Wifi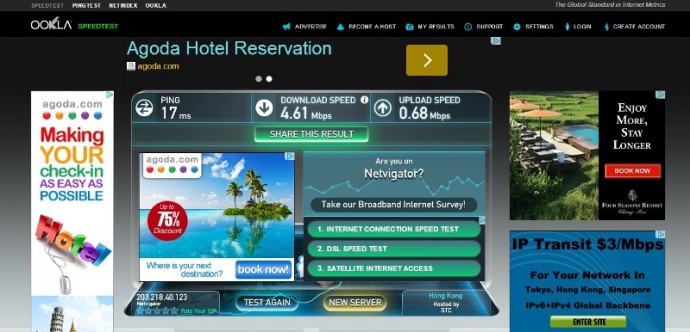 The wifi worked pretty well, although it slowed down a little from time to time. We tested the speed at 4.61 Mbps download and 0.68 Mbps upload. Not great, but adequate for a few days,
Location
The location was excellent, as it's only a few minutes was from Sheung Wan MTR and even less to the nearest tram stop. The apartment is about 100-200 meters from Ibis Hotel, which has a Starbucks attached.
Security
The building is a mixture of residential and commercial use and we felt very secure there. The neighborhood seemed very safe and the building had a security guard 24/7. There is an electronic lock on the apartment door as well as an outer gate that can be locked for extra security.
The Host
The host, Pui Yan, is very friendly and helpful. When the airline mislaid some of our luggage they needed to deliver it the next day instead. As we planned to be out, Pui Yan offered to get it delivered to her apartment instead so that we could pick it up later. She's always available via email or phone.
Book This Apartment
You can book this apartment via Airbnb.
Other Places To Stay In Hong Kong
After leaving this apartment, we spent our final three nights at the excellent Bishop Lei International Hotel, which we booked via Agoda. We much preferred this to the apartment.
Click here for more great Hong Kong hotel deals.