For our first two nights in Jakarta we stayed at Balista Hotel. We chose this because it was only around 2 km from Gambir train station, which we were arriving at, and because it was near two great vegetarian restaurants. There was also a night market a couple of minutes' walk away on Jalan Pasar Baru. So the location was quite good for us. Click here to book a room at Balista Hotel via Agoda.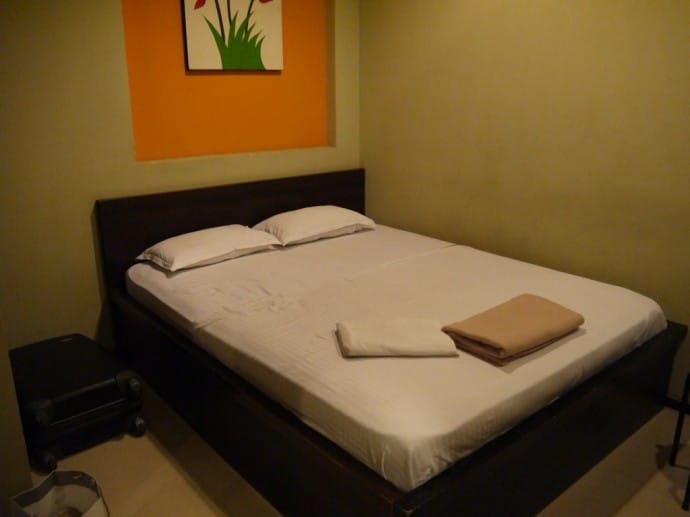 The room we had was on the ground floor and was fairly small. But it was quite well laid out, with TV, small fridge, table and chair, wardrobe, drawers and a cupboard. There was only one socket, but we'd already bough a 3-way adapter, so that was adequate. The room had a strange smell though, like stale cigarette smoke or dampness, and on he second night this gave me a bit of a sore throat.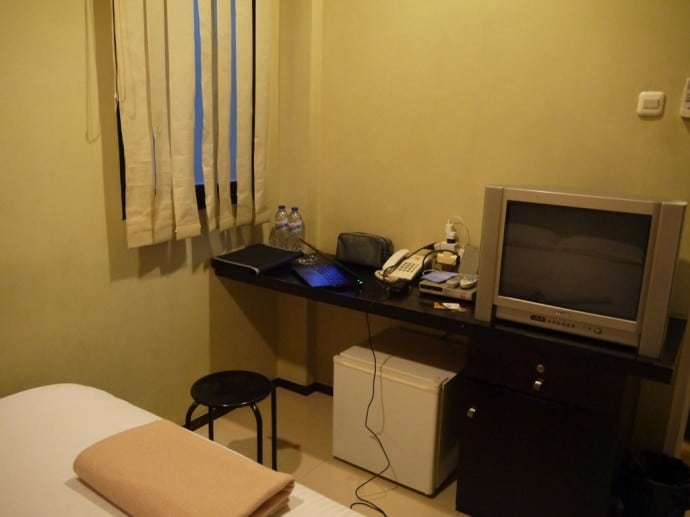 The bathroom was quite small, but had a separate section for the shower, so was ok for a couple of nights.
The hotel had some seating outside and a small food menu, but we didn't use this area. There were usually people smoking there though.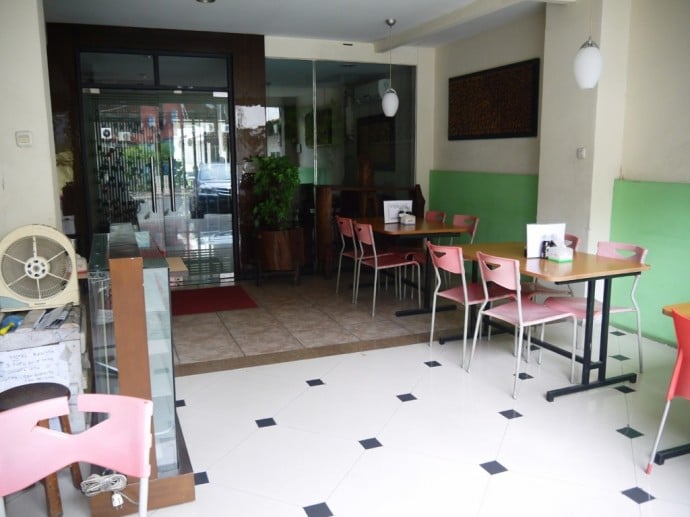 One of the most frustrating things about the hotel was the very, very slow wifi. To load a 1-minute video to youtube.com took around 8-10 hours! And viewing web pages was also a very slow process. This was one of the reasons we decided to leave after the two nights we had booked.
Also, no iron or ironing board was available, so we had to pay 11,000 IDR ($1) for each shirt that they ironed. This seemed a little excessive compared to what other hotels in SE Asia charge.
There wasn't a kettle in the room, but we got hot water brought to our room when we asked for it. Breakfast is served in the rooms, and arrived at 6.30 on the first morning, even though we had asked for it to be brought later. The second day we asked for it to be brought at 9, but had to call to remind them. The staff were generally quite friendly though.
The worst thing of all was that we had a rat in our hotel room. It came up from the drain in the bathroom to check out the bin in the room – there was an apple core in there. The cover was on the drain when we went to bed, but was off in the morning, so the rat had obviously lifted it up. Apparently this sometimes happens in the ground floor rooms, although I've no idea why they don't put a stronger covers on the drains. Seeing a rat in your hotel room is not the greatest of experiences.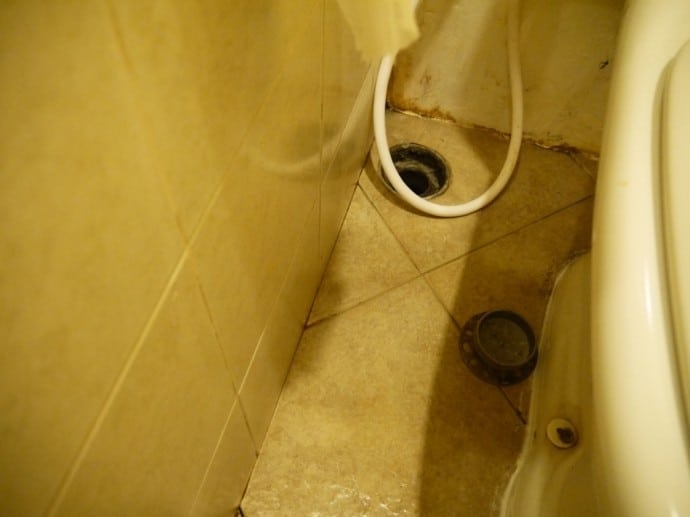 With only a little effort this hotel could be much better. If you stay I'd advise staying on an upper floor and requesting a non-smoking room if they have one. It's a good location, so a shame about the wifi and the rats.
UPDATE: When we checked out we forgot that we'd given a 50,000 IDR cash deposit the day before, so we went back to pick it up the next day. We were told that it had already been returned to us, but it hadn't. They phoned the receptionist that was on duty when we checked out, but she claimed she gave the money back to us. We weren't impressed at all that they seemed to be accusing us of returning to get the deposit back a second time. Eventually they refunded the money, but it was a bad experience. It seemed to us that the receptionist deliberately didn't give the deposit back, and then took it herself, as maybe she assumed we had left Jakarta. We have no way of proving exactly what happened though, but I don't see how else she could have claimed she gave it back. We are not impressed at all.
If you stay here I suggest you get a receipt for any deposit they take (we weren't given one), and remember to ask for to back when you leave. Their deposit system seems woefully inadequate.
Video Of Room At Balista Hotel, Jakarta
Hotels In Jakarta
After leaving this hotel, we moved to Amaris Hotel Juanda, which was nearby but a little close to the train station.
Click here to book a room at Balista Hotel via Agoda.
Click here to book a room at Amaris Hotel Juanda via Agoda.